Lip balm was usually used to keep lips moisturized and soft, at the inventing period of this product. Earlier, it was only utilized for casual times, and specifically over the stroke of lipsticks. But, gradually, girls been more affectionate towards this lip cosmetic, especially, when this product starts emerging with several eye-catchy shades! These days, almost every renowned cosmetic company has begin to produce different sorts of lip balms, which have different types of excellences.

Artificial or readymade cosmetics may provide you an exclusive look but, they cannot fabricate healthy products for our skin, as we all know! Thus, several contemporary girls prefer to craft DIY lip balm for their personal uses. We have mentioned it thousand times that DIY item always comes up with the better outcome for our skin, and this is not exceptional in this matter as well! Girls, who eternally seem struggling for soft or blushing lips, and use lots of homemade lip scrubs to get their desiring forms, can try out these few DIY lip balms, which are made with some measly homemade ingredients, but work as the highly effective lip care products!
So, let's check out the making procedure of some simple and effective Lip balm recipes below-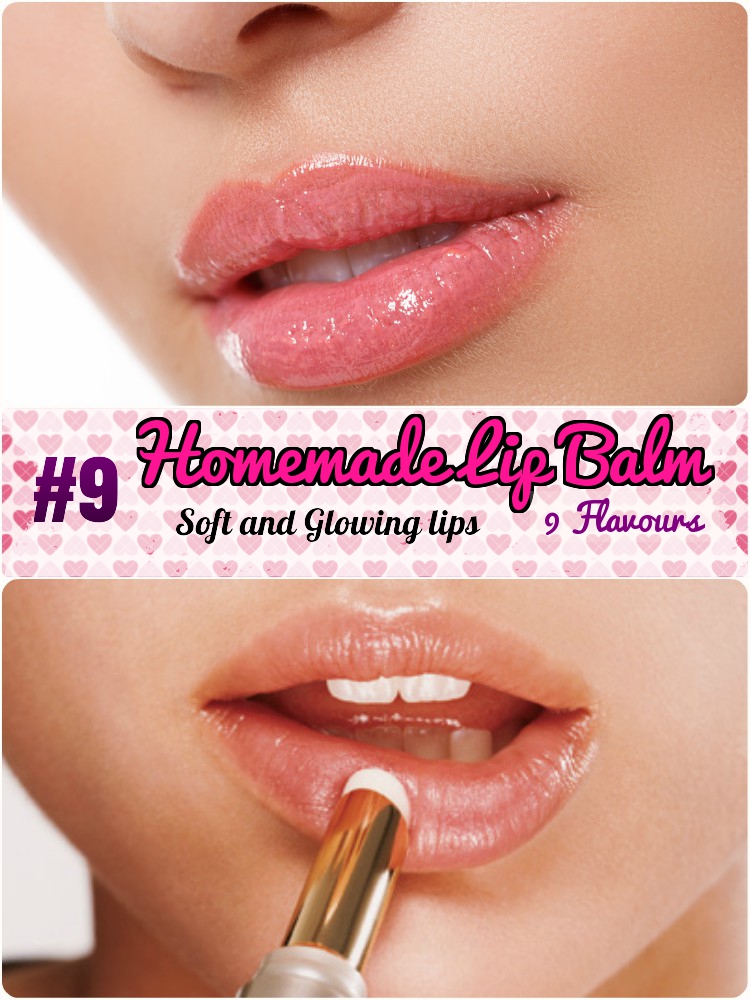 Part 2 Lip balms – Part 3 Lip balms.
DIY Tinted Lip Balm Recipe:
The utmost popularity of new age lip balms basically depends on this tinting quality of them! Consequently, any kind of tinted lip balm is hugely in demand among the contemporary girls. You may find numerous tinted lip balms in any cosmetic market for sure but, we will recommend you to use only homemade lip balms, particularly, if you are going for the tinted one. As using regularly of this kind of colors may come up with some unwanted damages or a darker shade of your entire lips! So check out this simple making process of a DIY tinted lip balm below-
Ingredients:
To make this item you need, 2 tbsp of extra virgin or normal coconut oil, 1 tbsp beeswax, 1 tbsp shea butter, ½ rose or red mica powder, and 2 to 4 drops of essential oil along with one boiling container, one mixing bowl, one big spoon or ladle, and one empty lip balm container.
How to make:
At first, melt the coconut oil in the boiling jar, where you need to take the coconut oil into the jar and place the jar in the middle of a pot with simmering water.
Then, add the shea butter and beeswax; keep stirring with the spoon and boil until they are totally melted.
Then take out the jar from the pot and let cool down for 10 to 20 seconds. Then, add the essentially and the red color into the mixture and combine well.
After that, when all the ingredients mix smoothly, pour the mixture into the empty lip balm container and place it in your freezer for 5 minutes or until solidify.
When the whole procedure is done, just draw a single stroke of this on your hand to check the color once!
DIY Lip Balm without Beeswax:

Some girls have sensitive skin or allergenic to the beeswax products, thus, they looking for a without beeswax lip balm which can nourish their lips and can provide a desiring softness as well! Here, we are referring one simple without beeswax lip balm recipe for them, check this out-
Ingredients:
To make this item, you need, 1 tbsp raw honey, 1 tbsp petroleum jelly, ½ vanilla extract, a few drops of essential oil, some a few drops of non-toxic food coloring, a medium size mixing bowl and a spoon along with an empty nail polish container.
DIY Instructions:            
At first, take a spoon full of raw honey into the bowl, then add the petroleum jelly and combine them or whisk them well.
Keep the bowl in your microwave and melt them over a medium heat.
After taking out the bowl, add the vanilla extract and essential oil into the mixture, then, stir well with the spoon.
Now, pour 1 or 2 drops of food coloring into the mixture and keep whisking until you get a smooth and thick paste of it.
Finally, pour into the empty nail polish container and brush up whenever you need a glow on your lips!
Also check for homemade chapstick recipes.
DIY Lip Balm with Coconut Oil:

Using coconut oil in the lip balm is a clever way to nourish your lips naturally, thus, we often take this item while making DIY lip balm, lipstick or lip scrub products, instead of using other effective oils. The best benefit of using this element is that, in winter, while our lips and skin require being moisturized frequently; any coconut oil extracted object can provide that need with just one or two stroke, which is quite tough for any other ordinary lip balms! Let's check out the process below-
Ingredients:
To prepare this lip balm you need, 2 tbsp of organic coconut oil, ½ tbsp sunflower oil, ½ tbsp organic almond oil, 1 tbsp vitamin E oil, 1 tbsp grated beeswax, 1 tbsp beetroot powder for coloring, one double boiler pot, one medium size mixing bowl, spoon and an empty container of lip balm.
Directions:
Take the coconut oil into the double boiler pot first, then add the grated beeswax; boil the ingredients over low heat until they melted completely.
Then, remove the mixture from heat and pour into the mixing bowl along with the beetroot
Now, combine all the ingredients very well to stir them evenly and then, pour the mixture into the empty lip balm container.
Place the container in your freezer until hardening and then, use regularly as per your needs!
For more coconut oil products check Homemade coconut oil lip products.