Festive season or family function, social get-together or outing with friends, girls always seem eager to flaunt flawless from each and every aspect, whether it is from draperies, makeup, shoes or hair style segment. Hair is that specific part of our body, which can make or destroy our entire getup in just one peak! So you need to take special care in this sector than any other parts, right? But, remember that making your hair look-good doesn't mean applying a great hair style or hair-spa from an expansive saloon. What we need to focus is that take proper care of your hair so then, you could glow like a diva!
Hair conditioner is that one singular object, which could help you greatly in this endeavor effortlessly. Hair conditioner is that thing which we use on wet hair, after shampooing. It de-tangles and smoothes our hair with a very gently way and at the same time caters a silky and shiny overlook to our hair. As the homemade beauty products offer us a better consequence without any side effects, thus, it is eternally enhanced to use an effective hair conditioner to get static-free hair future. Let's check out some top homespun conditioner recipes in this article ahead-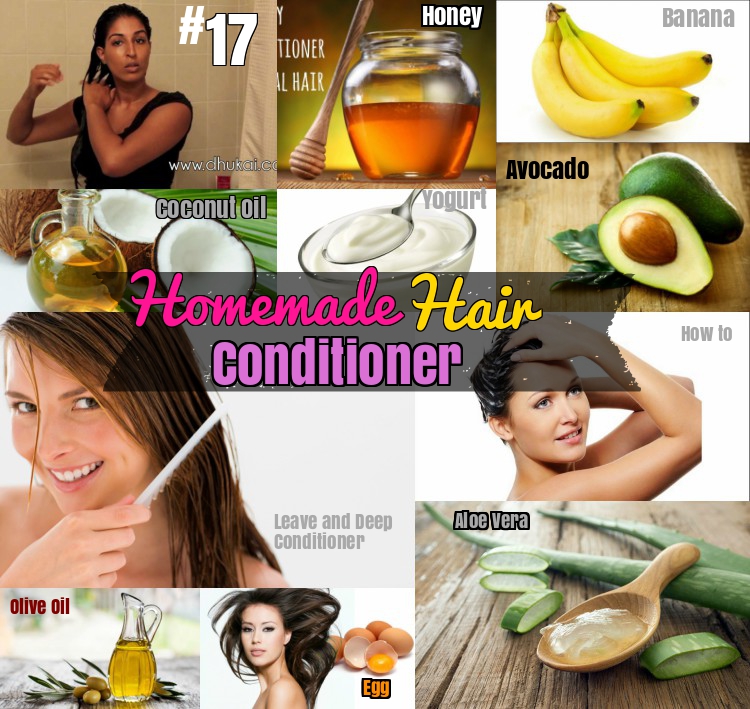 Homemade hair conditioners
part 2 ( Baby, Protein, coocnut oil and leave in hair conditioner) – Part 3 ( Green tea, Vinegar, Fruit, Honey, Hibiscus) – Part 4 ( Yogurt hair conditioners, Damaged hair, Dry hair and curly hair and tips on how to apply hair conditioner).
1. Olive Oil Hair Conditioner:
Ingredient:
To make a hair conditioner with olive oil you need 2 tbsp of fresh lemon juice, 2 tbsp of high-quality extra-virgin olive oil, 2 tbsp of mineral water, and a small mixing bowl.
Methods:
Take all the liquid ingredients into the mixing bowl first.
Now, stir them well with your two or three fingers and let them combine perfectly for a while.
Now all you need is that wash your hair with shampoo and apply this conditioner over the entire hair smoothly.
Leave it for 2 or 3 minutes and wash it off with plain water.
Olive oil provides natural shine to your hair while using in hair conditioner recipe.
you also be interested in homemade shampoo recipes.
2. Avocado Hair Conditioner:
Ingredient:
To make this conditioner you need 1 ripe avocado, 2-3 tbsp raw honey, 1 tbsp coconut oil, 2 tsp fresh lime juice and a small mixing bowl.
Methods:
At first, take the seed from the avocado and mash it up in your blender.
Now, take out the paste in your mixing bowl and add the rest ingredients into it.
Mix them thoroughly until getting the desired
Now, after shampooing your hair, apply this pack over your hair including scalps and leave it for 5 minutes.
After that, just rinse it off with regular water.
Avocado could straighten your hair in a natural way.
Do you love avocados try these avocado face mask and homemade avocado salad recipes.
Related Video on Avocado Deep conditioner mask
3. Aloe Vera Hair Conditioner:
Ingredient:
To prepare this hair conditioner you need, 1 tbsp fresh lemon juice, ¼ cup aloe Vera gel, 3 to 4 drops of essential oil and a mixing bowl.
Methods:
Take the gel into your bowl first and then add the lemon juice in that bowl.
Stir them up with a spoon for a few seconds and then add the essential oil into the mixture.
Now wash your hair with an effective shampoo and apply this pack on all your hair.
Finally, wash it off with lots of plains water.
Aloe Vera moisturizes your hair and improves the quality of your scalp as well as the entire hair.
check some for Homemade face mask for pimples.
Aloe vera and Argaon oil dry hair conditioner at home
4. Homemade Banana Hair Conditioner:
Ingredient:
To make a perfect banana hair conditioner you need 1 fully ripened banana, 2 tbsp of fresh coconut milk, 1 tbsp of coconut oil, and 1 tbsp of raw honey along with a mixing bowl.
Methods:
At first, cut the banana into pieces and blend them in your blender to get a smooth paste of it.
Now, take the paste into that mixing bowl and then add the rest ingredients into the bowl.
Stir them up finely and apply on your wet hair after shampooing properly.
Leave the pack on your wet hair for a couple of minutes and then rinse it off with lots of water.
Banana could make your hair smooth and shiny at once!
A Deep Conditioning Banana Hair mask
Deep idea about hair conditioners – at nih.gov.