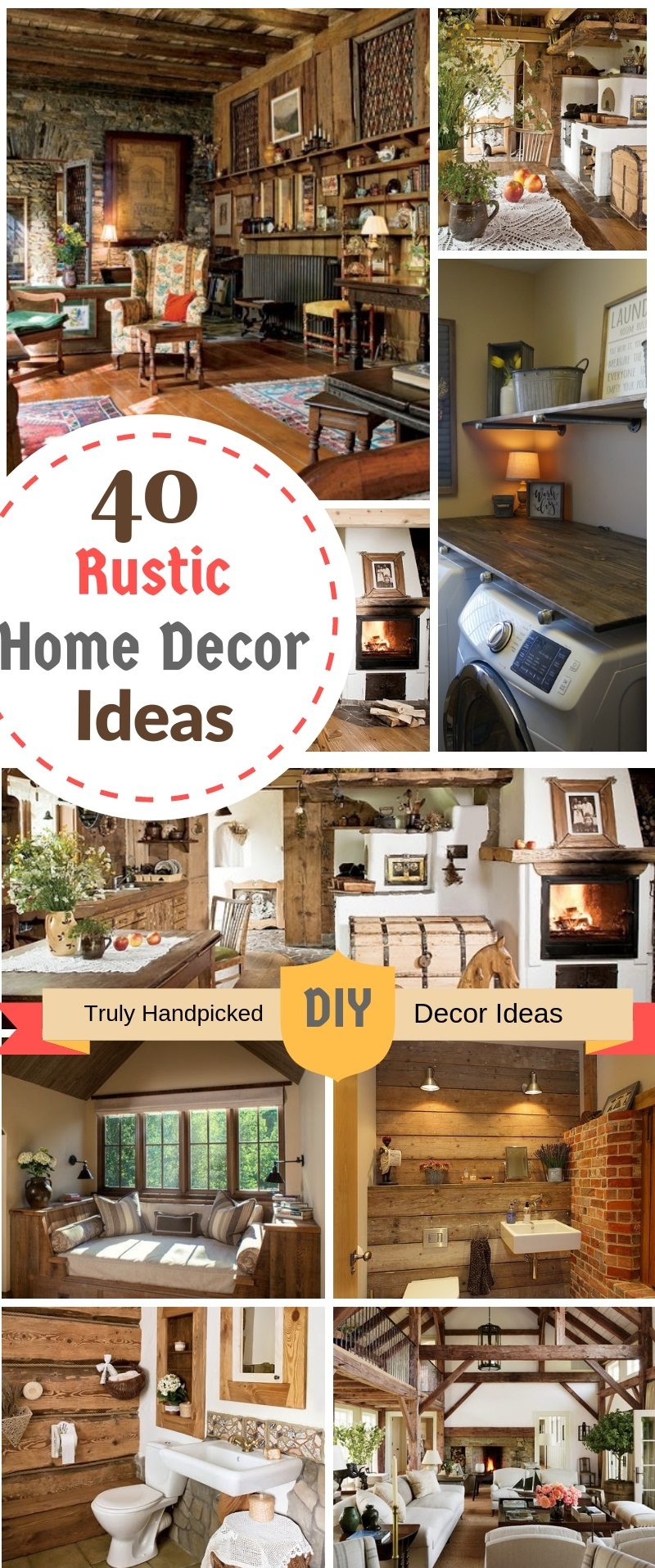 Decorating house interior became a new trend of this era, where everyone is competing to get an exclusive and eyes-catchy room adornment for their houses. From professional designers to the DIY experts, everybody provides their best effort to make the house look absolutely beautiful and organized in a classy way. From the plethora of different home décor patterns, rustic is one of the most appreciated and graceful home décor categories of all time.
Getting a truly rustic look for your home has become more affordable if we apply DIY methods and use some DIY stuff to adorn the house in a traditional way. People, who assume that rustic house interior only suits old pattern houses, should check out these new-age rustic home décor patterns which are absolutely compatible with the contemporary houses.
Here we are referring top 40 influential rustic DIY home décor ideas in this regard which are inexpensive, easy-to-get and above all, provide us a complete rustic glance to the entire room effortlessly. Let's take a quick look at them and try one for your house now-
A Rustic Kitchen
For Pinterest Users 

Rustic Interiors with Fireplace

Rustic & Industrial Laundry Room Makeover

Rustic Fireplace 
Rustic Living Room Ideas

Rustic and Rugged Bathroom Ideas






Heavy Timber Rustic Kitchen

View Idea
1. Perfect DIY Rustic Home Décor Idea for Bathroom:
Making a DIY shelf along with a pastoral toilet paper holder could actually give you a perfectly rustic look in your bathroom.

2. Rustic Bath Caddy Design as Bathtub Décor:
This is a nice attempt to give your luxurious bathtub a true rustic boost through a plain DIY project.

View Idea
Pinterest Pin

3. Over the Sink DIY Pallet Shelves for an Organized Room:
If you want to keep your bathroom notorious-free and organized in an effortless way along with a perfectly rustic look then, simply install this DIY bathroom organizer on your over the sink place.

4. Complete Rustic Bathroom Look with Wooden Framed Mirror:
A well-groomed bathroom is incomplete without a mirror and you can grab an exclusive rustic look with just applying a DIY wooden frame on that mirror for your bathroom.

5. DIY Pallet Pantry Sign for a Rustic Kitchen Décor Pattern:
If you are looking for an easy rustic look for your kitchen then this project by giving you a true DIY goal and a flawless rustic resemblance in this regard, along with a perfect kitchen organizer.

6. DIY Kitchen Cabinet from Reclaimed Wood:
This is another easy-to-craft kitchen DIY cabinet project from reclaimed wood that makes your stuff affordable within a limited budget along with its trendy rustic look.

7. Rustic Coffee Station with DIY Plank Coffee Sign:
A coffee station with a plank coffee sign is no doubt a smart attempt to give your kitchen an instant rustic look within the most rapid process.

8. DIY Kitchen Utensil Holders and Wood Box for a Rustic Look:
Craft some bucolic looking utensil holders and kitchen boxes through a DIY process and see how easily you can grab the perfect rustic look for your kitchen like an expert.

9. Pallet-Made DIY Wine Rack for an Ideal Traditional Look:
A pallet-made wine rack is one more magnificent DIY project that could enhance the whole look of your kitchen for a perfectly rustic look.

10. DIY Rope-Made Placemat and Coaster for Rustic Glance:
If you are trying to grab a rustic look for your dining table then try out these placemat and coaster projects with the rope through a simple DIY Process.

11. DIY Wooden Headboard for a Rustic-Looking Bedroom:

12. DIY Pallet End Table for a Rustic Outdoor Space:
Using DIY pallet-made end table is a nice contribution to grab a rustic look for your furnished outdoor area.

13. DIY Wooden Bench for a Rustic Entryway:

14. Pallet Bench with Storage for DIY Rustic Room Décor:
Crafting a DIY pallet bench with storage space would be a smart idea indeed to steal an ideal rustic look for your room with an organized glance.

15. DIY Crate Bookshelf for a Complete Rustic Resemblance:
This is a project to make you believe that a DIY process could give you any desiring look without spending a penny on it!

16. Simple Country View with DIY Ledge Display Shelves:
Ledge display shelves are great to show the decorative plates as a nice wall decoration project.

View Idea
17. Easy DIY Ladder Storage as a Low-Cost Rustic Organizer:

18. Classy DIY Floating Corner Shelves from Plywood:
This is one more beautiful and classy house decorating project for rustic look-lovers which come with an unbelievable low-price because of its simple DIY process.

19. Rustic Showpiece Holders from DIY Wood Post:
Even some wild inbuilt wood posts could give you a flawless rustic look if you can use them properly for your showpiece holders in a furnished room.

20. DIY Wire-Basket Organizer for a Perfect Rustic Look:
These types of wire baskets are easy to install and could display some essential stuff in a trendy way along with providing a natural rustic look to your room.

View Idea
21. DIY Pallet Floating Bookshelf for a Rustic Study Room:

22. DIY Rustic Hanging Storage from Recycled Wood pallets:

23. DIY Branch Coat Rack as a Rustic Room Adornment:
This type of project mostly use as a catchy wall décor and suits best on the wall of your living room or drawing area more effortlessly.

24. Beautiful DIY Wall Lanterns from Mason Jars:

25. DIY Corbel Sconce Light for a Rustic Outdoor Look:
Now, this is a project for an outdoor location which flaunts absolutely divining in an outdoor area along with a flawless rustic look.

26. Pretty DIY Mason Jar Wall Décor for a Rustic Flaunt:
Even a simple wall décor could beautify the whole look of a room in a complete rustic way and this super easy project is the brightest instance of that.

27. DIY Venetian Shutter Bench for a Rustic Outdoor Look:

28. Pastoral DIY X-Stand Table For a Perfect Rustic Room:
This type of project looks fantastic on an outdoor furnished area and actually effortless to be crafted through a simple DIY process.

29. Catchy Farmhouse Style Corbel Shelves for a Rustic Bedroom Look:

30. Shabby Manor Layered Candlestick for an Aged Look:
This type of traditional candlesticks is enough to change the whole view of a room from normal to a rustic one with its supremely classy appearance.

31. DIY Schoolhouse Coat and Hat Rack for a Country Room Look:

32. Rustic Bedroom Décor with Antiqued Railway Headboard Lamps:
This pattern of light returns into the trend again from a very ancient age and could change the look of your whole bedroom in a rustic way with its traditional look indeed.

33. Trendy Forest Look with DIY Rustic Chalkboard Sign:

34. Flawless Rustic Décor with Repurposed Barn Door Cabinet:
Wood cabinet with a repurposed barn door pattern is one more brilliant style in this regard for stealing a rustic look for your house like an expert.

35. DIY Rustic Side Table from Painter's Ladder:

36. Traditional Prairie Cabin Chest with Drawers:

37. DIY Wood Accented Curtain Rods for a Complete Rustic Interior:

38. Rustic Gallery Wall with Trendy DIY Frames:
39. DIY Burlap Repurposed Table Runner for a Rustic Dining Look:

40. Utterly Rustic DIY Wooden Ensemble wit Wicker Jug: