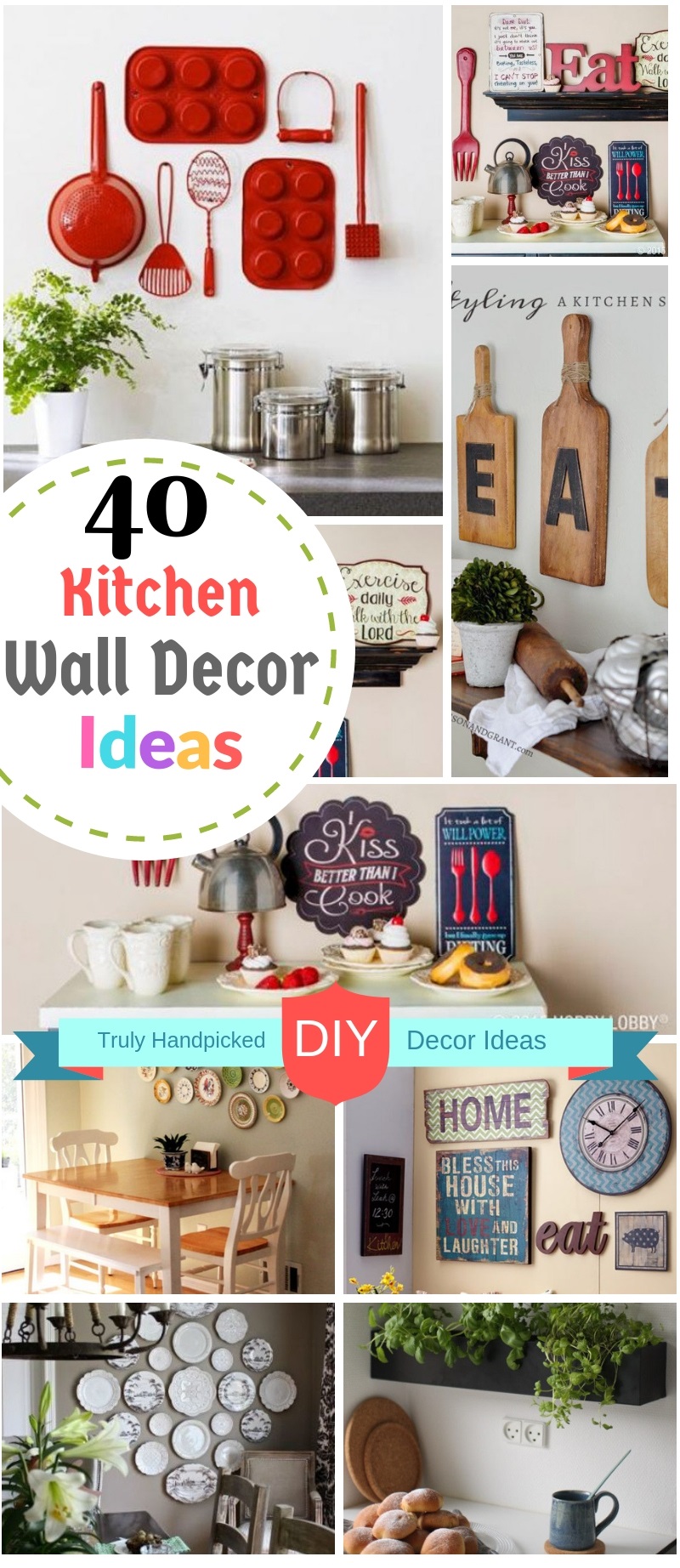 To spruce up a kitchen appropriately, you must decorate it in the right way, not only with the expensive kitchen appliances or furnishings but also, with the proper adornment as well. In this contemporary era, where the modular kitchen is being a new trend for every sort of cooking space, decorating a kitchen wall became a mandatory interior designing for the utmost people.
You can use wall art pieces, DIY projects, artworks, pictures, frame, various types of decorative objects or even some fancy kitchen appliances as well, to adorn a kitchen wall in a beautiful manner. These kinds of kitchen wall embellishments actually help to make your kitchen feel the warm and enjoyable place for the family members.
So, here we come up with the best 40 spectacular and impressive DIY kitchen wall décor ideas in this regard, which are supremely eye-catchy and come with an affordable quality at the same time. Let's take a quick look at them and pick the most suitable wall décor according to your available space and budget-
Expose Bare Brick Walls

Cook the Wall with Words


1. Wood Cutting Board with Alphabets:
If you have a good collection of differently shaped wood cutting board this project would be a nice pick for you. Use some unused boards as kitchen signs and decorate your kitchen wall with them in a stylish way.


2. DIY Metallic Letters as Kitchen Signs:
This is a smart décor design to highlight your kitchen wall in a quick yet super trendy way.

Mad Hatter Quotes

Source: ETSY ( Alice in Wonderland)
Spring Kitchen

3. Recipe Card Wall Displays with Highlighted Rolling Pin:
This is a supremely classy kitchen wall décor idea where you don't need to spend too much money to get a complete designer look on your kitchen wall.

4. Trendy Weekly Menu Recipe Board with Blank Pages:
Craft this DIY wall décor for your kitchen and make the eating time more interesting for your kids by exploring the menu every time before their every meal.

5. Functional Hanging Baskets with Kitchen Sign:
These types of wall hanging baskets usually use to produce vegetables and fruits to make them easy-to-access in need.

6. Vintage Style Wall Décor with Framed Silverware:
This is no doubt a super luxurious type kitchen wall décor which can be easily done within a limited budget through a simple DIY process.

7. Wall décor with Organized Coffee & Tea Bar Station:
Coffee and tea are something which is inseparable from any kitchen and thus, making a bar station for these two beverages would be a nice attempt to decorate the wall smartly.

8. Wall Décor with Inexpensive DIY Wood Pallet Wine Rack:
Using a rustic wine rack is one more smart move in this regard and a DIY wood pallet rack would do the task in the most amazing yet inexpensive way for sure.

9.  Rustic Wall Décor with Vintage Clock and Plant Displays:
Even a large wall clock that is decorated with some trendy plant displays could enhance the whole look of your kitchen by utilizing as the center wall décor of a kitchen space.

View Idea
10. Typical Embellishment with 'Eat' Wall Sign:

11. Unique Faux Produce Shadow Box Decorations:
This is a trendy way to display some of the fresh fruits or vegetable on your kitchen wall simply to renovate the whole look of that entire place.

Pinterest Pin

12. Rustic Kitchen Look with Wood Board Wine Rack Décor:
Crafting a repurposed wood board into a rustic wine rack and using it as kitchen wall decoration would be a brilliant idea in this regard.

13. Useful DIY Wall Wood Board Pot Hanging Rack:
This type of project would work as a smart kitchen organizer and at the same time; make the whole look of your cooking area classy with a mess-free atmosphere.

14. Easy Indoor Plant Box Wall Herb Garden:

15. Durably-Made Farmhouse Kitchen Shelf Display:
Kitchen shelf display helps us to keep the essential kitchen stuff organized and make the kitchen a notorious-free beautiful place with nice wall arrangements.

16. Inbuilt Apron Hooks under Diy Kitchen Organizer Shelf:
This project will show you how some crucial kitchen objectives could make the kitchen wall look contemporarily designed in a skilled manner.

17. DIY Wall Art with Cotton on Wood Pallets:
If you have a habit of artifact then, try out your hand in this simple yet elegant wall art project to revamp the whole look of your cooking space within a low-cost budget.

18. Kitchen Wall Sign from Reclaimed Wood:

19. Kitchen Sign Emphasized with Wide Utensil Designs:
This project looks absolutely classy on modular kitchen pattern where you can decorate your kitchen wall in a super trendy way with the help of some wide utensils, instead of any expansive wall arts!

20. Simply Painted Kitchen Wall with Textured Plate Designs:
Wall decorations with plates come back again on the trend from a vintage style and this project is a bright instance of that.

21. Patterned Plate Wall Décor on Colorful Kitchen Wall:

22. Wonderful Turquoise Plate Wall Art over the Sideboard:
This is one more magnificent wall art décor idea with turquoise plates that resembles catchier by hanging over a classy sideboard and getting highlighted with some heavy candle stands.

23. Dusky DIY Wall Wooden Shelves with Plate Displays:
This is a simple DIY project where you can use some good plate collection to display on your kitchen wall into the rustic frame of wooden shelves.

24. Potted Plant Wall Décor on IKEA Shelves:

25. DIY Wooden Plank Wall Décor with Herb Growing Pots:
This is a healthy kitchen wall décor idea which refurbishes the look for your cooking space along with a natural herby atmosphere.

26. Small to Wide Wooden Herb Boxes as Wall Pots:

27. Wooden Wall Art with Colored Rolling Pins:
Simple rolling pins could make your kitchen wall looks absolutely decorated with some classy colorful arts.

28. Wall Utensil Art with Colorful Kitchen Sign:

29. Vibrant Reclaimed Utensil Wall Art for Kitchen:

30. Shabby Chic Wall Signs for a Traditional Kitchen Look:
This type of project seems great on old patterned or traditionally designed kitchen and could be made within an unbelievable low price.

31. Whitewashed Wall Mirrors with Rustic Wooden Frame:

32. DIY Wooden Signs with a Huge Clock as the Kitchen Wall Décor:

33. Classy DIY Wall-Built Wind Chimes with Metallic Pipes:
Have you ever think of hanging wind chimes on your kitchen? If not, then, this project will surely instigate that desire in your with its sophisticated and simple look.

34. Mesmerizing Personalized Calendar with Family Pictures:
35. Elite Clipboard Collection for Wall Décor with Different Quotes:

36. DIY Easy & Simple Washi Tape Wall Décor Idea:

37. Charming and Colorful DIY Painted Canvas:
If you are a painter or have interest in paintings then, try out this simple yet classic canvas wall art on your kitchen wall to get an artistic look at the heart of your house.

38. Wall Hanging Produce Baskets as Wall Décor:

39. Sophisticated Photo Gallery as DIY Kitchen Wall Décor:

40. Plain and Functional Kitchen Organizer Station Wall Décor:

Pin it for later