The rising popularity of outdoor bars can be attributed to the desire for a closer connection to nature, the social appeal, and the aesthetic and versatile benefits they offer.
May hard drinks are injurious to our health but, sometimes, a small peg of such beverage could refresh our mind or even help to cope with the stress effectively.
Now, it is always better to have your own bar at your home, if you have that place in your house, as it is more sophisticated and comes within a limited budget too. People know that bars are more entertaining when they are made in an outdoor place.
Who doesn't like to have a glass of chilled wine or beer in a finely organized open bar in their backyard? Well, summer seems more enjoyable with this type of classy place in your outdoor area, right?
Sometimes, a personal bar in your outdoor area could allow you to have some quality time with your friends or family member as well. However, unfortunately, we assume that having a private bar in our house may be expensive for our small budget and may be unaffordable to our pockets too.
But, providentially some simple DIY ideas could break that misconception in a successful way! A well-organized bar in your outdoor area could actually be manufactured within a very low budget if you know the right procedure to this.
So, stop wasting your money on those luxurious bars and start enjoying the drinking period in your DIY simple outdoor bar area with your own rules.
Here we emerge with the top 40 simple yet classy DIY outdoor bar ideas for you to make your drinking ambiance more entertaining in an inexpensive way. Let's take a quick look at them and increase the beauty of your outdoor area smartly with these DIY bars-
DIY Outdoor Bar Ideas
New Ideas Updated
Tropical Paradise Bar:
Embrace a beachy and exotic vibe with bamboo accents, tiki torches, and tropical plants. Serve refreshing cocktails and mocktails with colorful umbrellas.
Transport yourself to a tropical oasis with a beachy outdoor bar. Relax under swaying palm trees, surrounded by bamboo accents and the warm glow of tiki torches. Sip on refreshing cocktails adorned with colorful umbrellas, and let the island vibes sweep you away.
Tropical plants add a lush touch, enhancing the exotic atmosphere. Whether you're hosting a luau-themed party or seeking a tranquil escape, the Tropical Paradise Bar promises an unforgettable experience.
Rustic Outdoor Bar Farmhouse Style
Create a charming and cozy atmosphere with reclaimed wood, vintage decor, and string lights. Offer craft beers and artisanal drinks for a rustic feel.
Step into a charming and cozy farmhouse-inspired bar that feels like home. The rustic vibe comes alive with weathered reclaimed wood, giving it that authentic farmhouse touch.
Vintage decor and warm string lights create a magical ambiance that's perfect for relaxing evenings.
Get ready to enjoy a unique selection of craft beers and artisanal drinks that add to the rustic charm. Whether you're a beer enthusiast or love sipping creative cocktails, this bar has something special for everyone.
So gather your friends and experience the warmth of a Rustic Farmhouse Bar – it's like being in a rustic retreat right in your backyard!
Simple and rustic outdoor pallet bar for backyard parties – Brit
A step-by-step approach for building a rustic outdoor bar Strongtie
Do a rustic farmhouse-style bar – Thespruce
Live edge outdoor bar table epoxy work –Instructables 
1. Space-Saving Fold Away Murphy Bar:
This is a great outdoor bar idea that even comes with fantastic space-saving quality along with moderate storage.

View Idea
This trend can be attributed to several factors that have contributed to the growing appeal of these alfresco drinking and socializing spaces.
Connection with Nature: One of the primary reasons for the popularity of outdoor bars is the desire to connect with nature. People are increasingly seeking ways to escape the confines of indoor spaces and enjoy the fresh air and natural surroundings. Outdoor bars provide a perfect setting to relax, unwind, and socialize while being immersed in the beauty of the outdoors.
2. Small Bar Table with Ice Pail Base:
This is a wonderful Diy outdoor bar idea with an easy ice pail base that could keep your drinks chilled enough for a long while.

Social Gathering Hub: Outdoor bars offer an inviting and relaxed ambiance that fosters social interaction. They encourage guests to gather, mingle, and engage in conversations in a more casual and laid-back atmosphere
Building a Bar: Things to Note
Building a DIY Outdoor Bar vs. Buying a Pre-Made One:
DIY Outdoor Bar:

Pros: You can customize it to fit your space and style.
Pros: It can be more budget-friendly if you already have some materials.
Cons: Requires time, tools, and some DIY skills to build.
Cons: May lack the professional finish of pre-made options.

Pre-Made Outdoor Bar:

Pros: Convenient and saves time – ready to use immediately.
Pros: Often designed for durability and aesthetics.
Cons: Limited customization options compared to DIY.
Cons: May be more expensive depending on the design and materials.
Best Materials for Outdoor Bars (Wood, Metal, Concrete, etc.):
Wood:

Pros: Natural and attractive, blends well with outdoor surroundings.
Pros: Relatively easy to work with for DIY projects.
Cons: Requires regular maintenance and protection against weather.

Metal:

Pros: Durable and can withstand harsh weather conditions.
Pros: Low maintenance – resistant to rot, pests, and decay.
Cons: Can get hot under direct sunlight, and may need added insulation.

Concrete:

Pros: Sturdy and long-lasting, ideal for a permanent setup.
Pros: Resistant to water, fire, and pests.
Cons: Less DIY-friendly due to its heavy and challenging nature.
Weatherproofing and Protecting Your Bar Against the Elements:
Apply Sealant: Coat wooden surfaces with weatherproof sealant to repel water.
Rust Protection: For metal bars, use rust-resistant paint or sealants to prevent corrosion.
Waterproof Covers: Invest in waterproof covers for furniture and accessories.
Strategic Placement: Position the bar in a sheltered area to minimize exposure to harsh weather.
Regular Inspection: Check for wear and tear, and address any damage promptly.
3. Classy L-Shaped Outdoor Pallet Bar:
This is the best DIY bar made of some repurposed pallet woods and fits best for the deck surface more accurately.

Enhanced Aesthetics: Outdoor bars often boast beautiful and picturesque settings that enhance the overall experience. Whether set in lush gardens, near a pool, or overlooking scenic views, these visually appealing environments make for memorable and Instagram-worthy moments, attracting patrons and guests.
Extra Tall Cross Branched Bar Stool

Versatility and Adaptability: Outdoor bars come in various shapes and sizes, and their versatility allows for customization to suit different preferences and needs. They can be set up in different locations, such as patios, rooftops, gardens, or as part of larger event venues, making them adaptable to various spaces and occasions.
Seasonal Appeal: Outdoor bars are particularly attractive during pleasant weather, such as spring and summer, when people are more inclined to spend time outdoors. They provide a perfect setting for enjoying refreshing beverages and pleasant evenings, creating a seasonal draw for customers and visitors.
4. Rustic Cottage Bar with Banister Support:
Well, this is a complete outdoor bar project that comes with huge storage space and could make your outdoor drinking experience more exciting than ever!

Benefits of having an outdoor bar:
Entertainment and Leisure: Having an outdoor bar at your home or business provides an excellent space for entertainment and leisure. It becomes a focal point for gatherings, parties, and celebrations, making it a fun and inviting spot for friends, family, and customers.
Increased Property Value: For homeowners, a well-designed outdoor bar can significantly enhance the overall value of the property. It adds to the appeal of the home's outdoor living space, making it more attractive to potential buyers or renters.
Relaxation and Stress Relief: Spending time in an outdoor bar can have positive effects on mental well-being. Being surrounded by nature and fresh air can promote relaxation and stress relief, helping people unwind and escape from the pressures of daily life.
Brand Image and Differentiation: For businesses, an outdoor bar can help create a distinctive brand image and set them apart from competitors. It adds character and uniqueness to the establishment, making it more memorable to customers.
5. DIY Wooden Bar Table with Built-in Cooler:
This type of table is simple to craft through a plain DIY process and comes with a space-saving quality due to the built-in cooler style for your drinks.

6. Kitchen Cart for an Outdoor DIY Bar:

Planning for an Outdoor Bar
Assessing Your Space and Layout: Consider factors like sunlight, wind direction, and proximity to utilities for a comfortable setup. Plan the layout to have enough seating and space for guests to move around easily. Keep safety in mind and choose weather-resistant materials for long-lasting enjoyment.
Setting a Budget: Be realistic about your budget and prioritize essential items first. Remember, you can always start small and add more later when you have the funds.
Defining Purpose and Theme for Outdoor Bar: 
Think about what you want the outdoor bar to be for – parties, relaxation, or both.
Choose a theme that suits your style – tropical, rustic, modern, etc.
Your theme will guide your decor and furniture choices for a cohesive look.
Make it personal and enjoyable, reflecting your taste and personality.
Obtaining Permits and Checking Regulations: Avoid headaches by getting the necessary approvals (if needed as per local law) before starting your project. It's better to be safe and legal to enjoy your outdoor bar without worries.
7. Unique Duel-Level Shelf for a DIY Vineyard:
This type of bar looks great around the vineyard and contains both places for storing and serving hard drinks.

8. DIY Reclaimed Wooden Bar Table:
DIY bar tables come with a more low-cost quality when you craft it from reclaimed wood like this project.

9. Simple and Elegant DIY Bar Table:
This is a simple DIY bar table idea for a limited outdoor space that offers us a nice serving surface along with nice storage.

10. DIY Bucket Tree for a Party Bar Idea:
This is a plain outdoor bar project that works more efficiently when we plan any party at our outdoor bar area.

11. DIY Rustic Outdoor Ice Box Bar Lined with Driftwood:

12. A Nice Wooden Bar Cart with Storage Galore:
This type of project is truly a complete bar cart and comes with a classy storage galore.

13. A Trendy Elevated Wooden Cooler for Outdoor Bars:

14. A Fold Away Surface Wall-shelf Bar:
This is one more outstanding outdoor bar idea that offers us extremely low-space excellence due to its built-in wall-shelf style.

15. Recycling Old Stand with Cooler Bucket:
This is a rustic bar cart project that you can make out of any sturdy old stand and use the top hole for large storage for your drinks.

16. DIY Patio Bar Cart for a Nice Outdoor Bar:
Patio bar ideas always show us how to keep your drinking stuff in order within a limited space and this project is no exception of that.

17. DIY Wooden Shelf Bar under the Windowsill:
This is one more space-saving DIY bar idea that could be easily made under a clean windowsill and could give you the perfect outdoor bar goal with its every bit.

18. Well-built Outdoor Stove with an Ice Chest:

19. DIY Outdoor Bar Table with Sliding Lid:
This type of outdoor bar needs some extra effort to be made and claim a bit more charge than the regular DIY outdoor bars due to its exclusiveness.

20. A Well-Organized Large Outdoor bar from Pallets:
People, who have more family members should try this project that is utterly simple to manufacture and offers really a commendable large storage space for your drink collection.

21. Simple Standing Bar for the Deck Outdoor Area:

22. DIY Bar Design by Reclaiming Old Door:
This is a recycling DIY project that could be made out of some basic crafting materials along with an old wooden door using it as its base!


23. Super Chic Buffet Style Bar for Outdoor Parties:

24. A Complete Outdoor Bar with Metal Accents:
Bars with metal accents are much sturdy and probably the best choice for outdoor bar projects.

25. DIY Soft Wooden Bar for Small Cabins:

26. DIY Stained Wood Pallet Bar on Wheels:
Bars on wheels are always more trendy to look and easy to access your drink during a drinking session.

27. Attractive Cane-made Removable Bar Cart:
This is one exclusively attractive bar cart that flaunts amazing for an outdoor space and gives us a classy drinking ambiance with its trendy look.

28. Supremely Classy Bar Table Set with Dining Quality:

29. Repurposed Sofa Table for Outdoor Bar:
This project will show you how you can turn an unused sofa table smartly into a DIY bar table for your outdoor space.

30. Cooling Cart on Wheels for an Easy Outdoor Bar:

31. DIY Mounted Shelves for an Outdoor Bar:
Mounted shelves on outdoor space could greatly be used for outdoor bar, especially which are decorated with a nice bar table below them.

32. Patio Dining Table for a Simple DIY Outdoor Bar:

33. Versatile Potting Bench as an Outdoor Bar:
Potting benches come with lots of free space and different shelves that help us to keep the significant stuff of bars brilliantly organized.

34. DIY Outdoor Bar from Barrel for Deck:

35. Repurposed Metallic Shelf for a Complete Outdoor Bar:
This type of long bar table out of metallic shelves comes with a lot of storage area along with some decorating spaces on it.

36. Pallets-made DIY Hanging Bar for Outdoors:

37. Simple Serving Cart Turn DIY Outdoor Bar:
This project will show you how to turn a simple serving cart into a bar cart with the proper planning.

38. Plain Outdoor Bar Table with Built-in Chilling Cabin:

39. Traditional Outdoor Bar Table with Storage Space:

40. Rustic Wooden-made Outdoor Bar:

20 DIY Bar Stool Ideas

Build easy bar stool
DIY Simple Bar Stool

How to build easy bar stools

Bar Stools With Accent Metal Bar

Gold Accent Bar Stool

Budget Minimalist Bar Stool

Lace Stenciled Bar Stool

Simple Wooden Bar Stool Plan

Colorful Swivel Bar Stool

Vintage Style Industrial Bar Stool

Plan 2x4s Bar Stools

Pocket Holed Stained Bar Stool

Rustic Industrial Bar Stool

Rustic Bar Stool Ideas

Adjustable Height Bar Stool

Pallet Bar Table and Stool Idea

Reclaimed Wine Barrel Bar Stool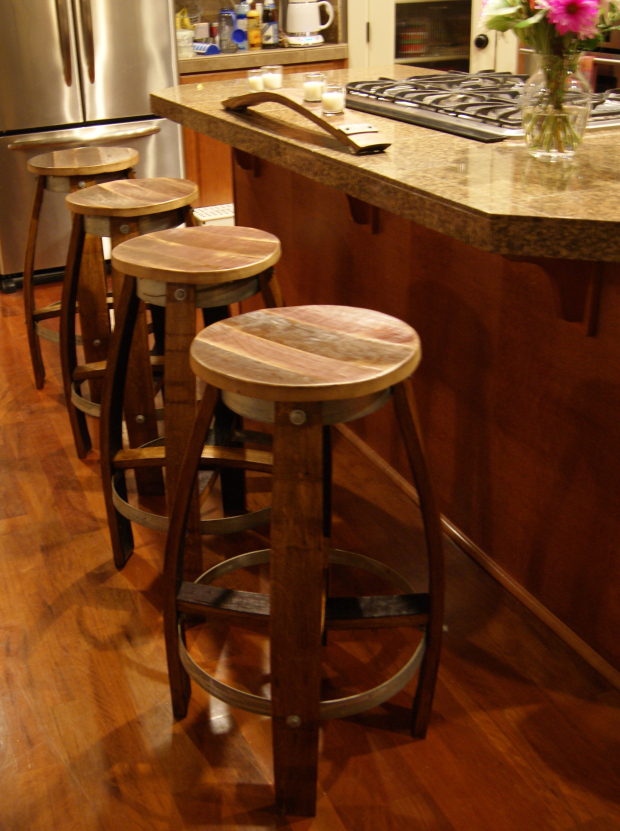 Upholstered Bar Stool

DIY Upholstered Bar Stool

DIY Concrete Bar Stool

Pin it for later