Stuffed animals are one of the best toy categories which adorable to flaunt and amazing to play with, due to their super soft, fluffy texture. If you have little ones in your house then, you must know the craziness of stuffed animal among the kids.
But, one common problem parent face with these cute stuffed animals is the storage issue. Stuffed animals need quite a large space to fit in order; otherwise, they could provide an unwanted notorious look to your house. Storage for these kinds of toys must be in a place where you can put them easily in order and at the same time, they are easy-to-access for your kids in need too!
Keeping stuffed animals randomly in your kids' room may help them to grab their toys easily, but it definitely hampers your house interior disgracefully.
So, if you don't want to make your house mini zoo with these stuffed animals, you must go with the proper stuffed animal storage idea which could keep them in an organized way. Here we come up with top 40 ideas in this regard, let's check them out and prepare a suitable storage area for your house according to your space availability-

1. Simple Stuffed Animal Chair:
This is a great DIY Storage project in which, you can hide all your stuffed animal toys inside a bin bag or any fabric-based bag and zip it up orderly till the next playing session.

 View Idea
2. Wall Inbuilt Stuffed Animal Barn:
An inbuilt stuffed animal barn is a wonderful storing space and could use as a stuffed animal zoo smartly at the same time!

 View Idea
Stuffed Animal Corner Cage

Use Target Basket for Stuffed Animal Storage

Wooden Crate Pets Hotel

Stuffed Animal Bean Bag

Repurpose old bookshelf into organized toy storage

Crochet Stuffed Animals Hammock Storage

View idea
Stuffed Animal Kids Bean Bag

3. DIY Toy Corrals for Stuffed Animals:
This is one type of attached-shelf which mostly built with the bed of your child and manufactured with rope-wall with a huge space inside.

 View Idea
4. DIY Wall-Mounted Baskets for Stuffed Animals:
This is one more brilliant DIY project to place your stuffed animal lifted up from the floor and keep them in a well-organized manner.

 View Idea
5. Long Shoe Organizer for Small Stuffed Animals:
DIY shoe organizers, especially which could fit behind the door easily could make a great toy storage space with numbers of small pockets.

 View Idea
6. Classy Stuffed Animal Hammock:
Hanging a hammock in your kid's room and using it as an easy stuffed animal storage space is one more magnificent idea in this regard. You can use net, fabric, rope, cane, or any preferable material to make such hammock for your stuffed animals. 

 View Idea
Yet another stuffed animal hammock storage

7. Easy Over-the-Door Shelves:

 View Idea
8. A Hanging Basket for Stuffed Animals:
Hanging baskets, particularly which are embellished with some shiny threads and glossy adornments, looks great in the room and could keep your stuffed animal orderly too in a beautiful way.

 View Idea
9. Revolving Shoe-Tree for Stuffed Animals:
A revolving shoe tree even looks catchier when we use it to store out stuffed toy collection in a perfect way.

 View Idea
10. Cheap Wall-Hanging Planters as Stuffed Animal Storage:
Like wall-hanging baskets, you can use some classy planters to set as the wall-based bucket shelves and keep your stuffed animals separately in its wide storage.

 View Idea
11. Plain and Long Wire Hamper for Stuffed Animals:
Long wire-hamper is one more easy-to-use storage for stuffed toys which can be placed in any corner of your room and could amass a number of stuffed animals easily in its long cargo space.

 View Idea
12. DIY Room-Corner Toy Canopy:
If you don't have enough space in your house to keep these stuffed animals orderly and yet in an easy-to-access way then, simply try out this project as the DIY storage idea.

13. DIY Swing Storage for Stuffed Animals:
Swing storage is extremely adorable to look in your kids' room and carry a large sum of stuffed animals easily at once.

 View Idea
Another Branch Swinging Shelf DIY

14. Beautiful Rolling Toy Storage Ottoman:
Ottoman storage is definitely one of the best DIY storage spaces for stuffed animals, which not only keep the toys organized but also keep them hidden for a while and help to get less dirty at times.

 View Idea
15. Beside-the-Bed Dresser Drawer Storage Box:
This dresser drawer, which usually used for keeping dresses of your little prices, could be utilized perfectly for storing stuffed animals in a clever manner.

 View Idea
16. Rustic Galvanized Garage Toy Storage Bins:
This type of storage bins looks suitable in your basement storage room and could come with a wide storage space, unlike other DIY storage projects.

 View Idea
17. Hanging Metal Bins as the Storage of Stuffed Animals:
Hanging metal bins are a similar type of project like galvanized garage toy bins, but they claim less space to hang in the wall of your toy room.

 View Idea
18. Durable and Classy Wooden Toy Storage Bin:
This is a DIY wooden project which not only looks elegant but comes with a great durability too, due to its fantastic sturdiness.


 View Idea
19. Recycled Closet-Organizer as Stuffed Animal Storage:
Using this closet-organizer as a stuffed animal stooge item, you can keep your toys safe and protected easily through a cheap recycling process.

 View Idea
20. Charming Toy Zoo Stuffed Animal Storage:
This is DIY wooden frame storage box which flaunts as an in-house zoo for your stuffed toys.

21. Large Under-bed Storage for Stuffed Animals:
This is a great storage idea to keep your stuffed toys organized with an immensely large stock up space. 

 View Idea
22. Repurposed Rolling Crates for DIY Toy Storage:
If you are looking for a cheap recycling project for your stuffed animal storage then, this would be the best pick for you.

 View Idea
23. Simple Bin Bag Storage for Stuffed Animals:
Placing your huge collection of stuffed animals into a bin bag would be a supremely useful and smart idea indeed.

 View Idea
24. DIY Wall-Shelves for Storing Toys in Order:
This is a smart way to make your room looks good in a nice interior by installing these DIY wall-shelves and using them as the toy storage spaces functionally.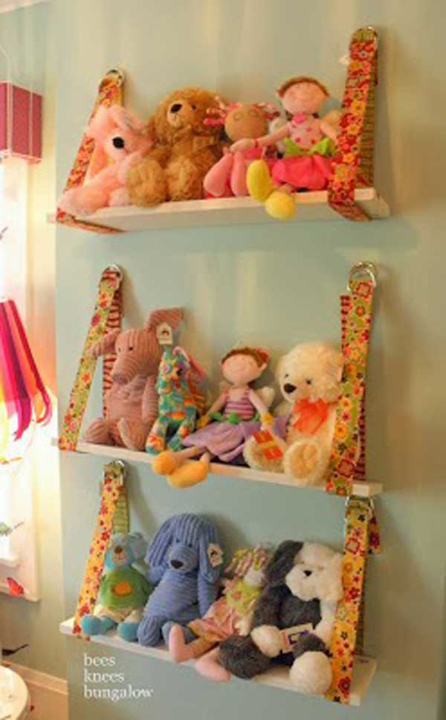 View Idea
25. Old Bookshelf as the DIY Stuffed Animal Zoo:
You can use an old bookshelf into a stuffed animal zoo beautifully in your kids' room. 

 View Idea
26. DIY Net Hammock as the Stuffed Animal Storage:

 View Idea
27. Net-Made Bed-pockets as Toy Storage:
Net-made bed pockets are one more excellent storage idea to display your stuffed animal toys in an organized way.

 View Idea
28. Inbuilt Corner Shelves as Toy Storage:
This is a space-saving stooge idea that could be installed in any space of your house or room easily.

 View Idea
29. DIY Wall-Hanging Crate Selves Storage:
Now, this is one more admirable DIY storage project using crates as its main storing place and the wall hanging quality make it absolutely space-saving idea indeed.

 View Idea
30. DIY Basket Storage on Ladder for Stuffed Animals:

 View Idea
31. IKEA Complement Cloth Hanger as Toy Storage:

32. DIY Long Pallet Storage for Stuffed Animals:

33. Behind-the-Door Shoe Organizer Display:

34. Wooden Stuffed Animal Zoo with Rope Front:

35. Hanging Net Storage with 5 Compartments:

Stuffed Animal Net Storage DIY

36. Stuffed Animal in Cushion Covers:

37. Stuffed Animal Storage Rolling Wire Basket:

 View Idea
38. Corner the Room Stuffed Animal Storage:

39. Stuffed Animal Chair as a Pretty Storage:


40. DIY Inspirational Hanging Hampers as Toy Storage:

 Pin it for later