The yarn is one of the favorite crafting components of kids, because, it available in several vibrant colors, easily accessible in the market and compatible to use on any vessel. Thus, this material offers us verities of crafts with just a few simple steps. When you are seeking crafting inspirations for kids, your chosen item must be homespun, and at the same time resemble nice; so then it could lure children towards the processing. Accordingly, here are some ideas of simple yet pretty yarn crafts which your toddlers love to apply, check this out-
 Yarn Painting for kids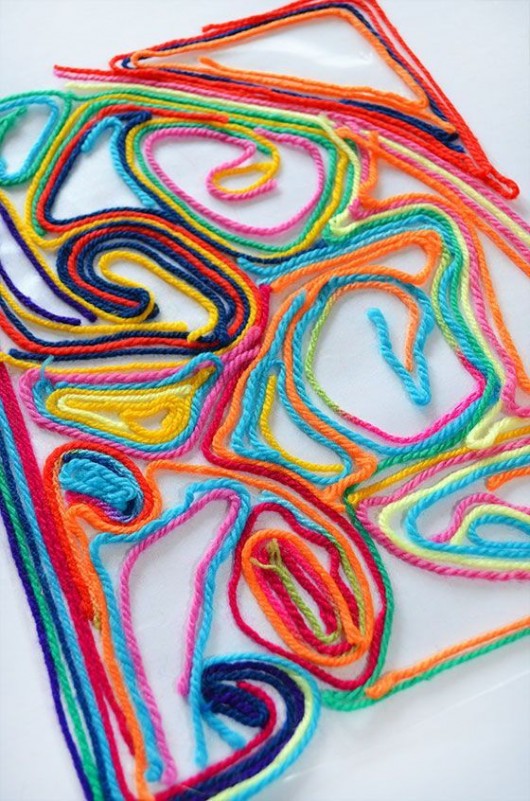 Yarn recycled bottle Animal

Soft stars and hearts yarn craft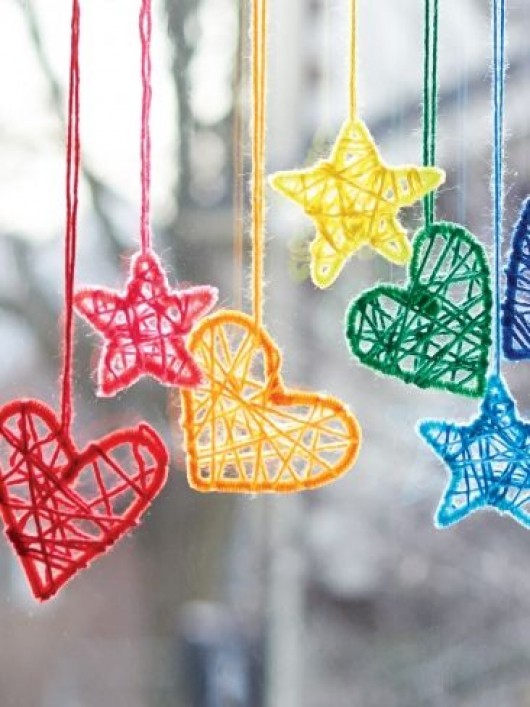 Hanging hearts and stars is one of the frequent craftings that kids try with this simple component. All you just need are some artificial structures of stars and hearts, wrap those items with different colored yarns and tie a yarn string on every single star or heart, now hang them on your window and let them swing naturally, whenever the wind blows!
Twirling Twig Mobile Yarn and Stick crafts for kids

Bird Finder Binoculars

Make it weaving with kids

Kids Sewing crafts with yarn

www.dandee-designs.com
Colorful Yarn Crafts Kids Can Make

Easy Stitch Cards for Busy Hands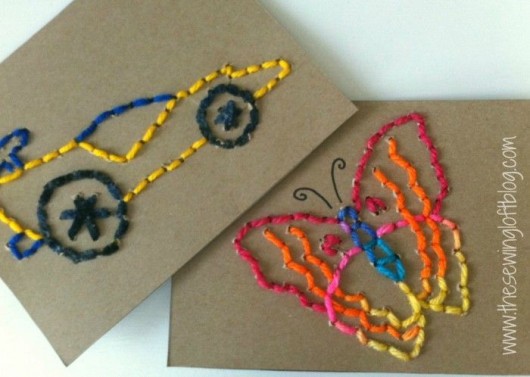 If you want to make landscapes or paintings with these yarns, then, use a thick and hard base first for that crafting. Now draw your desired picture over that base like a butterfly, car, cloud, rainbow, etc. and then stick suitable yarns on those sketches with glue. Try to let them dry out properly before show them up.
Paper Plate Heart Yarn Weaving Sewing Crafts

Pom Pom Snowman Craft idea

www.marthastewart.com
Easy Animal Crafts For Kids

Use these soft and vibrant yarns to make animal crafts, as that will attract kids more vigorously towards such endeavor. If you are not so expert in knitting an animal structure with yarn then, use them as the body parts of an animal and attach a cardboard or fur made body over those parts.
Yarn and Die kids pattern painting craft idea

www.modernparentsmessykids.com
Fun Yarn Crafts to Make With Your Kids

To make the learning process entertaining, you can use this yarn crafting as well! Take one wood piece, put some nails over that wood and wrap yarns on those nails to make different alphabets on that vessel. You can even make a whole word too with such procedure! This processing not only helps your kids to learn about words or alphabet but also increase their interest in the crafting method.
DIY Dream Catcher crafts with kids

The dream catcher is another beautiful and easy thing you could make with this lovely element. To make this item you just need, one hard ring and some beads along with a needle. At first, wrap the ring with several colorful yarns, then make some criss-cross designs over the ring surface and at the end make one or two beaded strings to veil from the bottom part, which will make the dream catcher more pretty or striking.
Yarn Wrapped Rock Monsters Yarn Crafts