The butterfly is that beautiful creature, which perpetually lures us with its natural beauty, especially the kids, despite the fact that it is just a flying insect! This bright and colorful bug not only captivates children with its real existence but, at the same time, it mesmerizes them with its artificial form as well! Thus, you can find several décor crafts for kids' room in the pattern of this beautiful creature. Even, kids love to get food items too in the pattern of this lovely insect! Here are some simple and pretty crafts & cake ideas for kids which are made in the shape of this vibrant bug with the help of some simple components. Check this out-
Bow Tie Noodle Butterfly Craft for Kids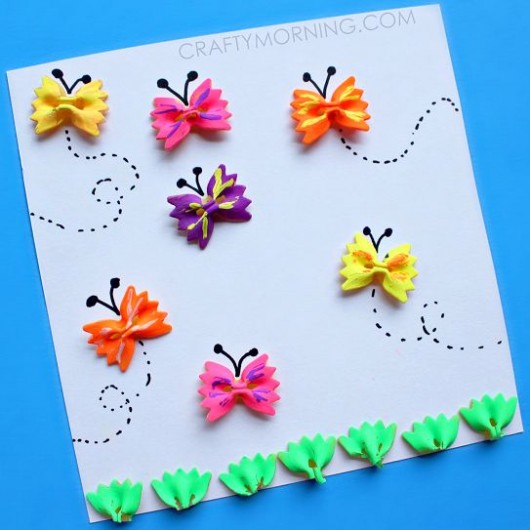 Easy room Decor DIY Butterfly Paper Craft
Cupcake Liner Butterfly Clothespins Craft

Cupcake liner butterflies are some frequent adornment elements that mostly use to embellish some girly parties or celebrations. To make such items you need, some colorfully printed cupcake cover or liners, clips or clothespins, string pieces and glue. To make a coloring butterfly all you need is just fold 2 cupcake liners from the half for two times which must have the same design, glue them together in the pattern like a bow. Now, clip a clothespin over the liners and add two strings' strip of glue on the top and your nice and simple butterfly craft is all ready to flaunt! You can also try this processing with handmade papers, printed clothes or noodle or sew felt products, only make a perfect bow first to get a nice butterfly shape!
Easy No Sew Felt Butterfly Craft

Paper Quilling Crafts – Paper Quilled Butterfly Craft
https://www.youtube.com/watch?v=baJaISOBPd8
DIY Soda Can Garden Butterfly

Butterflies eternally resemble flawless on a garden view right? But, paper, liner or clothes can't stand long against nature, if you decorate them barely in your garden. So, take some hard material for these types of items which can easily recycle and flaunt great in the shape of butterflies. A soda can is a superb material for such endeavor. At first, use a cane opener to cut out the bottom and top part of the can and then make the can flat, now draw the pattern of a butterfly over the silver surface and cut the shape out of that flat base. Now all you need is to hang these butterflies over some garden flowers or tree leaves. You can also paint your cane made butterflies with your desiring shades.
 Paper Bag Butterfly

Stained Glass Butterfly

Learning About Weather Science Experiments

Easy Paper Plate Craft Butterfly

Paper plates are one commendable object to make beautiful butterfly craft with just a few simple steps. Take one big sized paper plate, some coloring buttons and gems, glue and one scissor along with one straw. Start your crafting by cutting out two triangles out of the plate, brush glue over the backside of your bow-patterned plate and add gems, buttons haphazardly to make it eye-catchy or glittery. Finally, just make two strings out of that straw and let all the ingredients dry properly.
Butterfly Craft ideas

Butterfly Pretzels

To make a perfect butterfly cake, just use a bow patterned cake pan and pour the cake batter into the pan. After baking the cake appropriately, take it out and draw two strings with the cream cone over the top and your butterfly cake is ready to cut! Use some other cream cones to decorate the wing parts of your yummy butterfly.
How to Make Butterfly Art witk Kids Foot print

Straw Painting – Paint and Fold butterflies

DIY 3D Butterfly

diycandy.com
Pink butterflies Beaded earrings Inspiration

www.etsy.com
Easy Paper Butterfly Craft for kids