This is the new trend of using foaming hand wash instead of scented soap or detergent bars, thus liquid foaming hand washes grabbing the utmost market since the last few years! As usual, we come up with some DIY foaming hand wash recipes, this time, depending on this topic, which is very easy to craft in your own kitchen with just a few simple homespun ingredients. The most applauding part of using a homemade foaming hand wash is that you are getting this in a true inexpensive way along with the non-toxic excellence, which actually benefits you in a healthy manner! Let's check out the making procedure of top 3 foaming hand washes in this article ahead-
Moisturizing foaming hand soap contains lots of moisturizing elements in it which cater a natural softness to your skin after every wash and prevent to make your hand harsh throughout the whole using session.
Ingredients:
To make this item you will need, 4 cups of purified water, 1 cup of liquid castile soap, 8 drops of tea tree oil, ½ tbsp of moisturizing oil or a vitamin E supplement, and an empty clean foaming dispenser.
Methods:
At first, fill the soap dispenser with a portion of 4/5 part and add the castile soap to
Then, pour the essential oil along with the moisturizing oil into that bottle and set the lid securely.
Now all you need is just shake the bottle roughly for a few while and start using your homemade foaming hand wash, whenever you want!
How about trying DIY bath bombs.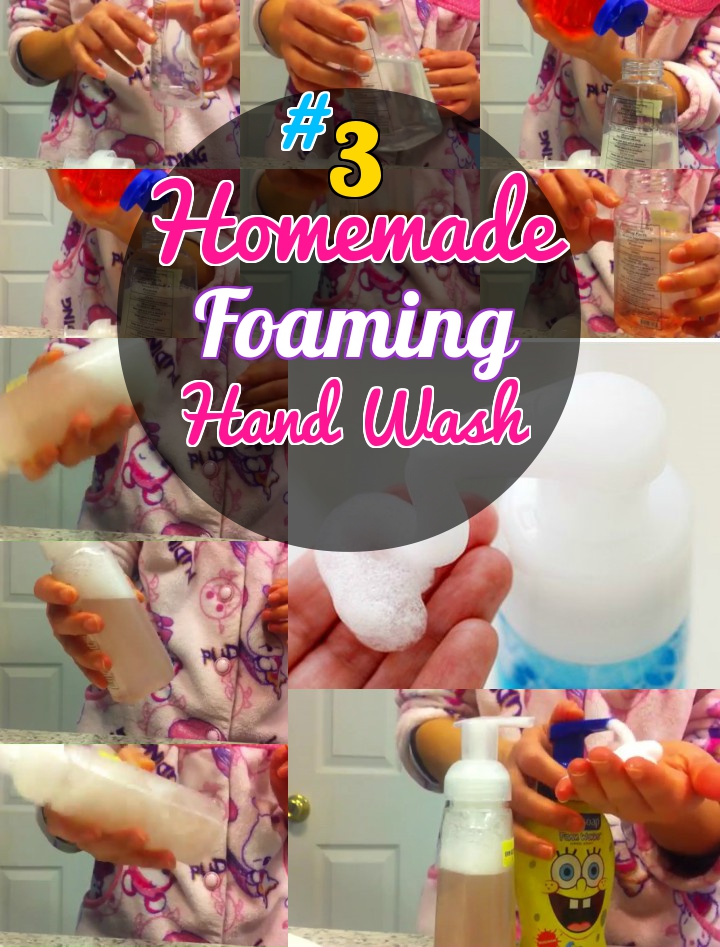 Related Video
Homemade Soap: Anti-Bacterial Foaming Hand Soap
Antibacterial hand wash is needed for our toilet and dining room uses and it kills the unseen germs and bacteria from our skin and helps us to get a healthy system around.
Ingredients:
Take 3 or 4 cups of distilled water, 2 tbsp castile soap, 2 tbsp fractionated coconut oil, 15 drops of clove essential oil, 10 drops of tea tree oil, 5 drops of eucalyptus oil and 5 drops of peppermint oil along with an empty spray bottle.
Methods:
At first, take the water in your spray and then add the castile soap in the starting stage.
After that add the rest ingredients one by one into the bottle and set the lid tightly.
Now all you just have to do is that shake the dispenser vigorously for a few minutes continuously until you feel that all the ingredients have dissolved well.
Then just take a few drops from the bottle and rub it with some water to get the foamy and antibacterial form of it!
You may also be interested in homemade lemon orange glycerin soap.
DIY Scented Foaming Hand Wash:
Scented foaming hand washes basically use to wipe out some bad or unmanageable stinks from the hands, which is quite essential for the kitchen area!
Ingredients:
To make this hand wash you will need, 12 ounces of filtered water, 2 tbsp liquid castile soap, ½ tbsp almond oil and 50 drops of different essential oils along with a blank dispenser of foaming hand wash.
Methods:
As per the previous processes, fill the ¾ part of the bottle with water and then pour in the liquid castile soap in it.
After that add almond oil and the all the essential oil and shake the bottle thoroughly after setting its lid properly.
Now just shake the bottle each time whenever you need to use this homemade foaming hand wash in your need.
Save