Shopkins Party and Craft ideas:
 How To Make Shopkins Earrings Jewelry

 Shopkins Crochet Idea

DIY Shopkins Snow Globe Shopkins Shelves

 Shopkins Paper Plate Craft Ideas

Shopkins Birthday Party

 Birthday Party Ideas on Shopkins


You should include some foods in the shape of Shopkins characters as well, like popsicles, cupcakes, marshmallow pops, sandwiches, candy sticks, fruit kabobs, cookies, muffins, etc. along with the birthday cakes. Some food items and drinks are inflexible with these Shopkins characters, so, try to keep those items in the containers which decorate with the theme. In this way, you can apply the Shopkins theme with those components easily, which were hard to convert as a Shopkins personality earlier!
Though Shopkins characters come up with a 1-inch height and 1-inch width, yet, you can apply this theme to bigger objects, especially while making crafts on this theme. Like, yarn crafts, snow glove shelves, Mason jar crafts, paper plate crafts, etc. some girls like to wear Shopkins earrings in a Shopkins party theme to relate the theme more affectionately. To craft such things, you just need to make two earrings with a solid surface in any shape and shade, then just add or decorate those earrings with facial features and add lumps to them and it's all ready to use!
Shopkins Birthday Party Ideas

 Shopkins Birthday Party Entry Way Balloon Decor

Irresistible Shopkins Party Ideas

Shopkins Birthday Party Ideas Its a Market

Shopkins Birthday Party Cake Ideas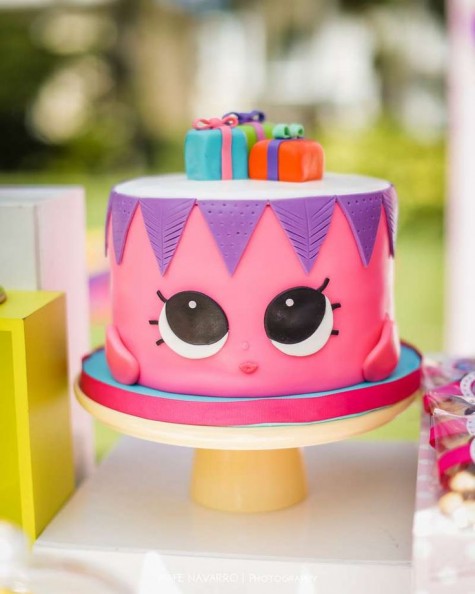 To decorate the party hall you should use vibrant or colorful objects which must have facial features as the Shopkins characters. Whether it is the food menu, the food court table, the hall embellishments or the party appliances!
 Birthday Party Cupcakes

Shopkins Themed Birthday Inspiration

Shopkins Birthday Cakes

Shopkins Cake Ideas

 Shopkins Birthday Decor and Dinning Idea

 Birthday Cake Decor