Growing Cilantro
Cilantro is the leafy part of coriander plant that appreciated as one of the popular edible herbs of all times! The amazing aroma and exclusive flavor make this herb so admired among the utmost spice lovers or food devotees. The best part of cilantro leaves is that this leaf has no extra flavorsome in it but, when it includes in any recipe cilantro works superbly and increases the taste of that preparation more extensively!

Though cilantro leaves are always available in the market, yet gardeners eternally love to use those herbs which they can grow in their own garden, right! It is not a very hard thing to plant and grow cilantro leaves in your own garden in these days, especially, where so many helpful directions are available on several websites. We have instructed you about container gardening before in our few previous articles with some other indoor vegetables and now it's time to enlighten about the growing procedure of this useful edible leaves, too. So, let's check out some notable sides of how to grow, maintain and harvest these amazing cilantro leaves in your own backyard area in this article ahead-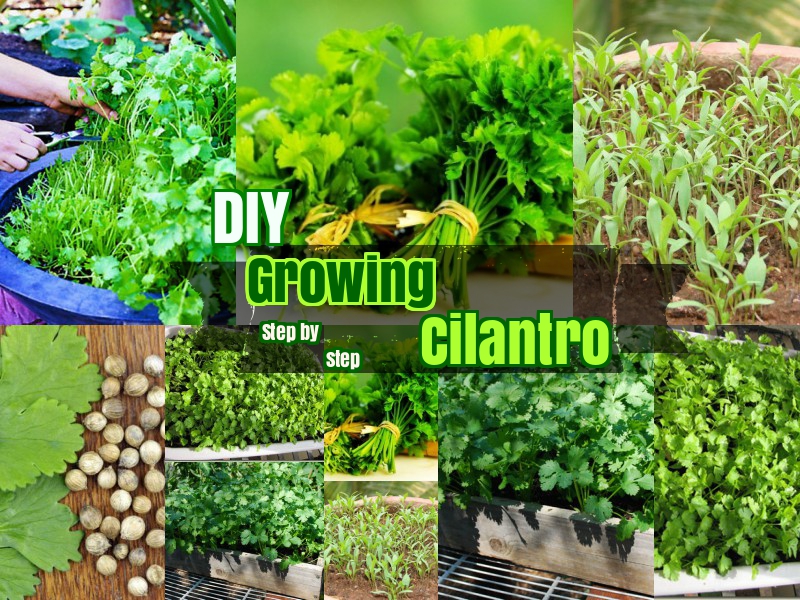 How to Plant Cilantro?

At first, you need to decide that where you want to sow your plant! If you want to plant cilantro in a garden container then, clear the container first and fill it with the quarter part of the potting But, if you want to sow the seeds in your garden then, decide the right corner first and select a patch of soil at that place. Remember that the soil must be light and has well-drained quality with a pH within 6.2-6.8.
Now, implant your cilantro seed inside the soil about ¼ inches deep and make sure that you leave 6 to 8 inches spaces apart for each seed.
After that water over the soil in enough quantity as cilantro leaves require bounty of moisture. Hence, keep the water the seeds on a regular basis to maintain the humidity for germination.
Once you sow the seeds properly, then, it all about the care and cultivation process which certain the growth of your herb properly.
Check for Indoor Herb Garden Ideas.
How to Grow Healthy Cilantro ?

Once your seeds start to germinate, then it's time to begin the proper care to harvest a plethora of healthy and fresh cilantro leaves. So, when it is sprouted and reached at the height of approximate 2 inches, start to fertilize your herbs with some natural fertilizers.
For fertilizing cilantro leaves, always seek for a water-soluble nitrogen fertilizer to provide nutrients to your plants. Keep fertilizing every week throughout the whole growing season but, be curtained that you are never over fertilizing your herbs to avoid any kind of damages or rottenness.
Now, when the plants start overcrowding, just take out the smaller plants from the main stem and let the longer ones stronger!
When the plants get a length of 6 to inches, it's all ready to pluck or harvest for your cooking methods.
Also check for growing tomatoes for fresh tomatoes from your garden.
How to Harvest Cilantro Leaves?

Harvesting process of this cilantro leaves actually depends on your command. As in, if you want to harvest the leaves only then, you can harvest them all when the reach the ripe length, but, if you want to get seeds again from your plant then it may take a few more days after the proper form of cilantro leaves.
After taking out the wider leaves and stems from the plants, the plant will begin to flower.
At this point, your plant will stop generating new and fresh leaves anymore! Leave the plant uninterrupted to flower, and when the flowers dried out completely, you will capable of harvesting corridor seeds for the next set of cilantro leaves!
If you are interested in organic fertilizer try compost bin and worm garden ideas.
Things needed for the Right Growth of Cilantro?

To keep the growth of your plants entirely perfect, you need to validate a few things which are highly essential for the growth of a cilantro plant. They are adequate sunrays, sufficient supply of water, proper fertilizer, airy condition, worm of pests kill spray along soil with appropriate pH balance.
Cilantro leaves claim a dry and sunny weather to grow properly, that's why, and it always suggested that cilantro should plant in the warming season as they cultivate best in the heat climates. Thus, it has been advised that if you sow cilantro seed into a garden pot then, try to put the pot in front of the direct sun rays for 7 to 10 days in its initial stage.
Water is the most imperative element for cultivating cilantro plants in your own garden. The soil for the plant need to stay in moisture condition for all the time, so keep watering the container or the place of your garden where you sow the seeds. As over watering can dig the soil or damage the seeds, hence, try to water your seeds with a sprayer to do the procedure systematically. You can water your plants for a couple of time in every single week.
We already mentioned you to use some water-soluble fertilizer for cilantro leave as they hugely need water resistance for the better result. Hence, just buy any of this types fertilizer from the shop, mix it with the water and apply over the soil so then it could be rooted easily.
Cilantro leaves need sufficient air circulation for its plants as well as its roots, so, plant the seed with a bit of adequate space and also use some spreader place to sow them, if you want to supply proper air circulation to your plants.
Cilantro leaves get pest easily if they stay in over damp or wet circumstance for a while. Pest or diseases can harm the beauty and freshness of the leaves and come up with a distorted spot over the leaves. Aphids, armyworms, etc. are some common diseases that can harm the plant weirdly, so use some nice pest killer spray and wipe out these bacteria from the origin.
Last but, the most imperative component is the soil pH balance, which we already mentioned above, so try to keep the soil pH within that limit if your want a wonderful start to your planting.
Need plump potatoes try this How to grow potatoes in container.
Dos and Don'ts Tips for Growing Cilantro:

You may notice that we have by now mentioned some of the important dos and don'ts in our upper discussion, but now, here we mention a few more cautious about the cilantro planting in your cultivation, check this out-

Cilantro plants need water and sun rays in a similar amount to try to sow the seed in a period of the year when your plant can naturally get those things from
Always try to grow cilantro from seeds, rather than sprouted kernels to get the easy cultivation.
If you want to use all the leaves from your plant then, try to validate its growth after a duration of 3 to 4 weeks; keep removing each leaf as they get the tender form and never let any of the leaves get older on the plants.
One last tip we want to share that never ever cut off a huge quantity of plants at once, as, if the plants get weaker or extremely thin, then it may stop growing or producing new leaves, totally!
You can also try kitchen refuse as organic fertilizers as we did in fertilizers for growing tomatoes.