We show you different type of soap in our previous DIY soap making articles. They are totally dissimilar from each other but each has a particular specialty along with an individual view as per its characteristic, such as squishy soap, liquid soap, glycerin soap, etc. Today, we are showing you a whole new pattern of another unique soap which we called bubbled water soap. It actually has a transparent clear view, which makes this bubble soap even more popular than any other exceptional soap. Let's check out the making procedure below-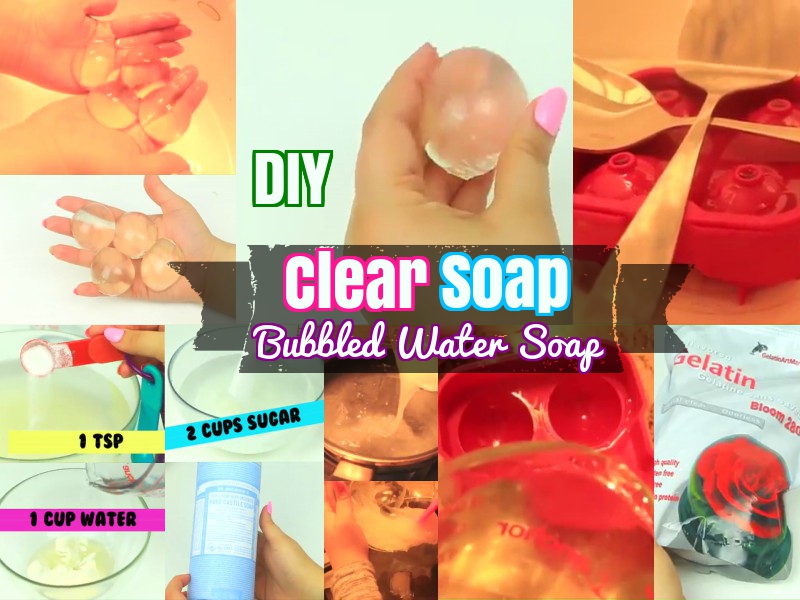 DIY Bubbled Wallpaper Soap
Supplies Needed for Clear Soap:
To make this item you need, 3 tbsp of clear gelatin, 4 cups of plain water, 2 mixing bowl, one spatula, one boiling container, 2 cups of sugar, 1 tsp of citric acid, some clear castle liquid soap, and some silicon molds.
DIY Soap Instructions:
At the initial stage, take the clear gelatin into the mixing bowl and add 1 cup of water into it.
Stir them well with a spatula and keep the bowl untouched for 10 minutes to soak everything up.
Now, take the sugar, rest 3 cups of water and 1 teaspoon of citric acid into another mixing bowl, and mix them with a spoon.
Then, place the boiling container on your oven and pour the sugar mixture into the boiling pan, vapor the whole mixture for a few minutes.
After that, add the gelatin mixture into the boiling sugar water mix and cook until all the ingredients melt nicely.
Then, add some of the soap into the mix and stir again with a ladle. There is no certain measurement for soap in this mix, just add as much as per your desiring consistency.
Now, turn the heat off, take out the mixture and pour it into the silicon mold.
Then, put the mold into your freezer for at least 2 hours to get the proper constancy. Try to put 1 or 2 weighty spoons over the mold's cover so then, the soap can't float over the mold.
Finally, remove soaps from the mold and use them as the hand sanitizer in your need. All you have to do is that rub the super cute clear bubbled soap with your hand; it will start working immediately and resemble just like a plain water bubble!
You may also be interested in DIY glycerin soap.
DIY Bubbled Water Clear Soap