Have you ever count, how many times, we mention that mason jars are one extremely functional object around us? Well, we may repeat this same line again and again but, we said this statement with different instances, right! Sometimes, it's with Halloween mason jar luminaries or sometimes, with home décor or mason jar storage ideas. Every single time, these jars delight us with its amazing functionality. Today, we are come up with 3 different usability of mason jars at once, check out the making procedure below through step by step methods-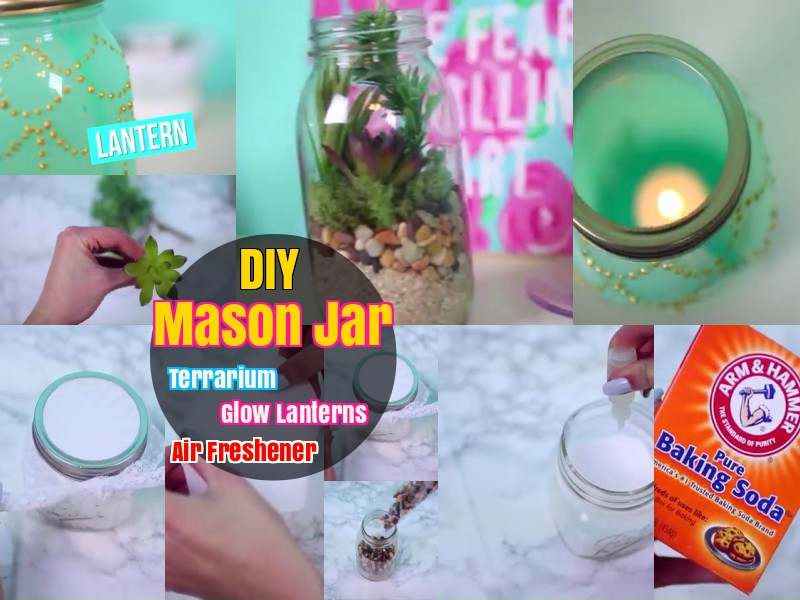 DIY Mason Jar Crafts
Mason Jar Terrarium:
A terrarium is a particular enclosed glass container for displaying plants as we all know! Here, we will show you how a mason jar can convert into a nice terrarium.
Supplies Needed:
To craft this item we need, a clear mason jar, some Accents decorative sand, some decorative rocks, some moss, and some croton plants.
How to Make:
At first, take some sand at the bottom of your jar with a nice quantity.
Then, add some decorative rocks over the sand creating another layer into that jar.
Now, take some moss and put it on top of the rocks creating one more layer into your jar.
After that, it's time to add some plants on the final layer, so, take same croton plants portions or you can use some artificial plants as well and put them over those mosses.
Finally, it's all ready to use, you just need to place the jar at a proper place where it could escalate the beauty in your room in a natural way.
You may be interested in mason jar crafts to sell.
Mason Jar Air Freshener:
These days, using air freshener for houses has become a common habituation of modern people. But, what they generally face is that those liquid spray fresheners quickly get exhausted and the fragrance also doesn't stay for a long while! Thus, here we are going to instruct you a simple process of making a perfect air freshener at home with the functional mason jar.
Supplies Needed:                                               
To make this preparation, you need, a clear mason jar, some baking soda, essential oil, a piece of white cloth and a pretty ribbon along with a scissor.
How to Make:
At first, take out the lid and pour some baking soda in the bottom of your jar by filling the jar in half way.
Now take the essential oil container, put a few drops of it throughout baking soda.
Then, set the lid and shake the jar well to stir the inside ingredients well.
Now, take out the lid and set the white cloth over the top of your jar.
After that cut the middle part away of the bottle's lid and set it air-tightly over that cloth.
Finally, tie the ribbon around the jar beneath the cap and just cut the extra part out!
Once, you did this put the jar anywhere in your room and it will smell amazing for a long while.
DIY Mason Jar Glow Lantern:
There are different ways to craft a beautiful DIY lantern using some homely products and we have already checked a few of them in our several articles, but making a lantern using a mason jar probably the easiest one among them all! Check out the procedure below-
Supplies Needed:
To make the nice thing you require, a clear mason jar, a nice yet color, a little container of liquid glitter, lid cutter, and a candle along with a paint brush (optional).
How to Make:
At first, take the mason jar and pour some color into it along with a little bit of water;
Now, paint inside part of the jar with the help of a brush. If you want to do this process more easily then, just put the lid on and roll the jar slowly so that the color coat every single corner of the jar.
Then, take out the lid and dry it up for a few hours.
Now, take the liquid glitter and make some nice design over the jar and leave it to dry again appropriately!
After that put the candle inside the jar and light it up.
Want some storage ideas check this huge list of mason jar storage ideas.
DIY Video How to make Mason jar Gift Ideas