DIY lipstick offers us a creative meadow to experiment with different kinds of shades and patterns. Earlier we have mentioned about DIY lipstick, lip scrub, and DIY lip balm recipes in our previous articles, but today, we come up with a completely new venture over this lipstick issue which we called 'bubblegum lipstick'. We generally use bubblegum to chew and doing fun activities, but, here we will show you that how a bubblegum could make a nice lipstick shade for your pretty lips with some truly simple steps! Let's check out the making steps of this unique lipstick below-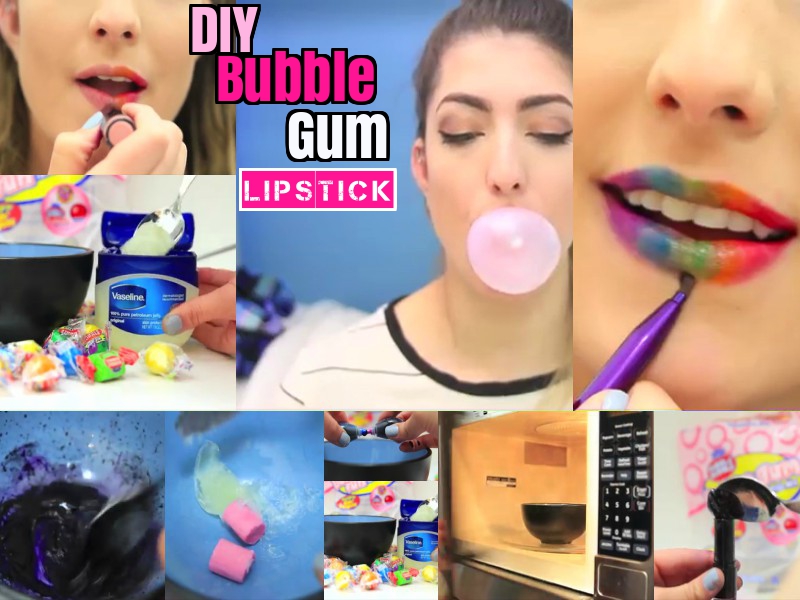 DIY Bubble Lipstick
Bubblegum Lipstick Supplies:
To make this super trendy lipstick you need, 2 pieces of bubblegum, some Vaseline, a microwave safe bowl, and food coloring, along with an empty lipstick container, that's it!
DIY Instructions:
At the starting stage, unwrap those 2 pieces of gum, take them in your bowl and add 1 tbsp of Vaseline.
Then, pour food coloring of your choice which you want to see on your lips. You can even merge 2 or 3 colors into the bowl if you want any specifically unique shade.
Now, put the bowl in your microwave oven for 30 seconds in a medium heat temperature.
After 30 seconds, take out the bowl, mix all the ingredients with a spoon and again set the bowl in your oven for another 30 seconds.
Now, take the bowl out, stir all the materials well for one last time and pour the mixture into your empty lipstick container.
Take a little spoon to stuffing it into the container and then, place the lipstick into your freezer for 5 minutes.
Finally, just take out the lipstick from your freezer and use it as your favorite lip color, whenever you want!
You may also be interested in lip scrub recipes.
DIY Video How to Make Bubble Lipstick