Halloween may be specified event for children but, these days; adults also get pleasure from this unique occasion, which they generally celebrate as an entertaining costume festival. Though, earlier it was only commemorated for collecting candies with a weird set of clothes, but, eventually, fashion had touched this carnival with a stroke of Halloween theme. Besides, several popular subject-matters; the animal is that single topic, which got the utmost appreciation from the world Halloween devotees. Consequently, animal costume, masks, and stuffed toys have grabbed the utmost adores from people, who affectionate toward this festival.
We have already instructed you about stuffed toys and crochet made toys for art crafts, today, we are going to enlighten you about some more ideas to make animal soft toys, along with the procedure of animal costume and animal masks, which you can easily drape in any lavish Halloween party. Check this out below-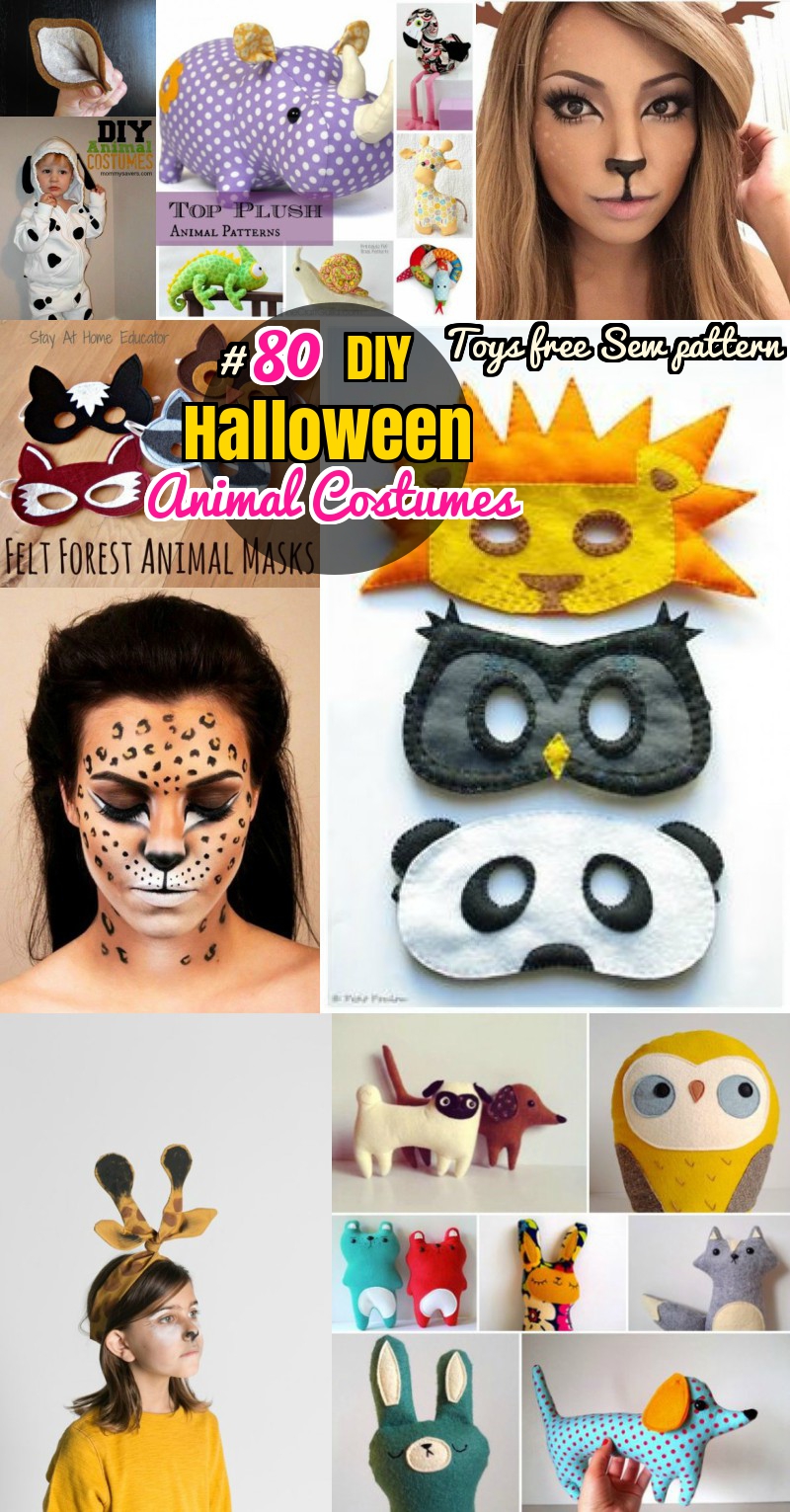 After Halloween Animal Costumes :
DIY Animal stuffed toys and free sewing patterns
Animal coloring pages for kids
DIY Animal Halloween Costumes and Face painting
 DIY Raccoon Halloween animal costume

Making raccoon costume is quite easy to make through DIY processing. All you just need to make is that a black colored eye-patch or eye-mask which must emphasize with two gray colored triangles from the top. One more thing you need to make here and that is a tail of this furry animal; for that take a gray colored sock, stuff it up and highlight it with a black tape in the pattern of thick strips. To get the more apparent idea, please check image the above.
DIY Animal Headwraps

Making animal head-wraps are even more effortless to craft! All you need just make two proper ears with exact color, shape, and pattern, sew them over a headband and take some proper makeup over your face when you wear this headwrap, just make certain that your makeup suits with the headband well, as we can check in the picture above!
Parrot Inspired Face Painting Deviantart

Even this extremely trendy parrot inspired makeup could go with this Halloween theme flawlessly!
You may also be interested in DIY sock Animal Soft toys.
Bat Halloween Animal Costume Ideas

Gils and teenagers in love with the theme of bats and vampire, so a pretty bat costume goes magnificently with this carnival, for sure!
 DIY Animal Headwrap Horn

Some animals have some strange horns over their head which are considered as the signature symbol of those creatures! Hence, this type of horn can easily give you a glance of that particular animal, without any extra burden of a whole costume. So, make two horns over a hairband with some simple element and try out now for this upcoming Halloween festival.
Interested in DIY Animal Sock toys and puppets give a try.
Taxidermy Deer Animal Costume

Taxidermy deer animal costume is for those, who can handle this perfectly. In this kind of costume, you have to behave like a stuffed and hanging animal as you can see in the picture above! When you are trying this with the deer animal, make two nice horns along with a subtle makeup as a deer!
 Happy Halloween Skunk Baby costume

If you are making a costume for babies then, try to make it for the entire body rather than some particular parts, so that you can easily avoid the makeup section! Just look at the image above where this toddler looks so adorable in this skunk baby costume, without any extra makeup!
For kids projects on Ocean themed Animal craft ideas .
Foxy Fox Halloween Animal Face Painting

Cunning or foxy fox facial makeup and hairstyle suit superbly on some ladies for this kind of celebration.
 Adult Halloween Snail costume

Snail costume is the mentionable and easiest one of all time, especially, while you are crafting it for adults! All you require to make is just two slimy horns over a headband and a rolling shell for the backside. No extra makeup or clothes are needed for this costume at all, check in the picture above!
wardteachingjournal.blogspot.com
Animal Muppet costumes

ideas.coolest-homemade-costumes.com
Halloween Party Easy and Simple Animal Costumes

We have already mentioned you about the taxidermy animal makeup and costume, to get the precise idea of getting such getup check out the picture above.
Easy Halloween Animal Costumes

www.fabulistas.com
 DIY Halloween Animal hood Costumes

Animal hood costume looks great if you are going to a day Halloween party. Dinosaurs, chameleon, etc. are some frequent animal, alike whom people love to make their costume in the pattern of hood drapery.
www.beadandcord.com
Halloween Animal costume Inspiration

If you are seeking for something cute and adorable in this Halloween season then, try out a nice sheep costume with a bit of facial makeup too!
 DIY Fox Ears

Simple fox ears can provide you a nice getup for a Halloween celebration along with a bit of nose and lip makeup as well!
Halloween Animal Makeup Ideas

Homemade Animal Costumes

Paper made costume may look childish, but it really works great when you drape this to a child or toddler. Just look at the picture above where this cute dinosaur costume is made of cardboard paper and shredded paper, but still, flaunt to eye-catchy over the toddler!
www.creatingreallyawesomefreethings.com
 Halloween Peacock Costume

Little girls always prefer to the peacock costume for their favorite Halloween party. You can make a pretty peacock skirt or a whole costume and highlight it with pretty facial makeup too.
www.beadandcord.com
DIY Animal Headwraps

Fabulous Animal Costume Ideas

Sea creatures are one more particular category which offers us verities of options for a Halloween party. Shark or lobster costume fit great on male; crabs or dolphin costumes are best for children and toddlers, while seahorse, mermaid costumes resemble magnificent on females. You can see one pretty seahorse costume flaunt so classy over the lady in the picture above.
Traditional Black Cat Halloween Costume

Now let's move to the domestic animal and look for a dusky cat costume to fetch the eyes of any Halloween costume party!
Skunk Hoodie Costume DIY Instructions

 DIY How to Make Cow Costume

Super easy cow costume is another beautiful attempt for a domestic animal dress up for Halloween carnival.
Printable Halloween Costume

Adorable DIY Animal Costumes for Kids

www.ehow.com
 Fox tail and Headband for Halloween Animal Costume

 DIY Spider Halloween Costume

Spider costumes are famous among the boys because of the weirdness of its features. Look how cute this little toddler resembles in this super cute black spider costume in the picture above.
www.beadandcord.com
Big Bad Wolf Costume

 Easy DIY Halloween Animal Costume

Easy DIY Animal Costume Ideas

How to Make Halloween Animal Costume

Blue Macaw Bird Halloween Costume

Chicken or other birds costumes are mostly picked by the little girls, which come in the hood pattern for the utmost times.
ideas.coolest-homemade-costumes.com
DIY Wolf Tail Halloween Animal Tutorial

Homemade T rex Animal costume

DIY Deer Animal Costume

randomhousewifery.wordpress.com
DIY Felt Animal Ears for Halloween

Cute and Easy DIY Halloween Costumes for Kids

DIY Homemade Lion Costume Ideas

But, if only wild animals are your favorite ones then, go for the extreme wildness and pick tiger, tigress or lion costume for an animal theme Halloween celebration.
www.coolest-homemade-costumes.com
Simple DIY Animal Costume Ideas

Homemade Halloween Costumes


 DIY Baby Halloween Animal Costumes

www.beadandcord.com
 DIY Halloween Animal Makeup Ideas

Halloween DIY Animal Makeup Ideas