Bunk beds are the perfect solution for those parents, who want to give their children proper privacy in a restricted room space. Nowadays, the living spaces became smaller and furnishing befell heavy, the space crisis goes worst when we have more members in our house than the rooms. In this type of trouble, bunk beds act as a boon to many of us, who manage only one room for their 2-3 children.
Perfect bunk beds not only save some space in your room but also induce the sleep of your little ones in a brilliant way. Bunk beds mostly craft with one or two or three stair-pattern beds which are lifted from the floor with some wooden structure.
You can easily find ample of classy and fashionable bunk bed designs in the market right now. The best part of these beds is that they are actually very simple to build despite their intricate resemblance! So, here we go with some extremely simple-to-build DIY bunk bed ideas for you. Let's explore them and redecorate your children' room in a whole new way with these extraordinary DIY bunk beds-
1. Build a Side Street Bunk Bed for Small Corners:

This is one of the modern style bunk beds which are actually inspired by the Land of Nod Addison Bunk Beds. This type of beds mostly crafts with strong wooden pieces and different types staircases separately for different beds. It can be fit in a small corner of your room easily and probably thus called simple street bunk bed in the market.
2. Vibrant Junior Loft Bed Project:

This is one type of dreamy bunk bed ideas of all time that goes spectacularly if you manage to apply some colorful paints in your kids' room. This type of bed is mostly made of hard fiber pieces or wooden stalks and manufactured with a trendy side-staircase design. This type of fashionable bunk bed not only fulfills the requirement of a bed in a small space but also, increases the adornment of your room in a fashionable way.
3. Camp Loft Bed for Your Junior (With Stairs) :

This is one type of best bunk bed pattern for your growing toddlers, which comes with an extended bed size on its bunk structure. The stair mostly followed by a small wooden platform and the under-bed space if great for playing session with your kids. You can also use that empty space to store some kids' stuff in an organized way. This sort of bunk bed always crafts with one single bed along with a ladder-type staircase.
Build this rustic camp loft bed
4. Make a Micro Bus Bunk Bed and Playhouse:

This is one compact bunk bed idea that could satisfy every type of needs of your children in the simplest way. The whole structure of your bed would come as a minibus that has a double-decker bed on the top floor of the bus. Your kids would love to have this pattern in their room, which would entertain them immensely along with inducing their sleep in a crazy manner.
Step by step tutorial to build this microbus bunk bed.
5. Build a Space Efficient Triple Bunk Bed:

If you want to make a share-bedroom for your kids along with a fashionable bunk design then, this would be the best pick for you. Sometimes, kids combat with each other for a little more space in their bedroom, this type of bunk bed would teach them the good use of space in a shared room.
DIY build this triple bunk bed
6. One Extra Strong Rock Solid Bunk Bed:

This is one of the commonest bunk bed patterns from the old school, which are extremely easy to build and at the same time, durable too. This type of bunk bed could come with more than one bed, depends on your requirement. Being prepared with hard wooden stalks and strong screws, the base structure is strong enough to carry any bed numbers on it.
7. Simple Modular Pine Bunk Bed Easy to Stack On:

This is one simple bunk bed pattern where a one-bed frame is stacked on the head of another in an unusual way. In this type of bed, the lower step generally uses as the bunk bed, while the top step uses to store clothing or other essential objectives in a clutter-free way. These types of beds don't need too much of area to fit in and capable of to stack your kids at night allowing more floor space for their stuff.
Instructions to build this modular bunk bed.
8. Build an Easy Bunk Bed ( Super Solid & Last for Lifetime):

This is one type of plainest bunk bed design that is made of durable lumber pieces and mostly comes with two similar-size beds. This is one of the oldest bunk bed patterns that usually last for a lifetime due to its strong structure. It needs a small area to fit in your room and mostly suits for 3-5-year-old kids due to its restricted length.
View plan and steps to build this bed.
9. DIY Floating Bunk Bed Tutorial: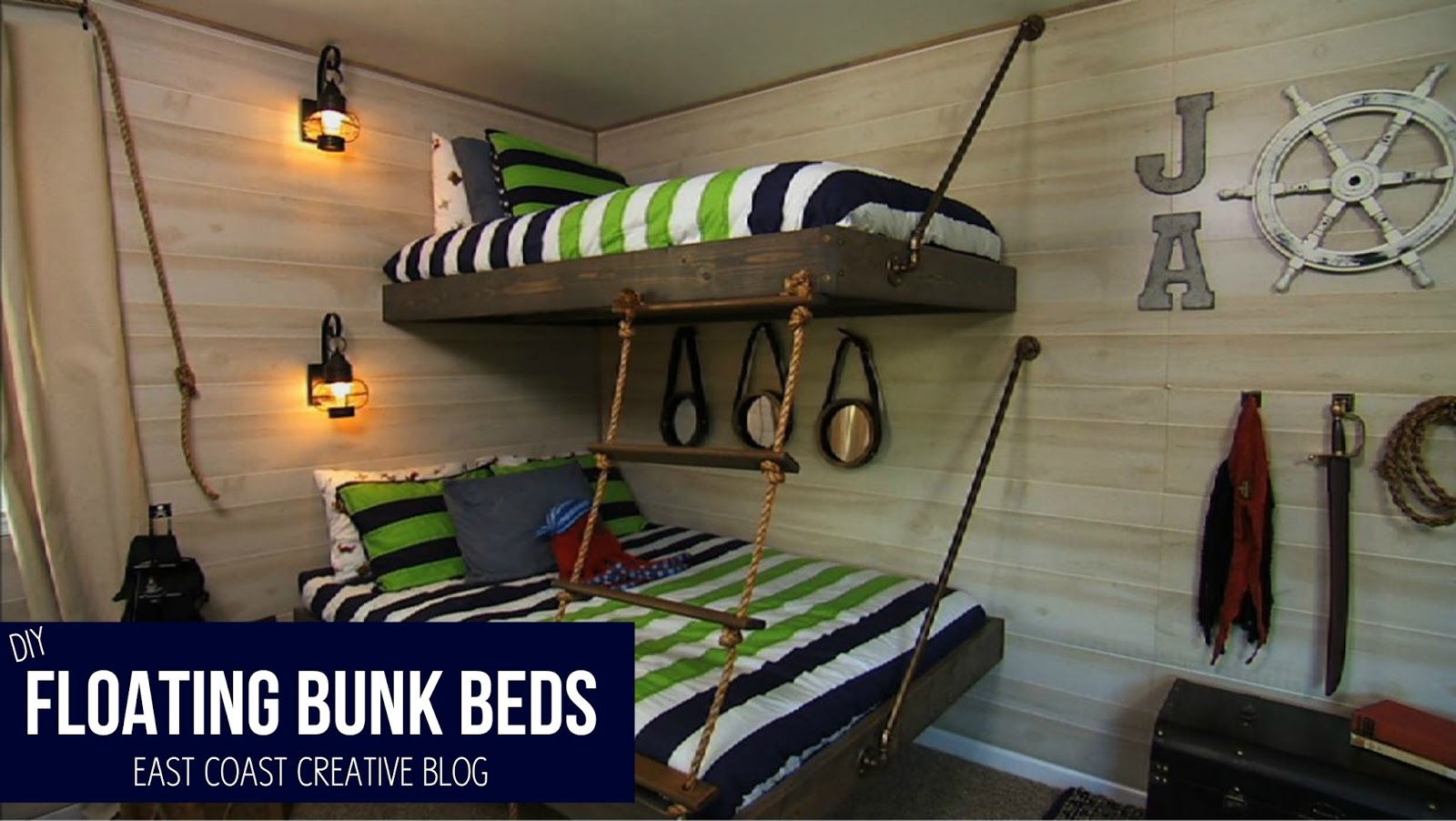 This is one of the most desired bunk bed design, especially for boys, which could give them a fantasize feel in every night! Definitely, this type of bed can be immensely expensive and need high maintenance due to its delicate building structure. Try to choose the strongest strings to float it from the wall, to increase its durability perfectly.
Plan and DIY steps to build this floating bunk bed
10. Plain Minimalist Bunk Bed ( Best for Beginners )
This is one of the cheapest and easy-to-make bunk bed designs which could save our room space outstandingly with its plain structure. This type of bed mostly comes without any staircase and contains less length than the other bunk bed patterns. If you are a novice in this DIY filed then, this would definitely be the best pick for you with an affordable budget.
View Plans to build this stack on minimalist bunk bed.
11. Build a Rustic Modern Bunk Bed and Paint it White:

Well, this is certainly a trendy bunk bed indeed that crafts in modern bunk bed pattern in a fancy structure. Usually, this type of bunk bed prepares with well-fitted staircase at its side that is strong enough could carry the weight of your kids reliably. The dimensions of the bunks may vary with it's essentially and the super chic look could provide your room a rustic resemblance noticeably.
Tutorial and plan to build this rustic modern bunk bed
12. Land-Nod Inspired Bunk Bed for Teens:

This is another contemporary bunk bed pattern that could fulfill the requirements of your kids till their early teenage period! Usually, this type of bed prepares with an extended length, which allows them to fits in for the grown-up kids as well. You can easily build this type of fancy bunk bed in your basement or under-staircase case area due to its organized structure. This type of Land-nod inspired fashionable bunk bed comes without any staircase and uses small ladders to climb up the top floor effortlessly.
DIY Tutorial to Build this Land-Nod Bunk Bed
13. Build a Space Saving Side-Fold Murphy Bunk Bed:

This is the best idea to make a simple spare room into a suitable bedroom for your sudden guest in a smart way. This type of bed comes with two twin beds made of comfortable mattresses. Due to the side-fold design, you can easily hide this bunk bed in your room-wall like a hidden shelf. People, who have smaller space for their kids or guest, could try this bed pattern easily through a simple DIY process.
How to tutorial and plan to build this side fold murphy bunk bed.
14. Simple and Last Long DIY 2×4 Bunk Bed:

This is a well-built bunk bed pattern that comes with an in-built staircase design and gives a lost-lasting durability due to its strong structure. Each bed of these bunk beds is wide enough to carry more than one kid at a time, thus this type of bunk bed acts hugely useful for campus night or picnic or small outing on an outdoor area. You can also use it as your regular bed in your bedroom accordingly.
Step by step pictures and plan to build this 2×4 bunk bed.
15. Classy DIY Bunk Bed:

This is one beautiful bunk bed pattern that could be made on the structure of a bunk bed upon the base of a normal bed in a twisted way. This type of bed suits best with girls, particularly the lower huge size bed, while the top tine bed amazingly suits her little brother with a delightful mood. Use the empty staircase areas as the shelves to keep things in order and get a clutter-free organized room with a classy bunk bed design in a low-cost way.
View Plan to build this classic bunk bed with stairs
16. Trendy Lumberjack Bunk Bed for Teen Room:

This is one modern bunk bed pattern that comes with two differently-made beds which are attached in a trendy way with its fancy staircase. If you are looking for some unique bunk bed designs which are easy to craft too then, this would be the best choice for you. As more you decorate the outside of this bunk bed as much fanciness you will get from this unequally built bunk bed indeed.
DIY step in pictures to build a teen room bunk bed.
17. DIY Industrial Bunk Bed (Steampunk Love):

This is one of the best bunk bed designs for growing boys, which come with a metallic or ironic staircase pattern and escalate the classiness of this bed outstandingly. The bed structure also could be emphasized with some metallic rods and give your proper protection during the night. This type of bed mostly needs an average space to fit in and not easily movable due to its heavy weight.
How to build this industrial style bunk bed.
18. Colorful Floating Loft Bunk Bed for Kids Room:

This is one more beautifully built floating bunk bed design that comes with a low-cost quality unlike the previous one. If you are looking for a loft bed that is strong enough to last years and cheap enough to try for any DIY lover then, this would be the best pick for you. This type of bed doesn't need too much of space to hang around and built with a safeguard railing that keeps your child safe during their sleep.
View plan to build this floating bunk bed
19. Durable Built-in Bunk Bed:

If you are looking for an everlasting bunk bed design then, this would be the best choice for you, as the built-in quality makes this one the most durable pattern of all time. Usually, this type of bed could not move once they made properly, but sometimes gives a more fashionable look than a regular moveable bunk bed in your room. All you need is just plan the built-in beds in a bunk pattern and pair them with perfect staircase design with lumber-made stairs.
How to build this builtin bunk bed with step by step pictures tutorial
20. DIY Pottery Barn Bunk Bed:

Pottery barn bunk bed could give a perfect bedroom resemblance for the kids, who love sports during their growing age. This type of fancy bunk bed needs a little wider space than the regular bunk beds and may charge a little more penny than your decided budget. However, the exclusive looks of this type of bunk bed make this little expensiveness totally worth it.
Design inspiration and plan for a barn bunk bed.
21. DIY Loft Bed for Girls & Bunk Bed for Boys:

If pottery barn bunk bed is the ideal pick for a boy then, this type of trendy loft bed definitely a dreamy one for the girls indeed. If you are planning to give your little princess a surprise with a newly adorned bedroom then, try your hand in this simple DIY project. You can set the loft bed up from the floor or simply set it in the floor with a tiny height that could make this one easy-to-reach for your little girl. Use the underneath empty space of the loft bed as a simple storage space for the toys of your girl and keep the room organized easily. Also check at the bottom of the page for boys room bunk bed design.
How to build and float this bunk bed.
22. DIY Junior Loft Bunk Bed ( Cut, Paint, Drill, and Build):

This is one more magical loft bed pattern that comes with a super chic curtain design at the bottom. You don't need to build two-bed structures in this type of bed and can use the extended-under the bed area as the floor bed with proper bed pads. Set a removable or folding staircase at the side of that bed and keep the curtain covered to maintain the privacy of lower bed appropriately.
View Plan and simple steps to build this bunk bed
23. DIY Fancy Bunk Bed IKEA Hack:

This is one more beautifully-build bunk bed design that comes with a super classy curtain layer at the bottom part. The structure of this type of bunk bed made of wooden stalks or hard lumber pieces, while the color may vary based on your taste or desirability.
Cut, paint, drill, and build this fancy bunk bed with a detailed plan.
Bunk Bed Ideas Updated October 2018
Kids Bedroom with Ladder and Slide Bunk Bed Idea
Bunk Bed Idea @ house beautiful

Make two bunk beds with a ladder for a spacious room

Rustic Loft/ Bunk Bed Idea with Tree Branches for Ladder

Teen and Kids Bedroom Ideas: Few more creative and unique bunk bed ideas to conserve more space







Above doll house bunk bed was found on Etsy


https://www.instagram.com/p/BPV-kebglCF/?taken-by=kate.fisher.art