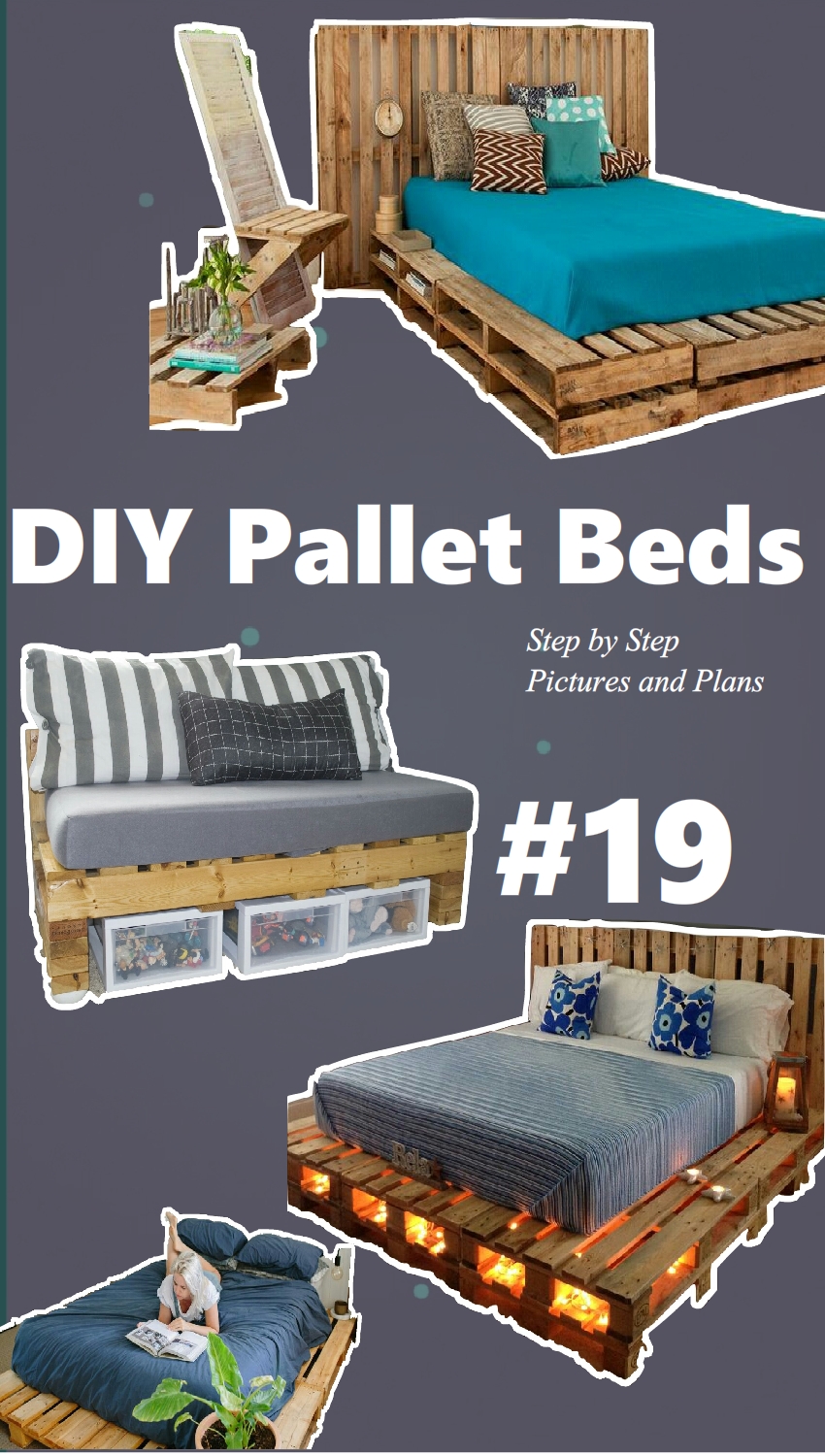 Pallet woods are one of the most inexpensive and easy-to-access components to use in DIY projects. It is also hard enough to last for an extended while and at the same time, could be stored in your collection for a long session in a complete damage-free manner.
The even surface of wooden stalks on a pallet helps this component to be a perfect platform for a bed frame. So, if you are thinking to craft your own bed from these pallet frames then, check out these incredible pallet bed ideas below and revamp your room decoration in the simplest way.
All you need to do is just gather some old pallets from your storeroom, bring the other supplies, and make your own bed all by yourself in any desiring pattern.
You know the best part of using pallets for your DIY bed frame is that you can even make a beautiful headboard or nightstand as well along with the bed frame in the cheapest way! So, let's not waste any more time and explore these utterly useful pallet bed ideas immediately-
1. DIY Rustic Pallet Bed and Headboard: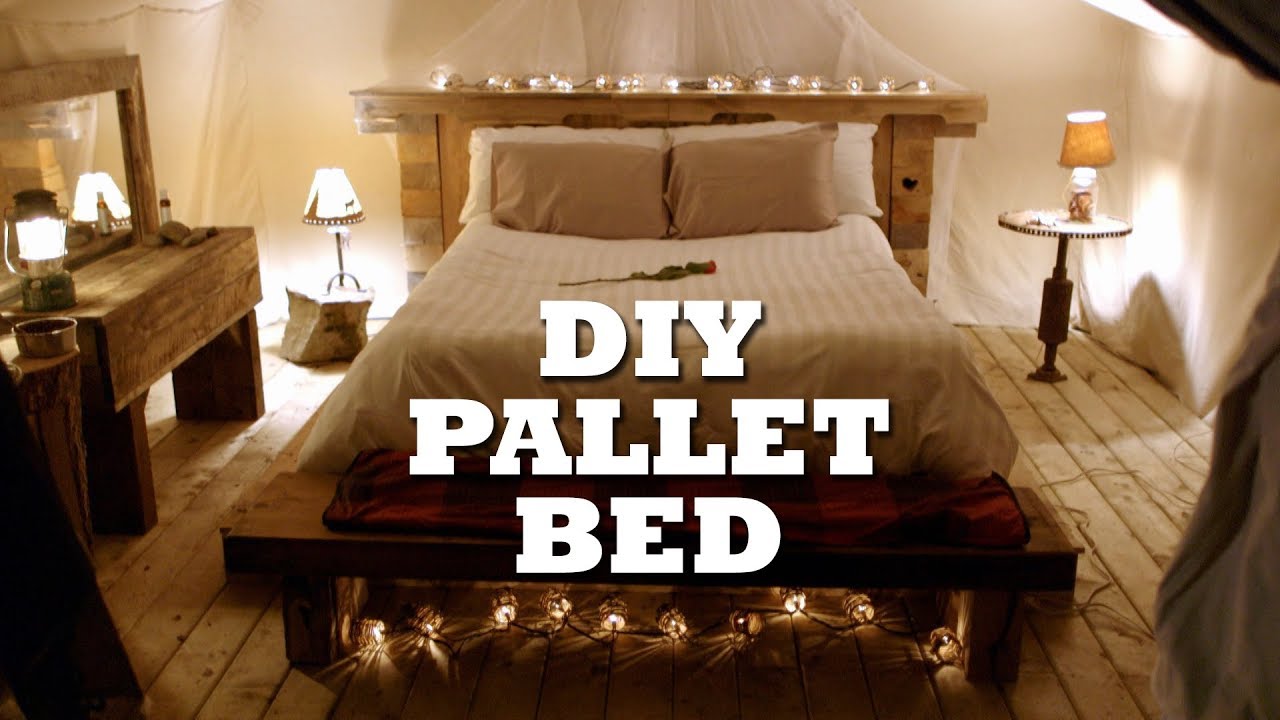 To grab a rustic look for your bedroom, pallet-bed idea is one of the effective ones indeed. The bare pallet pattern could give an ideal pastoral resemblance to your room, especially when you make classy hardboard as well along with the bed frame. This type of rural look fits bet for outdoor bedrooms than normal house bedrooms.
If you can't have enough pallets for an attached headboard design, try to gather a few wooden pieces and give them a perfect headboard pattern based on your bed frame.   Well, making rustic pallet bed and headboard would become more enjoyable when you get a perfect instruction method with it. So, here we go with this precise crafting manual in step by step method, let's click the link below-
Tutorial- Brojects
2. DIY High Headboard for Your Bed Frame with Reclaimed Pallet Wood :

Sometimes, we have enough pallets in our storage and don't have space for an extra bed for our house; making a pallet wood headboard is just the right thing we can do with those woods here. The rustic appearance of the pallet wood could revamp the whole look of your old bed in a magnificent manner. Try to pick high-quality sturdy pallets for your DIY harbored, as you need to keep this part of your bed bare or uncover, unlike the bed frame. Pallets made of oak-wood would be the best pick for this type of headboard designs.
Tutorial- thinkingcloset
3. You Can DIY This Pallet Bed in fewer than 10 Dollars:

If you are going through a money crisis and still need a bed desperately for your room then, try out this cheapest pallet bed project that could be done within 10 dollars!
Don't misunderstand the cost with its classy look, this easy-to-craft bed actually could provide a pretty bed frame with these simple reclaiming pallets. This type of bed suits single apartment or dorm room and provide more fancy resemblance when used as a floor bed design. So, check out the making procedure from the below link and challenge your inner carpenter with this simple DIY bed project.
Tutorial- caseymarie
4. Not Just Pallets You Can Use Crates For Extra Reliable Bed:

Here is another easy bed frame design using pallets and crates as its base or main structure. Crates & pallets both are easily accessible from our storage and they are extremely low-cost material as well. All you need to do is just merge some carte boxes and reclaiming pallets perfectly which could set evenly in your bed structure.
Use hard or sturdy clumps to join all the crates properly and use any simple wood paint to hide the bare pallet shade from your DIY bed. Try to screw the pallets with your crate structure properly using any electrical tool or drill machine and make the durability of your DIY bed perfect.
Tutorial- 9livesart
5. Paint the Pallet Bed Frame White and Give Contrast Colors and Your Teen Bedroom is Ready :

If you want to redecorate the room of your teen child then, this would be the project for you. In this idea, you will see how some plain pallets could turn a plain bedroom into a super fancy room for your teenage child. Pallets always come with a natural countryside look that seems interesting for a growing kid from many aspects. So, if you could emphasize their bed with some finely colored pallets in a unique way then, it definitely would be a treat for your children in an exclusive manner.
Tutorial- honey&fizz
6. You Don't Need a Side Table While You can DIY a Pallet Bed with Attached Nightstand:

This is one two-in-one bed structure that could come with two nicely-shaped nightstands along with its bed frame. Pallets could make a solid base for your bed and stable platform that could last for a lifelong period. In addition, we don't need to spend too much of money to collect or purchase these sturdy pallets for our DIY project. Hence, using pallets to build such a product is no doubt a smart choice indeed and this idea became more useful when you can get some additional storage space for your night stuff. So, try out your hands in this unequally built pallet bed and redecorate your room in an extraordinary way.
Tutorial- homemadefoodjunkie
7. DIY Pallet Bed Making Procedure (Step by Step Wikihow Pictures):

There are almost plenty of ways to repurpose your unused pallets in a DIY project and making a stable bed out of pallet would be one of the ideas among them. You only need two to three sets of hard pallets to make a wonderfully fancy yet durable bed for your room. Making this type of pallet-bed not only teaches us to recycling products in a useful way but also, help us to grab an exclusive bedroom look in the most affordable manner.
Tutorial- wikihow
8. Really Simple But Vibrant Colors Make the Pallet Bed Crafting Admirable:

Sometimes, we need to enlarge the bed size or have to grab a new one for our growing kids or personal use. In a hurry, we always spoil some money or spend huge expenditure on this type of attempt badly. Things turn more expansive when we want some moveable beds for the eternal cleaning purpose. But, thankfully pallet is that simple object that can help you immensely in this regard. So, collect some unused pallet sets from your storage and make a simple easy-to-move pallet bed following these clear crafting instructions.
Tutorial- projectnursery
9. DIY Plain Pallet Bed Frame – Leave it as an Extended Bed Frame if you are lazy like Me :

This is one more DIY bed frame project you can make out of pallet sets easily in your crafting room. This is one more useful example that how pallets could help you to have extremely functional furnishing in the more inexpensive way. You hardly need two strong pallet sets to make this plain yet durable bed frame through an easy DIY process with the help of some typical screws or clumps.
Tutorial- decosoup
10. DIY Easy Naturally Rustic Wooden Pallet Bed Frame -You Can also Use the Storage Below:

This is one more wonderful DIY bed frame idea to make out of simple pallet sets from your old storage. In this project, we would cut long pallet set in half, right alongside the second brace in the center to make a double size bed out of them. Try to join the pallets at their center base to make the top surface properly even in your bed frame. You don't need to apply any paint or extra adorning layer to this frame at all, especially if you like the natural rustic look of a pallet for your room.
Tutorial- thewoodenforest
11. How to Make Adjustable Bed Base from Pallet:

Here we come with one more easy-to-build bed frame idea that is prepared using pallet sets as their base. In this project, you can see that pallets not only use for its sturdy quality in a bed but also for its amazing adaptability that is effortless to transfer into a wonderful bed frame effortlessly.
Tutorial- greenideas
12. DIY Fancy Inexpensive and Easy to Build Pallet Bed -Save money on Bed Frame Invest on a Mattress:

In this DIY bed project, you can see how home decorating would be easy and classy same time with a simple pallet-made bed. We usually meet a budget mismatch whenever try to adorn our house in an exclusive way, but this fancy pallet bed project would show you how to amalgamate inexpensiveness with the sophisticate resemblance in the smartest way. This project is the best fit for people, who are looking for a king or queen size bed for their room within a small budget.
Tutorial- apairandasprarediy
13. How to Build a King Size Large Pallet Bed Frame – Would be Great for Spacious Bedroom:

If you are looking for a durable king-size bed for your outdoor space in a low-budget facility then, this would be the best one to try for you. You need 3-4 large pallet sets along with some other essential supplies to fulfill your idea into a perfect reality. People, who are searching a floor-based large bed frame for their vacation destination could apply this DIY project happily with its proper making instructions.
Tutorial- thespacebetweenblog
14. DIY Pallet Couch cum Day Bed – Would Prefer this Near a Window and Better with Wheels to Move:

This project is a perfect instance of how pallet could fulfill the requirement a wonderful furnishing in the cheapest way. Sometimes, we don't have enough space for an extra bed in our house and a couch-cum-bed would definitely be a brilliant solution in this type of crisis. Simply, set the pallet sets properly in a way where it could fold or widen with just a simple moving process. This sort of project not only save some extra space in your room but also save some money too, where you can get the benefit of two useful furnishings in one receptacle.
Tutorial- crateinspiredmotivate
15. Inspired by Pinterest Post DIY Rustic Pallet Bed Frame -Cheap and Affordable while Moving to a New Home: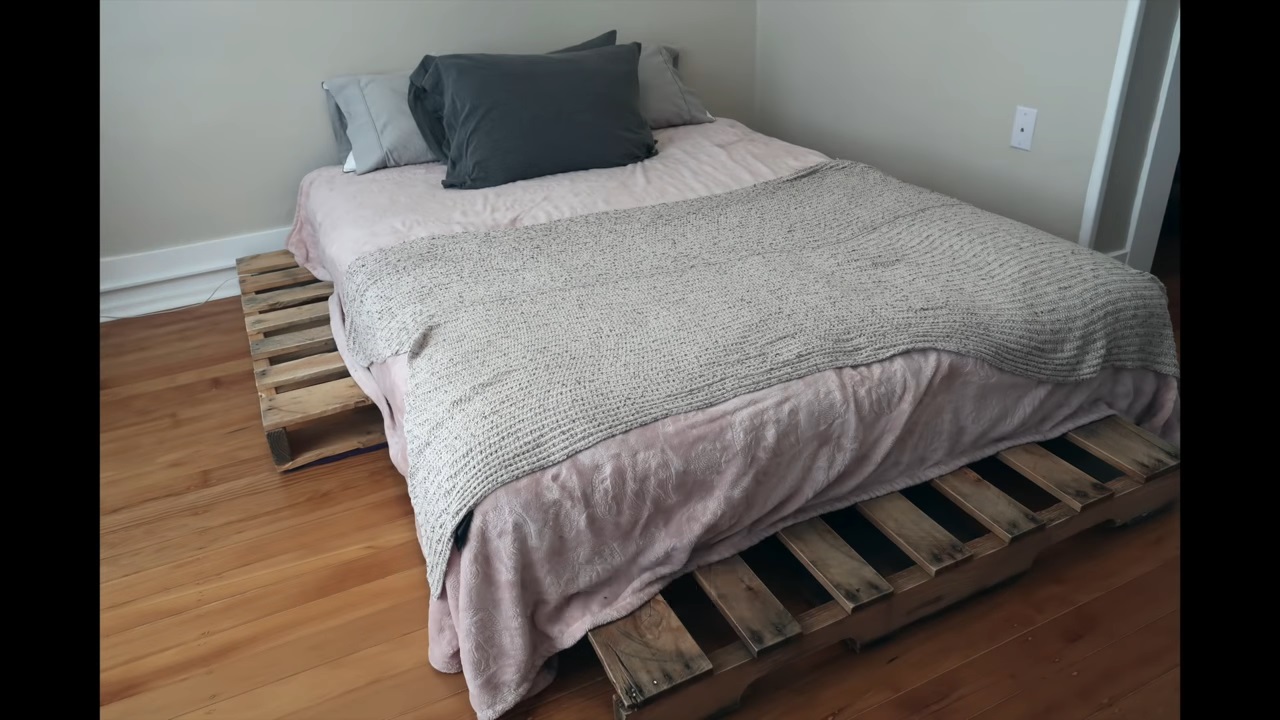 This is one more spectacular DIY bed project using pallet as its base and making the crafting process smoother than ever. If, you are looking for a proper crafting instruction to build a durable yet fancy and quick yet classy DIY bed out of your unused materials then, this would be the best project to try indeed. You can easily adjust the size of your bed by reducing the pallet set in this project, according to your needs. Let's check the perfect manual of this project on the below link-
Tutorial- lily&Ian
16. My DIY Pallet Bed Frame:

This project will show you how to make a pallet bed in the most labor-less way with just a few simple DIY processes. As this one is made for a single bed frame, you don't need too much of wide pallet sets to use here. Use readymade furniture-legs to adjust the height of your pallet bed properly according to your need.
Tutorial- theartofnaomi
17. DIY Oakwood pallet Pallet Bed for Professional Looking Store Bought Like Bed Frame:

People, who think that pallet only good for floor bed designs, check out this brilliantly made bed frame out of some pallet sets exactly in the shape of your regular bed. You can even make some extra storage space with its ling height and get the facility of divan-pattern bed in the most inexpensive way. Only try to use the strangest pallet sets for the base structure and then set the top bed frame properly. Oakwood pallet is a great choice for this type of sturdy bed frame.
Tutorial- simplykierste
18. You DIY this Creative and Inexpensive Modern Pallet Bed with Lights: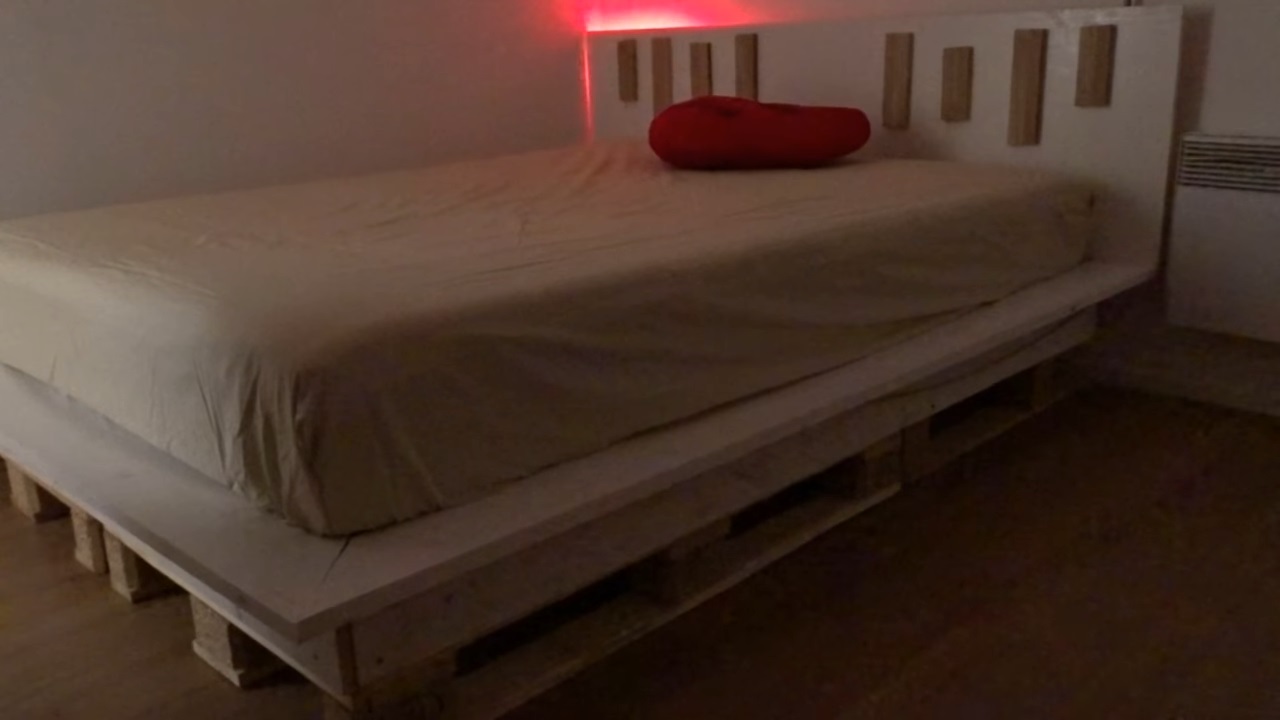 This is one more DIY bed frame project for people, who want to craft their own king-size bed with the low-cost quality. The extra platform around the bed frame gives this pallet bed classy contemporary looks naturally. You can assemble separated pallet stalks into a large bed frame or even, attach two-four pallet sets precisely to get this type of wide surface as a normal bed platform. Use an electrical saw to make the top surface of your bed frame perfectly level for a comfortable sleeping experience.
Tutorial- myactTv
19. Easy-to-Craft DIY Pallet Day Bed Frame – Just as I Wanted, You Can Add Ball Wheels to it:

And here we come with the final pallet bed project that is inspired by the bed frame with non-storage quality. If you are not looking for a high-storage bed, then, this would be a perfect match for your bed requirement anytime now. Simply add 2-4 strong pallet sets which contain the same height and top surface to make a smooth bed frame for your regular use.
Tutorial- santiagodiy