These toilet paper rolls not only use for decorating objects, but they also could make some amazingly useful projects like hacks, phone holders, etc. let's check out some of these types projects which we could craft from these toilet paper roll in some simple steps. Take a look-
11 Cute Crafts from Toilet Paper Rolls
Materials You Need:
For the First Craft: Phone Speaker
For this craft, you need two empty plastic bottles, one toilet paper roll, one craft knife, and a scissor.
For the second Craft: Thread Holder
For this simple project, you need only a toilet paper roll and some rolling object like yarn, string, thread or rope.
For the Third Craft: Cable holder organizer
Only some toilet paper rolls are required here to use them as a perfect jack holder.
For the Fourth Craft: Pencil Holder
To make this super easy pen holder, you need two toilet paper rolls, colorful paper cuttings, a marker and a hot glue gun.
For the Fifth Craft: Phone Camera Stand / Pod
For this super simple phone holder, you will need only a single toilet paper roll and a sharp scissor.
For the Sixth Craft: Mini Gift Pack 
To craft this small gift patterned decorating object you need, a toilet paper, shoelaces, glue and a red colored ribbon or red crafting paper.
For the Seventh Craft: Smiley Emoji 
For small Emoji crafts, your need two toilet paper rolls, a scissor, and a marker.
For the Eighth Craft:Mini Plant Holder
To make this small plant holder or planter, you only need a single piece of toilet paper roll, a scissor, and some sellotape pieces.
For the Ninth Craft: Another phone holder
Here we are again making a phone holder to clutch the phone while charging it up, and for that, you will need, only a toilet paper roll along with a scissor.
For the Tenth Craft: Roll Paper Holder
Here you need only a toilet paper roll to use as a rolling paper holder.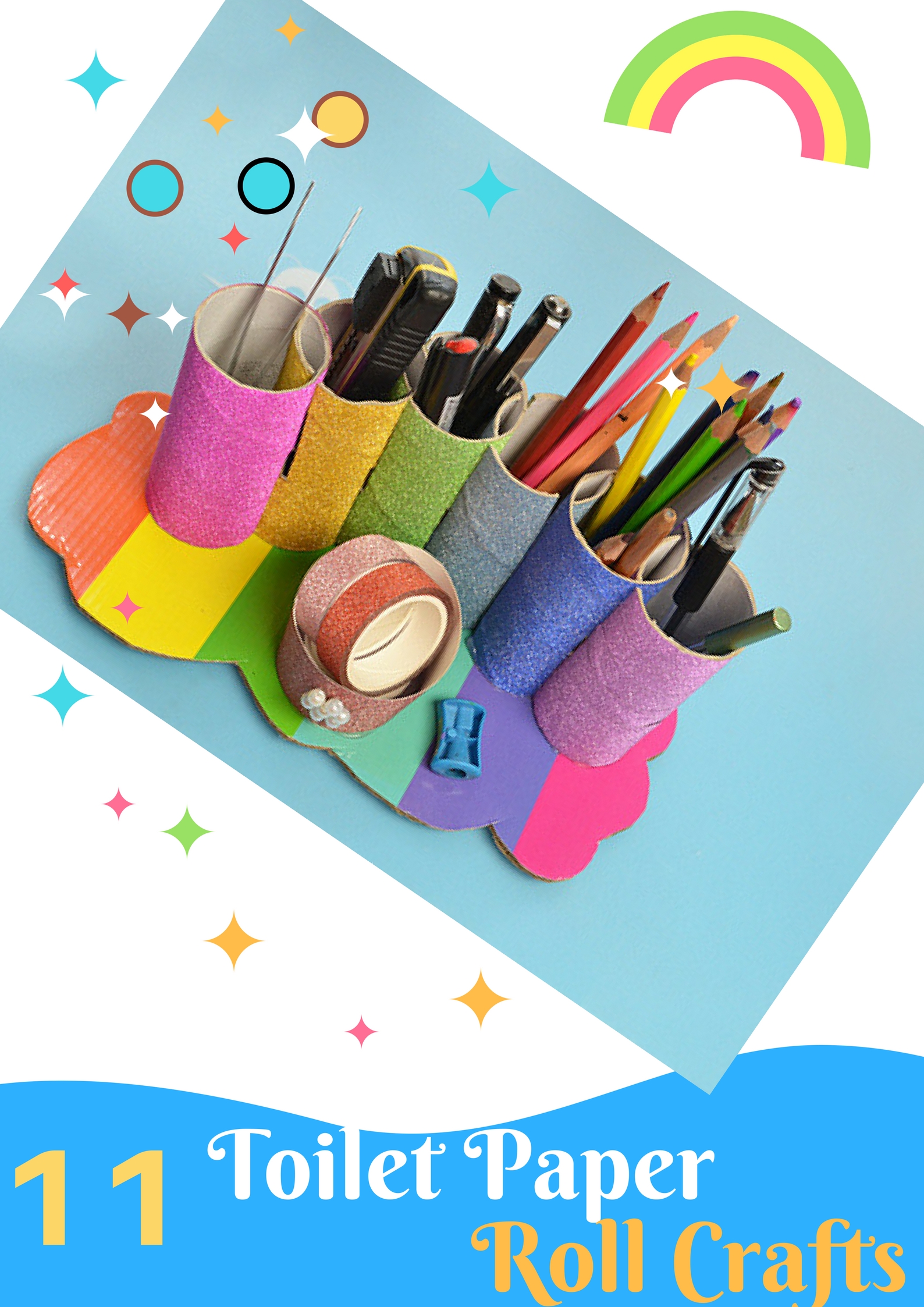 How to Craft:
#First Project:
Firstly, cut out two plastic bottles from the middle and take the bottom parts of both bottles.
Make the cutting side even with the help of a scissor of both bottles.
Now, take a toilet paper roll, take the measurement of the circle of that roll on one side of both the bottle pieces.
Cut away those circles with a sharp craft knife and set the paper roll tightly inside those circles.
This way, the paper roll will resemble like a bridge in-between those two bottle towers!
However, moving to the next segment, take a precise measurement of your smartphone on the top surface of the toilet paper roll and cut that portion out from the roll.
Now, all you need is just start a video on your phone, put the phone inside the paper roll space by placing the bottle cutting lying on the table facing the open part towards you.
You will see how surprisingly the volume of your phone will be bigger than ever with the help of this project!
#Second Project:
It has been seen that we often messed up with these string, yarn, or rope things, thus it will be better if you can arrange these things in an arranged way.
To do so, just take a roll, wrap one side of a rope or string around the roll and insert the end loop securely inside one round.
This way roll up the whole rope and set the end loop of another side similar way, as you did for the first end loop!
#Third Project:
All you just need is fold your open jack into several folds or rounds and securely insert them into the blank space of a toilet paper roll.
This way, you can arrange several unplugged jacks and then place them in your drawer.
#Forth Project:
At first, roll up each toilet paper roll with two different colored paper cuttings.
Now write down some meaningful or funny quote on both rolls and set them on a square shaped cardboard piece.
You can write or name the cardboard piece with the help of a marker if you want! Now use those paper rolls as the places for holding pens and pencils on your working table.
#Fifth Project:
Cut out two thin stripes on halfway of a toilet paper roll and fold those stripes jointly by placing one stripe on another.
Now, keep the roll one a place and place your phone on the folded portion of that paper roll.
#Sixth Project:
For this project, fold two open parts of a toilet paper roll from both sides and don't forget to insert the shoe laces inside the roll before closing both sides.
Secure those open parts with glue or sellotape and decorate the thing with a red ribbon by making a large ribbon bow.
You can make a bow by using red crafting paper as well if you want here!
#Seventh Project:
Cut out two small stripes from one side of both rolls and close the open parts from the another side.
Now all you need is just keep the folded side up and make some facial features on the rolls. Your toilet paper roll Emoji craft is all ready to flaunt or play in a funny way!
#Eighth Project:
At first, place the toilet paper roll and press it down with your hand to give a similar type of square shape.
Now, cut four sides of the square with 1-inch depth and fold it jointly.
After that, secure the fold with some sellotape pieces and use it as a small planter or plant holder on your indoor space.
#Ninth Project:
Firstly, flatten up the toilet paper roll on your working table and take a clear measurement of the thickness of your phone by tracing the phone.
Now cut out a stripe with a little twist as you can watch the video.
Then, puff the roll up again once you cut out the inside piece and set your phone into that space while charging it.
#Tenth Project:
Here you don't need to cut or squeeze or press down the toilet paper roll to use it as a rolled paper or sheet.
All you just need is a single toilet paper roll, roll up your sheet and normally place in the rounded sheet inside the roll.
This way, you can keep any of your sheet undamaged or unscratched way for an extended period!
At the end, we should mention that you could utilize these toilet paper rolls to use as fuel by burning them up!