DIY Framed Chalkboard:
Chalkboard could be used as an alluring wall art object as well! If could frame a fine piece of chalkboard and hang it on your wall, you can actually get a remarkable display of your room, then use any other typical wall art. As you can draw and wipe the designs or quotes on a chalkboard anytime you want thus, you can change the inside thing of your framed chalkboard anytime you get bored with it! So let's check out how to make a DIY framed chalkboard with some simple steps-
Supplies Needed:
To make such framed chalkboard, you will need a wooden frame, white paint, a paint brush, measuring tape, a chalkboard pieces, ruler, a pen or pencil, a knife, some framing clips and a piece of chalk along with some newspapers or a wide piece of cloth.
Methods:
At first, laid the wooden frame on an open newspaper or the piece of cloth.
Now, paint it out with the white acrylic paint and make sure that your cover the frame with enough coats.
Now let it dry in an open air area and when the frame is all dried, take a perfect measurement of the inside area with the help of a measuring tape.
Now bring the chalkboard piece and mark the measuring area with a pen.
After that, draw straight lines from one mark to anther and when you get the perfect shape for your frame, cut the piece out of the main chalkboard with a sharp knife.
Then, set the framing clips on the back side of the frame and carefully insert the chalkboard piece inside the frame.
Once you secure it with the clips, turn the main side on and write down or draw any desirable quote or image you want on the chalkboard.
Now, you just need to hang it on your wall and then, enjoy the changeable excellence of this exclusive framed wall art item!
DIY Wood Pallet Sign:
We have already shown you a thousand way of utilizing a wooden pallet. This time let us show you how you can turn a wooden pallet into a functional signboard for your needs! Wooden pallets are that one kind of object which is well-available in our storage for the utmost times. So, it would be a cheap project too for our pockets, isn't it? Hence, without wasting any time and let\'s jump to project directly below-
Supplies Needed:
To make such thing, you will need some slats from pallets with different wideness, two wooden pieces, some nails, a hammer, printing papers, some paintbrushes, wood-stain or wood-finish, a plastic bowl, some paints, a scissor, some mod podge paint sealer, a pencil, a piece of sandpaper, and a ball pen.
Methods:
Firstly, prepare the base for your signboard with the pallet's slats. Here we are using 4 slats among them two are big and two are smaller in length but, both are equal in thickness.
Place them edgewise by turning the backside one and set two pieces of wooden pieces on the back of those slats
Now, set them with some nail and a hammer and then, turn the right side on.
After that, use the wood-finish to coat the entire pallet and let it dry properly, before the next step.
In this gap, print out any desirable quote on the printing page from your computer device.
When the pallet is all dried out, place the printed page on the pallet by turning the backside on.
Then, take the pencil and rub over the each letter to cover the whole quote with pencil shade. After that, turn the right side on the templates and set them with some tapes on your pallet.
Now take your pencil or a pen and trace the word again in by pressing on the edges of each word, and this time turn on the right side of the word.
This way, you can easily trace the words on the pallet and then paint them out with the white paint.
When you cover the entire desirable quote this way, let it dry properly and then rub the whole pallet with the sandpaper.
Finally, spread a layer of mod podge on the whole pallet, and, when it all dry, your wooden pallet sign is ready to flaunt with a truly vintage look.

Similar Wood Pallet Sign n Chalkboard DIY Ideas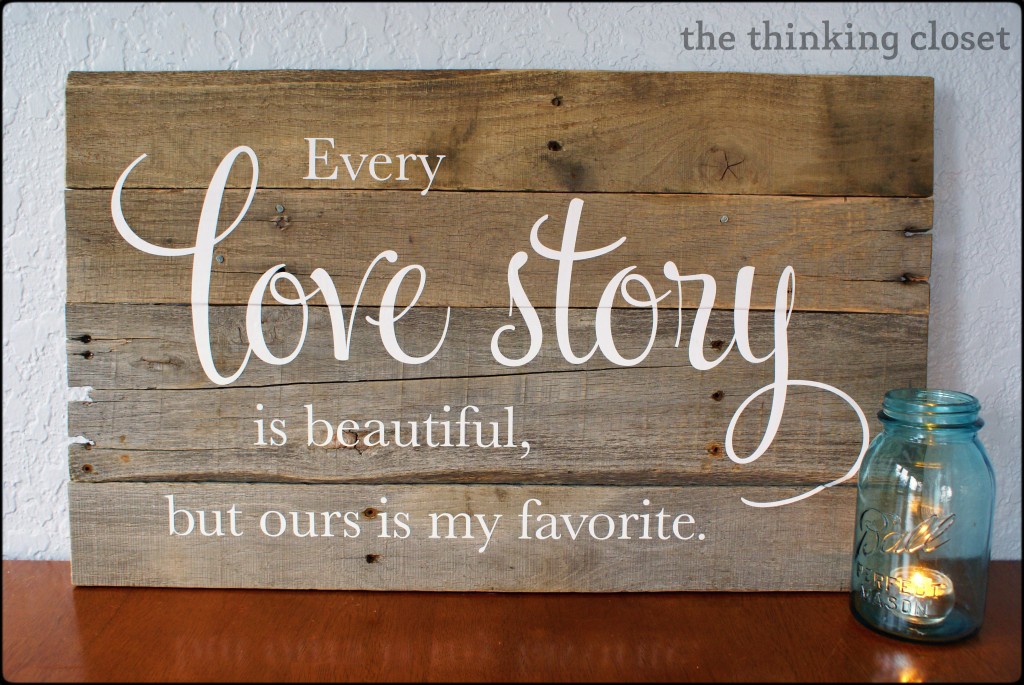 Wood pallet sign tutorial – thinking closet

How to make a wood pallet sign at katherinewandell

Give Thanks Step by Step Tutorial for Wood Pallet Sign – thekimsixfix

Love Making Wood Pallet Sign at home stories a to z

Pallet Wood Ombre Sign happy housie porch

Cute transfer and stencil for beautiful pallet wood sign DIY at diybeautify
Framed Chalkboard DIY Ideas

how to make a chalkboard from old picture frame – the frugal home maker

Large sized framed chalkboard tutorial at gray house studio

DIY Golden Frame Chalkboard – brandisawyer

Small size framed chalkboard diy the suburban mom

DIY attractive chalkboard with frame – shoes off please

How to make a farm style framed chalkboard – the dotted nest

Ornate framed chalkboard diy tutorial at hgtv