Bedside tables or nightstands are one imperative object to place some initial good especially, for the night. These tables serve us several needed things by storing them in an organized way. Whether it is a book, your mobile phone, a nice lampshade, alarm clock, or any other requiring goods for us, a bedside table always keeps objects in an ordered way and give the entire room a nice furnish look!
Nowadays, these nightstands are available in various modish shapes and patterns, which not only fulfill your needs but, beautify your interior as well. If you are a DIY-products lover then, you must be in love with the idea of having required things in an inexpensive and easy way! So, for you guys, here is another range of some efficiently working bedside table ideas through the DIY process, which will also teach you to recycle or Upcycle products in some simple steps, let's check it out-
Bedside Table From Pallets:
Pallets teach us how to revamp things into a useful product through the effortless way. The wooden texture of pallets provides us with a natural rustic look, while the easy-accessibility allows us to craft our own required item with a low-budget quality. If you have some pallets left in your storage and looking for a nice bedside table for a long, then pitch in to craft this thing in your own workshop through some simple steps, take a look-
Materials You Need:
How to Build:
Firstly, take a strong piece of the pallet and decide which part you need to use for your craft.
Now, cut out the slats from the pallet structure using your jigsaw, instead of pulling them out with your hammer. As this will might harm the main base of the pallet and ruin the whole process at its initial stage!
When both sides are cut out, take your hammer and pull the inserted nail of each slat which is attaching it to the middle base.
After separating all the slats from its structure, break off the attached clumps from each piece of the structure and take out the nails as well.
Now take 4 best pieces out of those wooden slats for the top surface of your bedside table and place them edgewise on your working table.
Take a precise measurement of your desired table and cut that part out of the main slat.
To cut entire pieces at once, lock all the slats tightly with some clumps, and then cut them out after making an apparent mark on the top.
When you get the wooden pieces in your desirable shapes, take each piece and smoothen the top layer by using your electrical sander on it.
Smoothen every single side of each piece and make sure that they are quite even from all aspects.
Now you need to build a square out of those 4 even pieces using some wood glue on the edges.
Hold two slats for a while after applying the glue layer in between them and then check the joint once with a framing square, whether you have made it precisely or not!
Insert some nails on each corner to secure the joints more strongly and do the joining process exactly we are referring to the video. As in, if you're attaching the one slat inside the right-sided slat then, put the opposite piece outside of that joining piece!
After completing the square, check to measure the diagonals to find out whether they are equal or not. If they are equal then, you have made a perfect top base for your bedside table.
Now, bring some more slats and cut them out in the size of the top surface of your square.
Set those pieces on the top with the help of some nails, and hammer and smoothen up any uneven edges with the sander after attaching them at the top.
Make one more similar thing in the same process and keep both of them aside to go to the next step.
In the next step, make four legs for a table by assembling two cornerwise for each leg.
Finally, attach these legs using glue, nails, and three corner-inch clumps.
Lastly, give a final stroke of wooden polish to your table and complete your crafting in a wonderful bedside table for your daily use.
DIY Bedside Table With Crates:

Crates are an even much more attractive object to build DIY furniture as you don't need to cut or twist this thing too much to turn into your desired shape! Crates are also easy-to-access and come at a really affordable price. The crate is one more brilliant component to bring the rustic or country look to your room. Let's check out one simple crafting process of a bedside table using some crates in a unique way-
Materials You Need:
One crate
Scrap paper
Paintbrush
One smooth wooden slat for shelving
A ruler
A pencil
A hammer
Nails.
How to Build:
Firstly, stick some tape pieces in between the gaps on a crate to prevent the paint from leaking.
Cover the space between the wood panels or the handles with two tape pieces over a slice of scrap paper.
Secure the side with some construction paper and when you are all done, spray any desirable paint inside the crate with an acrylic paint spray.
After that, let the layer dry out properly and in this gap prepare the shelves for your bedside table.
To do so, bring one wood slat according to the inside measurement of your crate and paint it out with some nice coats of wood stain.
Then, color up the crate on its outer surface with the same wood paint and make sure that you are using several coats of each section to make the whole thing enough striking for your room!
When the paint coats are soaked up properly, make two precise markings on both sides of your crate where you want to make the shelves for your table.
Now simply hammer the shelves into the crate using some nails on each side.
For repurposing your crate, you can skip the nail-attaching part here and set your shelve in a little twist. To do so, place a nail through the marking and take one nail for each slat.
After that, take your wooden piece and slide shelve on top of the nails. You are done with your crate bedside table in such a truly effortless manner, isn't it!
Related:
Building a DIY pallet table – diynetwork
Inspiring pallet wood furniture – instructables
Free plans and outline for making pallet furniture – thebalance
DIY Pallet garden ideas and furniture for your backyard – DIY pallet furniture
Reclaimed Pallet wood end tables.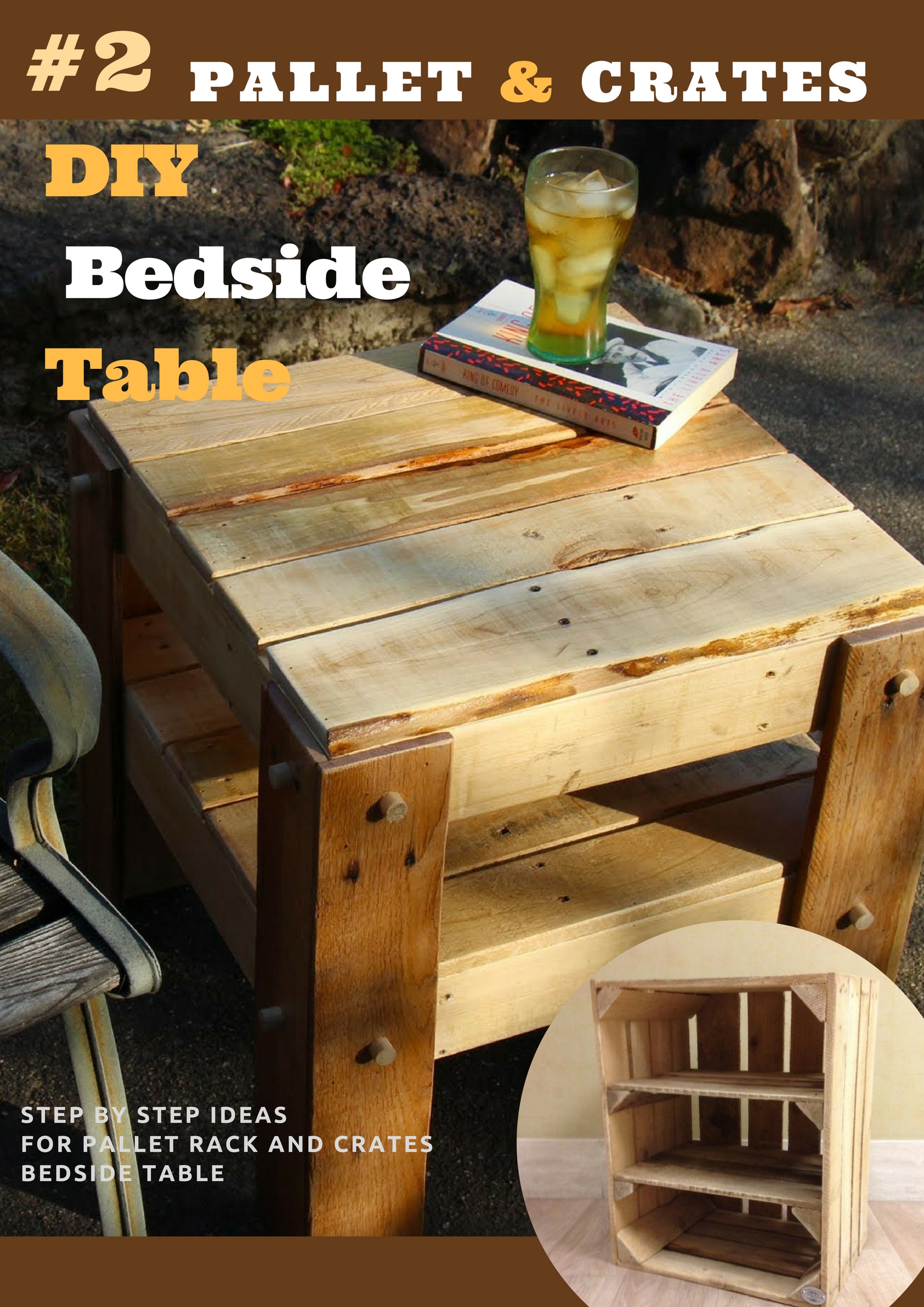 Few More Bedside Table Inspiration
DIY Pallet and Nightstand Table

Rustic Pallet Side Table

DIY Pallet Side Table Inspiration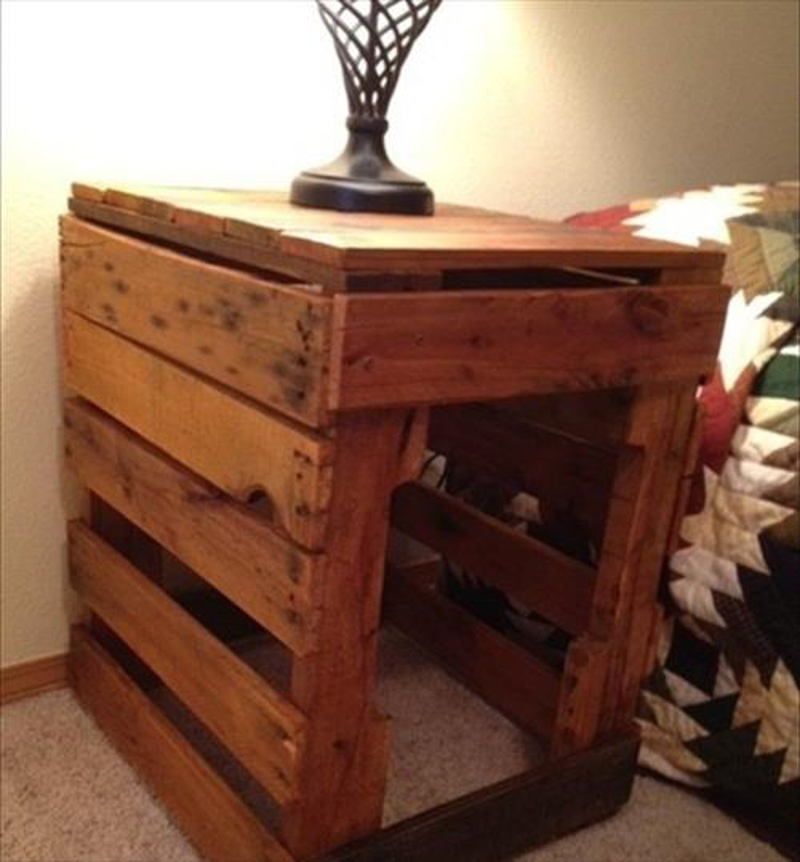 Build a Pallet Sidetable / Nightstand