Outdoor or backyard of our residence is that place which needs very few modules to get furnished, isn't it? When it demands not many components then, why don't you choose the best furniture to décor your place instead of selecting various pieces!
Here are some suggestions on beautiful outdoor furnishings, which also made from some recycling products. This processing edifies you about reclaiming of useless components, instigates the crafting ability in your, and at the same time fulfills the requirement of furniture for your needed place. Check out these simple ideas on it-
Outdoor Sectional Sofa

The sectional sofa is a pretty nice choice as a useful outdoor, which doesn't require too much of space to set. To make such sofa sets you need, some wooden pieces, nails, wooden glue, sandwood paper and a hammer. Now make 5 chairs in low-medium height with those pieces, which must have similar pattern and length, then attach four of those chairs in a row, give an extra edge on the last chair and then, assemble the last chair in a reverse pattern with the last attached chair. Now smoothen the wooden pieces with sandwood paper and your simple yet functional sectional sofa is ready to use. You can décor your sectional sofa with spongy mattresses if you want to make it more comfortable.
Modern Outdoor Chair DIY Funriture
How build a Outdoor Sectional Sofa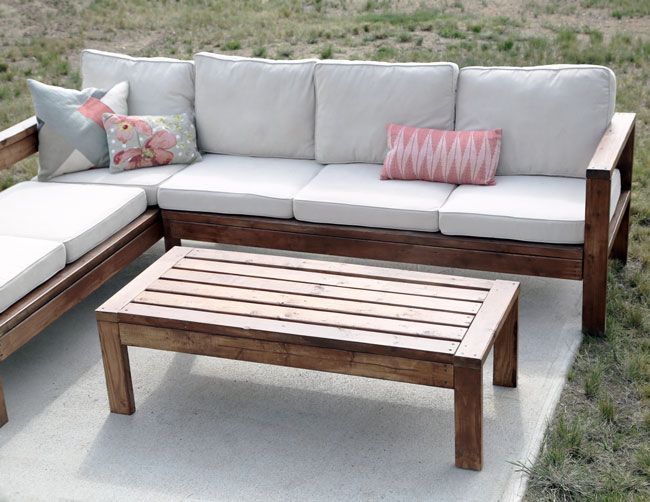 Outdoor Furniture and Storage with Pallets

Pallet sofa with storage is that one category which you can definitely found at several houses' outdoor. This kind of furniture resolves the demand of a sitting place and at the same time, caters some storage for your extra stuff. Pallets are one frequent item which is hugely used to recycling products. To make this sort of sofa, you only need some pallet pieces of pallets, definitely which are in good condition, some glue, and some nails along with a hammer and wood paint. At the beginning make a huge and long storage box with thick base and accomplish that with some nice edges all along two hard handles.
Belvedere Outdoor Lounge Chair Plans

DIY Outdoor Daybed


Easy DIY Garden and Outdoor Furniture Ideas


homeanddiy.omgfacts.com
DIY Outdoor Farmhouse Bench Which Comes under $20

If you are looking for something more simple, then, go for a farmhouse bench that tremendously suit with an outdoor view too! To make this item you need one long and thick pallet piece along with a number of hard or solid plywood pieces. Now just use the pallet piece as the main base and utilize those plywood pieces to make legs of your bench. After painting your bench with suitable wooden paint, dry its ups under the sun before use it as your favorite outdoor furniture!
DIY Backyard Furniture Ideas and Sectional Sofa

DIY Step by Step Tutorial for Outdoor Lounge Chair

DIY Outdoor Pallet Furniture

diyready.com
 Wooden Pallet Outdoor Dog bed

Cable Spool Wine Outdoor Table

 Easy Outdoor Furniture

X stool Outdoor Furniture with Reclaimed Wood

 DIY Outdoor Bar and Stool

Outdoor Sofa plans