Seafood indicates those kinds of foods which include various sea fishes or shellfishes in its every single dish. According to the expert, seafood is the form of sea-life regarded as food by humans. Hence, Seafood salads are those types of scrumptious vegetable or fruit mixtures that prominently incorporate sea creatures with some delicious twists. These seafood salads are extremely juicy, heavenly tasty and at the same time being prepared as a complete meal, that's why you don't need any other side dishes or main course meal with these salads! Here are some of those amazingly delicious seafood salad recipes, which can easily make in your own kitchen. Let's check them out-
Seafood Salad Recipes
Marinated Seafood Salad

Whenever we think about a simple yet yummy seafood salad recipes, marinated seafood salad is that one preparation that instantly occurs in our mind. To make this tasty dish you need, 2 cups white wine, 1 1½ tbsp black peppercorn, 3 garlic cloves, 2 bay leaves, 3 quarters water, juice of one whole lemon, 2 pound octopus, 1 pound shrimp, 1 pound calamari, 1 pound lump crabmeat, all are cleaned, drained and sliced, ½ cup carrot pieces, ½ cup onion pieces, ½ cup celery pieces all in julienne size, ½ cup chopped garlic, ½ cup chopped parsley leaves, 1 cup orange segment, 2 cups orange juice, 2 tbsp olive oil and some salt and pepper as per your taste.
At first, make a mixture of white wine, peppercorns, garlic cloves, bay leaves, water and lemon juice, and cook the shellfishes into that mixture separately until they get tender. Then, parboil the carrot, onions, and celery for 1 minute into that same liquid. Now, take the boiled octopus, after removing its purple skin marinate it with olive oil, chopped garlic and parsley leaves for a while, then grill the octopus for 10 minutes in a preheated griller. Finally, mix the all the ingredients in a big mixing bowl and let marinate them with each other for until 12 hours. At the end just sprinkle some salt and pepper over the salad and serve immediately.
How to Make Seafood Macaroni Salad
Crab Salad Sandwich with Old Bay Dressing

Making Squid Shrimp Italian Seafood Salad

Stir Fried Squid with Green Onions
( Not much a Salad but i cant miss this out) Thai food

Crab Shrimp Cold Seafood Salad

Buffalo Ranch Shrimp Seafood Salad

Christmas Eve Special Marinated Seafood Salad

Scallops Mussels Shrimp – Seven Fishes Seafood Salad

Crab and Shrimp Salad

Classic crab and shrimp salad recipe are another appetizing salad you must try one! To make this item, you need, 6 ounces fresh crabmeat that are drained and flaked, 5 ounces small cooked shrimp that are chopped, 1 stalk celery finely diced, 1 green bell pepper finely chopped, 1 onion diced, ¾ cup mayonnaise, 2 tbsp fresh dill chopped, 1 tbsp Worcestershire sauce along with salt and black pepper.
Pour the shellfishes, celery, bell pepper and onion into a bowl; stir the mayonnaise, dill, and sauce; toss until they blend smoothly. Now all you need is just whisk some salt and pepper prior to dish the salad up, but, don't forget to refrigerate the salad for 1 hour before serving it!
Thai Style Seafood Salad with Salmon

Roasted Corn Avocado Shrimp Salad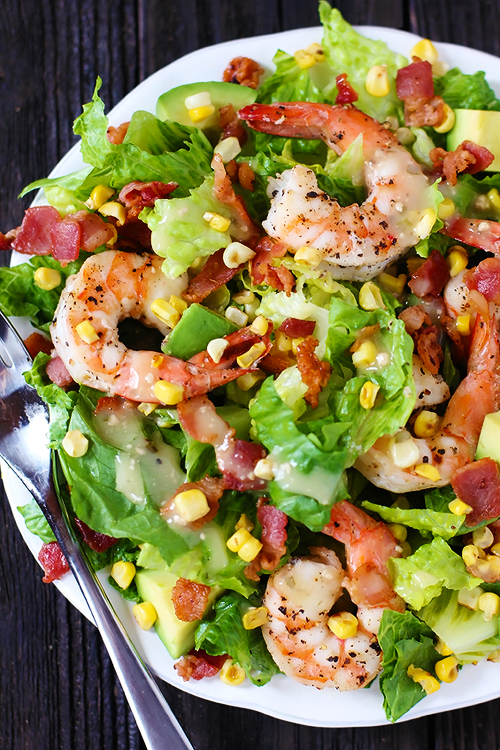 Lemon Yogurt Dressed Shrimp Asparagus and Avocado Salad

Paleo Healthy Vegetables Eggs Tuna Seafood Salad

Avocado Dressed Chopped Shrimp Salad

Tiger Shrimp Crab Meat Seafood Salad with Mayonnaise Dressing

Southern Shrimp Salad

www.latinmeetslagniappe.com
Shrimp Salad Croissant

Shrimp Avocado Salad

Jamies Style Lemon Shrimp Salad Recipe

Greek Style Salmon Seafood Salad

Greek Yogurt Shrimp Avocado and Tomato Seafood Salad

Miso Dressed Shrimp and Avocado Salad

Marinated Mussel Seafood Salad Recipe

Spanish Style Seafood Salad

Mexican Shrimp Cobb Salad
There are so many scrumptious seafood salad recipes are rest to mention, yet, we are referring this juicy Mexican seafood salad with delicious shrimps.

To make this salad you need, 16 oz large cooked shrimp, 1 tbsp lime juice, 6 cups romaine lettuce leaves chopped, 15 oz black beans that are rinsed and drained, 1 cup grilled corn kernels, 2 tbsp diced red onion, 2 tbsp chopped cilantro, 1 diced and seedless cucumber, 2 cups diced tomatoes, 1 ripe avocado, diced, 1 cup Mexican Blend shredded cheese along with some salt and chili powder to taste.
At first, toss the cooked shrimps with chili powder, salt and half of the lime juice in a bowl and set aside. Then, take drained beans, corn, red onion, cilantro, salt and rest lime juice in another container and stir well. After that, you just require making layers of those different ingredients and you can serve your salad with the grated cheese over the top.
Shrimp and Avocado Taco Salad

Salmon and Avocado Caesar Salad

Dried Cranberries Orange Quinoa Salmon Salad

Broiled Salmon Salad with Avocado Veggies Blackberries and Fig