Sharpie Nail Art:

Nail art using a sharpie is a very recent fashion trend of contemporary girls. Nowadays, this single object is also used to manicure ladies' nails in an exclusive way. The most applauding part of using these sharpies for nail arts is that you can apply them easily to any type of nail polishes and get a long-lasting effect as long as a nail color!
Just choose a contrasting sharpie shade that goes well with your nail color, before applying the sharpie design on your nail. Like black sharpie on red nail color or pink sharpie on white nail color resemble extremely good and classy.
After deciding the shades, apply sharpie art as per your event, such as, small love symbol or alphabetical love would look great on valentine day event. Tuxedo nail design suits best for fresher or proms. You can also try polka dots, 2-tones stripes manicure, simple stripes, leopard prints, gold colored abstracts, etc. to get fancy nails.
Sharpie Nail Art for Girls
Sharpie Nails
DIY Sharpie Nail Art Tutorial

How to do sharpie nails

Also check for Sharpie mug crafts, Sharpie t-shirts shoes and sharpie valentines day crafts.
Simple and cute pink striped nails

DIY Sharpie Nail Art Video

Marbled Nails with Sharpie Permanent Marker

Golden Chevron Easy Pesy Sharpie Nail Arts

Golden Sharpie Nail Arts Polka Dots and Chevron

Galaxy Nail Arts with Sharpie

Sharpie back to school nail designs
lovelylacqueredlife

DIY Easiest marble sharpie nail art

Diamond Shape Watercolor Style Sharpie Nail Arts

Sharpie Rocks: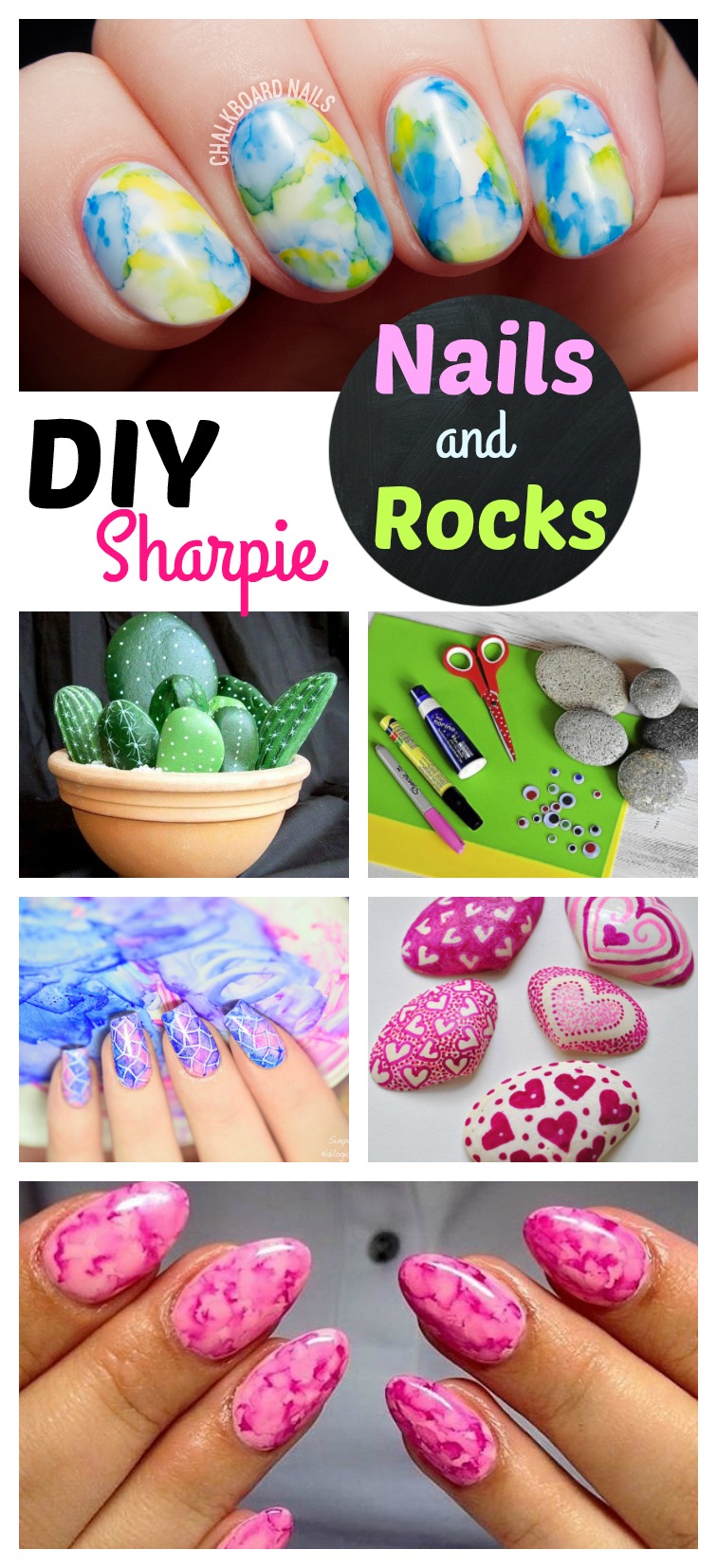 Designing rocks with sharpies is a common consumption of marker, where you can show your artistic side and get a piece of art from just a useless rock! These days, preserving such sharpie designed rocks on your drawing room is considered a part of interior designing.
You can try your hand at this artwork at any time on a single piece of rock as it doesn't require too much of effort or creative excellence in performing. All you just have to do is that take a dark colored sharpie and make any design on the rock, let it dry in an open area and hang or place on the desiring spot of your house.
Zenpatterns, cactus print, leafy design, animal faces like owls, tiger, quoted rocks, tree designed pebbles, human shapes, or kind of designs you can draw on rock or pebbles with a sharpie.
Painted Rocks – Sharpie Pebbles/ Rocks

Sharpie Nocturnal Rocks – Pebble Owls

DIY Sharpie Rock Cactus 

Creative Sharpie Rock Painting Crafts

DIY Valentines day sharpie sea shell / pebble art

Creative Rock Painting – Sharpie Colorful Rocks

Sharpie and Pebbles into Pebble monsters

Halloween Sharpie Rocks for Kids
creatingreallyawesomefunthings.com