Making DIY crafts is considered more interesting if we can recycle things in this process, isn't it? DIY recycling products offer us crafting new and valuable items from some totally useless elements in a true inexpensive way. Thus, from kids to adults, people always seem eager to try their hand on recycling products in such constructive manner.
We have discussed earlier how to make many functional items from unused soda or other plastic bottles, but this time, we are demonstrating you how to craft various pretty things from some unutilized glass-made bottle in a simple method. We all have at least some pairs of unused glass-made bottles in our collection, but some of us are not very much aware of the preciousness of these bottles to make some seldom art crafts. Let's check the details of consuming bottles in some artistic approaches, in this article below-
DIY Wine Bottle Décor:
We often have some empty wine bottles in our junks, but did you know that these useless bottles could turn into some truly magnificent décor for your room in some true effortless attempts! Just apply some basic adornment items and get some classic pieces of home décor elements from a few empty, unused wine bottles. Making procedures are as follows-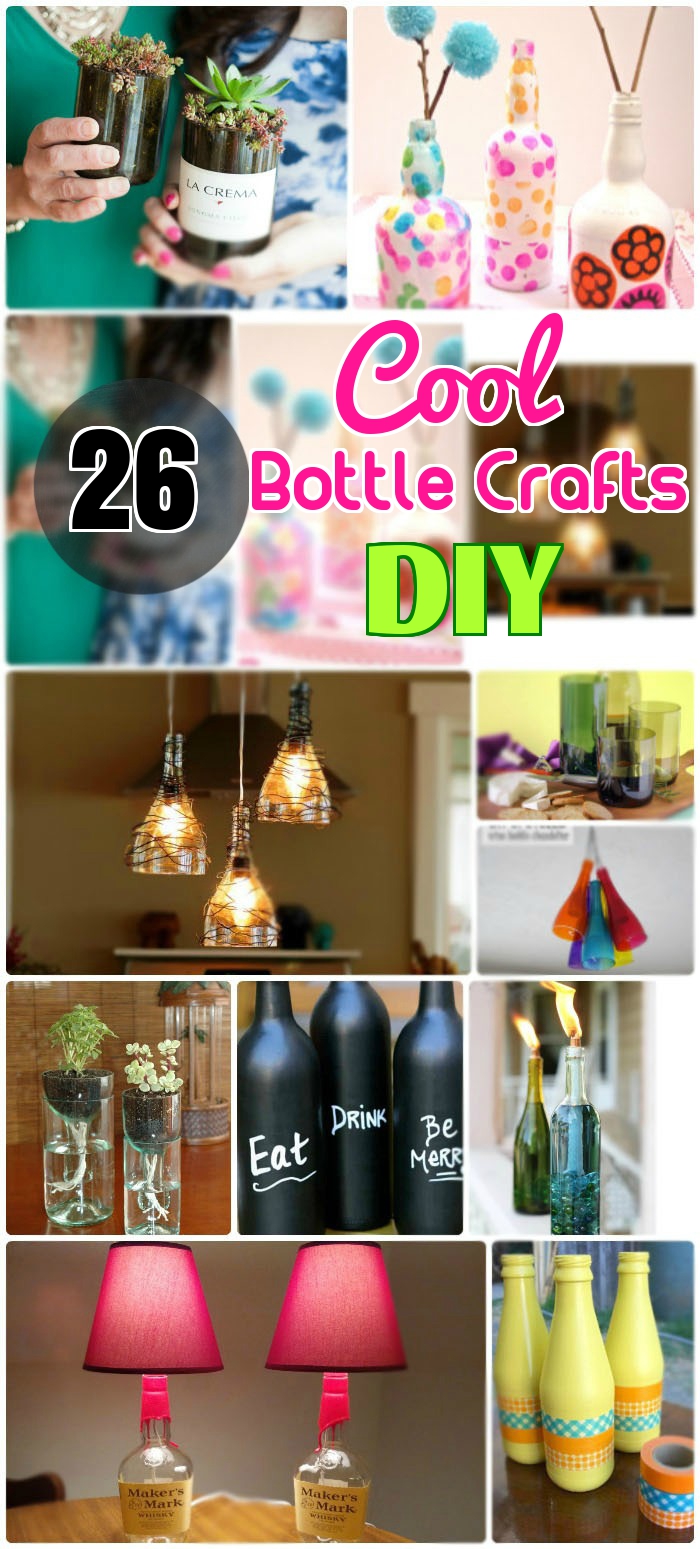 Supplies Needed:
To make these types of products, you will need some small bowls, trims, fancy buttons, paintbrushes, paints, hot glue gun, glitters, stones and some other embellishment items along with empty wine bottles.
How to Craft:
At first, paint your wine bottle with your desirable paint with at least two thick coats, and let it dry completely before jumping to the next step.
Now, apply some decorating items on the bottles with the help of hot glue gun.
Make sure that you are applying adjustable pieces of adornments on each bottle as per the coating color of your bottle.
As you can see in the video that purple colored bottle is embellishing with black crumbled net decoration, violate colored bottle is decoration with green colored adornment, etc.
At the end part, emphasize the bottle with some eye-catchy decoration like glittery buttons, glossy bow, polished stones, etc. to make your crafting a perfect home decorating item.
You can apply some liquid glitters in your paint as well, for having a natural glowing glance to your bottle crafts.
DIY Bottle Crafts
1. Whisky and Wine Bottle Lamps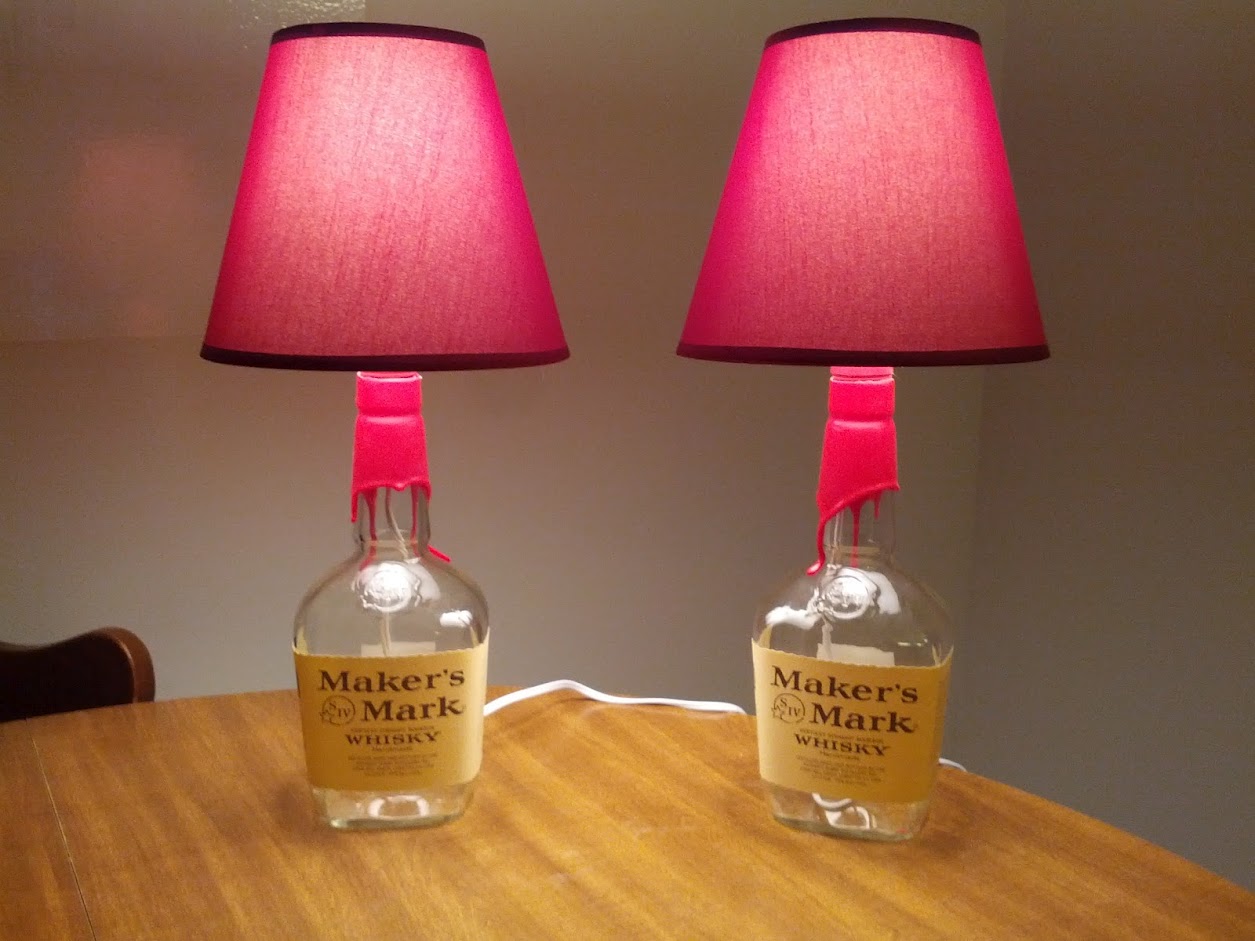 Get ideas on how to up-cycle wine corks into crafts.
2. Making Lamps with Glass Bottle Base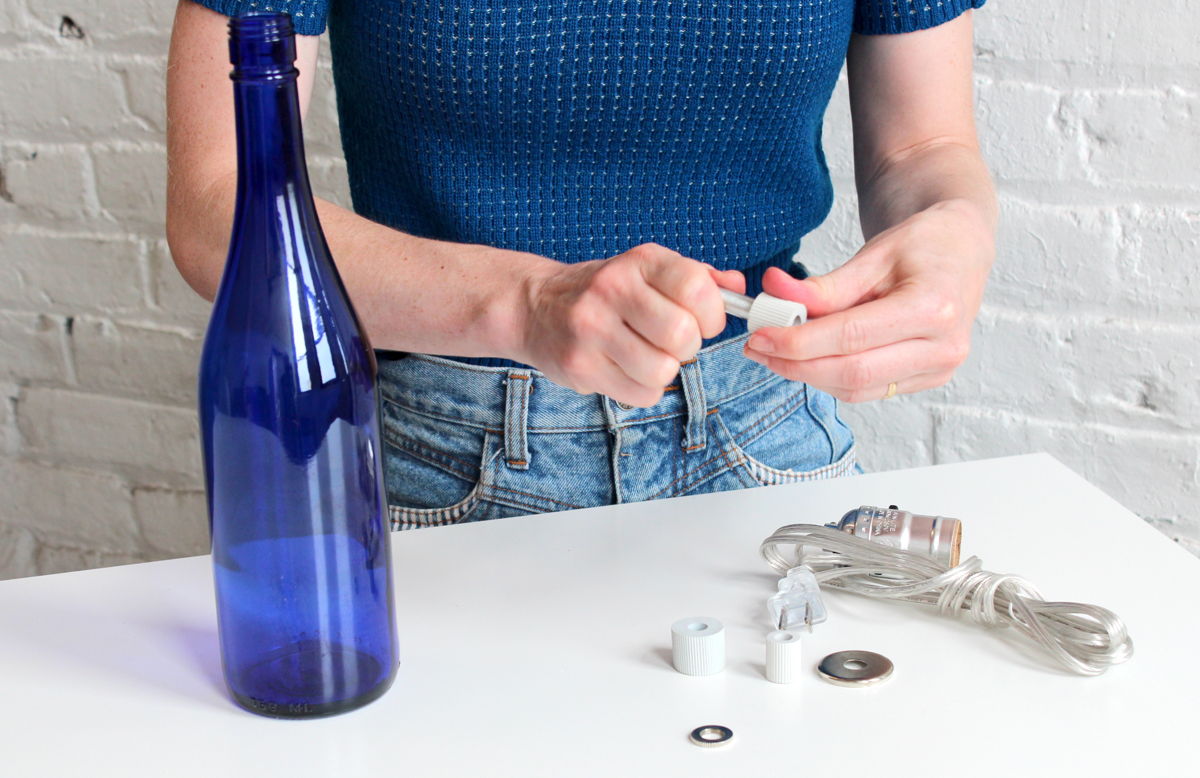 Also learn how to make yarn globe lanterns and lamp shades.
3. Step by step idea for making bottle flower vase


4. Making Bottle Lamp from the scratch
classy Columbus design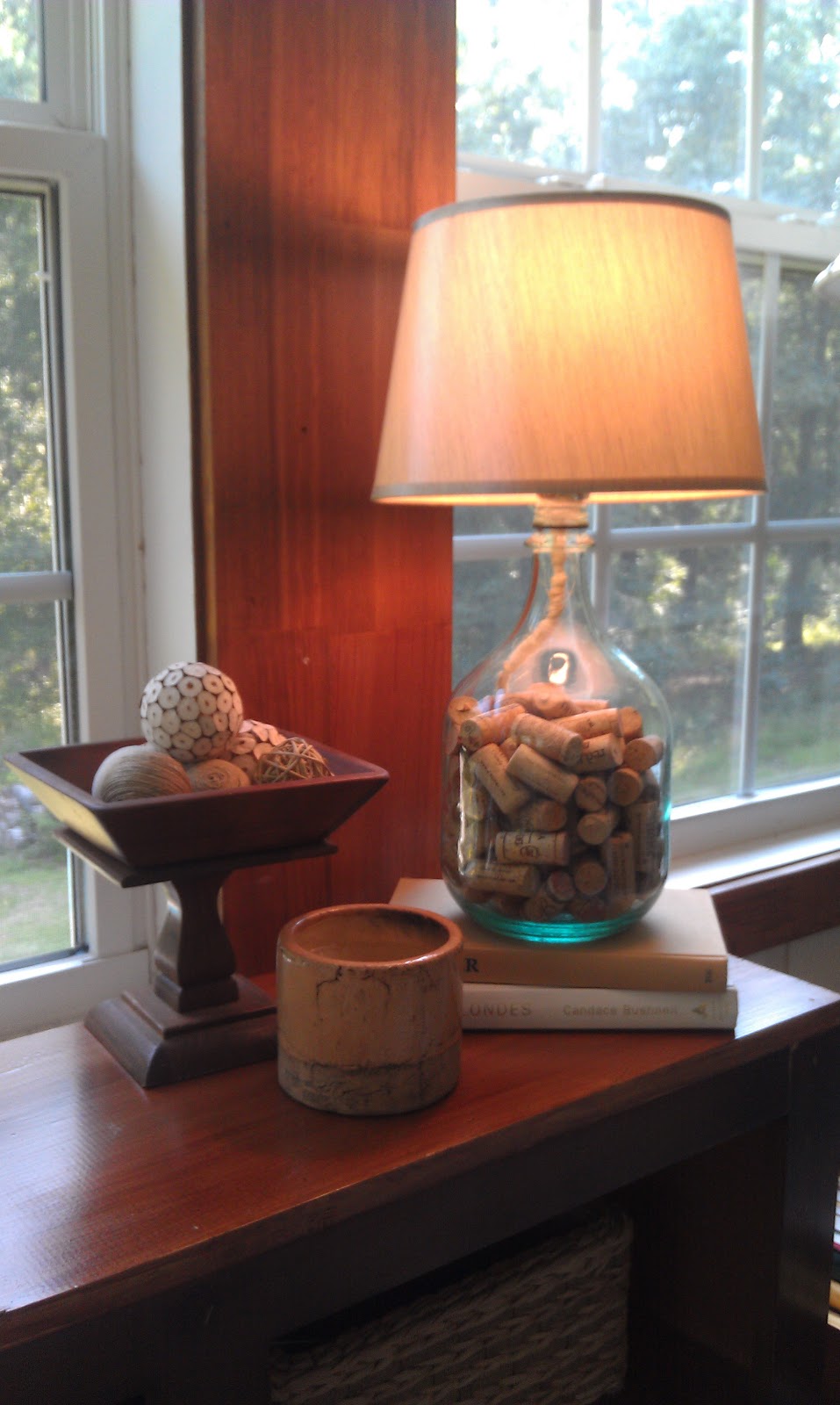 5. Up-cycled Wine Bottle pendant Lights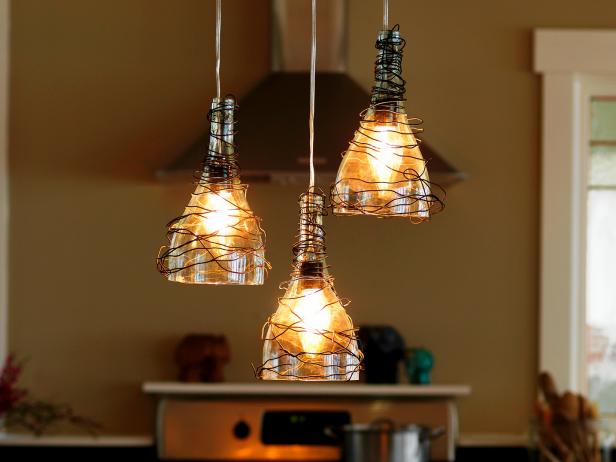 6. Make Bird feeders for your garden with glass bottles
rebaccabirdgarden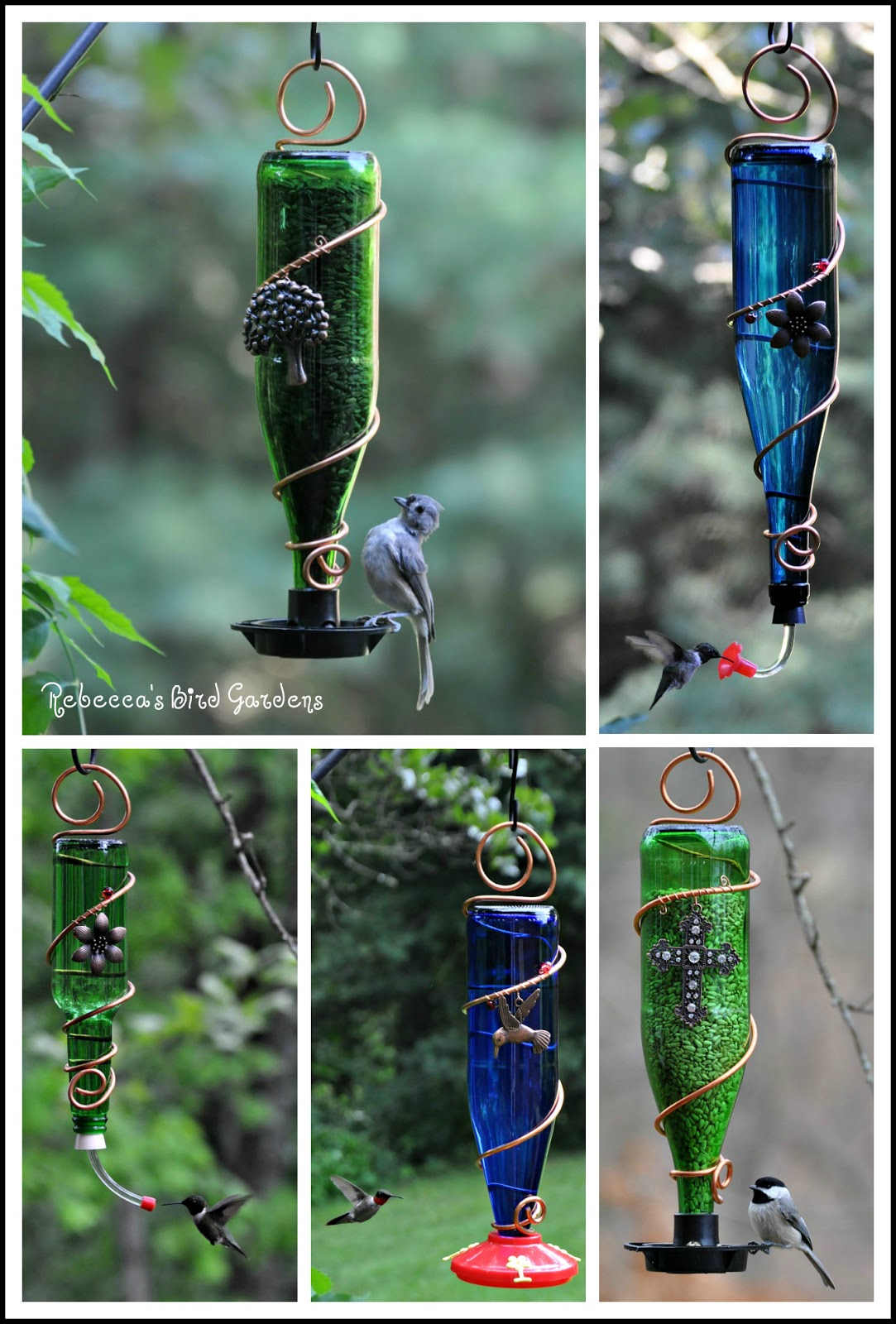 Learn how to make bird feeders and bird crafts.
7. DIY Wine bottles cycled for garden edging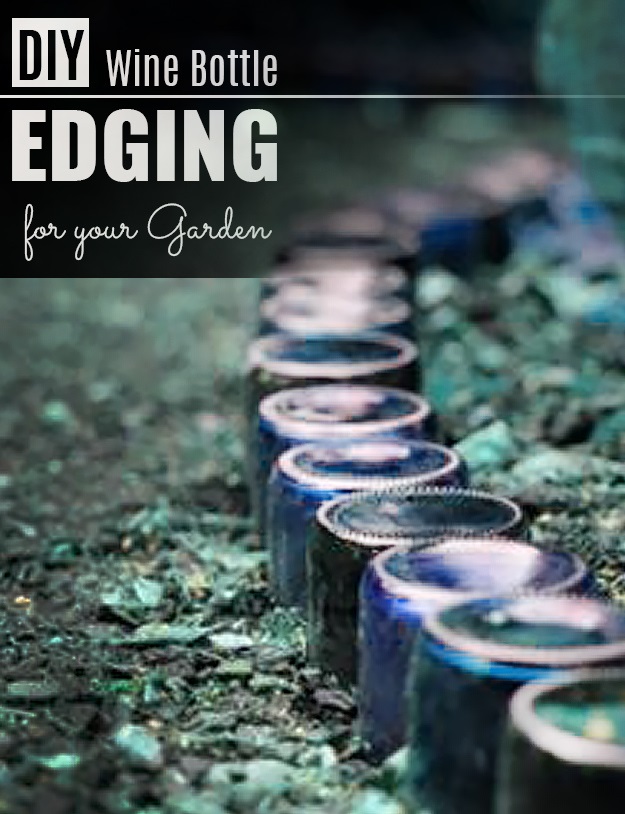 Love gardening learn about fairy garden and garden ideas.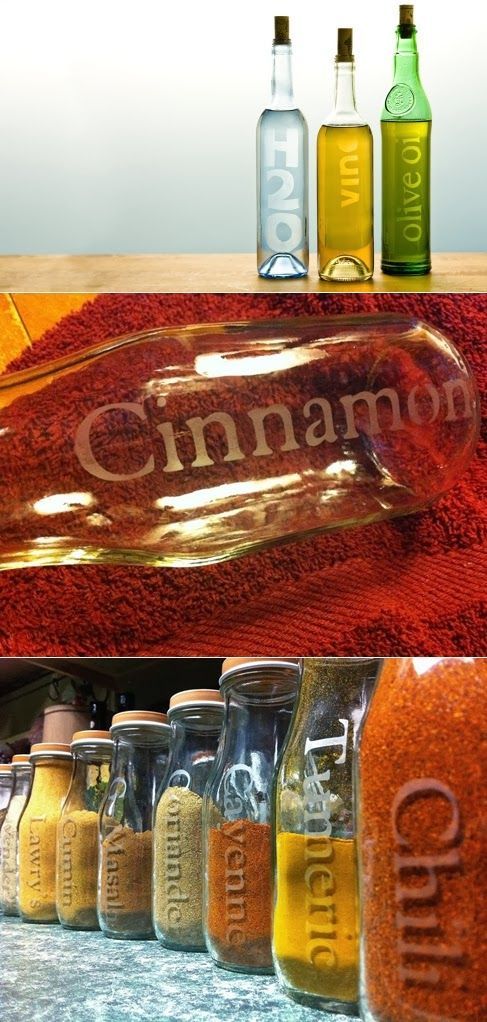 9. DIY Rainbow Glass Bottle Chandelier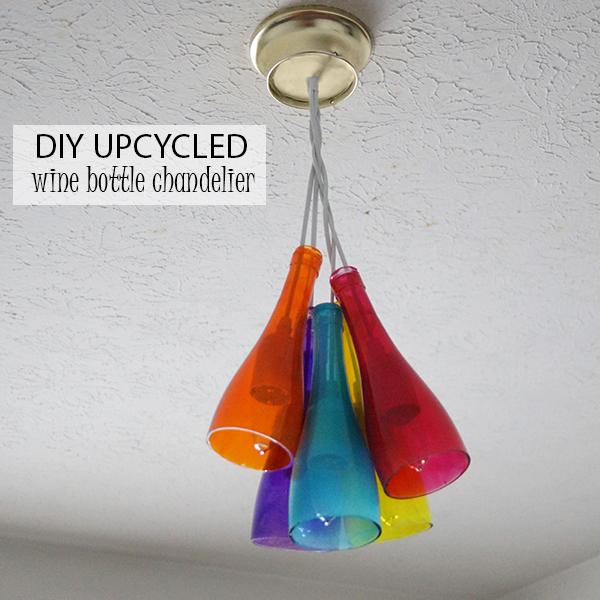 10. DIY Decorated Glass Bottle Wind Chimes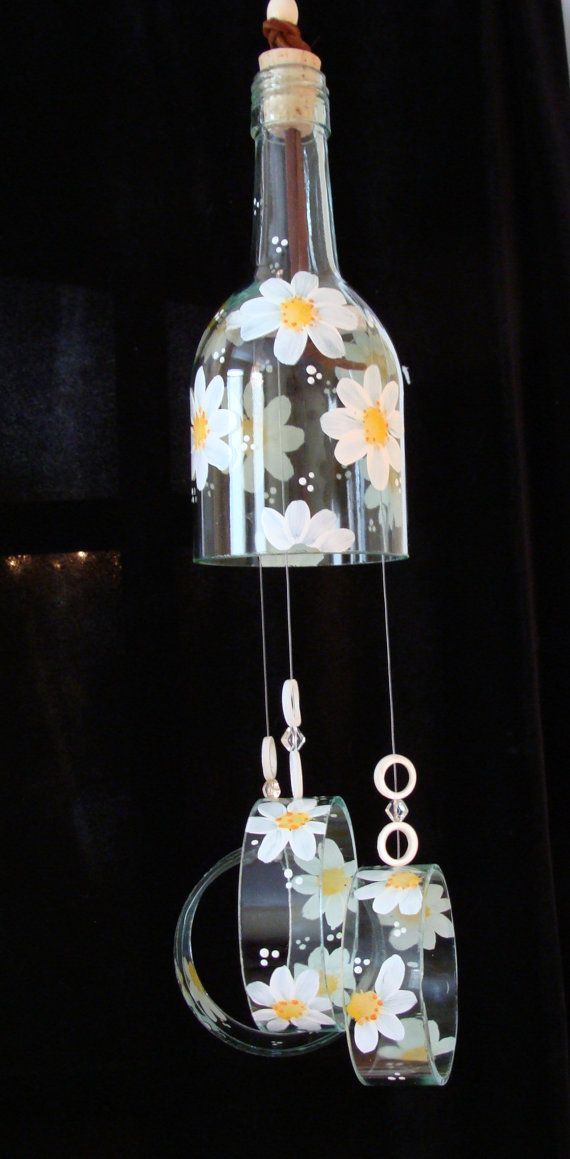 11. DIY Bottle Decoration – Wine Bottle Charcoal Paint Art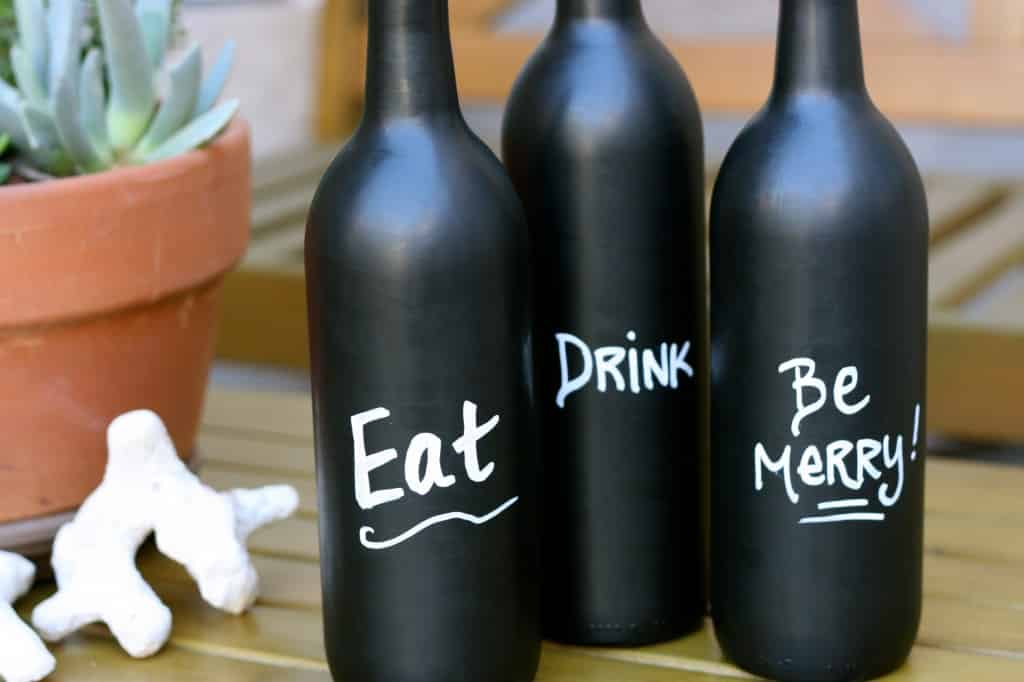 12. DIY Washi Tape Decorated Wine Bottles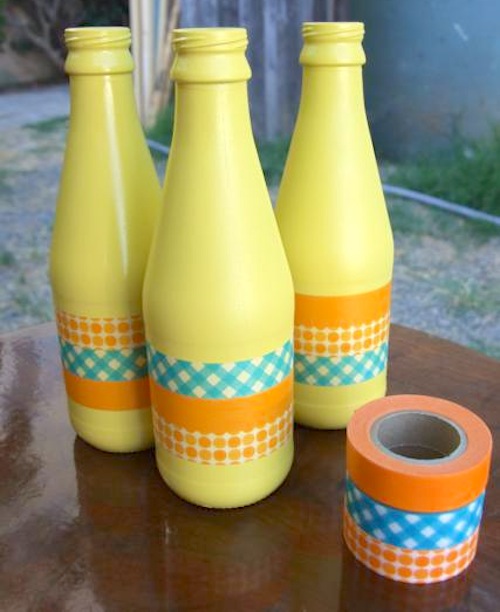 Tons of more washi-tape crafts for you.
13. DIY Wine Bottle Succulent Planters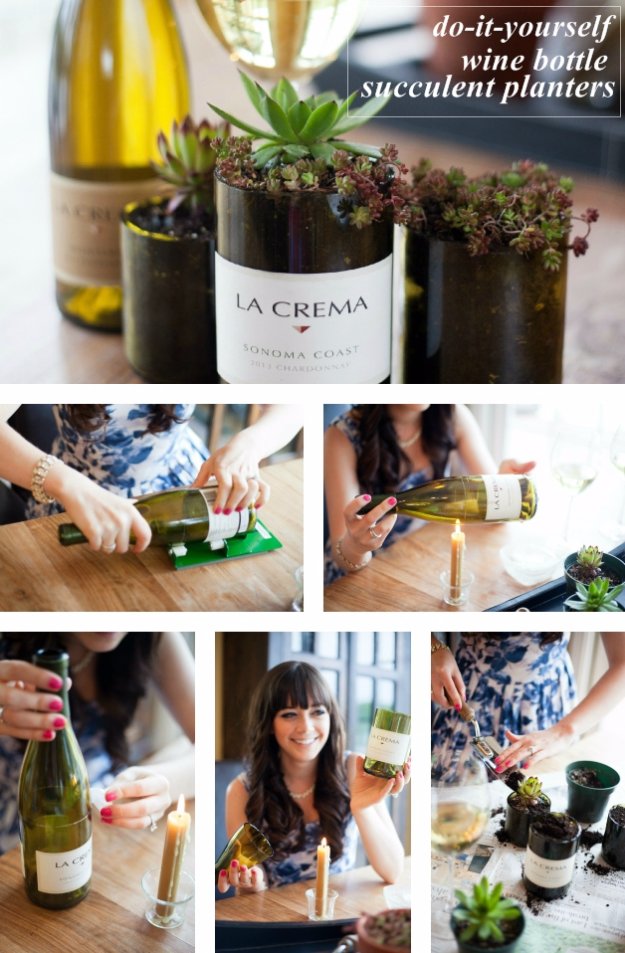 Looking for garden planters check for recycled planter and easy planter box ideas.
14. Making Self Watering Plants with Cut Glass Bottles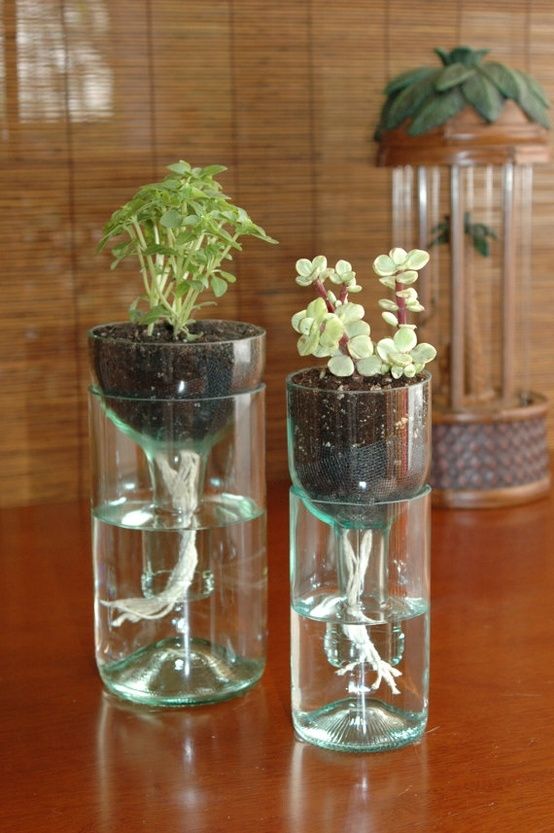 15. DIY Wine Bottle Center Piece – Laced Wine Bottle Crafts
blog hwtm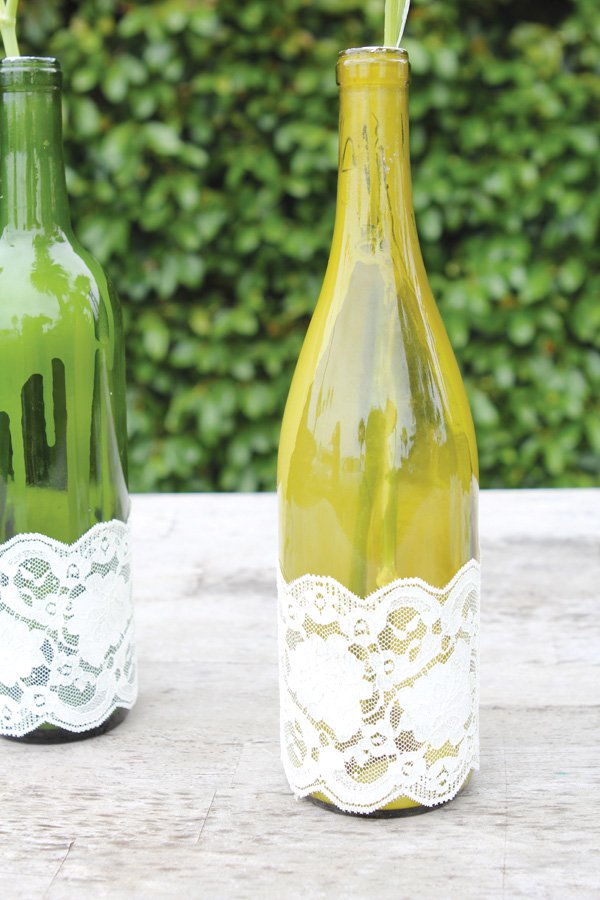 16. DIY Photo Collage on Wine Bottle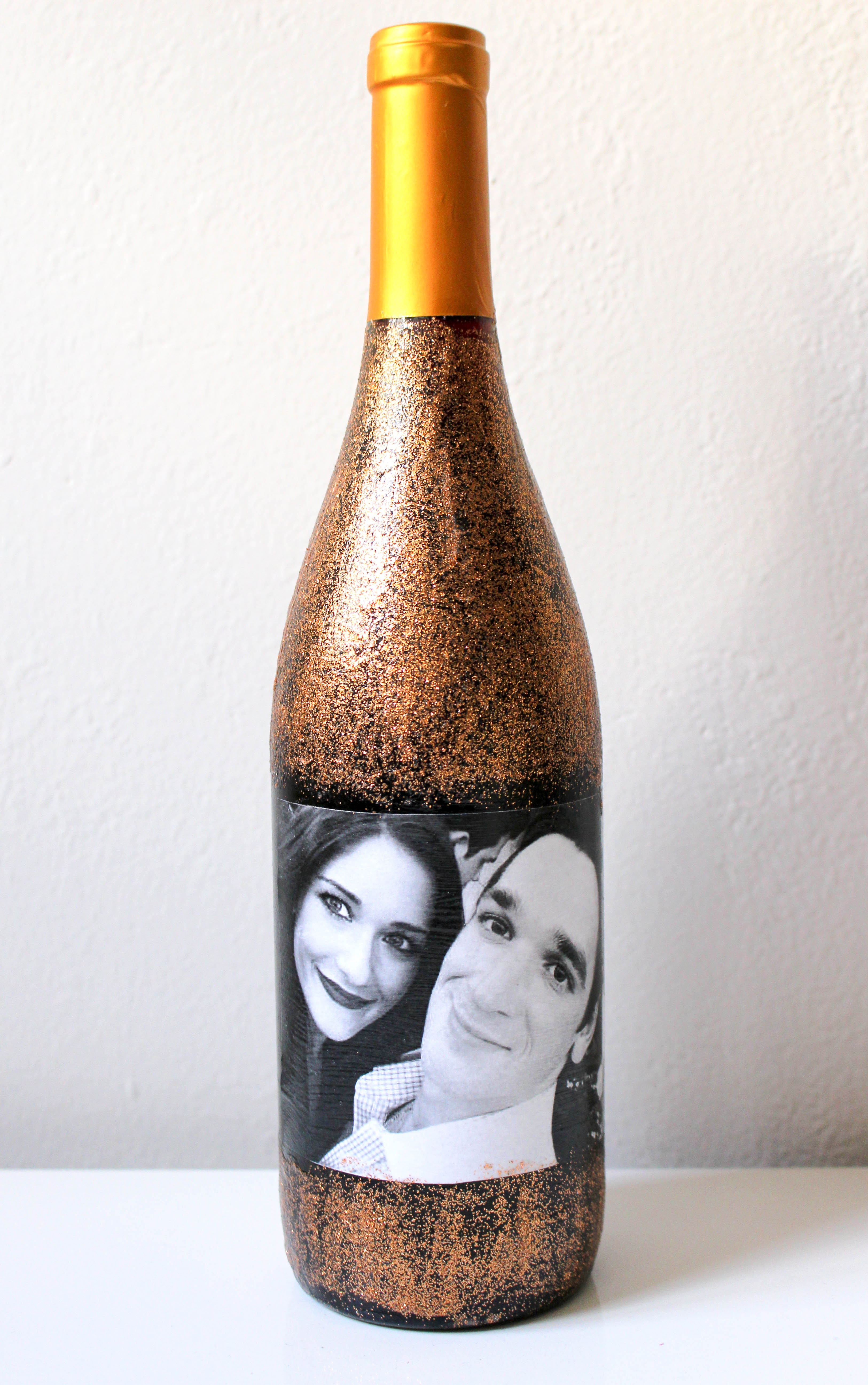 17. DIY Trendy Wine Bottle Herb Garden

18. DIY Rhinestone Wine Bottle Picture Frames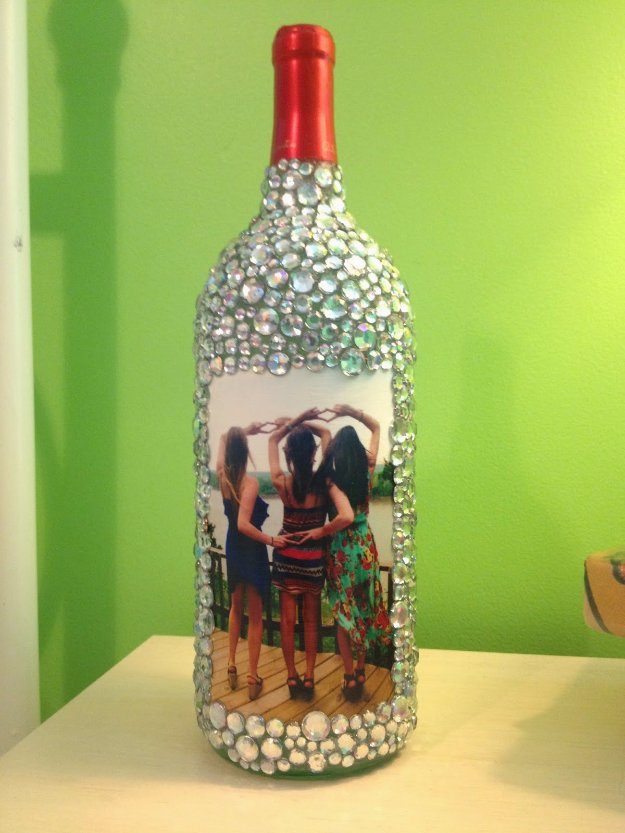 19. DIY Ombre Frosted Wine Bottle Craft


20. DIY Up-cycled wine bottle rope crafts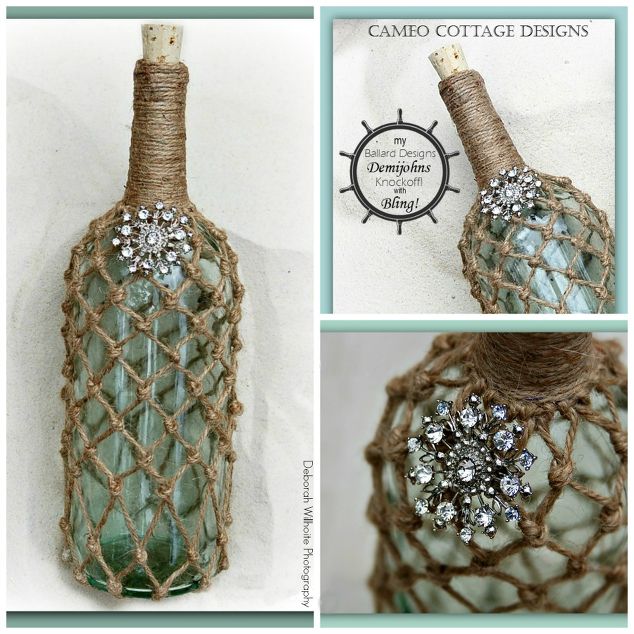 21. Modular and rustic wine bottle shelving
instructables and from tengreen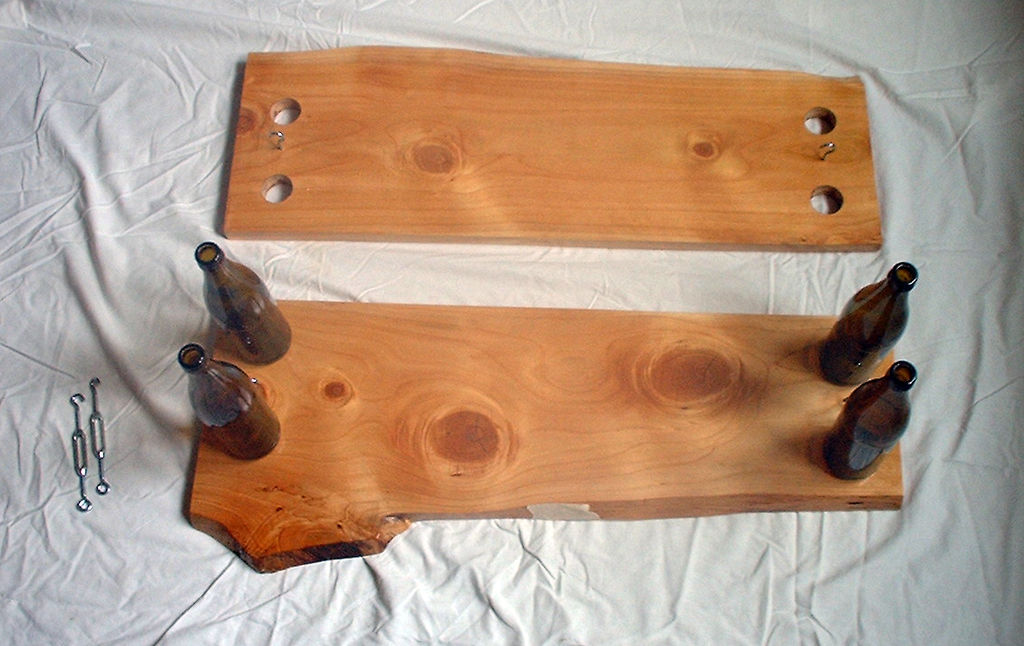 22. Decoupaged Wine Bottle Flower Vases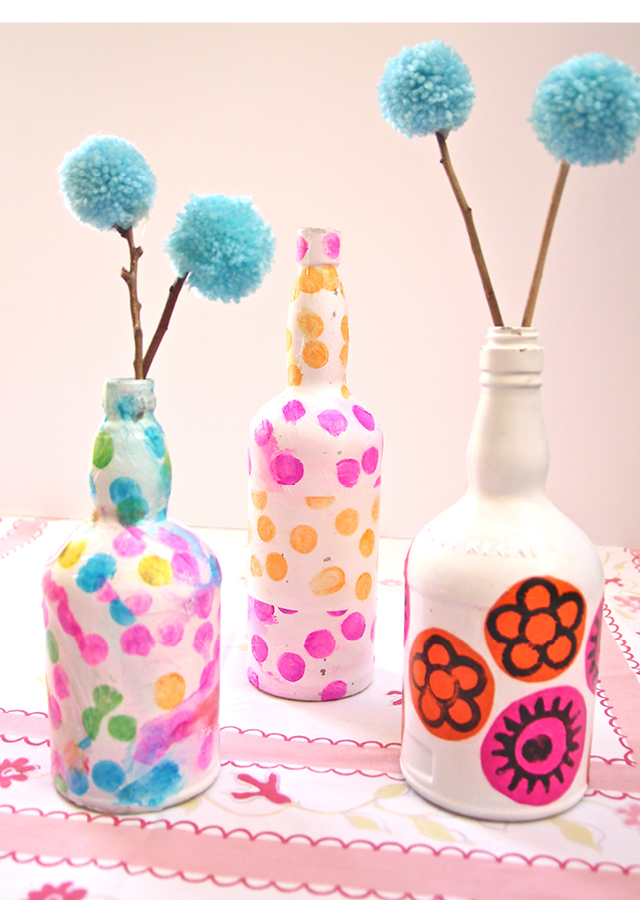 24. Twine Wrapped Wine Bottles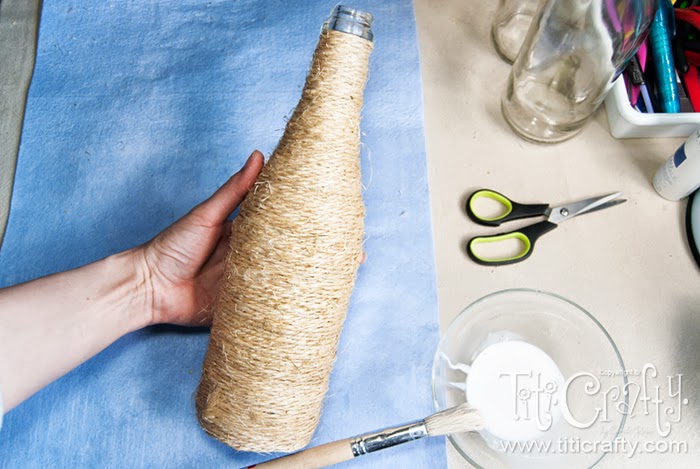 25. DIY Bottle candles – Wine Bottle Citronella Candles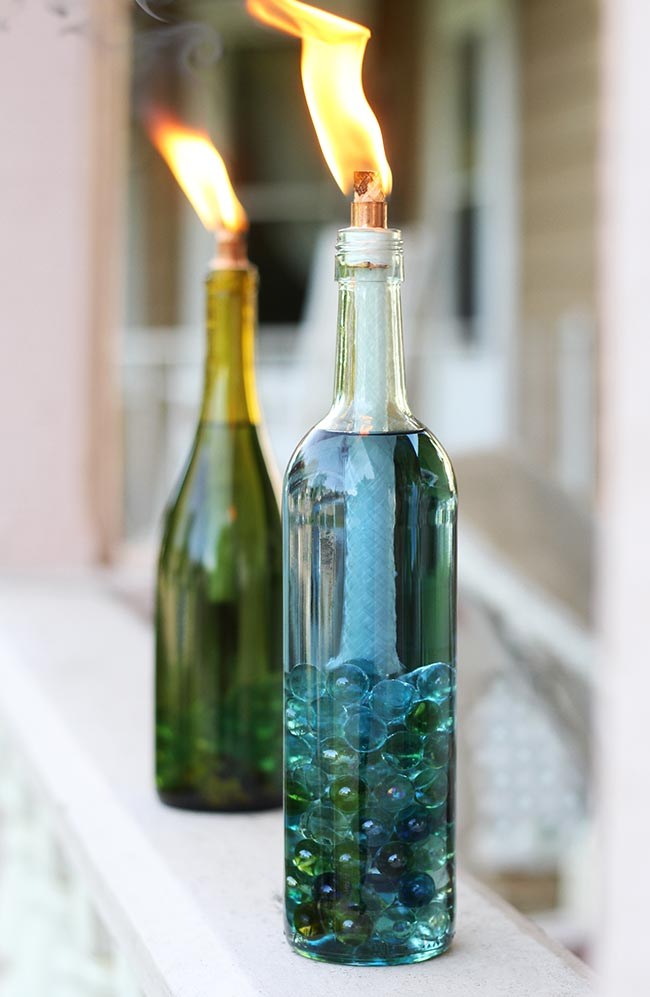 26. Cut and turn wine bottles into tumblers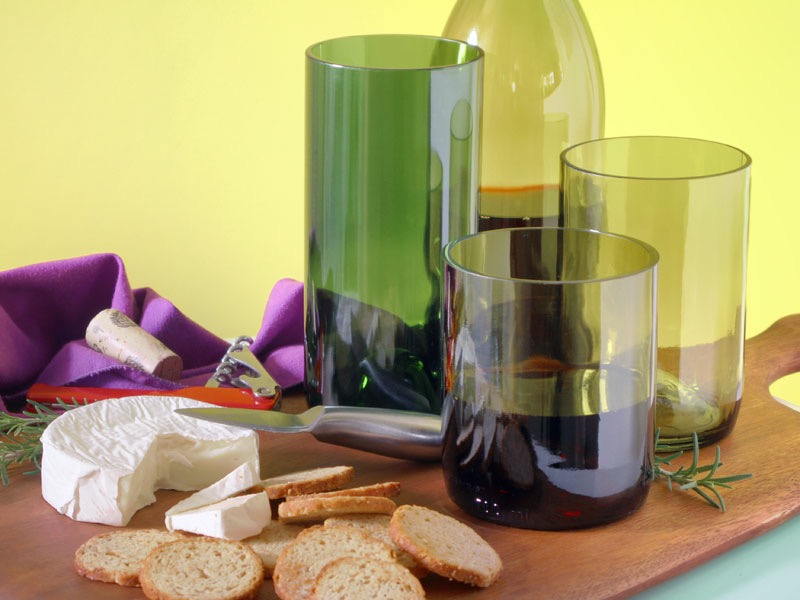 How to Cut Glass Bottles
Wine bottle could work remarkable to craft any type of decoration craft but, we must concur that it seems a bit tricky, when it's come to the matter of cutting off a bottle. You must do the job in a secure way that doesn't damage the bottle from any aspect and do the cut smoothly as per your requirement. Let's check out the 3 simplest tricks of doing so, in this article below-
Supplies Needed:
To cut a glass-made bottle perfectly, you will need a string, acetone, a lighter, and a container full of cold water.
For the second attempt, you will need a duck tape, an ordinary glass cutter, candle, a lighter, ice cubes, and an empty bottle.
For the third type of cutting, you will need a contemporary bottle cutter machine, a lighter, some ice cubes and of course an empty glass-made bottle.
How to Make:
For the first type of procedure, get a string or thin rope, and wrap in around the bottle on the middle part.
After making a tight knot, cut off the ends, and take the wrapping out of the bottle.
Now soak the string in acetone method and set the wrapping again in the same place of your bottle.
Mentionable here that you have taken off the lid of your bottle before doing this process, and don't forget to wear safety elements before using acetone methods, like your glasses, gloves, etc.
Now, after putting back the string, light it up with the lighter and spin the bottle until most of the acetone has burned.
Then, drop the bottle in the container of cold water and you will get two pieces of the bottle that have sliced smoothly from the wrapping line.
For the next process, set an unfilled bottle into the middle of a duck tape and push your glass cutter down slightly towards the bottle.
Now, roll the bottle until both ends meet at the same line, and then, take out the bottle inside the duck tape.
After that, once the line is scrolled, heat it up on a burning candle, and cool it down with ice cubes.
Repeat this procedure until the bottle slides into two individual pieces.
For the last attempt, set your empty bottle at the centre of the bottle cutter, and roll it up until you hear a crunching sound.
When you get a clear scoring line on your bottle, take it out and light it up with burning candle as we have mentioned in the previous process.
Then, apply some cubes and do the same until you have made a clear cut to separate the bottle pieces smoothly.
DIY Glass Bottle Lamp
We know that mason jars make great use of crafting night lamps, but have you got any idea that how these simple glass bottles could make a perfect glass lamp with some other basic ingredients along with a few very simple courses! Let's take a look at the making procedure-
Supplies Needed:
To craft this thing, you will need, a glass bottle, enamel paint, paintbrush, double sided tape, a piece of brown thick paper, scissor, marker pen, and LED lights.
How to Craft:
Firstly, take the brown paper and double sided tape, set it on the cardboard piece which will help to stick onto the bottle.
Now, take your marker and make any desirable shape on it which you can use as the template on the bottle surface.
Take your scissor and get through the sketch that you have made on the thick
Then, take out the tape from the pieces and set them on the bottle surface as many times as you want. We will recommend you to set the shapes randomly and distantly.
Now, after sticking them up, use your paint to block other areas with a nice coat of color.
When the paint has done, take out the stencils from the bottle and clean up the inside areas with a clean piece of cloth.
Then, get the LED lights into the bottle and light it up to get the magical view of a bottle lamp décor to your room!
DIY Bottle Starry Night Vase
Starry night vase is another spectacular item you could craft from these empty bottles. If you are looking for an easy yet beautiful décor from a blank useless bottle then, this starry night vase is the best thing item to craft! This kind of product would craft wonderfully from an empty Bud Light beer bottle. The best part of these things is that you can utilize them to hold some flowers or simply place them as the nice room décor items of your room. See how to craft it-
Supplies Needed:
To craft a pretty starry night vase, you will need an empty bottle, nail polish remover, nail polish remover pad, paintbrush, acrylic paint, paper plate, pencil, clippers, crafting knife, and masking tape.
How to Craft:
At the initial stage, peel off the levels from the bottle and remove the glue plod with the help of the nail polish remover by using the nail polish remover pads.
Then, wash the bottle entirely from both sides, and dry it up completely.
Now, use some pieces of masking tape on some spots of bottle surface and make a few starry sky designs on it; like, stars, half moon, etc.
After that, use crafting knife to cut out these designs and paint it out with the acrylic color. You can use the clippers here to set the bottle on your crafting table while coloring the bottle.
When the colors are dry enough, take out the tape pieces off the bottle and make some more tiny symbols on the bottle surface, to get a flawless glance of a starry
When the bottle is soaked up entirely, place it in your room and see how mesmerizing it could look in a perfect night view!
DIY Wine Bottle Decor Ideas 
You can use a couple of empty wine bottles as a complete set of home décor without so many of adornment components! Whether it is a table center piece or a hall decoration item, a bedroom adornment, these wine bottles could work stupendously to embellish your place in an artsy manner. This time, we have emerged with this simple yet elegant DIY project in which you can utilize the entire part of an empty bottle from its glass surface to its lid. Take a look at the making procedure now-
Supplies Needed:
To craft this thing you need, plain and blank wine bottles, those come with pretty golden lids, paintbrush, acrylic color spray  in white shade, glue, a container with a wide face that is full of water and some strings.
How to Craft:
Firstly, place your empty bottle inside the water-filled container by placing the seals on the water level.
Keep them this way until the stamps will be removed naturally.
Now, spread some glue on the top surface of your bottle and attach one end loop of the string on it.
Then, keep adding a layer of glue on our bottle and maintain covering it with string line around the bottle.
When you cover the entire bottle this way, or two separate parts of your bottle this way, cut out the end loops and set them securely on the bottle with a drop of glue.
You can make different types of designs with this glue and strings or can apply some other method to get this type of designed surface like duck tape, marker, hot glue gun, etc.
Now, spray the color on your bottles and let them dry before placing them as a room décor item. You can remove the designed layers from your bottle if you want to get a chic pattern on your wine bottle decors, as you can find in our mentioned video above!
DIY Wine Bottle Decor
Here is another simple project with this empty wine bottle to decorate your house fashionably. If you are not a glitter fan or don't like glossy décor to adorn your house, and prefer something subtle items to use then, this type of easy wine bottle decors are the perfect elements for you! Let's take a look-
Supplies Needed:
To prepare this thing you will need, an empty wine bottle, some colorful yarns, a scissor, and some glue.
How to Craft:
At first, take the seal out of the bottle as we did in all our previous procedures and take the lid out from the top as well.
Now, apply some glue on the top most part of your bottle and wrap the part up with some thick layer of yarn lines.
After a minimum part wrapped by the same yarn, cut the end off and set the loop securely with some glue again.
Then, apply some other colored yarn and do the same process again.
This way cover the entire bottle with yarn wrapping and keep altering the colors to make the piece eye-catchy from every aspect.
You can use more than two colors in yarn layer if you want, though we are using only two shades here!
Just make sure that end loop of yarn is attached securely on your bottle surface, after every single layer.
After the glue soaked up properly, use the bottle as a single or pair of simple home decors; or you can even utilize them as a chic flower vase of your centre table as well!