Pillows are one of the commonest things in this Emoji topic and some kids insist on having at least one or two Emoji pillows in their room because of its adorable flaunt. You can make these pillows in both stitched and unstitched forms.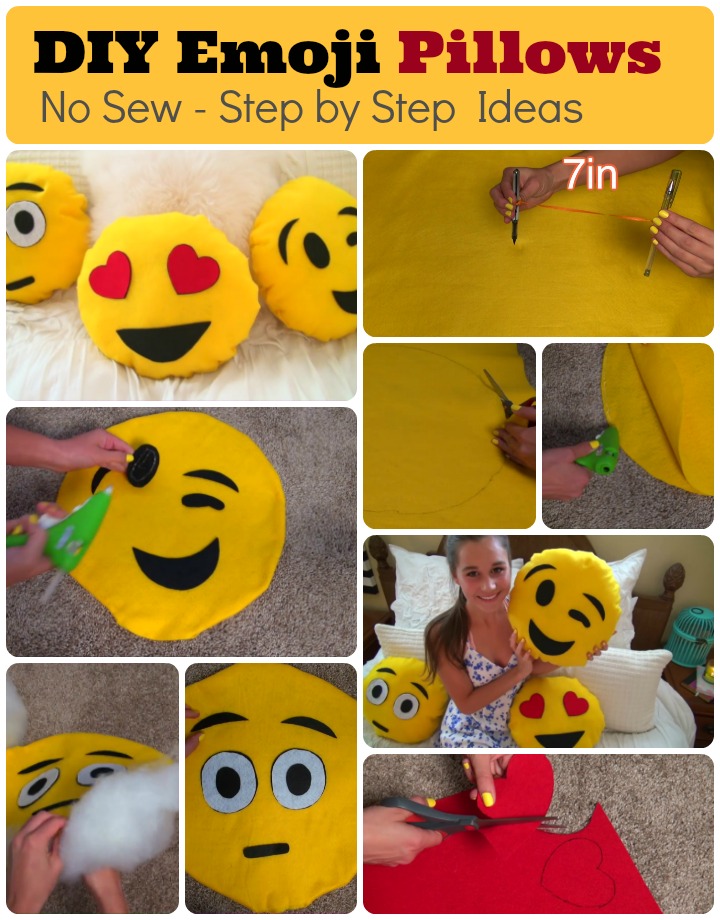 DIY Emoji Pillow No Sew Method
DIY Steps for No Sew Emoji Pillows – Julia
How to make emoji pillows
At first bring 2 yards of feeling or soft clothes in the yellow shade and decide what kind of emotion you want to craft on your Emoji.
Now, fold the felt from the middle, take a clear circle shape on the yellow piece with a wide round object like ball or bowl and then, cut the circle out from the whole piece and you will get two similar circles in your hand to finish the pillow.
Use one piece as Emoji front and the rest one as the back side of your pillow. After that, sew those two pieces up from the edges and leave a small portion to board stuffing from that side.
Now, after getting in some spongy stuff inside the pillow base, sew the open portion up.
Finally take a deep black marker and make your desired face over the yellow surface and finish the Emoji. Some people want to craft the face more durable, so they can use some pieces of black felts to create the facial expression in such cases!
DIY Emoji Pillow Sew and Glue Method
DIY Emoji Pillows Cut Sew Glue Method – Jazzbum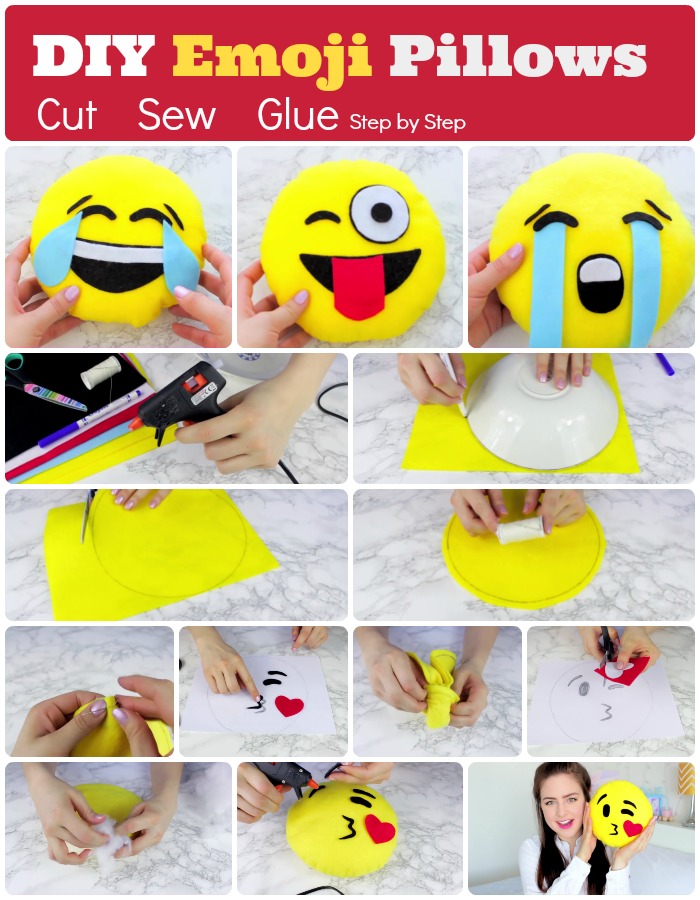 More Emoji Pillow Inspiration
No Sew Emoji Pillow

How to Cut and Glue Smiley Taco Pillow
Pillow tutorial lifeannstyle

Emoji Pillow Templates

DIY Emoji Pillows For Dogs

Some more DIY emoji pillow inspirations
How to make emoji heart pillow – studiodiy.com
How to make emoji poop pillow – creativecaincabin.com
Free pattern tutorial for emoji pillow – ahappycarrot
Not a emoji pillow but check for cute christmas emojis – sewdifferent.co.uk
How to make no sew emoji face pillow – kathy-angelnik
Step by step instruction to make your own emoji pillows with free pdf patterns – instructables.com