Disney Princess Ornaments

Walnut Reindeer Ornament

Birch Wood Slice Ornament

Burlap Reindeer Ornament

Glass and Ball Christmas Ornaments:
Your Christmas ornamentation is literally incomplete without any glass and ball ornamentation! No matter you decorate the tree with what kind of embellishment, but a classy glass decoration is always needed for the perfection of your ornamentation, for sure! You can see thousands of glass and ball adornments in the market but, it is surprising that those products you can easily make at your home effortlessly! All you just need is some glass made globes and metal lids with a hook or tap.
Glass ball filled with pine tree, acorns, grass clippings, pearls, beads, glittery paper cuttings, Christmas wishes, scrabbles, replica of Christmas tree, seashell, and sands, foam made snow, snowflakes, snowman faces, jingle bells, wedding keepsakes, stripes cutouts, holly berries, etc. are some common patterns of embellishing the Christmas tree in DIY style.
DIY Glass Ornament Method
DIY Glass Christmas Ornaments Alcohol Ink Glitter

blog.michaels.com
How to Make Glass Ball Reindeer Christmas Ornaments

Craft Glass Ornament Ideas Glass ball ornaments

www.diymaniacs.com
DIY Mercury Glass Ornaments

designstyle.net
How to Color Glass Ball Ornaments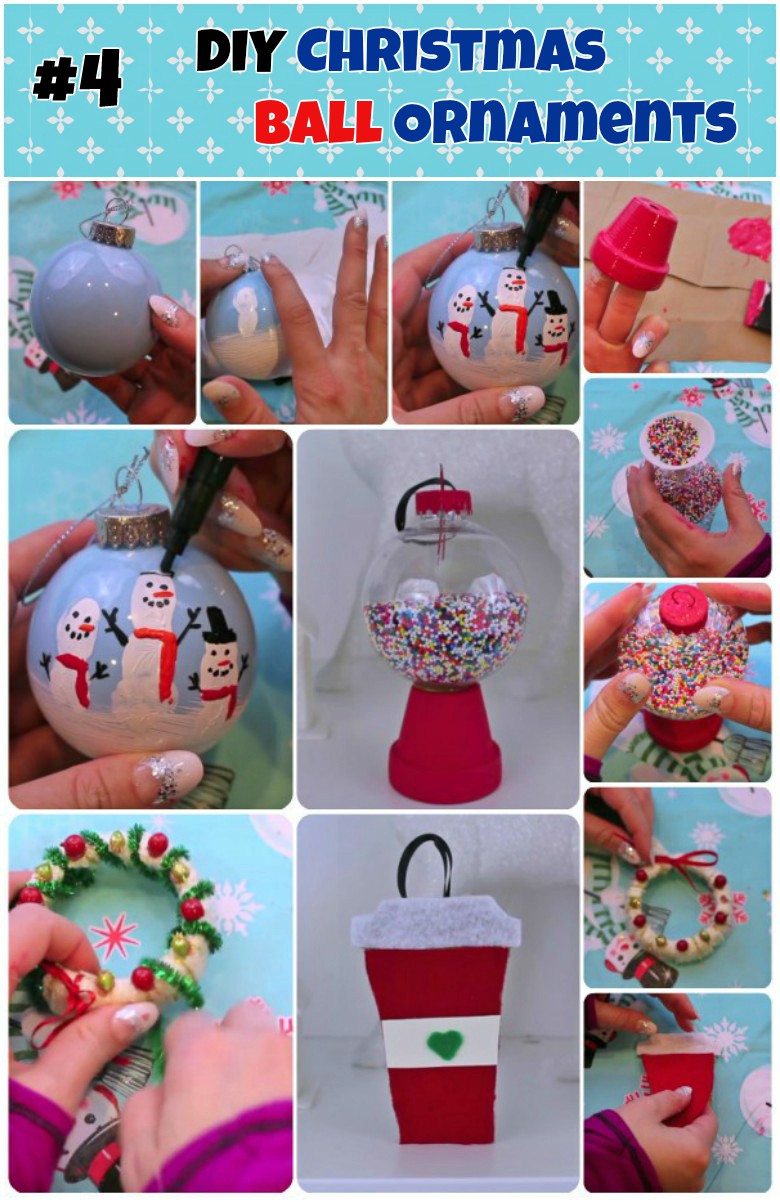 DIY Disney Inspired Christmas Ornaments:
Disney had created so many popular creatures over Christmas theme that it is quite impossible to decorate the Christmas tree without including any one character of Disney! Mickey and Minnie holiday wreath, Princess tree toppers, beauty and the beast toppers, star war force awakens ornaments, snow white tree toppers, Mickey paper snowflakes, toy story holiday ornaments, tangled wreath, Frozen creatures, seven ornaments, etc. are some famous categories of this endeavor.
You can make such things from different kinds of an object like paper, felt, glass, wood, plywood, glitters, or other crafting products, according to your needs. Just make sure that you are choosing the best object to craft your wanted element.

DIY Christmas Wine-cork Ornaments:
Wine cork is another great object to craft these Christmas ornaments in a unique way. We know that how wine cork could work magnificently to make many creative components like animals, Christmas creatures or other embellishments like Reindeers, wreath, garland, red nose animal, snowman, tiny set of snowmen, pine tree, Christmas tree, wine-cork alphabets, wine cork candle or candle holders, angel shape, etc.
They best part making wine cork crafts are that sometimes you don't need to cut or twist this object to prepare your Christmas ornaments, and all you have to do is that arrange some pieces of unused wine corks to along with glue and a few ornamenting products.

Easy Kids Christmas Ornaments:
Kids look very initiative when it's come to the matter of Christmas ornamentation, thus you must be familiar with some ideas of crafts which could be made by kids or toddlers effortlessly, right! Such things could be crafted by any object which is flexible and easy to access. Remember that crafting product is not significant in this matter rather than the desired item, as the ornaments must be easy to craft by a kid rather than being attractive or eye-catchy.
Stick skies with ribbon candies, button made snowman, starburst and pine tree, deer hear, reindeer head, tassel, painted walnut, sweater hoop, bottle cap showman, Popsicle stick wind chimes, clothespin made snowflakes, etc. are some common ornaments in this matter.
DIY Popsicle Santa Claus – Easy Kids Christmas Ornaments
Santa Claus Carving – Christmas Ornament Inspiration

Unknown Source ( We know its really hard to do, without a detailed video or steps, its just for inspiration and to admire the craftwork)
DIY Rustic Christmas Ornaments:
Rustic ornaments eternally bring some traditional resembles your Christmas tree which no contemporary ornament could bring! Thus, a few people still believe in embellishing their Christmas tree in the rustic style instead of a modern pattern. Wooden made ornaments, glass, and crystal are those elements which usually used in this type of ornamentation.
Vintage map ornament, sparkling bulbs, small frames with red ribbons, bead made winged bird ornaments, angel ornaments, hanging baking molds, upgraded glass ornaments with different fillings, red and white ribbons, bows, hanging pincushions, keys, glittery giant stars etc. are some typical pattern of rustic or vintage Christmas ornamentation.
DIY Rustic Wooden Discs Chalkboard Christmas Ornaments