Christmas ornaments are those decorations which are used to embellish the Christmas tree during the auspicious event of Christmas. These types of ornaments are basically made of glass, metal, ceramic, wood, felt, balls or paper, etc. DIY products always give us more space to experiment than readymade things, thus, it is better to make some Christmas ornament crafts depending on your own capabilities. Here are some crucial ideas on this issue with different sorts of objects. Let's check the out-

DIY Felt and Fabric Ornaments:
Felt and fabric are two wonderful elements to make any kind of crafts, especially for the Christmas ornamentation. Christmas tree needs lots of components to get ready for the celebration, thus the options are endless of ornaments! You can make felt-made small pine trees, a replica of gingerbread, Santa face, fabric-made snowflakes, Starbucks, fancy socks, felt-made artificial flower in different shades, bells, mistletoe decorations, stuffed stars, animal faces like fox or owls, etc.
You can include wool and shiny strings with these two referred elements to make your Christmas crafts more attractive. We would recommend you to apply simple embroidery or use stuffing crafts to decorate the tree, and avoid too much of fancy stitches for the crafting, as they could be complicated sometimes to execute properly, especially for the beginners!
Paper Quiling Christmas Tree Ornament

Orange Paper Christmas Ornament

DIY Wood Slice Christmas Ornament with free Shilloute Printables

Christmas Felt Tree Ornament

DIY Paper Geode Christmas Ornaments

Wood Slice Shilloute Words Christmas Ornaments

Felt Rooster Craft Christmas Ornament

View idea – Use G Translate
Scrapbook Paper Christmas Ornament

DIY  Christmas Felt Ornament – Santa Claus
Some Felt Christmas Ornaments Inspirations
Fox Felt Ornament

Christmas Sledge Popsicle Ornament

Paper Plate Baubles

Christmas candy cane felt ornaments at bugsandfishes & Tree felt ornament.

DIY Christmas Bells Felt Ornament for Tree Decor

Guinea Pig Felt Christmas Ornaments – Felt tutorial Cali Cavy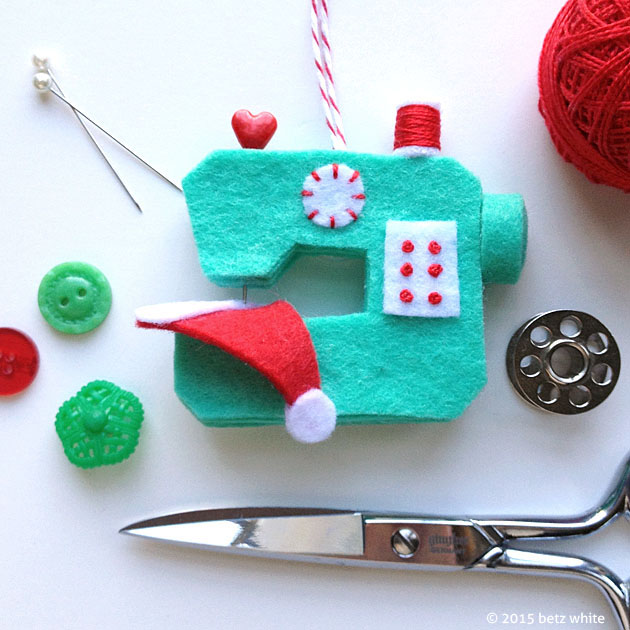 Sewing Machine Felt Christmas Ornament – Ornament pdf guide @betzwhite


Personalized Christmas Photo felt Ornament – ehow photo ornaments.



Christmas Floral Felt Ornaments – flower felt at stumbles stitches.


Felt Christmas Reindeer Ornaments -@ reindeer felt mygirlishwhims.
DIY Wooden Christmas Ornaments:
Wooden Christmas ornaments would give your decoration a traditional touch and thus, some people prefer to embellish their Christmas tree only with wooden made embellishments instead of other equivalents. Rustic or burned snowflakes, Boho Twig Arrows, etched Birch snowflakes, photo transfer ornaments or tiny photo frames, scrabble-tile ornaments, mini woodland wreath, etc. are some common patterns which are often used to adorn the Christmas tree.
Mentionable here that making a craft from wooden pieces or lumber slices are a bit tricky and need some sharp objects too, for preparing the desirable shape. Thus, avoid this component if you are naïve in this crafting field.
Burnt Wood Slices Ornament Christmas Decoration Idea

Rustic snowman wood burned Christmas ornament natural wood

Fabric or paper covered wood thread spools Christmas Ornament

Wooden Ornaments Step by Step Video
Homemade DIY Wooden Christmas Ornaments

blupla.com
Diy wooden disc ornaments Sharpie Designs



Homemade Twigs and Wood Ornaments DIY Christmas Decor

Christmas Paper Ornaments:
Paper ornaments are easy to make and give us a wide meadow to experiment. The best part of crafting ornaments from the paper is that paper crafts are extremely low in weight, and you will need a few simple things to make such ornament crafts, like a scissor, glue and some glitters that's it!
Twisted snowflakes, tiny Christmas trees from folded papers, striped spaceships, striped balls, origami flower ball, paper balls, modern paper bulbs, easy heart shapes, ornate cutouts, scalloped ball, dancing ladies, little birds, winged birdies, 3D starts, ice-cream cones, paper sphere, etc. are some mentionable items you could easily make from paper to embellish your charming Christmas tree.
Try to put the ornaments on the top side of your tree if they are made from paper, particularly, if you have kids in your house!
Try These Accordion Tree Ornaments keep little hands busy

DIY Paper Ornaments for Christmas
Easy Christmas Polka Dot Paper Ornament

DIY Easy Paper Ornaments
How to Make Paper Ball Ornaments For Christmas Holidays

How to Do Peppermint Candy Christmas Ornaments at Home

 Paper Flower Ball Ornaments for Christmas

craftsncoffee.com
How to make Cute Paper Christmas Ornaments Even Kids Love to

www.homemade-gifts-made-easy.com
Pin it for Later