The planter box is an essential component of your garden that not only hold the plants but responsible for the basic beauty of your entire garden. You may buy some beautiful or eye-catchy planters from the market at any time, but making your own planter according to your needs, would definitely be the best idea especially, in a creative manner.
DIY Recycled Planter Ideas
Recycling things to make a suitable planter would be a nice attempt in this endeavor, thus, let's check out some simple yet effective schemes on how to make planter box by recycling products in this article ahead-
Old pallets recycled as herb planters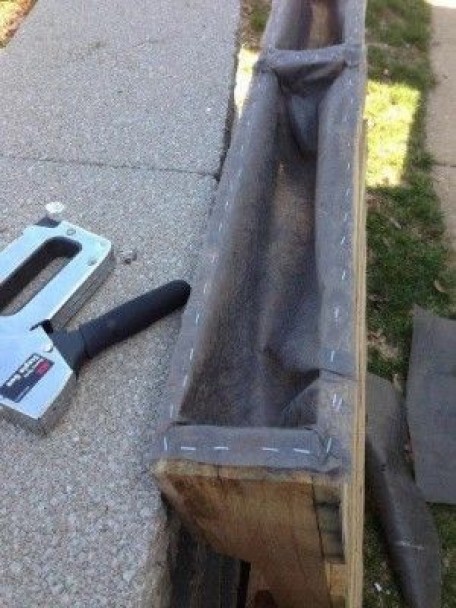 Old pallets work magnificently as a narrow planter box, particularly for the herbs gardening. All you just need is a long pallet box, a long piece of black canvas or plastic wrapper and a stapler. Simply set the canvas inside the box so then the potting soil could not leak from the gap of pallets and staple the whole canvas tightly before using it as a planter.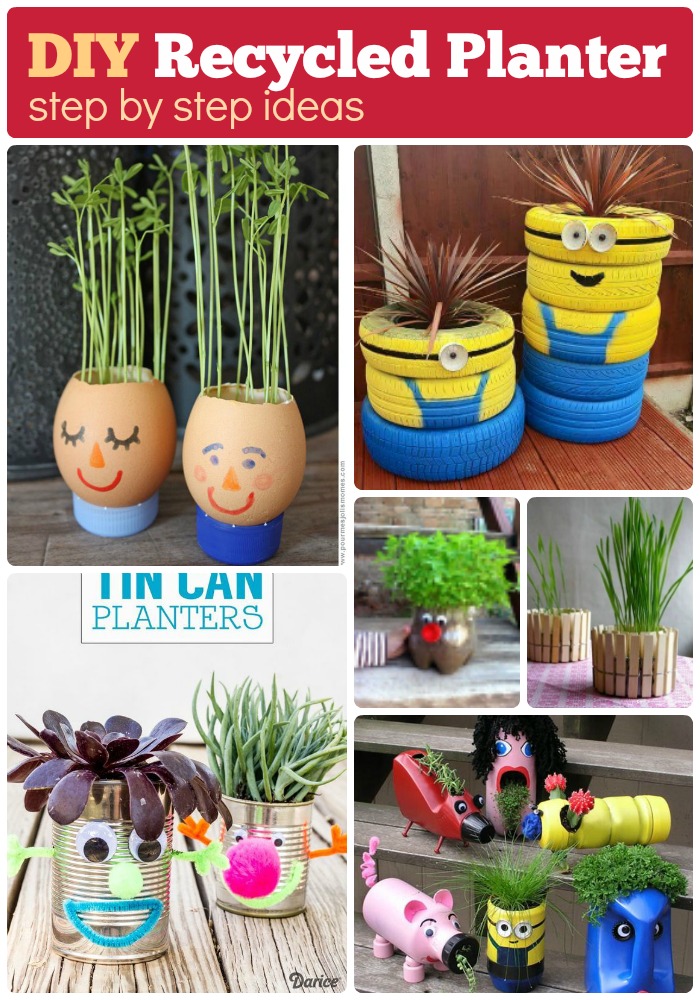 Mini greenhouse made from recycled bricks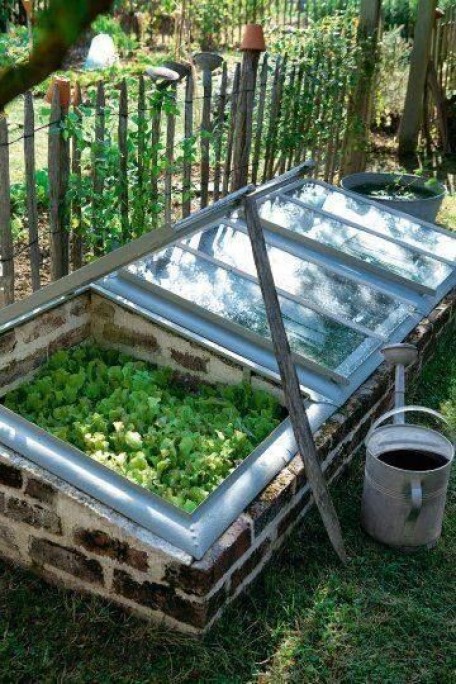 You also be interested in diy hanging planter .
Recycle soda bottles and cd into cute planters


Did you ever imagine that how an empty soda bottle could craft a wonderful planter with the help of an unused CD and some classic touches! To make such things, cut out a bottle from the middle with wavy edges and don't separate the lid from its top. Now, set the lid tightly, place the half bottle upside down on a CD surface and attach them with glue. Now, all you have to do is that paint the whole thing with glittery paints and use as a planter after soaked properly.
Wine bottle cut and recycled into self water planter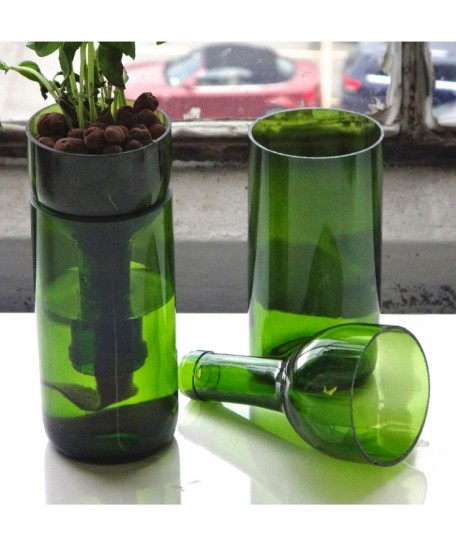 You can do a similar thing with an empty wine bottle and make a self-water planter in a unique way. Check out the image above for the precise idea-
Grab visitors attention with recycled wooden pallets for corner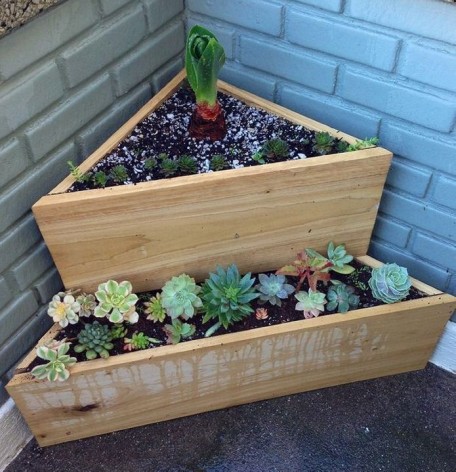 Recycle old tyres for creative garden planters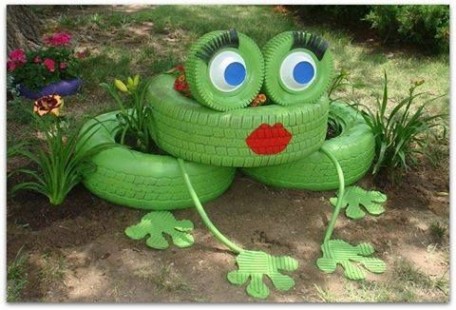 Plastic bottle recycled into hanging planter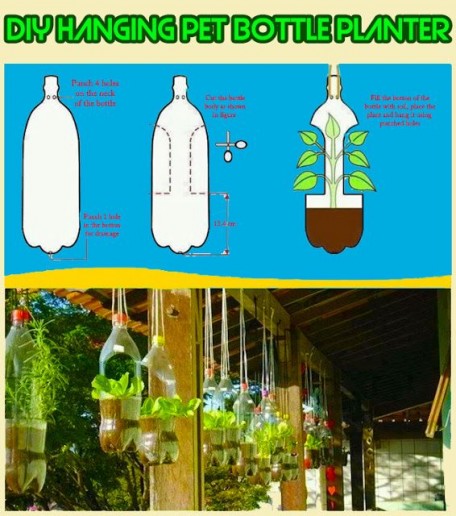 DIY Recycled wooden pallets garden planters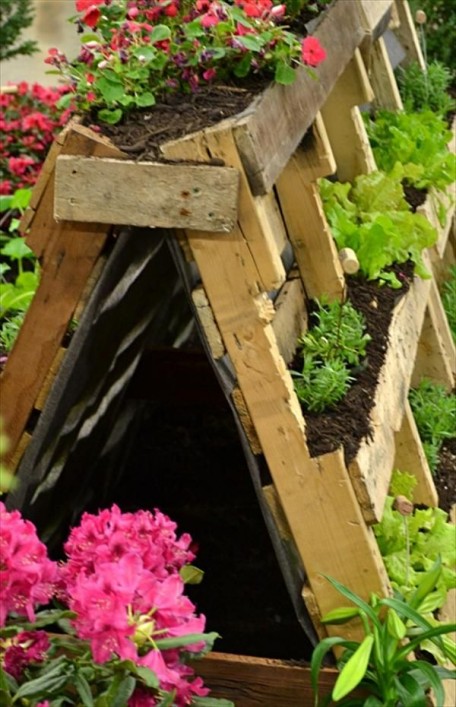 Minions with yellow and blue on recycled tyre planters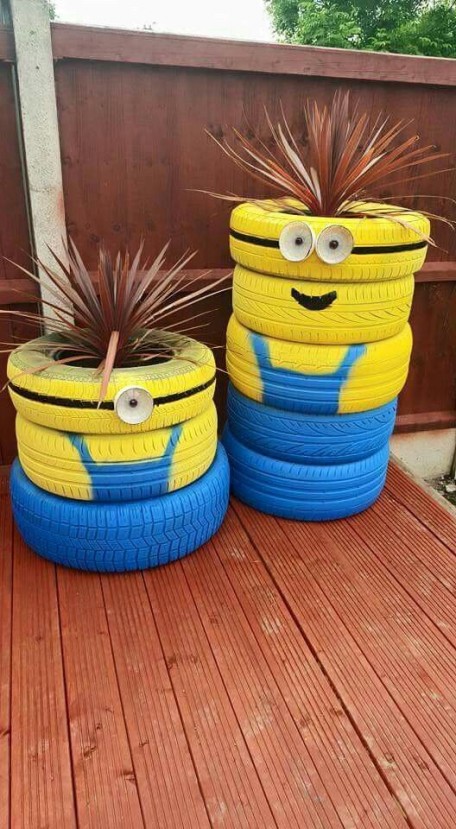 Unused old tires are one more mentionable object that works tremendously effective to craft an exclusive planter as a complete attention-catcher in your garden. You can make your own style with this object or try some frequent patterns like the famous animated characters, animal structure or bird structure etc. To prepare such things you need to secure one side of your tire first, so then the soil could set inside the tire. Then color it up with some vibrant colors along with a few artificial body parts and start the plantation once the colors dried out completely.
Get herb planters from recycled broken teacups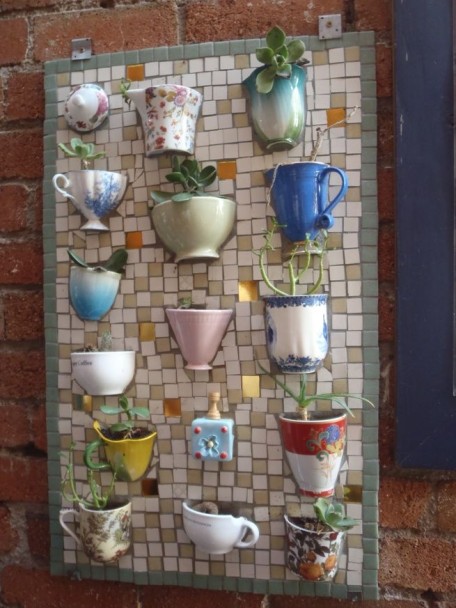 If you are going to make a planter for your herb garden, then the field of experiment naturally goes wider, as you can try several things as a plant holder! Like; empty bottles' bottom, wine forks, glass bowls, tree barks, small pallet boxes, or broken containers, etc. As you can see in the image above, where some unused broken cups have made an astonishing herb garden in such a small space.
You can recycle your old jeans into cool planters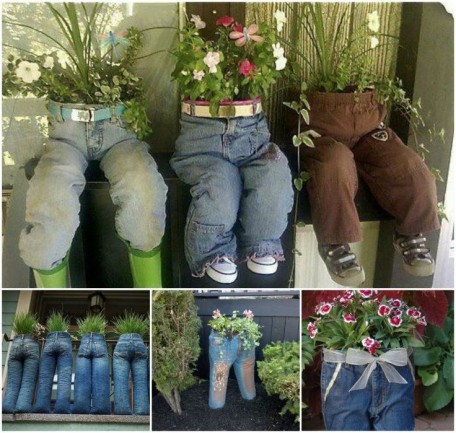 Degradable plant starters from recycled toilet paper rolls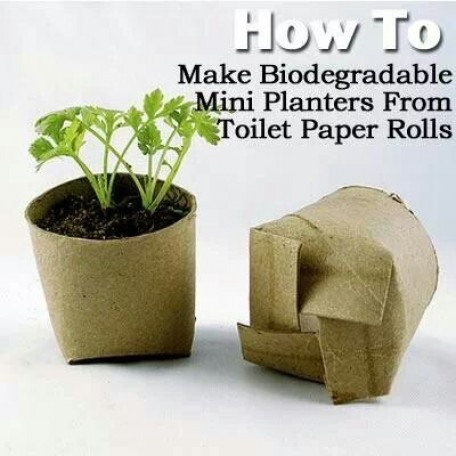 Recycled Crates for natural and rustic looking planters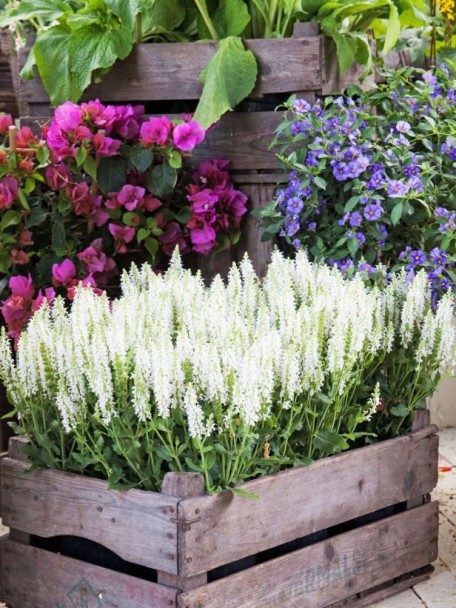 Crates are one more sparkling element which could work superbly as a recycled garden planter. The best part of using such things is that you don't need to give any extra effort to craft a crate as a planter, and it caters a natural rustic look to your garden which no ready-made planter could easily bring!
Recycled wine bottles for succulent planters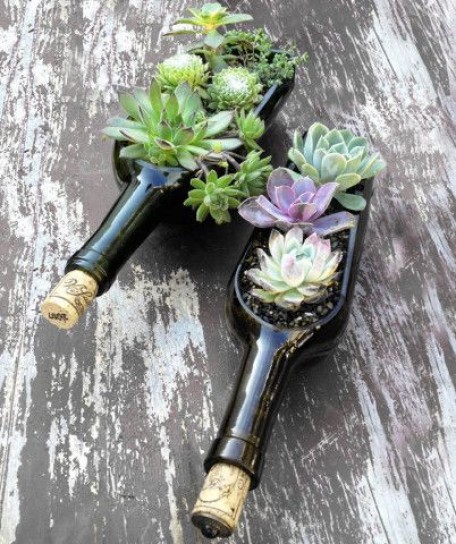 Recycled (Repurposed) wood logs into wooden train planters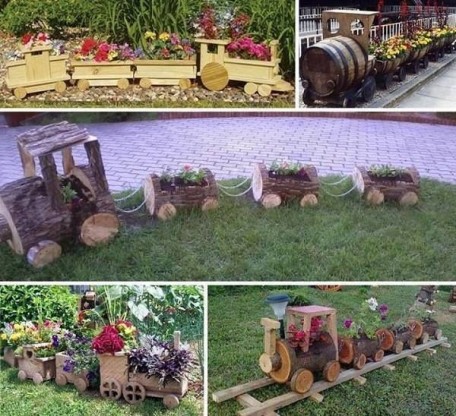 Recyle old milk jug into upside down tomato planter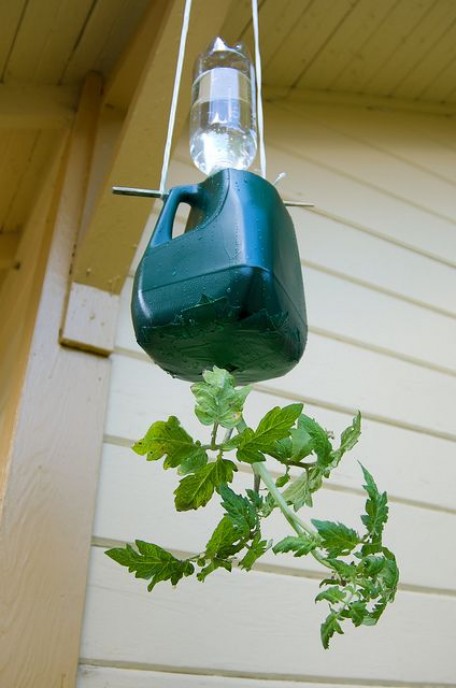 For more bright ideas for a recycled planter, keep checking the entire images above of this article.
Recycled planter for kids
DIY Recycled Egg shells for Seed Start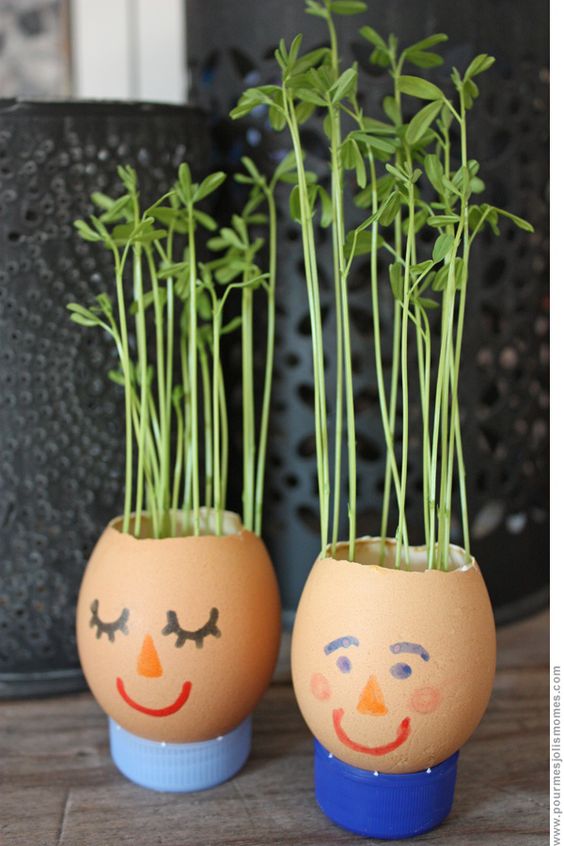 Via: 1001 garden
Kids Friendly DIY Recycled Plastic Planters


Creative DIY Recycled Planters for kids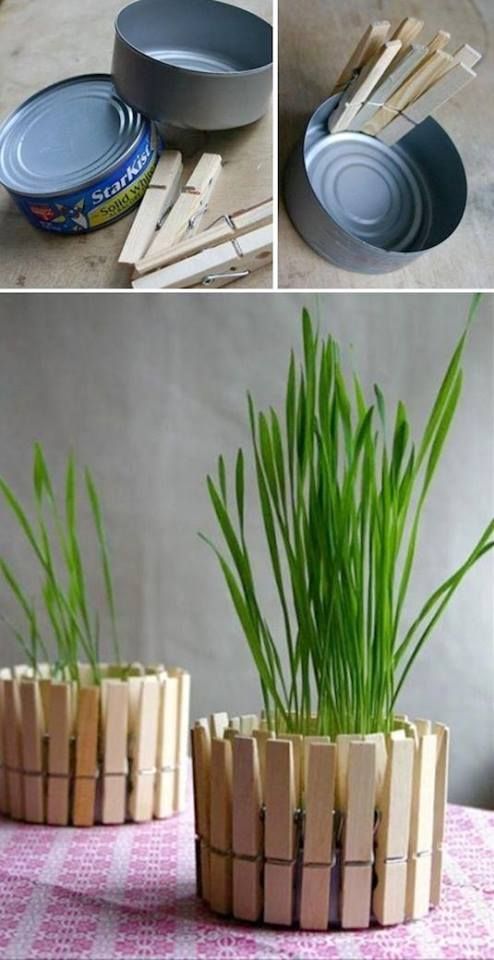 DIY Tiny Shoes turned into recycled planter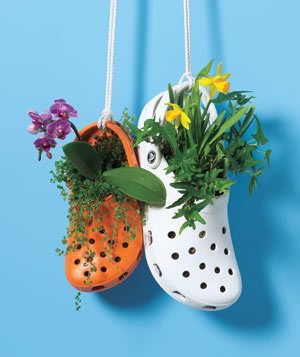 apartment therapy planters
DIY Recycled Milk Can Planters