Cauliflower is an edible head of a vegetable that belongs to the Brassica Oleracea, which is famous for its versatile taste and high nutrient value. This vegetable is one of the temperamental crops around, which claims a bit more validation than other common vegetables. Therefore, several modern age gardeners dare to cultivate cauliflower on their own capability, because they can come up with a satisfactory result with a fistful of delicious products at the end of their cultivation, once they taste success in their endeavor! Let's take a look at the appropriate procedure of growing cauliflower at your home-
Growing Cauliflower:
Soil, season, Planting and Care:
Soil Requirement for Cauliflower:

Cauliflower needs rich and well-drained soil with the plenty of organic matter.
Try to add composted manure to the soil before sowing the seed in it.
Besides the well-drained quality, cauliflower requires moist-retaining soil type for their perfect nourishment. This type of soil makes the root wet but not soggy which is very effective for the proper growth of your cauliflower plants.
Keep the pH of your soil in within 6.5 to 6.8 to balance and exploit the nutrient ability of the soil. Cauliflower could bear the level till 7.0 at the beginning period.
Remember that if you fail to balance the pH level of the soil, it not only decrease the growth of your crops but, at the same time, instigate some deadly diseases of roots!
Potassium and nitrogen are two essential components for the proper development of cauliflower, so make your soil rich with these two elements in high intensity.
This vegetable requires warm soil to grow, thus try to keep the temperature of the soil at 70 ̊ F throughout the whole growing season.
Related: Soil and troubleshooting ideas on growing cauliflower – Bonnie plants.
Season and climate:
Cauliflower is the vegetable of winter; consequently, it grows best at the time of fall or winter!
You can start your plantation in the early or mid fall to provide the perfect climate for your plants.
Some types of cauliflower could grow in little warm circumstance, thus a few gardeners chose to begin their cauliflower plantation during the late winter or early springtime, so then, they could do the harvest at Spring season.
Try to keep the temperature about 60 ̊ F throughout all the cultivation time around your cauliflower plants.
Though cauliflower needs comparatively cool climate yet, it claims a bit warmer soil to get the right growth. Hence, try to provide 6 hours of full sunlight to your cauliflower plants, even in the winter too!
We will recommend you to start your sowing process 2 to 4 weeks before the average frost date. You can even try to start your plantation 6 to 8 weeks before the first fall frost to harvest your crops at the end of the winter season!
Gardeners, who are living in a comparatively warmer place, could begin their plantation 1 week before the first spring.
Related Video: How Do they Grow Cauliflower 
Courtesy: manicmedia.us
Planting Cauliflower: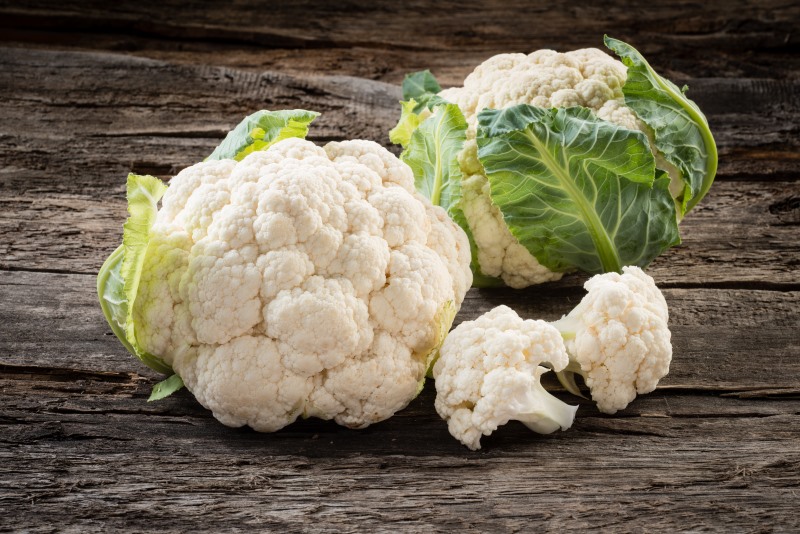 To plant the cauliflower seeds, select a proper place first in your garden area, which could get at least 6 hours of full sunlight in a day.
Now, arrange the proper soil type that we have mentioned above to your plantation.
Then, dig some small hole at that place with the depth of 1.5 to 2 inches in a row. Make sure that holes are 3 to 6 inches apart from each other, and if you are going to plant cauliflower in several rows then, maintain a minimum distance of 30-inch in between one row to another.
If you are transplanting your cauliflower plants from indoor placed seed tray then, make the holes 18 to 24 inches apart from each other.
After sowing the seeds, sprinkle a thin layer of some additional composted soil over the top and then water heavily.
Make sure that the water is draining out properly; otherwise, your seeds may rot in the soil within a few days.
If you are going to sow your seeds in the indoor climate then, bring a seeder or seed tray first, fill it up with potting mix, put the seeds, press a little and then cover them with some more potting mixture.
Now sprinkle water over them gently with a sprayer which could not move or harm delicate seeds from the top.
Then, put the tray on a sunny windowsill and wait for the germination.
You will see that seeds will begin to germinate within 2 or 3 weeks, and then just carefully transplant them in your prearranged garden area.
After transplanting them carefully, tighten the base with some more fertilized soil and water them thoroughly.
Now all you just have to do is that take appropriate care of your young cauliflower plants in every possible way until they reach the perfect stage of harvesting.

link: Growing and take care of cauliflower step by step pictures – wikihow.
How to Care for Cauliflower:
Validating the growth and provide an uninterrupted growing session is true of care. So, always, certify the development of your cauliflower plants after accomplishing the plating process accurately.
This plant needs the moist type of climate consistently, thus try to supply 1.5 inches of water each week along with average rainfall to get the healthiest part of your cauliflower head.
Always use nitrogen based fertilizer to feed your cauliflower plants and after see the plant blooms itself, fertilize every time before watering them.
Never allow growing any kind of grass or weeds near your plant, if you want to get the tightest and largest part of your crops.
When the head starts to form, blanch them with a rubber band, tape or twine. You need to tie the outer leaves of cauliflower with a tier in this process.
Never allow any kind of shade or shadow over your cauliflower plants, especially when they start to produce fruits on the stems!
Finally, take sufficient protection from every possible way to stay away and get rid of any kind of troubleshooting modes until the harvesting stage.
Growing Cauliflower: Seeding, watering, types of diseases – Quick crop UK.
Dealing with Pests and Diseases:

Cauliflower also gets infected by various types of insects, worms and deadly diseases like other cabbage species. Cabbageworms, aphids, harlequin bugs, cabbage maggot, diamondback moth, flea beetles, earwigs, leafminer, loopers, seedcorn maggot, cutworms, etc. are some mentionable invertebrates which could easily attack cauliflower plant or its head, and ruin the crop entirely! Bacterial leaf spot, clubroot, downy mildew, damping off, bacterial soft rot, ringspot, white mold, verticillium wilt, phytophthora root rot, etc. are some common disease of cauliflower plants, which could occur because of several environmental disorders.
Stand against pests or insects with pesticide sprays or soapy water as we mentioned in the matter of the utmost vegetables. Arranging some protective barrier near your plants could help a little from some flying beetles of moths in this attempt. Remember that any kind insect not only makes your plant of head cauliflower disgusting with irregularly beaten, and lots of larvae but, also make the crop out of nourishment from every aspect. So it is necessary to get proper protection from these creatures in every probable way!
Provide a sunny and soggy-free circumstance to your plants and always look for the proper drainage system, if you want to stay away from those above mentioned troubles. Always use fresh or disease-free seeds for the plantation, and apply organic fungicide immediately, once you see any type of such disease on a single section of your plant! These are some effortless process to get remedy from such cauliflower diseases in a simple manner.
Companion planting and harvesting tips for Cauliflower – yates.
Love gardening, learn how to grow cabbage and Brussel sprouts cultivation ideas.
Cauliflower Harvest and Storage:
When and How to Harvest
When the head of cauliflower reaches the length of 6 to 8 inches in diameter, and resemble white and firm, start your harvesting process instantly.
Generally, a cauliflower takes 75 to 100 days to form the mature figure after plantation process.
You can make sure about the harvesting date precisely by counting the day exactly 7 to 12 days after applying the blanching procedure.
When the head looks firm and ready harvest, take a sharp knife and cut the head out from the main stem directly.
Make sure that you start the harvest process before the floats of each cauliflower's head begin to distinguish individually.
If you found that any cauliflower hasn't reached the perfect size yet has begun to open up then, harvest it too! Because that one is not going to improve and must harvest before start distinguishes.
Which is the best time to harvest cauliflower – gardening know how.

Storage Tips:
After completing the harvesting course of action perfectly, you need to keep the low sunlight place in your kitchen.
If you want to store cauliflower for a long while in a fresh form then, put each head of your recently harvest fresh cauliflower in a plastic bag and store it in your refrigerator inside the crisper.
Unwashed cauliflower could stay fresh for more than 10 days in your fridge if you can store them properly.
You can even dice them with a sharp knife and place in your refrigerator after placing them inside the lunch or paper bags.
If you wash your cauliflower mistakenly then try it use it within 3 or 4 days, or you can use it later at all, no matter you keep it under how much low temperature!
Climatic changes, weeds and pests, handing diseases on growing cauliflower – garden extension.
You may also be interested in growing broccoli and some broccoli salad recipes.
Growing Cauliflower in Container: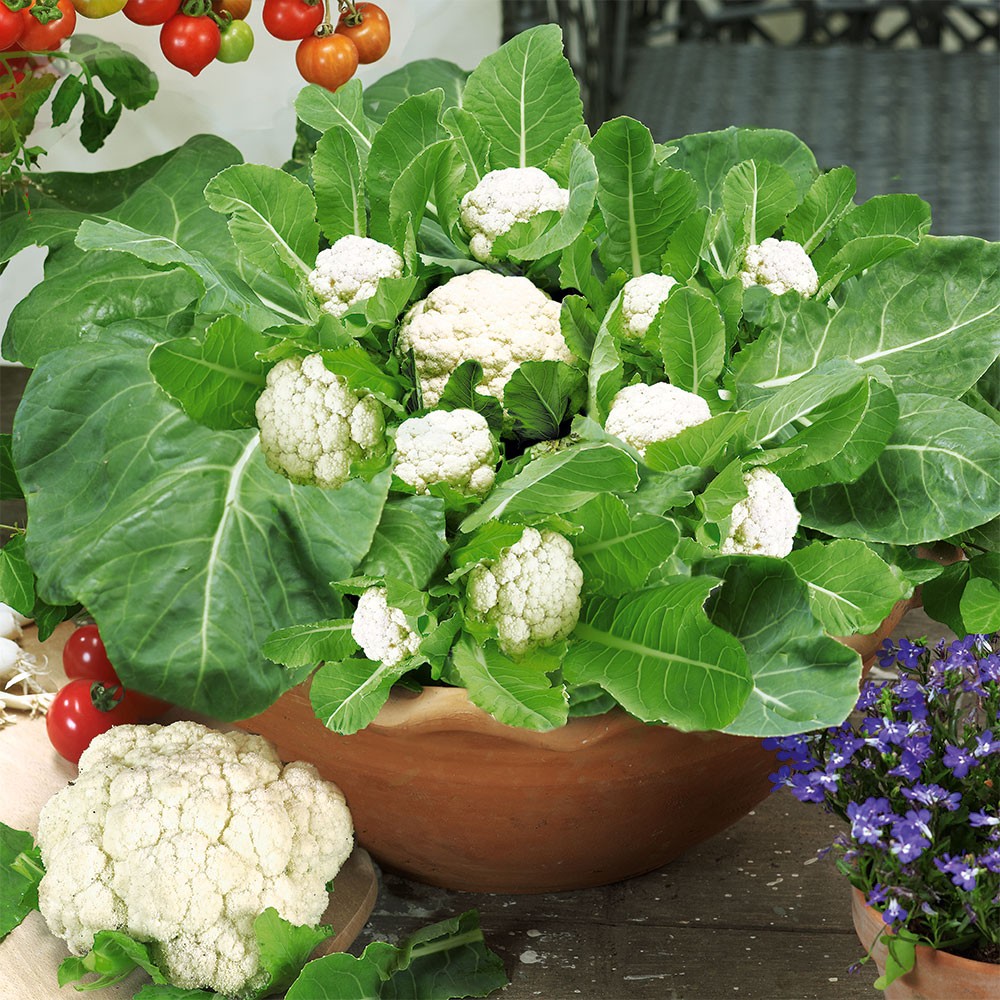 To grow cauliflower container take a garden pot with at least 5-to 6 gallons capacity. That means, your pot must have the depth of 12-inch and width of 10-inch to provide the proper space for the right growth of cauliflower plants.
Check the drainage holes first and emphasize them with some terracotta pieces if you want.
Then, fill the ¾ part with the adequate potting mix, which is rich in nitrogen content.
For propagation, dig one or two holes on the top surface of the soil base with the depth of 1 or 2-cm below the soil and put one of two seeds in each hole.
Now, cover them up with some extra potting mix and sprinkle a layer of water until the whole surface looks wet.
Then, place the container near a window and wait for the germination.
Once you see the germination have started itself and each plant has at least 3 to 4 leaves, start to take care your plants including the next stage of growing methods, by fertilizing, watering, protecting and blanching them.
Cauliflower plants are heavy feeder as we all know and try to feed it with water soluble fertilizer like 10-10-10 or any time released manure which is rich in nitrogen content.
Mulch your plants after a period of half growing session, as mulching help to retain the moisture and warmth for an extended period, and these will be necessary for the better growth of your cauliflower plants.
The protecting process from any kind of insects or diseases is the same as we mentioned for the garden plantation.
Generally, cauliflower gets ready for the harvest within 3 to 5 months when you are growing them in a garden container.
Harvest gently and don't harm the stem, if you want to replant then and try to get more fruits from the same plant again!
How to grow my cauliflowers in containers/ Pots – sfgate home guides.
Cauliflower Growing Tips:
Cauliflower needs moderate temperature for all the time thus; keep the heat around 60 degrees F to 77 degrees F during the entire growing session.
Because this vegetable requires rich and composted soil with organic manure, thus make sure that the soil never goes out of water or completely dry for a single moment. As in, keep the soil slightly moisture is the key process of your cultivation.
Always use side dressing technique to make the fertilizing process more clear and sharp.
Use a bit of borax with your fertilizer on the every 100 feet of cropping field for better growth of your plant.
Check that whether the head of each cauliflower is dry or not, when you are blanching them, as any kind of moist quality on such head could rot the crop entirely!
Simple tips on growing cauliflower from Burpee.
Learn when is the best time to plant an harvest cauliflower – gardening know how.