A dryer sheet is used to prevent stuck fabrics together while they are tumbling in an automated dry cycle. This item not only helps to keep clothes individual through the static electricity but at the same time provides a mesmerizing smell to your draperies while using for drying in the dryer. Let's check the making procedure of one functional dryer sheet in a DIY method-
DIY Natural Dryer Sheet Preparation:
Supplies Needed:
To make a natural dryer sheet at home, you will need, some old scraps of cloth, 2 or 3 essential oils as per your choice, 1 cup of white vinegar, a mixing bowl, a stick, and a glass jar along with its lid.
Process to Make:
Take the vinegar in a mixing bowl and add 25 drops of mixing essential oils. If you are looking for some solid and long lasting fragrance then, we will recommend you use citrus, lavender and minted essential oil in this processing.
Citrus prevent the germs from your fabric when minted oil helps to keep the draperies refresh and lavender maintains the heavenly fragrance in your clothes for a very long while.
After stirring both the ingredients finely with the stick, you can pour the mixture into your empty jar or you can pour this after placing the scrap clothes as well!
However, before or after pouring the vinegar and essential oil mixture into the jar, fold the cloth scraps place them in an organized way till the top.
Mentionable here that you can moisten the scrap with this mix but don't saturate them thoroughly, otherwise it won't work as per your true requirement in need! So, if you have extra mixture then, store it in other container but don't overflow the scraps with it.
Finally, set the lid securely and preserve this homemade dryer sheet for your regular use. Whenever you need to use these sheets, just take one scrap and put it in your dryer, and after using it recycle that scrap again following the similar process.
For more creative ideas on making an effective dryer sheet at home, keep checking out images below-
DIY Reusable Dryer Sheets

How to Reuse Re purpose and Recycle Dryer Sheets

DIY Reusable Dryer Sheets

Homemade  Vinegar Essential oil Dryer Sheets DIY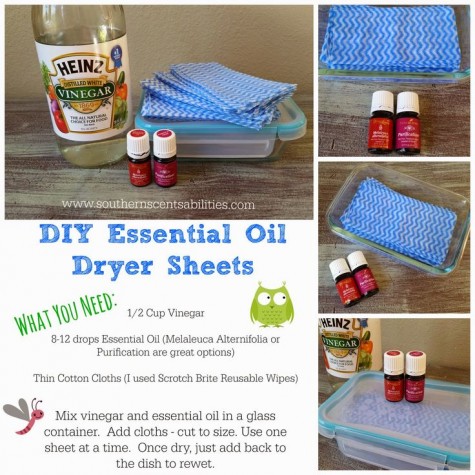 www.southernscentsabilities.com
Never Buy Dryer Sheets Again

 Homemade Dryer Sheets with Essential Oils

How to Make a Reusable Dryer sheet

DIY Homemade Dryer Sheets

viewfromthefridge.com
Dry sheet Cleaning tips

Homemade Dryer SHeets

Lavender Essential Oil Homemade Dryer sheet

theleatherneckmom.blogspot.com
DIY Dryer Sheet Recipe