A room would not flaunt perfectly without a proper window, and a window would not look flawless without a beautiful furnishing, right? As we can take care of several objects with the DIY methods then, why not try this in window matter as well! A window could look more rejuvenating and striking if it could adorn with proper cleaner, treatments, seating and shades. Thus, today we are going to enlighten you with some functional ideas which will help you to embellish your window with a better display in a truly simple way, let's take a look-
DIY Window Clings and Window Treatment Shades and Blinds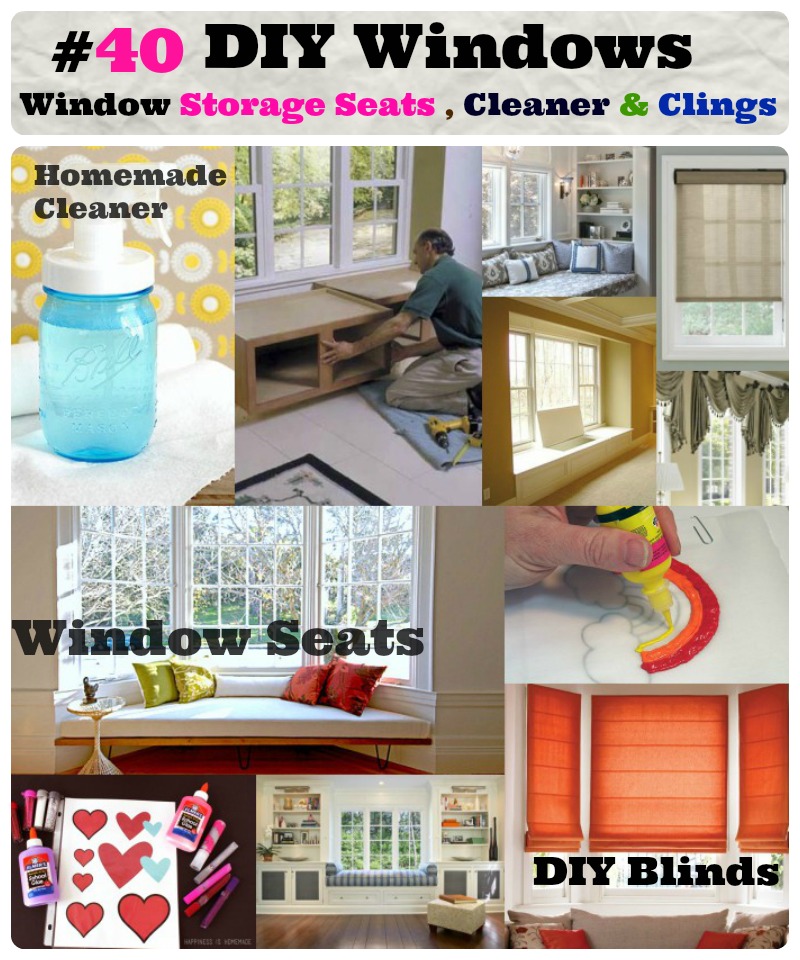 DIY Homemade Window Cleaner:
The window would not appear ideal without a clean or clear surface, but, unfortunately, the foremost window glasses get hazy and indistinct after a certain period. Thus, it is essential to keep the glass always lucid in a natural way. You may find several window cleaner products in the market but, they can't hold the cleanness for a long while. Thus try out this below mentioned window cleaner element and maintain the clearness for a long duration-
Ingredients:
You need ¼ cup of vinegar, ½ tbsp of liquid soap or detergent, 2 cups water, and an empty spray bottle.
Methods:
Take a medium mixing bowl, pour all the ingredients, combine them well with a spoon and pour into the empty spray bottle.
When you need to clear your window, just spray over the glass, use a soft piece of cloth, rub gently and wipe out with another piece of dry cloth.
DIY Window Seating and Couch
We all have a common habit of seeing the view from our window, at least once in our day and sometimes, old persons love to watch the view throughout the whole day. Consequently, it would not be a bad idea to craft a bay window seat or couch in the DIY process for this purpose. House or apartment owners, who are suffering from the space shortage, getting more benefit from these types of seats than others, as they claim less space than any other sitting object, but provides the same luxury of a lavish couch and sometimes with a little storage space too.
Padded window seat with under storage style, bay window seat with below cupboards, peeling leather couch, window bench with shelving, etc. are a few patterns which recently grab huge attention from the modern householders.
How to Build a Window Seat Yourself

You may love to see space saving small apartment storage ideas.
Inspiring Window Seats

Cozy Window Seating and Decor Ideas

www.architectureartdesigns.com
DIY Beautiful Color White Themed Window Seat

You can also check out some space saving kitchen storage ideas.
How To Build A Window Seat with Storage

DIY Window Seat Bookcase with No Sew Bench Cushion

Also check out this DIY storage ottoman.
IKEA Window Set DIY Build window seats with Ikea

DIY Modern Home Bay Window Seat and cushion

DIY How to Build a Window Seat Tutorial

You may love these DIY small bedroom storage bed ideas too..
Window Seats with Storage

DIY Window Seat Tutorial

Window Seats with Book Storage for Book Readers

codm-meknes.com
Simple and Comfy Window Seat DIY Window seat with storage

twoboysonegirlandacrazymom.com
DIY Window seat with storage rustic style and comfy cushion

DIY Easy Inexpensive Window Seat How to Build it Tutorial

www.fourgenerationsoneroof.com
DIY Cushioned Window Seat with Under Bench Storage

How to Build Window Seat From Wall Cabinets