Chapstick is one kind of cosmetic that uses to cover the lips with a glossy moisturizer and at the same time protect our lips from unwanted dryness or dullness. This is not the very first time when we are referring the lip balm or chapstick recipe on our website and you must be wondered that what left to discuss more on this same topic again! Well, this time, we specifically mention some particular elements along with their 'with' and 'without' functionality in a chapstick preparation. Let's check out the recipes below-
Homemade Chapsticks #7 methods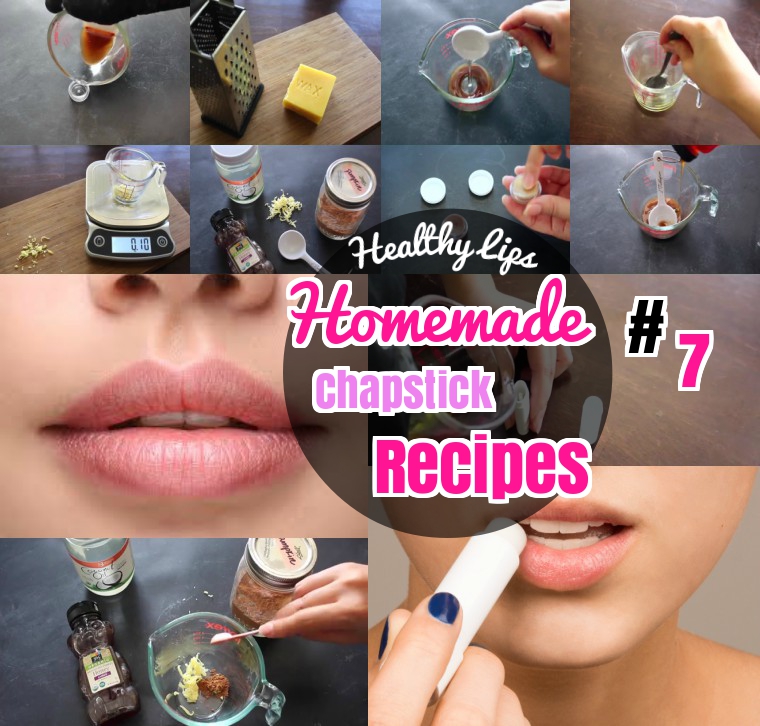 1.Chapstick with Beeswax:
Beeswax is the most frequent ingredient of a lip cosmetic as we all know, and in a lip chap, it is considered as the key ingredients as well! Keep in mind that if you want the color part more in your lip balm than the glossy part, then, you need to use this moisturized content beeswax in more percentage than the Shea butter or Vaseline material in a lip chap recipe. Let's check out the making procedure below-
Ingredients:
To make this item you will need, 2 tbsp beeswax pastilles, 2 tbsp Shea butter, 2 drops of desiring food coloring, 2 tbsp olive oil or grapes seed oil, 30 drops of rose essential oil, one double boiler pot, and an empty lip chap container.
Methods:
At first, take the grated beeswax and Shea butter in a double boiler pot or small glass bowl.
Now place the bowl over another small pot of boiling water and let it stir relentlessly until dissolved.
Remove the bowl from the heat, when both the ingredients melted entirely and then add the olive oil into that mix immediately.
After that, add 30 drops of essential oil and food coloring to that preference and combine them well with a toothpick.
Once you stir all the ingredients smoothly then, pour the mixture into your empty lip chap container and keep it cool in your freezer for a few hours, after setting the lid tightly.
You may interested in nail polish style lip stick.
Related video how to make chapstick
2. Chapstick without Beeswax:
Despite the various benefits of using beeswax in a lip cosmetic, a few girls prefer to use a lip chap that doesn't contain this component but still cater humidity to the lip cells in an organic way! Thus, we are occurring this without beeswax lip chap recipe with some simple homespun ingredients, take a look-
Ingredients:                       
Take 1 tbsp of raw honey, 3 tbsp of petroleum jelly, ½ tbsp of vanilla extract, 5 drops of strawberry essence, 1/10 tbsp of colored lipstick, one toothpick, microwave safe one small glass bowl and a blank container.
Methods:
Put the honey into the glass bowl along with the petroleum jelly and stir the well with a spoon.
Now, put the bowl in your microwave oven and heat them up for a few seconds until melted them completely.
Then, take another small bowl and combine the rest ingredients smoothly with the help of the toothpick.
After that, pour this mixture into the honey-jelly mix and stir them for one final time.
Finally, pour the entire mixture into the empty container and keep it in our freezer for the next 25 minutes to let it cool before using as a regular lip chap.
Mentionable here that, if you want to get your lip chap in more solidify form, then you can easily skip the honey part from the recipe.
For healthy looking lips give try on these homemade lip scrub recipes too…
3. Chapstick with Coconut Oil:
Coconut oil is another organic ingredient that moisturizes our skin cells and caters a natural glow to the surface for a very long while. To fill the impurities and prevent the dehydration, coconut performs the best in a lip chap recipe than any other organic ingredients. So, let's check out one recipe with this highly beneficial element below-
Ingredients:
To prepare this lip chap you need, 1 tbsp of coconut oil, 1 tbsp of beeswax, 1 tbsp of red palm oil, 2 drops of non-toxic food coloring, one double boiler pot, a toothpick and one empty container.
Method:
Take the coconut oil, beeswax and red palm oil into the double boiler pot and place it over low heat for a few seconds to dissolve all the ingredients finely.
Now, turn off the heat and remove the pot from the heat, add food coloring and stir them well with the toothpick.
Now, all you need is just, pour the mixture into the empty container and let it cool for a few hours before using.
Want to try something totally different try this bubblegum lipstick, step by step tutorial its sure easy for you.
Related Easy Tutorial Video for Homemade Chapstick Recipe (Lip Balm)
4. Chapstick without Coconut Oil:
Some girls feel bothered with the smell of fresh coconut oil or some are allergenic towards this advantageous product and thus, they compel to use products without this highly effective coconut oil method! For those lip chap affectionate people, we are referring this without coconut oil recipe that works with the same efficiency as a perfect lip chap, let's take a look-
Ingredients:
Take 1 tbsp of Shea butter, 1 tbsp of cocoa butter, 4 tbsp of jojoba oil, 1 tbsp grated beeswax, 1 tbsp honey, ¼ tbsp vitamin E oil, 7 drops of lavender essential oil, 1 teaspoon of natural lipstick, one microwave safe bowl along with a toothpick and empty lip balm container.
Method:               
Warm the oil, honey, and beeswax into the microwave safe bowl over a very low heat, to dissolve them completely.
Now, when they melted thoroughly, turn off the heat and remove the bowl from the heat.
Add essential oil, lipstick coloring and vitamin E oil along with both the butter elements into that bowl.
Keep whisking the bowl with entire ingredients with a toothpick to combine them very smoothly and it will be better if you can place the bottom of that bowl into a shallow pan of ice water while pouring ingredients into that bowl.
After stirring them well, transfer the mixture to the empty container and let it cool down perfect before your first use!
5. Chapstick with Essential Oils:
We often saw to use essential oil in almost every lip balm or lip chap recipes for a better fragrance, but did you know that you can actually make an effective lip chap using various essential oil with the same goodness of a lip balm! We let us show you the procedure below-
Ingredients:
1-ounce beeswax
1-ounce olive oil
½ once Shea butter
20 drops of peppermint oil
10 drops of lavender oil
10 drops of jojoba oil
5 drops of red palm oil
one double boiler pot
one not sticky stick and an empty container.
How to steps:
Melt down the grated beeswax with olive oil and Shea butter. Follow the same process as we mentioned in the above in your double boiler pot.
Now, remove the pot from the heat and add all the essential oils into that bowl to combine suds freely.
After stirring them well, pour the mixture into that empty container and keep in your freezer until it solidifies completely.
Save