Shrek is a Disney Franchise fairytale which is based on a character of an ogre, who has an unusual green shade along with the weird features! This story has become hugely popular since its very first release in the year 2001, and thus, come up with 3 more parts with almost similar characters along with some new journeys of Shrek and his family & friends.
Shrek Costume Ideas


Shrek Fiona Wig and Ears

reelinthedeal.com
Princess Fiona



The reason for this immense popularity of Shrek series is possible because of its amazing love story between an ogre and the princess named Fiona, who is basically an ogress by a curse! This tale has included some more interesting characters like the talking Donkey, the warrior cat Push in Boots and a girl turned Dragon who fell in love with the donkey! Unlike other fairytale love stories, Shrek doesn't end up with a 'happily ever after end' and show the realistic side of the life after marriage along with some magical journeys to the world, which makes this tale so popular among the parents as well as their kids! So, if you are thinking of an unusual party theme for any of your celebration then, try out this Shrek costume, crafts, food ideas along with coloring pages to entertainer your guests on a greenly ogre's way!

Costume of this fairytale mainly depends on the scene you want to use as your party theme, as in if you are choosing the marriage ceremony theme of Shrek and Fiona then, took white gown costume along with head-veil for the ladies like Fiona; and for gents a full-sleeves loose garment accompanied by a printed trouser, a sleeveless short jacket along with a waist tie like Shrek.
If you want a getup like Fiona in the ordinary time then, you must wear a red colored braided wig along with two green ears as a true ogress. A crystal crown or tiara would look perfect for a real Fiona getup which would be more flawless if you wear a floor length frock or gown as the Princess.

Getting dress up like Shrek is more effortless than other characters, as he is dressed same in almost every single part of Shrek series, which we already mentioned above! To get more pragmatic apparel, you can paint yourself with herbal green color; it will provide you a real ogre look and at the same time protect your skin from any kind of damage! A Shrek nose could cater more perfection to your ogre getup for sure!
Shrek and Fiona Costume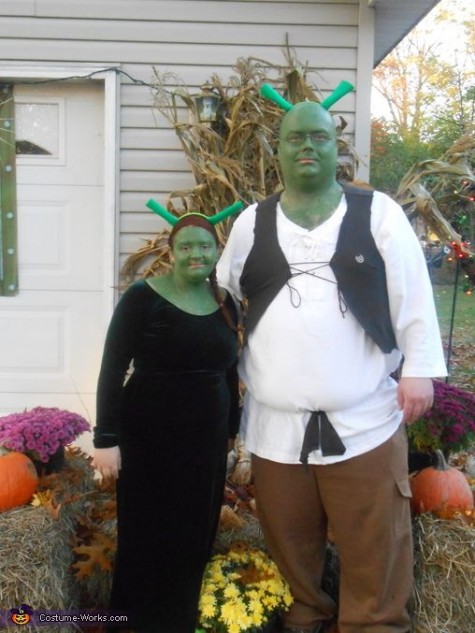 Shrek Costume

Shrek Nose and Ears Accessory Kit

www.buycostumes.com