Girls perpetually have a hunger for more and more cosmetics, whether it is an eyeliner or face powder, and their obsession become wider when it comes to the matter of lipsticks! As, ladies, especially, the contemporary ones always love to change the color of their lipstick as per their clothes. We have shown you DIY making process of several beauty products, such as DIY Lip Scrub, DIY Lip Balm, etc. Today, we will demonstrate you the manufacturing procedure of some glossy lipsticks in the pattern of nail polish, which we called nail polish lipstick. Check out the process below in step by step method-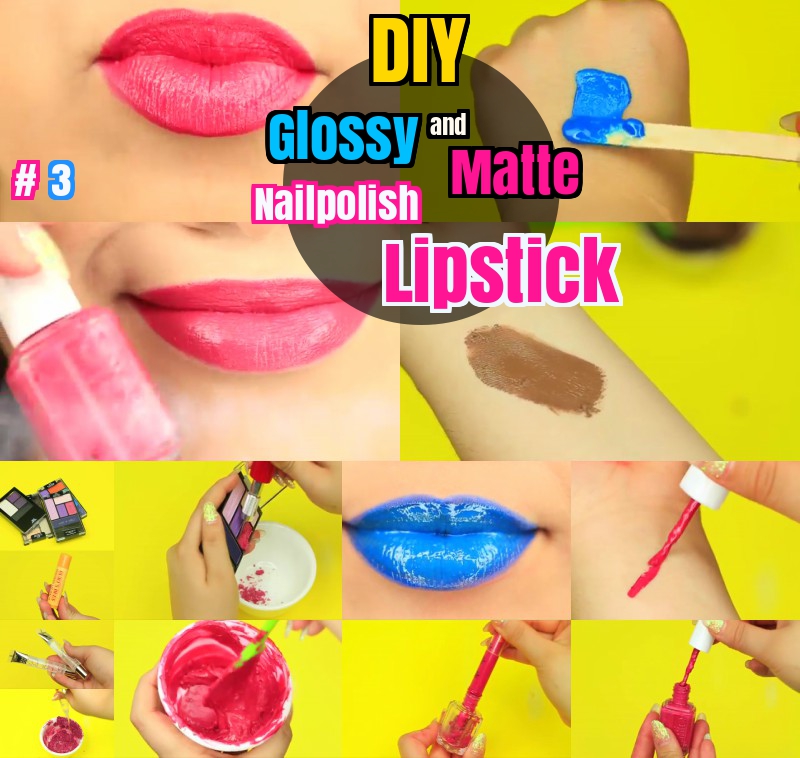 DIY Nail polish Lipstick
Materials Needed:
We need some eye shadow colors
white lip gloss
An empty syringe
Bowl
Spatula
Empty nail polish container
Instructions:
At first, take some eye shadow pigments into the bowl as per your choice, we are taking some red, pink and purple colors to get an unequally different shade!
Now, mash them together with a masher for a few while, so then, all the colors could merge with each other.
When all the colors come into the smooth powder dust form, add lip gloss into the mix. Here we should mention that, if you want more matte shade in your lipstick you need to add more color, and if you want to get more glossy shade then, you have to add more gloss into your mix.
Keep beating up the mixture with the chopstick or spatula until you get a smooth and thick paste from it.
After that dip, the empty syringe into the bowl, fill it with your lipstick paste and pour in the empty nail polish container.
If it claims a lot of time, take out the puller from the syringe and insert the liquid paste onto its torso with the help of a Popsicle stick, then, pour it into the nail polish container following the same process as earlier.
Now it's, all ready to use on your lips; just draw a perfect stroke of a suitable lip liner, and then, brush up the lipstick on your lips to get an unusual trendy look instantly!
You can prepare as many pretty shades as you need from your desiring eye shadow pigment. You can see two more patterns of nail polish lipsticks in our mentioned video above, among them; one has the matte style pattern, while the other one is the glossy type.
You may also be interested in baby lips lip balm.
DIY Video Nail Polish Lipstick
Save
Save