We mentioned this several times that homemade products work better to our skin problems and provide a truly glowing solution to our skin cells. You must have seen our previous DIY glycerin soap recipe already, but today, we are going to surprise you with two extremely different soap recipes which are squishy flubber and galaxy soaps. Check out the preparation procedure successively below-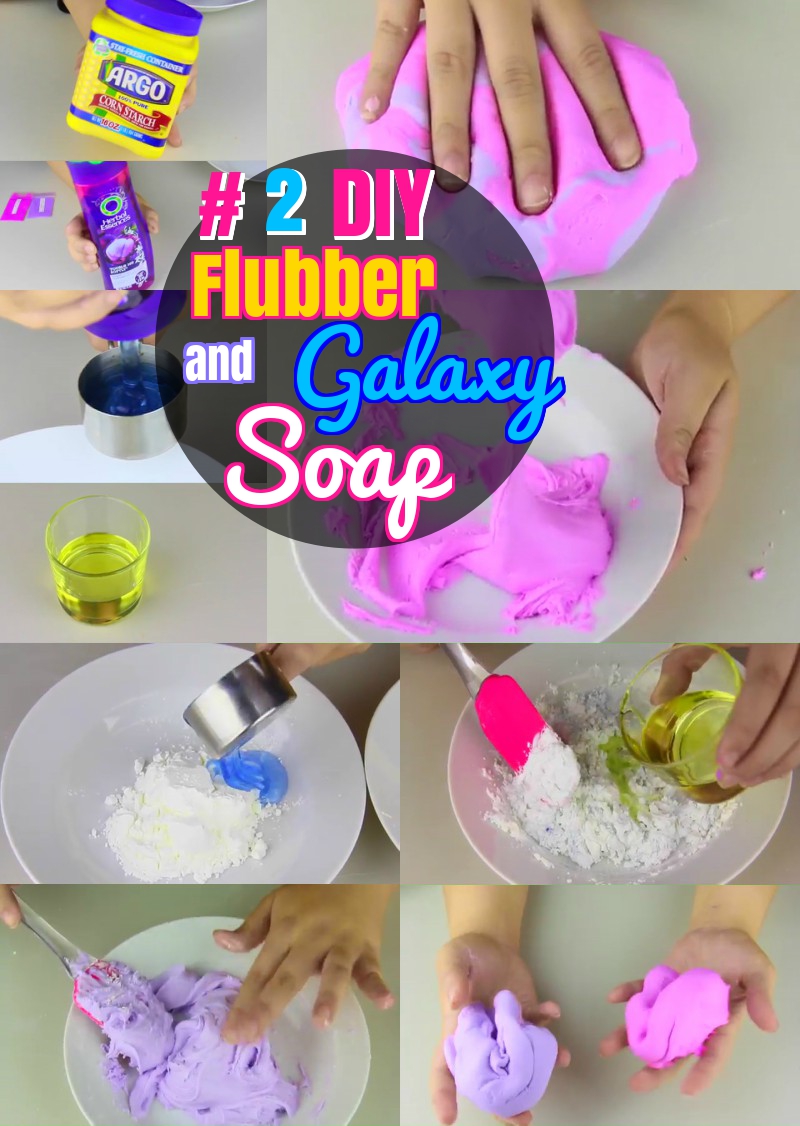 DIY Squishy Flubber Soap
Step by Step Soap Making Instruction:
Squishy Flubber Soap:
This is a totally different kind of soap which neither dope nor slimy but comes in an amazing flubber pattern. To make this soap follow the instruction ahead-
To make the item you need some shampoo or dish soap, some corn starch, food coloring, ½ glass of olive oil, a plate, and a spatula.
At first, take 1/3 cup of corn starch in the plate and add ¼ cup of shampoo into the corn starch. As we are going to make more than one soap, thus, we are taking these items with full of cups quantity.
Add some coloring into the plate and mix them well with a brush. You can replace these colors with soap dye if you want!
Mix all the ingredients well and add some oil to the mixture, which caters some moisture to your mixture.
If you find that your dough remains white or pale, add some more colors to the mixture.
Keep kneading the mixture with the spatula, until you get the exact content you want. Remember that you need to make the dough as mush sticky and slimy as a chewing gum.
Check that the dough sticks on your hand or not if it doesn't stick to your hand then it's completely ready to use.
Now place this soap near your basin or sink and take a bit of it whenever you want to wash your hand.
You may also be interested in homemade body scrub recipes.
How to make Galaxy Soap
Instructions for Galaxy Soap:
Galaxy soap is that pretty item, which comes with beautiful resemblance along with great functionality. Check the step by step instruction below-
Assemble the needed things first which are 1 packet of soap base, knife, microwave safe container, some soap color, 1 pack of cosmetic glitter, and soap molds along with essential oil for the fragrance (optional).
At first, remove the pack of your soap base and cut it out into small pieces as much as you need to make one or two galaxy soap.
Place the soap pieces in the microwave safe container, heat it for 30 seconds and melt it completely.
Add some drops of soap color and mix it well into the liquid soap. Mix a few drops of essential oil into this mixture if you are looking for some aromatic fragrance.
Pour the cosmetic glitters into the mixture and stir well with a spatula until they blend together superbly.
Now, choose some soap molds with different shapes and pour the mixture into those molds in a 1/3 measurement.
Now, prepare some more mixture with different colors and add them into those molds on reverse patterns. Keep layering the mold with various soap mixture until you filled the molds with liquid soaps.
Let them cool until solidifying and after getting hardened properly take out them from those molds.
Love these homemade soaps check some lip scrub recipes too.
Now, just see the glittery glow of your soap which surely remembers you about the mysterious view of our galaxy, isn't it!