Glycerin soaps are essential for the winter season, but nowadays, several dermatologists suggest using this kind of soap through the whole year, because of its moisturizer content! DIY products always perform better for skin solutions, which we already observed in our body scrub article, right! After trying our hands on body scrub, we are here again with a new venture on glycerin soap procedure. Lemon and orange extract eternally benefited our skin, so let's make one type of glycerin soap using the extracts of these fruits in a DIY process. Check out the making process in step by step method-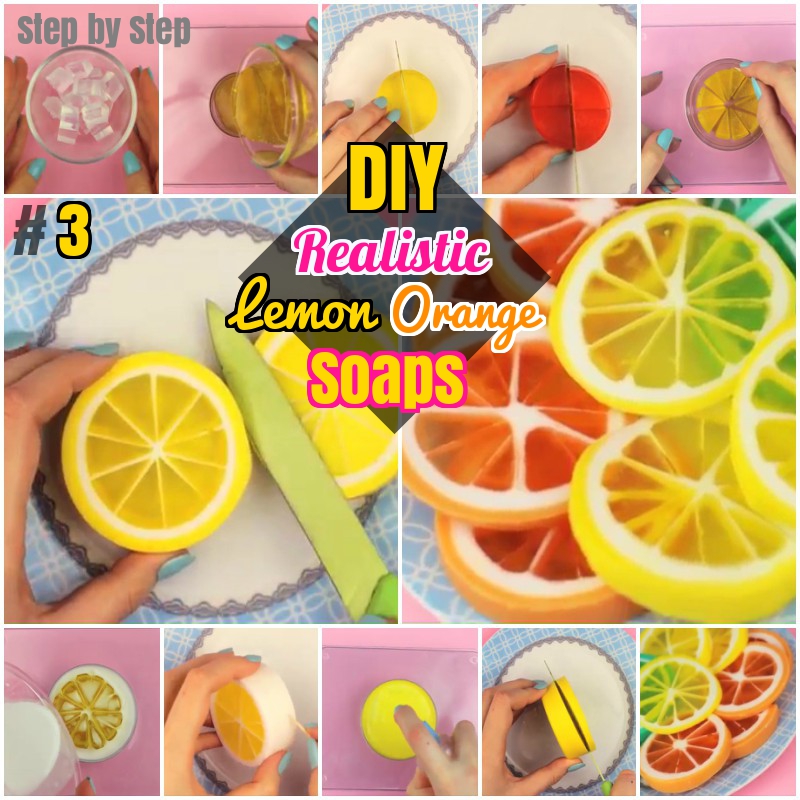 How to make Realistic Lemon Citrus Soap
Homemade Glycerin Lemon Orange Soap
Ingredients:
To prepare this soap you need, some clear glycerin soaps, yellow soap color, lemon soap scent or lemon essential oil, a glass mold, knife, toothpick, and some white glycerin soaps.
Methods:
At first, take the clear glycerin soaps in a double boiler container and melt them down completely.
Once it completely melted add 1 or 2 drops of soap color. We are using yellow one, as we are making this in the pattern of citrus fruit!
Mix some lemon soap scent or lemon essential oil into the liquid glycerin and stir them well.
After that, pour the mixture into a small round mold and spray some toxic spray to remove bubbles from the mix.
Now, wait for the soap to solidify completely. It may take a few hours to harden entirely.
Then, remove the soap from the mold gently. You can make some more colorful glycerin soaps using various types of soap colors.
Now, take the knife and cut the soap into several small sections. This time, soaps remain so soft that you can get a feeling of cutting a soft pie while cutting it into pieces! 10 to 12 sections are quite perfect for the next process.
In the next step, take a toothpick and scroll the outer surface of each piece with a criss-cross pattern. This way the next layer of soap will stick more appropriately with these pieces.
To get the lemon or orange glance more realistically, you can cut out the small piece of each slice from the corner.
Now place these pieces into a bigger round mold, separate the sections evenly with the help of a toothpick and sprinkle some toxic spray over the pieces.
Then, pour liquid white glycerin soap to the mold and make sure that the liquid soap not only overflows the pieces but, it reaches into the small gaps between the sections as well!
Now, let the soap harden again for a few hours and when it's all done, take out the soap from the mold and place it on a plate.
Now, it's time to give the soap as a real citrus fruit glance and for that, shape the soap first as a proper lemon or orange.
To make this, you need to make the side layer flawless of that soap if you have got a thick white layer on the edges. Just take a cookie cutter and cut away the extra white part from the soap.
Then, scroll the sides of the soap again with a toothpick, spray some alcoholic toxic and place it upside down on a mold.
Your mold must be bigger that the soap. Now, pour some lemon scented yellow glycerin soap into the mold and let the soap completely harden.
Finally, take out the soap from the mold when it totally hardens and cut into slices before use on a daily basis!
You may also be interested in face masks for glowing skin.
DIY Lemon Orange Soap