Pear is a juicy fruit that belongs to the shrub species in the family Rosaceae, which appreciated for its unique sweet-sour taste and pulpy content. This fruit is as much beneficial as an apple, thus, several health experts prescribe to eat this fruit on a daily basis. Pear is regarded as one of the nutrient fruits around that tastes splendid in its every form, whether it adds to a dessert, grilled dish, main meal or salad. If you want to get the best outcome of this healthiest fruit, then it's better to have this one in a salad recipe. There various healthy and scrumptious pear salad preparations exist and it is quite tough to mention only a few of them, yet here are some best items of them, check them out-
Pear Salads
Baby Spinach and roasted Pear Salad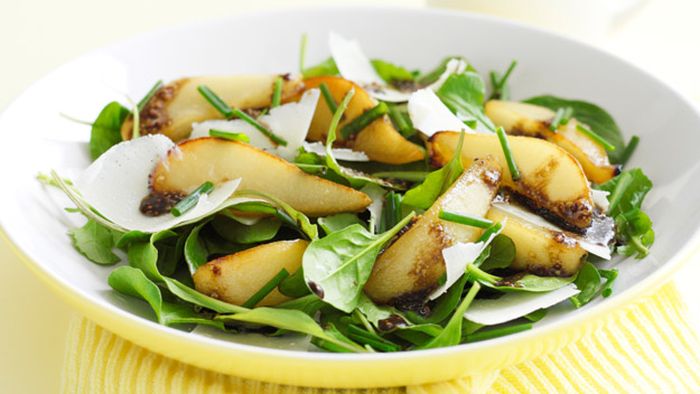 How to make Pear Salad with Chicken and Avocado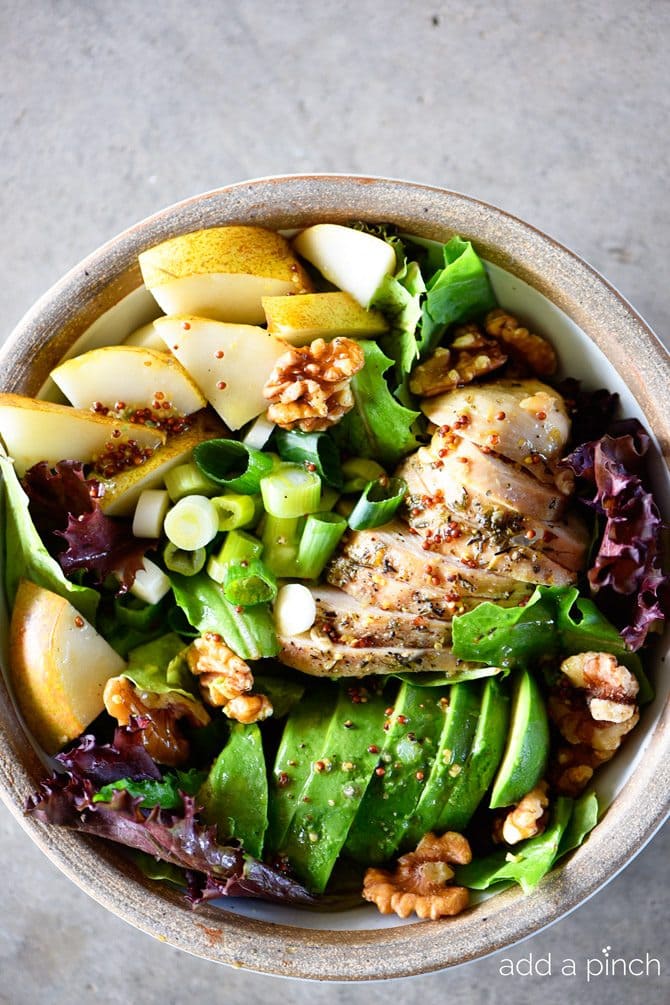 Cheesy Fruit n Nuts Pear Salad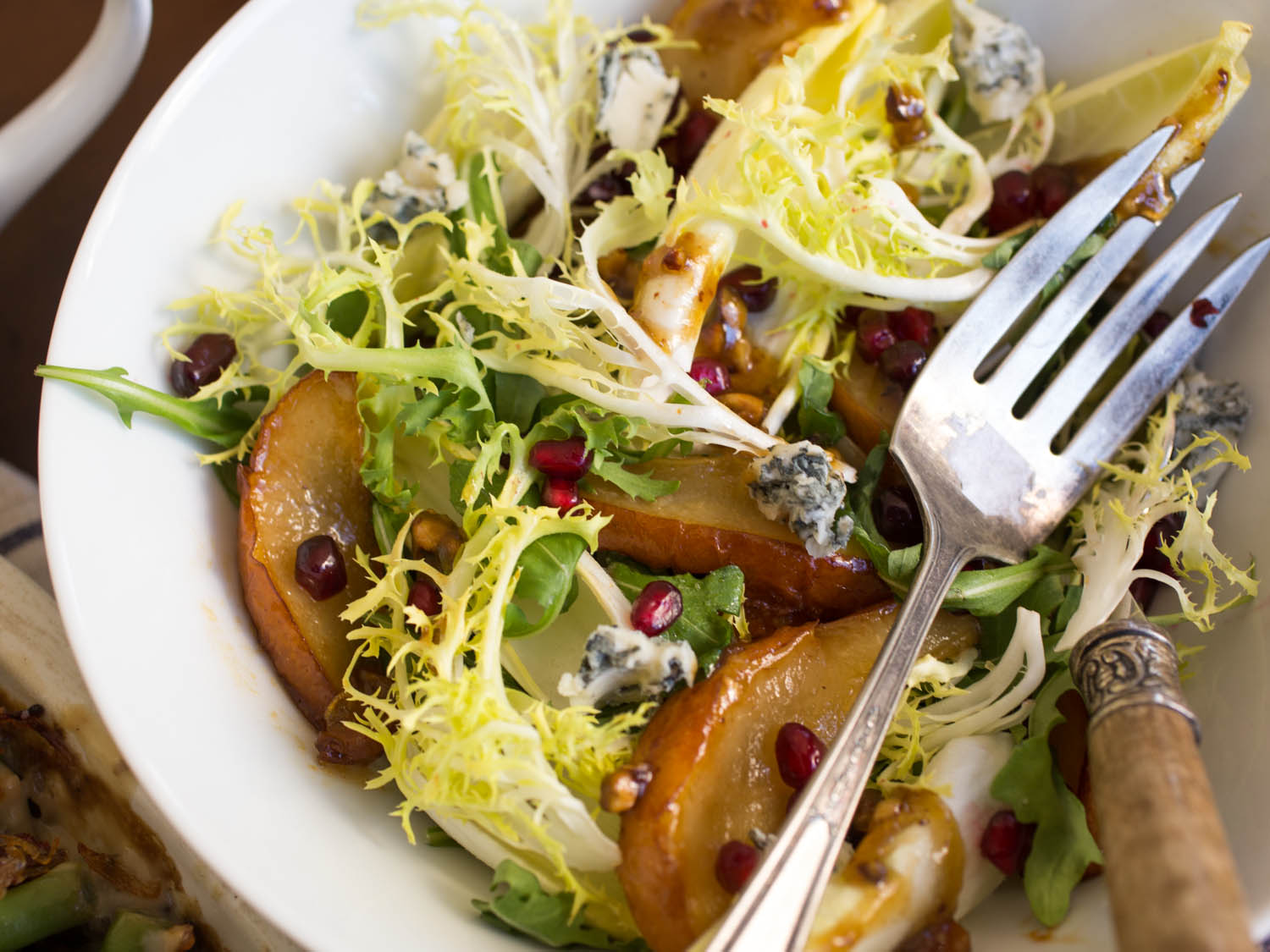 Colorful Chicken Avocado Pear Salad

How to make Roasted Pears Arugula Salad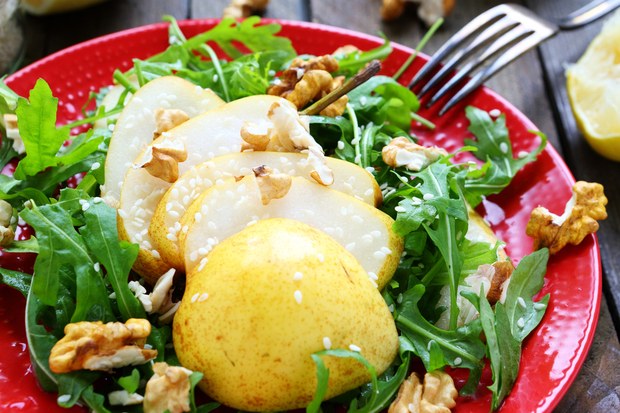 Manchego Pear and Chorizo Baby Spinach Salad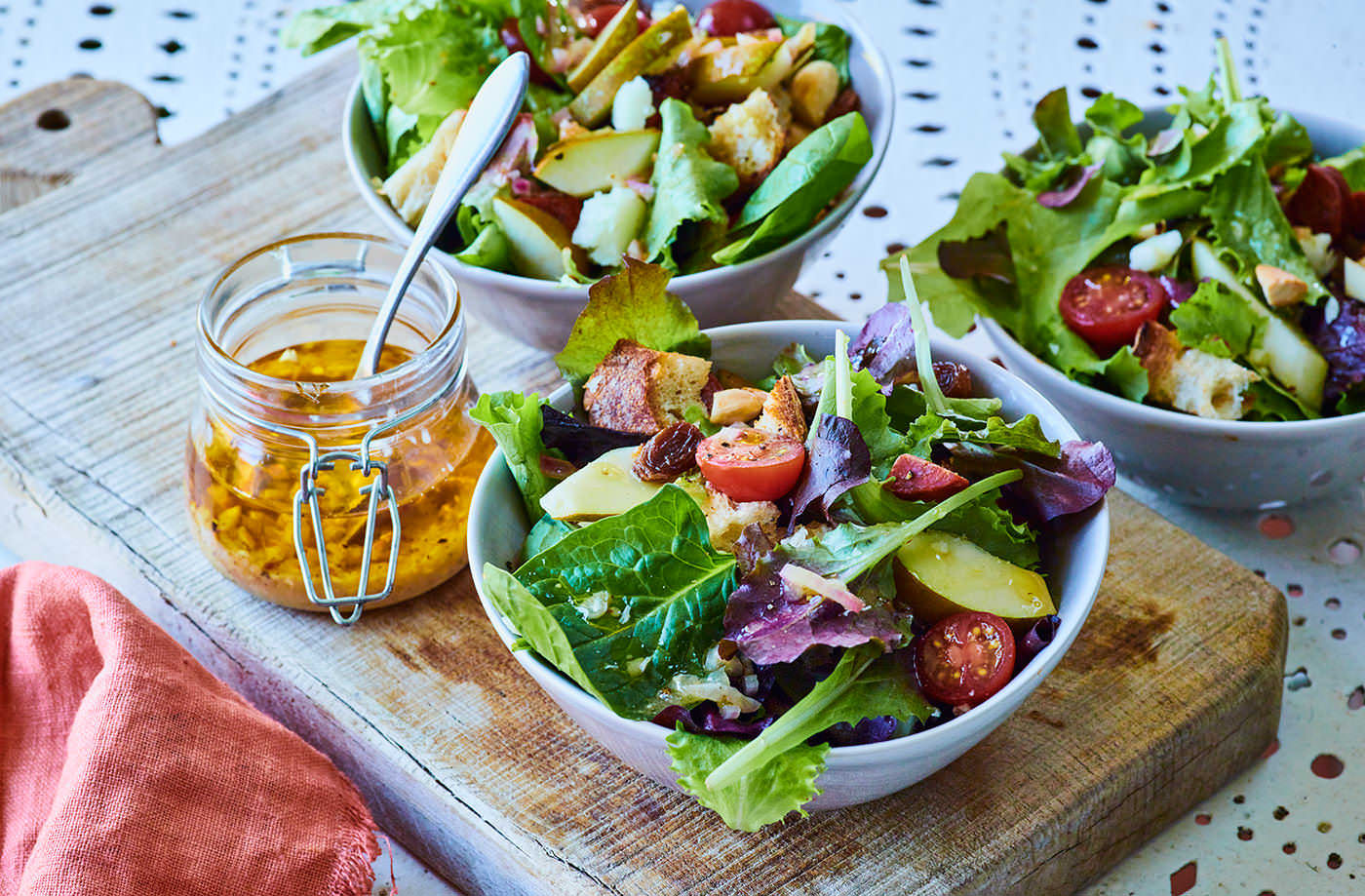 Gorgonzola, Walnuts and Roasted Pear Salad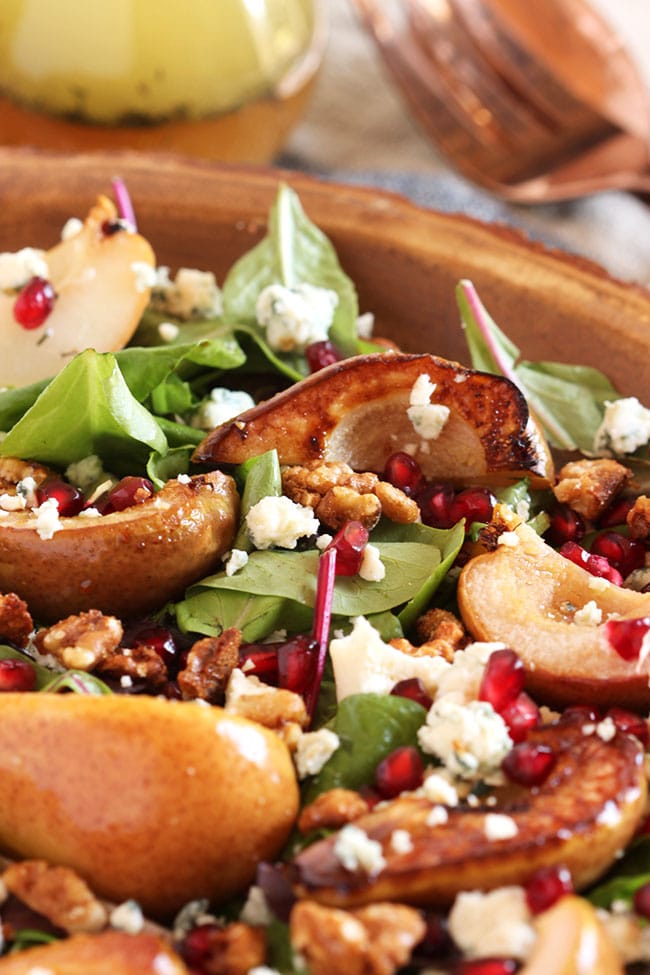 Spring Salads Apple Pear Salad
Spring Apple pear salad is the mentionable one among those tasty salad lists, which could be made with a very short of a period.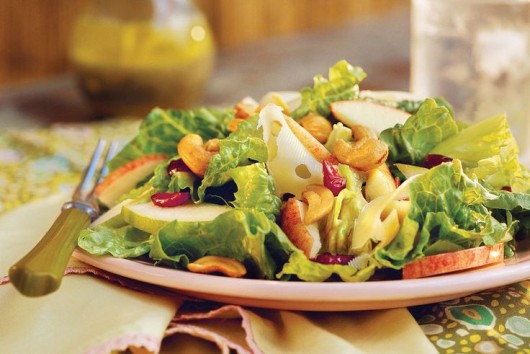 Ingredients:
To make this salad you need, 16 oz Romaine lettuce that are finely washed, 6 oz block Swiss cheese that are shaved, 1 cup roasted cashew nuts with salt, ½ cup sweetened dried cranberries, 1 large apple that is thinly sliced and 1 large pear, thinly sliced; 2 tbsp lemon juice and some poppy seeds to make the dressing.
Methods:
At first, make dressing for the salad in a small mixing bowl with lemon juice and poppy seeds and set aside. Now, all you just need is to toss the entire ingredients in a mixing bowl, sprinkle the dressing over the top and serve instantly!
Grapefruit Lavender Dressed Pear Salad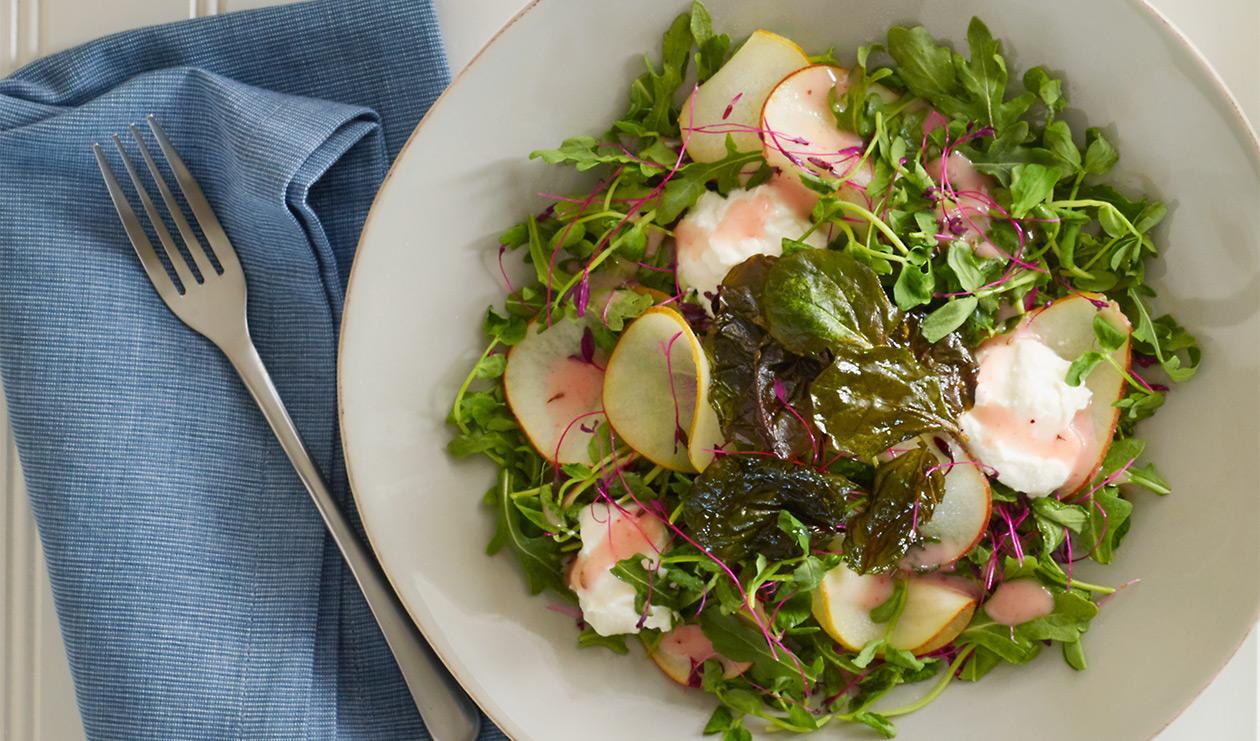 Bacon and Roasted Pear Salad with Crunchy Walnuts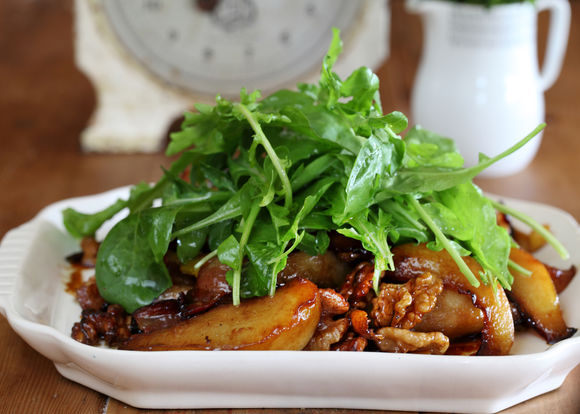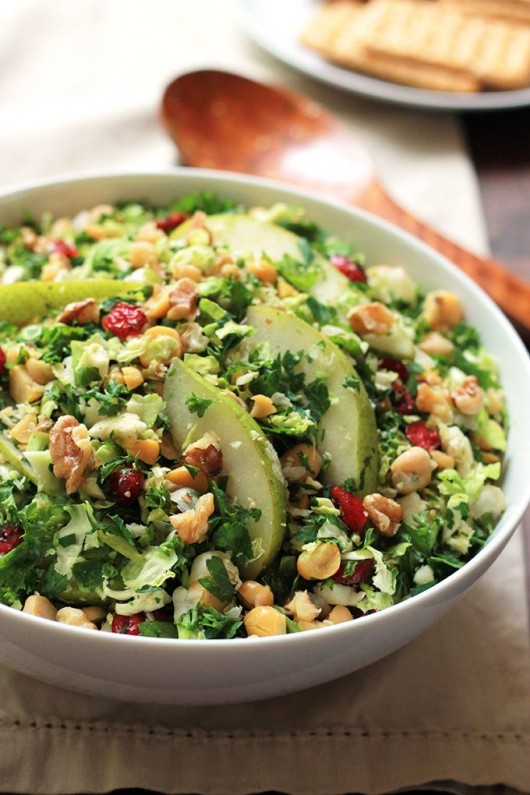 Warm Parsnip Pear Salad
Pear Salad with Lemongrass and Beef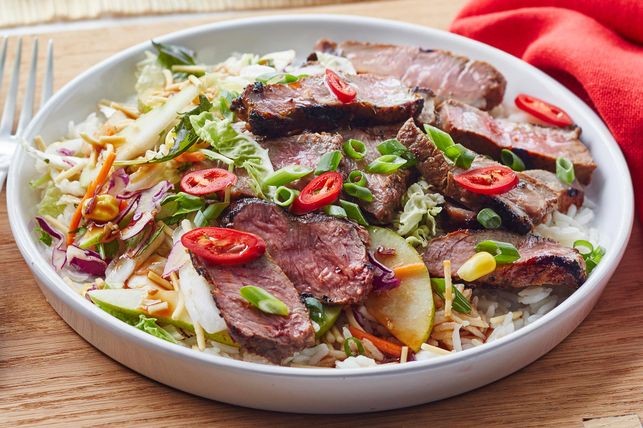 Pear Balsamic Salad with Dried Cherries and Candied Walnuts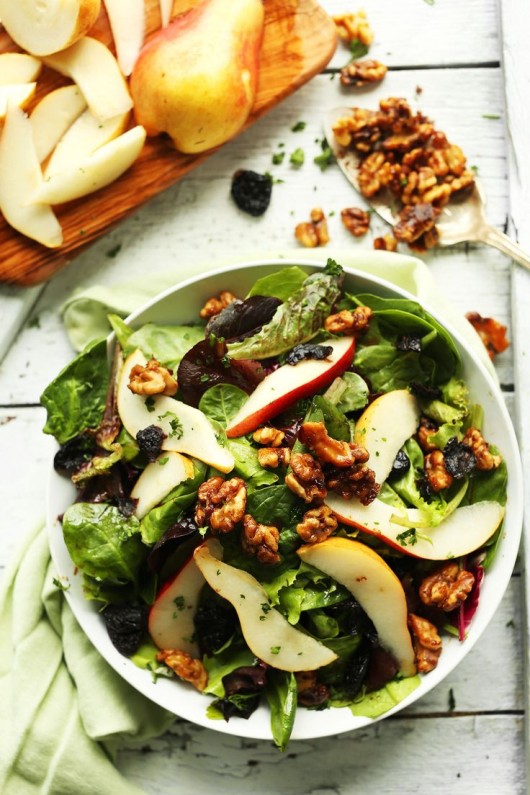 Pomegranate pear and avocado salad is one more tasty salad we must mention here that primarily appreciated for its colorful view, apart from the unique taste!

Ingredients:
To prepare this salad you require, 1 head romaine lettuce that is washed and roughly chopped, 1 ripe pear that is cored and diced, 1 ripe avocado that is peeled, pitted and diced, 2/3 cup shelled pistachios, 2/3 cup crumbled goat cheese, ½ diced red onion, the seed of 1 ripe pomegranate. To make the dressing you need, 1/3 cup orange juice, 1 cup white balsamic vinegar, 1 tbsp honey, ½ tbsp kosher salt, ¼ tbsp freshly ground black pepper and 1/3 cup olive oil.
Methods:
To make the dressing, add all the ingredients in a small bowl, whisk for at least 30 seconds until combined smoothly and set aside. Now, take a big mixing bowl, place all the ingredients that we mentioned for salad, toss very well for a while, whisk the dressing from the top and toss again, after tossing the ingredients for 1 minute, serve immediately.
Kale Pear Salad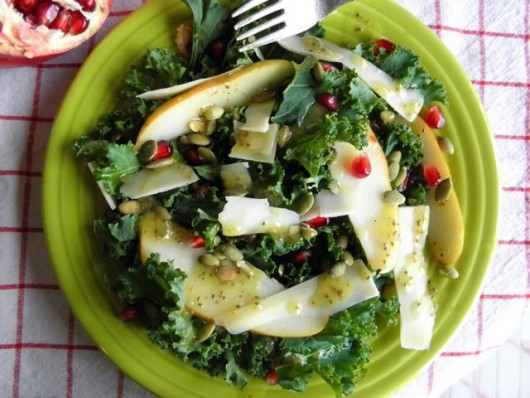 Autumn Pear Salad with Pecans Golden Raisins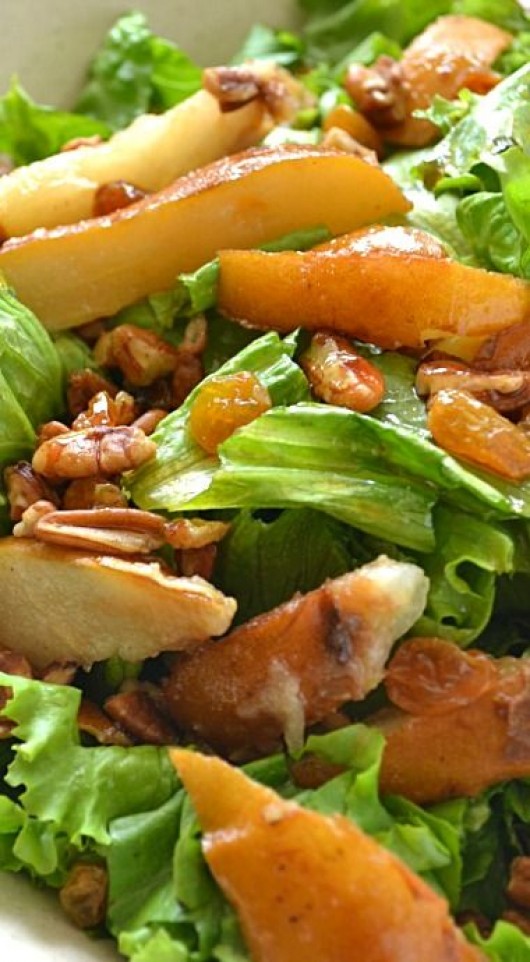 Pear Salad with Quince Croutons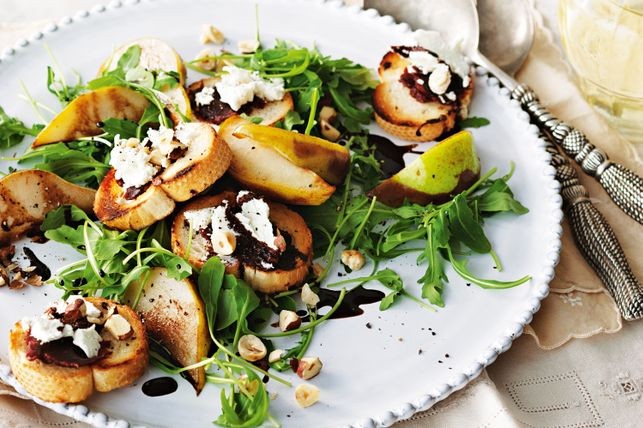 Spiral Apple Pear Pomegranate Salad or Slaw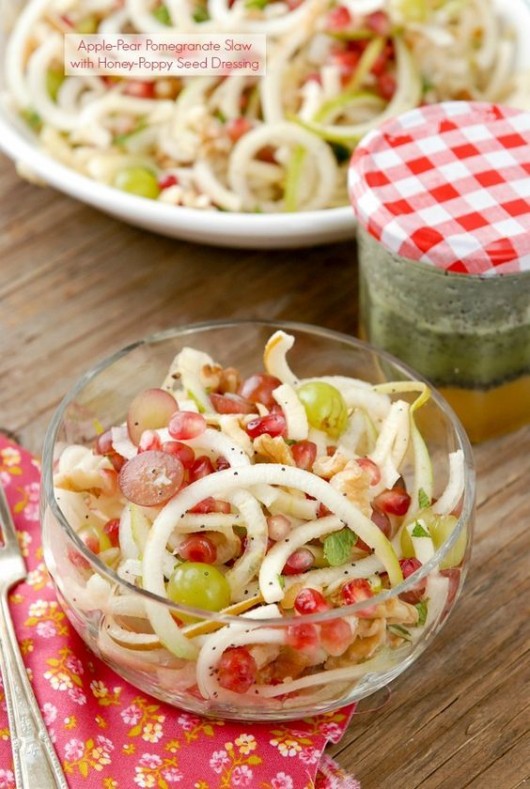 Autumn Pear Salad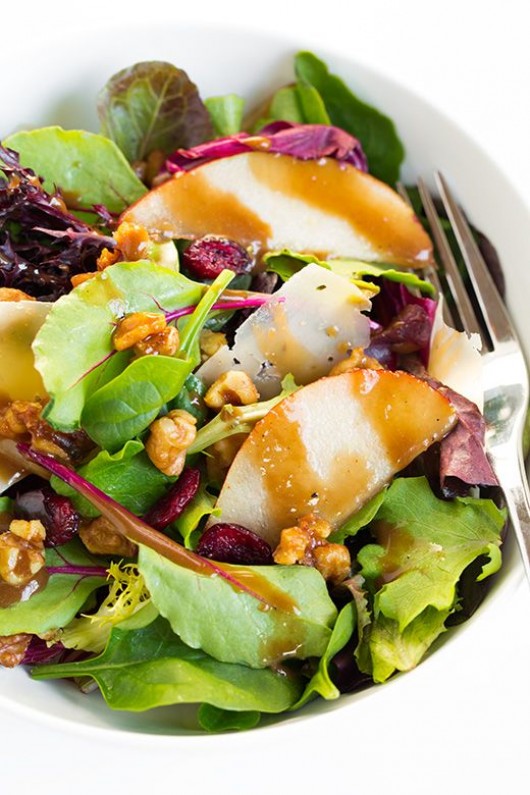 Pomegranate Roasted Pear Arugula Salad
Eatingwell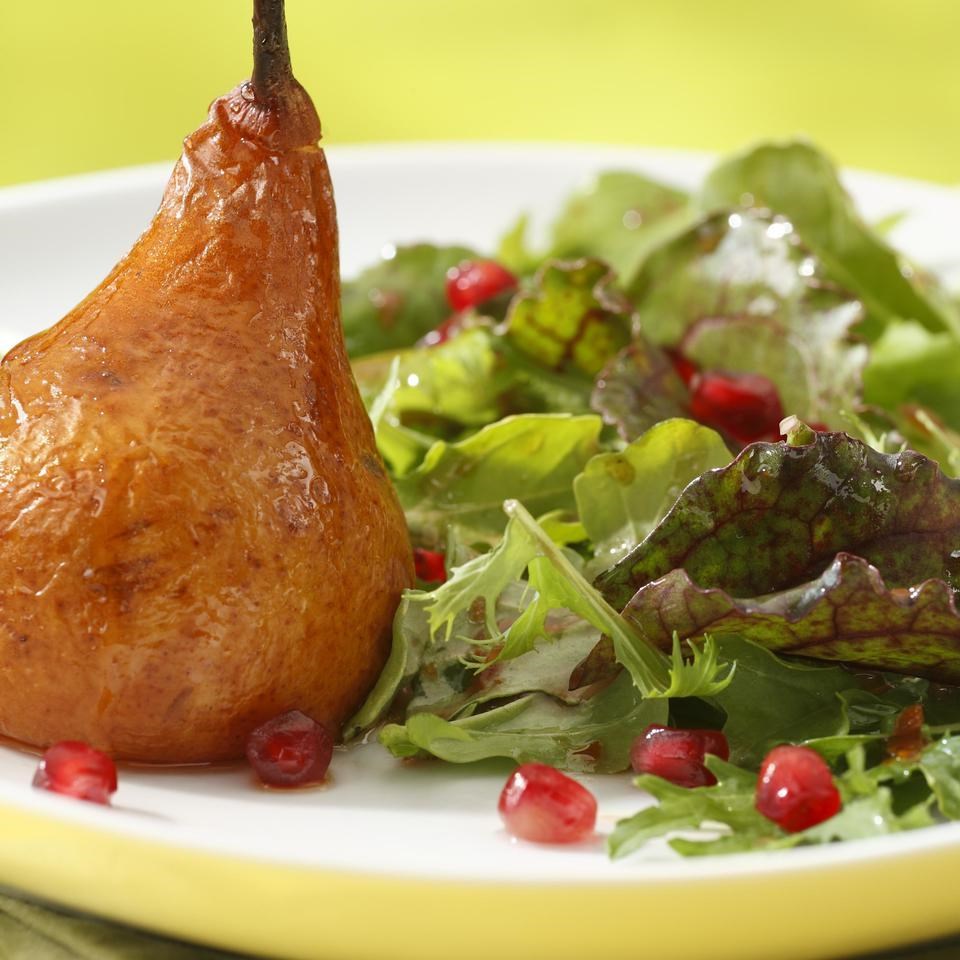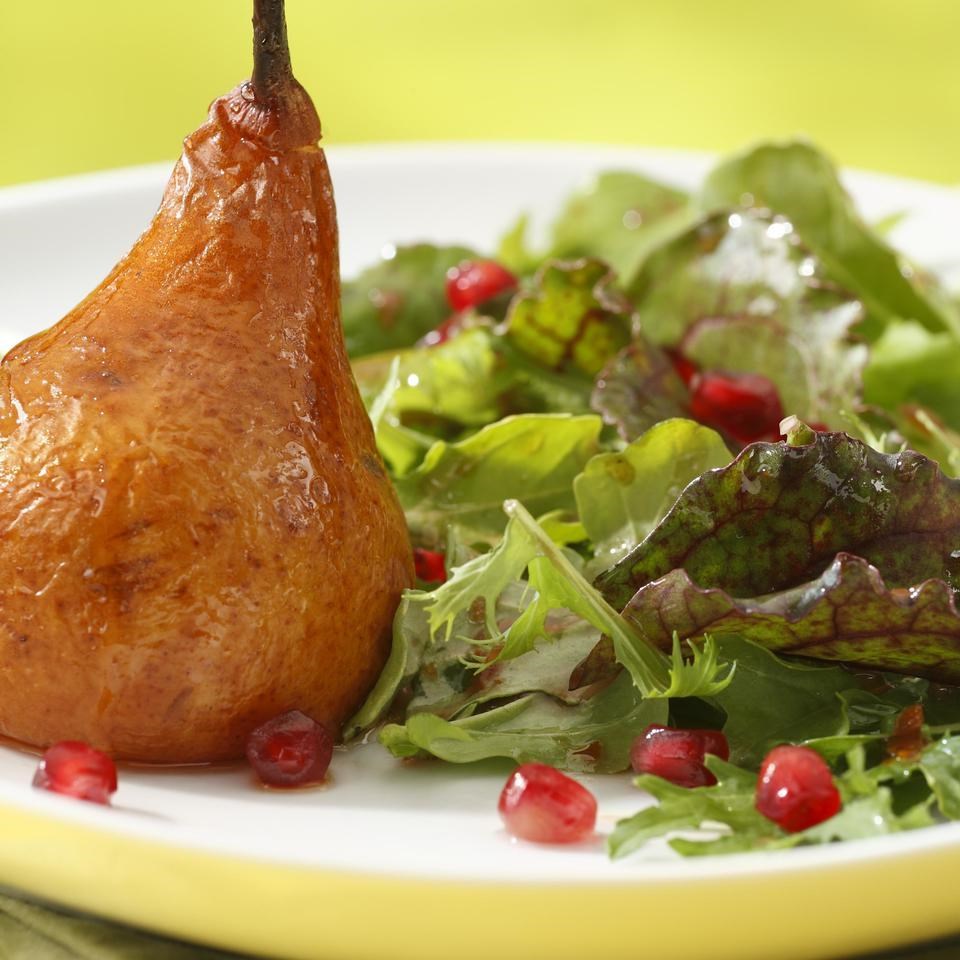 Roasted Pear Salad Recipe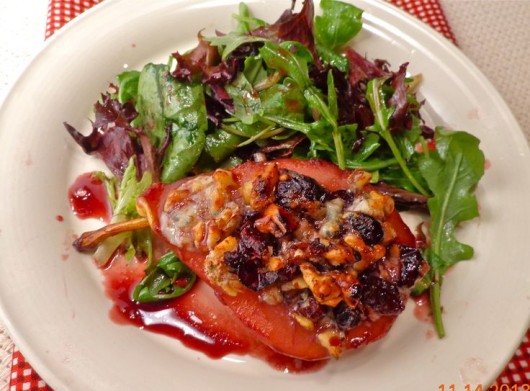 Yummy Raspberry Pear Salad ( Lettuce, Spinach n Candid Pecans)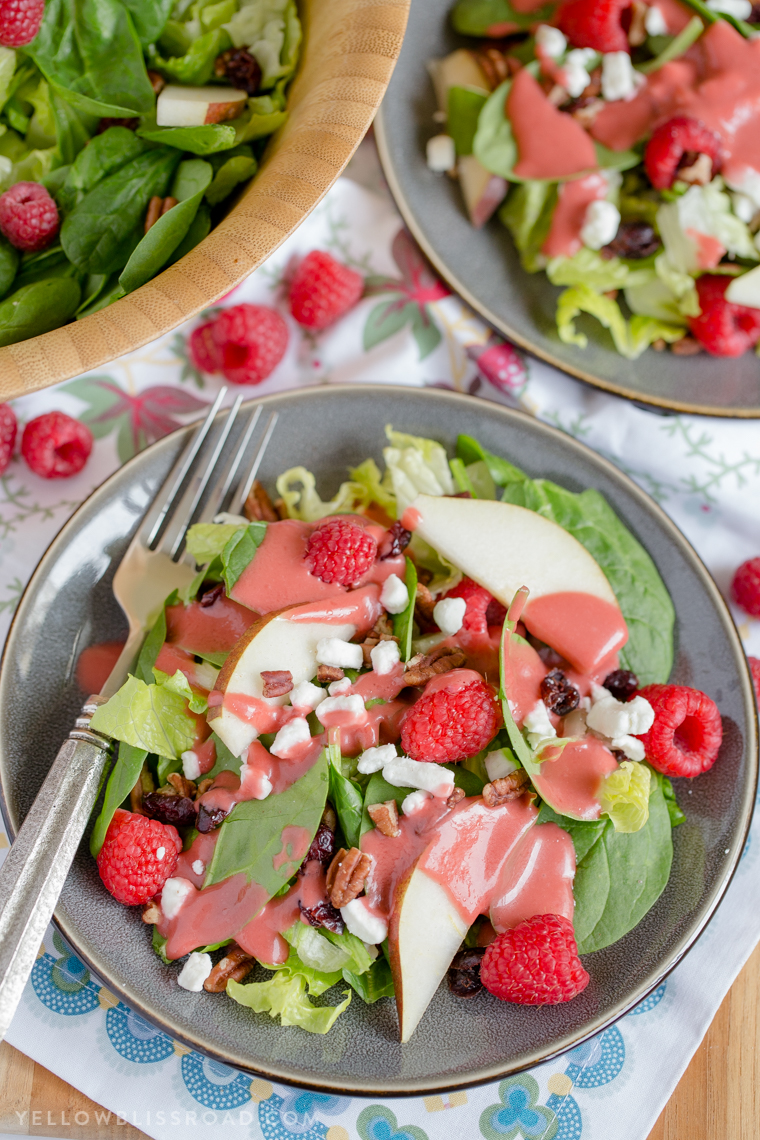 Harvest Pear Corn Salad
Pear salad works as healthier if merges with other nutrient ingredients like any corps, thus here we are referring the harvest pear corn salad recipe, which considered as one of best pear salad ever!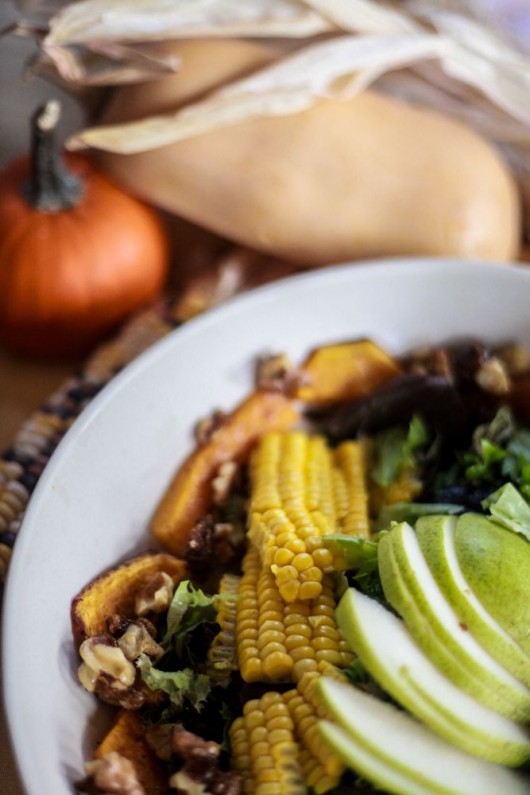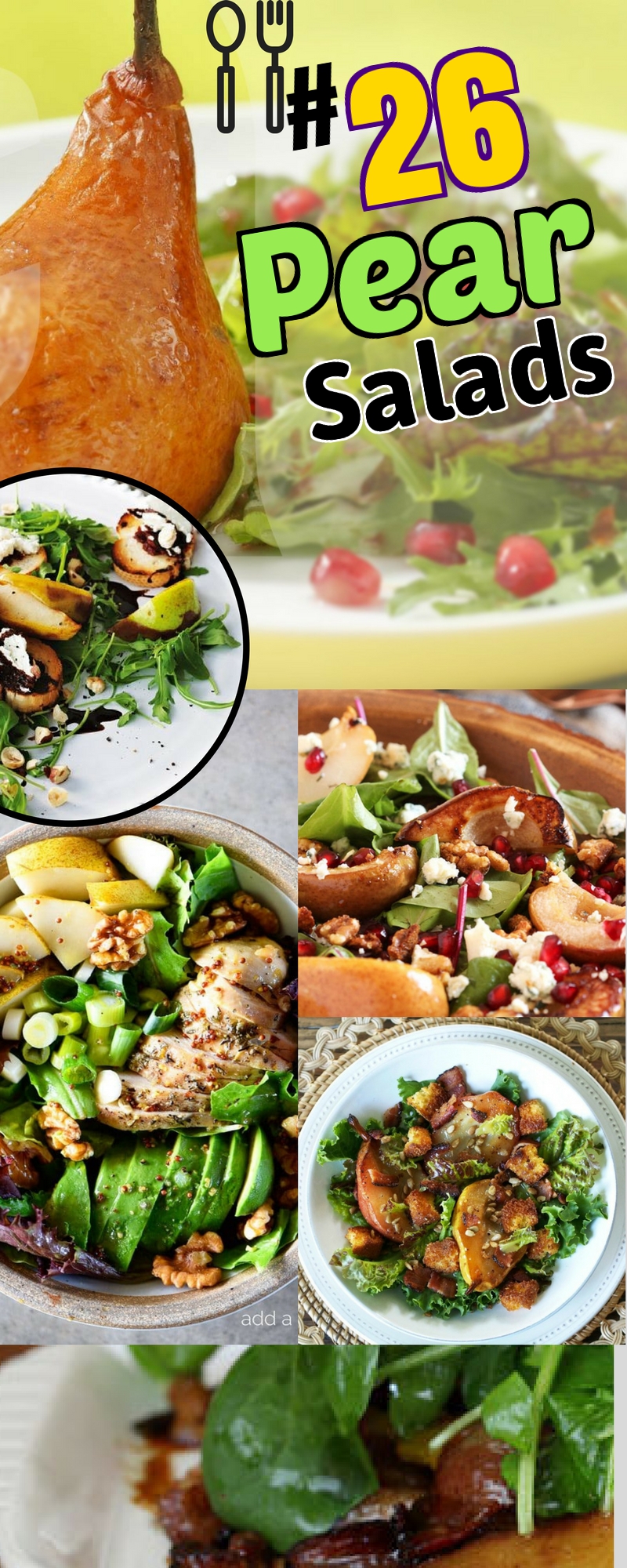 Ingredients:
To make this salad you need, 6 slices of bacon, 3 ripe pear halved lengthwise, 2 cups corn bread that are cut into cubes, 2 tbsp olive oil, 6 cups salad greens like lettuce or spinach, ½ tbsp salt, ½ tbsp ground black pepper, 1-2 tbsp honey and some roasted sunflower seeds. For Dijon Maple vinaigrette you need, ¼ cup yields, 4 tbsp cider vinegar, 1 tbsp Dijon mustard, 4 tbsp maple syrup, ½ tbsp dried onion flakes, 2 tbsp canola oil and some kosher salt, along with ground black pepper.
Methods:
At first, prepare the vinaigrette by combining all the ingredients those are mentioned for this purpose and set aside. Now, preheat your oven, cook bacon slices for a few minutes until crispy, take out the skillet and add pear slices, then cook again for 10 minutes, take out the skillet, sprinkle olive oil and add corn bread cubes then cook again until cubes turn golden brown. After that, combine salad greens, salt, black pepper, toss well, finally, garnish with sunflower seeds and add the vinaigrette then, serve immediately.
Pear Bacon and Chicken Salad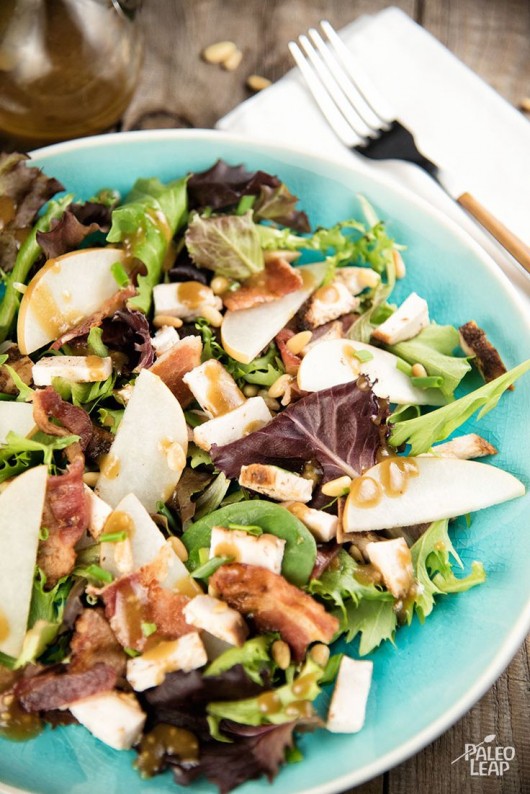 Walnut, Gorgonzola Pear Salad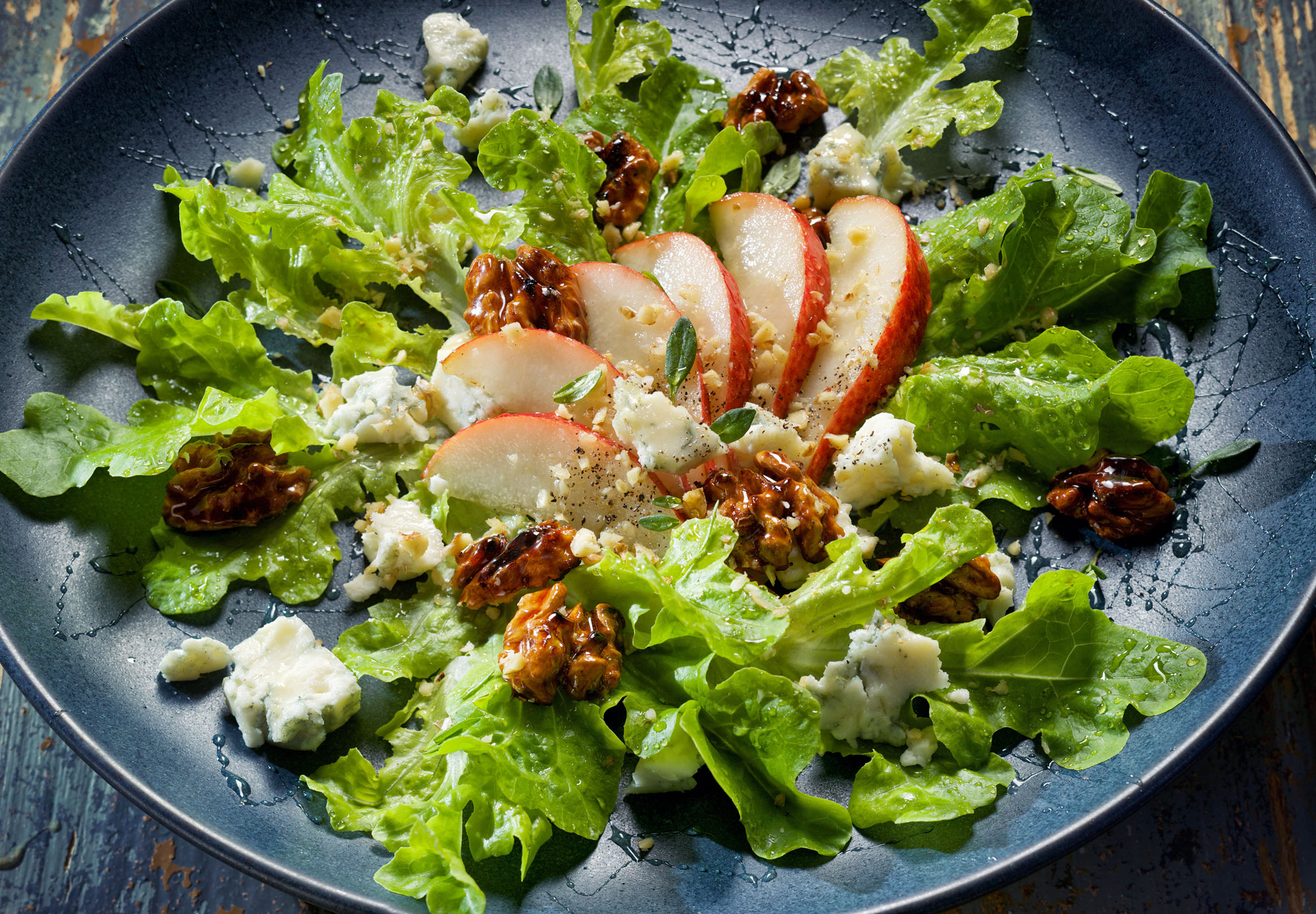 Honey Roasted Sunflower Seeds Pepper Bacon Harvest Pear Salad
simplysated