Broccoli is a high protein vegetable that belongs from the cabbage family and appreciated for its unique taste. This vegetable has a glance of cauliflower that comes with a nice green shade, and the large flowering head of this edible plant is used to cook or eat. Broccoli is another full of nutrient veggie which is taken for a healthy diet food. Though, there are numerous scrumptious recipes are available with this exceptionally tasty vegetable, but the salad is that particular segment, where broccoli has shown its best recital with some other beneficial food! Thus, here we are referring some of those unequally delicious broccoli salad recipes for you, check them out-
Asian Broccoli Salad with Peanut Sauce
Asian broccoli salad with peanut sauce is one mouthwatering preparation we must refer here!

Ingredients:
To make this preparation you need, 1 large head broccoli that is cut into small florets, 1 cup shelled cooked edamame, ½ cup thinly sliced green onion, ½ cup peanuts, and some sesame seeds for garnishing. To make the peanut sauce, ¼ cup natural peanut butter, 1 tbsp rice wine vinegar, 1 tbsp soy sauce, 1 tbsp fresh honey, 1/8 tbsp sesame oil, 1-2 tbsp hot water.
Methods:
At first, make the sauce by whisking all the ingredients that are referred for the sauce, combine smoothly, add the hot water to make the thickness of your sauce properly, and set aside. To prepare the salad, initially boil your broccoli pieces in extremely hot water for 30 seconds, then take out the pieces and pour them into a bowl of ice water, after that, drain all the pieces well, place in a big mixing bowl, add the rest ingredients, toss finely until combined, drizzle the sauce over the top and toss again. Now all you need is just garnish your salad with sesame seeds and serve immediately.
Garlic Lemon Chilli Broccoli Recipe
Cranberry Almond Broccoli Salad

One of the Best Broccoli Salad Recipe Video

inspiringcooks.com
15 Mins Fresh Broccoli Salad Recipe

Broccoli salad with sweet miso dressing

www.healthyseasonalrecipes.com
Broccoli Cashew Salad
Broccoli cashew salad is for those who are seeking for a simplest yet tasty salad recipe with this beneficial vegetable.

Ingredients:
To prepare this item you require, 1 head broccoli that is cut into bite size flowerets, 1 cup mayonnaise, 2 tbsp cider vinegar, ½ white sugar, ½ cup raisins, and 1 cup roasted cashews, ¼ red onion that is roughly chopped and 1 pound of cooked and crisped bacon slices (optional).
Methods
Make a dressing from mayonnaise, vinegar and sugar, cook for a few seconds until the sugar melted smoothly and keep in your refrigerator, Now, stir all the ingredients in a mixing bowl, add bacon slices, toss with the dressing until combined well, keep in freezer for 2 hours and then serve with the roasted cashew nuts from the top.
Low Carb Broccoli Salad

Strawberry Broccoli Salad with Creamy Poppy Seed Dressing

Paleo Broccoli Salad with Bacon
Paleo Broccoli salad with bacon is that yummy one, which you must try once if you are one broccoli salad lover!

Ingredients:
To make this salad you need, ½ cup red onion that are diced, 2 tbsp organic apple cider vinegar, ½ cup mayonnaise, 1 head of a large broccoli that is cut into bite size florets, 8 bacon slices, ½ cup golden raisins, ¼ cup chopped walnuts, 1 tbsp sea salt and some ground black pepper for taste.
Methods:
At first, marinate the bacon slices and keep in your refrigerator for half an hour with lime juice, salt, black pepper, vinegar and 2 tablespoons of onion-garlic powder, then grill them in a preheated griller until crispy and crumbled. Now, take a small mixing bowl and combine onion, vinegar, salt along with the mayonnaise for the dressing. Then, place the remain ingredients along with the bacon pieces in a large mixing bowl, toss with the dressing until coated well, sprinkle some ground black pepper and salt and serve right away.
Broccoli salad with bacon raisins and cheddar cheese

Crunchy Broccoli Salad

Broccoli Apple and Almond Salad

Rainbow Broccoli Salad
If you are a vegetable devotee and have a fetish for broccoli too, then try out this rainbow broccoli salad with some fresh and juicy veggies.

Ingredients:
To make this salad take 1 head broccoli that is roughly chopped, 1 red pepper that is diced, ¾ cheddar cheese that is diced too, ¾ cup shredded carrots, 1 cup chopped purple cabbage, ¼ cup sliced red onion, and ¼ cup bacon bits. For dressing, take ¾ cup mayonnaise, ¼ cup yogurt, 2 tbsp white vinegar and ¼ cup sugar, dusted.
Methods:
At the beginning mix the dressing in a small bowl by whisking the dressing ingredients in smoothly and set aside. Now, toss all vegetable, bacon, and cheese in a mixing bowl, pour the dressing over the top and combine well, garnish with a tbsp of extra bacon bits, refrigerate for 1 hour and then serve instantly.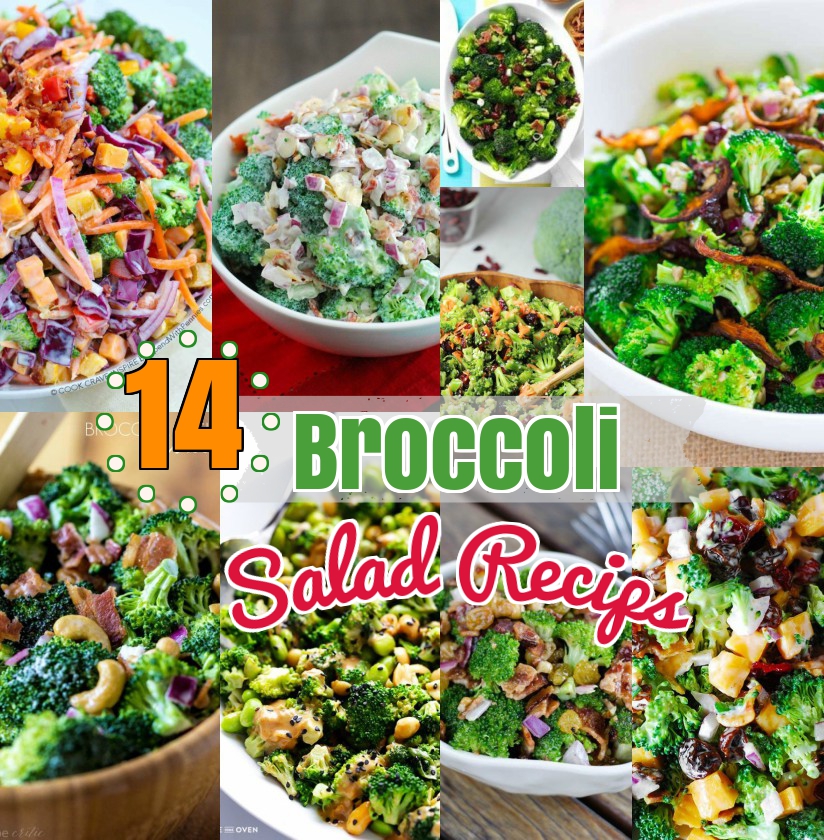 Save