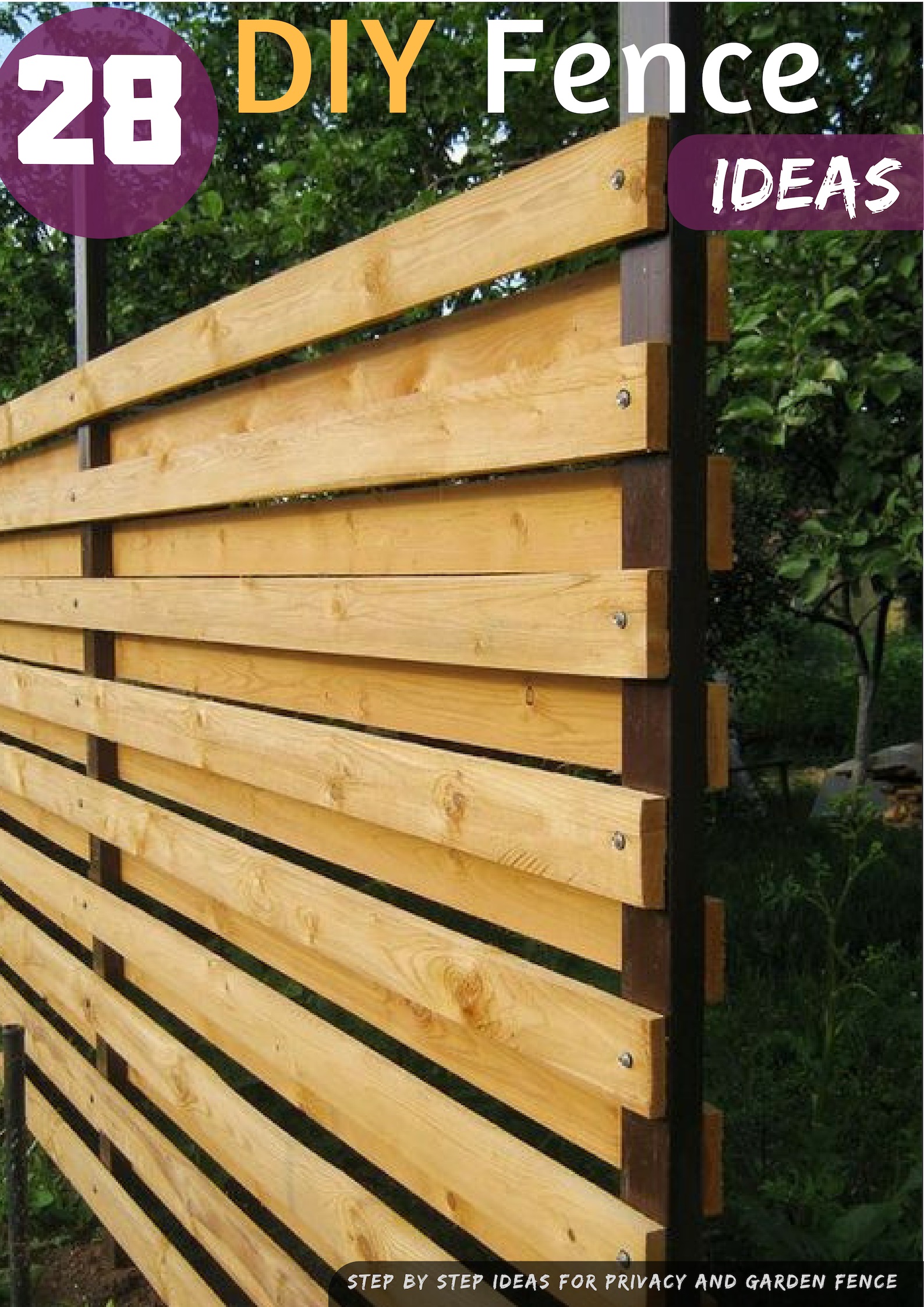 A garden area, a backyard or house-front could look beautiful or organized without a proper fence borderline. Fence no doubt increases the attractiveness of an open area beautifully but sometimes, finding a perfect fence design within our budget is not easy this time.
Nowadays, you can find several contemporarily design fences in the store with different materials, but most of the time they claim a high charge which surpasses the financial plan of our gardening in an expensive way.
In such matter, crafting a beautiful fence through an uncomplicated DIY process would be a smart move indeed. So, here we go with some extraordinarily beautiful yet easy-to-build DIY fence ideas in this regard. Let's explore them and choose one depending on the backyard design of your house-
1. DIY Fence -Build a Horizontal Fence:

If you are looking for a fence with good height then, this would the best project for you. This is a wooden project made in a simple yet durable way in the easiest manner. You can replace the wood material with brick, metal sheet or any product based on your availability. This single project will show you how an unprofessional person could effortlessly build a horizontal fence like a pro following a simple manufacturing process.
2. You Can Build a Privacy Fence on a Budget:

Garden fence not only provides an organized glance to our open spaces but also, protect our privacy from the outer world. It has been seen that fence which made in a high length to protect our privacy charges an intoxicate price to be built. So, people who are looking for a perfectly protective fence design within their limit budget could easily relate with this super-functional privacy fence project within their own fence budget.
3. DIY Coastal Rope Garden Border:

If you are thinking for an eye-catchy backyard makeover then, this is definitely the best project to try through a simple DIY process. Coastal rope garden border fences generally used escalate the beauty of your garden along with separating the plating area from the walking passage in a beautiful way. This type of fence design looks great on house-front areas to get a divining landscape view in the cheapest manner. This type of pattern also uses to emphasize a particular plating space in a trendy way.
4. With Free Pallets DIY this Chicken Pallet Fence:

Pallets are low cost and easy-to-access material from our storage and thus could fulfill the demand of a simple DIY fence requirement within our budget. Sometimes, we need protective long fences to keep our farm animal safely sheltered in a secure place. This type of fence design would help you exactly in this regard. Here we come up with a DIY pallet-made fence idea which mostly uses to keep chicken or duck protected in their houses.
5. You Can Build this Fence in a Weekend and Save Money:

Building a highly protective fence within budget is tough; as you can't compromise with the productivity but at the same time, need the whole project within our selective budget. So, here we come up with a project which will instruct you how to save money in the way of making a DIY fence at home. Well, recycling some old stuff in this type of endeavor would give you more successful achievement at the end of your course. Try to make a proper schedule, budget, labor time and arrange the supplies properly to make the procedure faultless from every aspect.
6. Build a Primitive Style Pool Fence with Bamboo and Brick Pathway:

This is a classy primitive style pool fencing idea using brick, concrete plates, and normal fences to cover the whole pool area in a highlighted way. This type of borderline mostly uses to keep the pool water protected from mudflow or dirty water. The best part of this DIY project is that it may look skilled like a pro work but actually, very simple to build. The material you use to make the DIY fence around the brick border will decide the exact expenditure of you DIY fence more accurately.
Build this pool fence with bamboo
7. DIY Fencing Inspiration – Make Privacy Fence with Hog Wire Combination:

Here we emerge with a bunch of DIY fence projects which will give you enough option to choose from according to your needs. These simple yet classy fence designs are a true inspiration of DIY attempts due to its simplicity. You only need a few basic fencing tools and material to build such pattern perfectly at your own workshop like a pro.
8. Build this Pallet Fence in an Afternoon :

Gardeners keep searching a perfect fencing project that comes in a cheap cost but could give us flawless look like a backyard or garden borderline. Old pallets are probably the best material to use here as the cheapest yet durable component to craft fence. Usually, we all have some leftover pallet pieces in our store which we haven't used for long. Picking this type of material as the base of your DIY fence would surely give you the low-cost DIY goal in the smartest way.
Pallet fence with flower boxes and bee boxes

How to build this pallet fence
Yet Another Pallet Post Idea

9. Use Willow or Hazel Branches for DIY Wattle Fencing :

Wattle is a common material which often uses to make garden fences in our houses through the most effortless way. Wattle is originated from wicker with willow or sometimes with hazel branches. The branches use to prepare this type of woven could include different sorts of twigs like reeds of oak, alder, hornbeam, ash, etc. depending on your demand for durability. This is one of the cheapest fencing options we have that could provide a perfectly rustic look to any type of garden or backyard spot. Countryside areas flaunt more suitable with this type of fencing project more ravishingly.
DIY this wattle fencing
10. DIY a Chain-link Fence- Best for a Budget and a Lasting Fence:

The chain-link fence is one more budget-friendly fencing idea that comes with a great durability as well. This type of fencing option gives us the best protection from unwanted garden visitors in a beautiful way. Try to check the base of your field properly before setting the post of your chain-link fence below the frost line, as they are the main base of your fence and decide the durability of the fence appropriately.
11. Build a Horizontal Plank Fence with 4x4x8 Posts and Concrete:

The DIY plank fence is one more rustic-styled fence design that gives our garden area a dreamy rural view along with the perfect long-lasting quality. This type of fence idea not only uses for highlighting garden areas but also to make our houses look beautiful with the perfect landscaping glance. Try to choose redwood plunks to build this type of fence for a perfect pastoral view.
Things you will need to DIY this plank fence
Four 4x4x8 pressure-treated posts, three 4x4x12 pressure-treated posts, six bags ready-mix concrete, four 12'x 5/8" threaded rods, washers and nuts, fourteen 1x8x12' redwood planks, eleven 1x6x12 redwood planks, 5# box deck screws, epoxy and epoxy applicator.
12. How to Build Dog Fence or Garden Fence with 48′ Fencing:

People, who don't have too much time to craft their garden fence or dog area fence with a long-term schedule could find this project absolutely useful for them. This type of fence design could be made in the quickest way with varieties of materials in the pattern of DIY fence panels. We usually use either lumber pieces or metallic wire to craft a perfect DIY fence, but this project will show you how to amalgamate these two basic fencing materials perfectly in one single assignment.
13. Do a Wattle Fence:

Wattle is one of the cheapest fencing materials of all time and thus this is the most favorite stuff to use in a DIY fencing project. Wattle material is sturdy and adaptable to make any type of fencing design with the smallest effort. The best part of using woven as your base material is that you can utilize any type of flexible sapling component to make the fencing design in a perfect congested way. Remember that longer and straighter sapling is better to get a long-lasting fence quality in your open area.
14. How to Install No-Concrete Fence Post:


Installing no-concrete fence post is a smart choice to keep the DIY fencing process simple in your selective budget. Here we are using foam as a perfect alternative to concrete. Expanding foam instead of concrete is actually a smart choice indeed, as it costs excessively less than concrete or other sturdy bases. Concrete also could make your backyard a complete mess, while using foam is entirely hassle-free from every aspect.
Build this fence without concrete posts
15. Painting Idea for Cinder Block Fence:

If you are planning to remodel the whole fencing view of your garden then this is probably the best project to choose for you.
Painting a cinder block is the smartest as well as quickest way to get a whole new glance to your garden fence within your preplanned financial plan.
Cinderblock is one of the most durable fencing materials of all time, but it is mostly avoided for its bucolic look. This type of elegant painting trick could modify the pastoral side of cinderblock in a clever way.
Steps to paint your cinderblock fence
16. DIY Install Colorbond Fence Panels:

Colorbond fence looks amazing to any type backyard or garden area and it is comparatively easy to use in a DIY fencing project indeed. In this project, we will show you how to use the infill sheet as the base ingredient of your fencing deed. Here you just need to take extra care on the top and bottom rails of an infill sheet in your fencing trail to ensure the security as we all durability of it adequately.
17. How to Build a Split Rail Fence with Galvanized Steel Grid:

Split rail fence is a perfect combination of sturdiness and durability along with a perfect rustic view. Here we are using wire mess to fill the inside empty place securely along with a low-cost quality. This type of project suits best with farm or countryside area because of its rural view. It may look intricate to craft but in reality, you just need to follow a few simple crafting methods properly with the adaptable inside wire mess.
18. DIY Picket Fence – Build a picket fence with step by step ideas:

Picket fence mostly uses for decorating purpose instead of protecting or bordering the purpose of your garden area. This type of design usually suits on the front area or beautiful backyard area of your house to ensure the domestic boundaries. You can also use this type of fancy fence design to distinguish evenly spaced vertical borderline of your house. It is utterly simple and effortless to build but couldn't provide a long-lasting quality due to its delicate base material.
19. Traditional Bamboo Fence Rolls – For DIY Idea:

Using bamboo is one more brilliant idea to craft a traditional fence for your backyard area. Bamboo is cheap, easily accessible, durable and at the same time outstandingly durable for a very long while. This project will show you how to make a rustic fence roll with the bamboo fence panels in the simplest way.
20. Build an Elegant Square Lattice Fence for Privacy:

Fences not only build to distinguish the borderline of our house but sometimes it also uses to keep the privacy of a resting place or a deck area in a sophisticated way. This project is the perfect example of that where you can learn how to increase the beauty of your deck area with this square lattice fence design easily.
21. Build a Horizontal Fence for Backyard Privacy:

Here is a precise fencing project for your backyard area that comes with a horizontal view to give you a perfect fencing quality.
22. DIY Build a Modern Style Privacy Screen Fence:

This is one more stylish fencing project for a contemporary house which comes with a complete rustic resemblance despite its modern view in a pattern of a privacy screen in your resting area.
Build this privacy screen fence
23. DIY Fence which is Garden Friendly with Pallet Planter on Top:

This is one more pallet fencing idea with a perfect crafting manual and the best part is that it offers us a garden-friendly view as well.
DIY this Pallet fence with planter
24. How to Build a Twig Fence:

Twig fence mostly uses for bordering some vegetable gardening or selective plating area. This type of fence mostly keeps your crops protected from the destructive garden visitors beautifully.
25.Build a Beautiful Backyard Wood Plank Fence on a Budget:

This is one more natural fence idea using a wood plank as its fencing panels which could be made in the quickest way with the help of just a few basic fencing tools.
Build this budget wood plank fence
26. DIY this Simple and Easy Dog Fence:

Fencing around the dog house in your backyard is essential for the safety of your dear pet and to separate the boundary of the mammal in an organized way. You can use various types of materials to build this type of dog fence depending on your product availability.
27. Weld Wire Mesh and Wood Post Fencing Idea

28. DIY Horizontal Fence with Cedar Boards

Few More Ideas for Fencing

Fencing post set up to avoid rotting –  familyhandyman
29. Build a Privacy Fence with Tin