There was a time when farmhouse décor mostly used to apply to traditional or countryside style.
Nowadays, this type of rustic decorations became a new trend and no matter what the house interior is, people show their interest to get a rural view in their house with a farmhouse table!
It definitely costs a high price in the market, if you want to buy a fashionable farmhouse table from the shop, but the DIY process always solves this problem in the smartest way.
So, here we go with the top 25 farmhouse table projects for you which are extremely easy to build and could beautify the whole interior of your house in the most rustic manner.
Let's explore them quickly and pick one to demonstrate your countryside love in your home decoration-
1. Build a Farmhouse Table and Bench with $250

If you can spend a spear amount of money on your DIY crafting then, this would be a great project for you. It doesn't mean that we have to compromise with the quality when we are practicing DIY projects. Sometimes DIY process needs more money and attention than a readymade farmhouse table and this project is the best instance of that.
How to build this table craftedworkshop
2. How to Build a 4×4 Farmhouse Table -Detailed Plan for a Rustic Dining Table:

If you are thinking of a perfect-size farmhouse table then, a 4×4 dimension is the best pick for you. This type of table used to utilize 4×4, 2×4, 2×10 lumbers to get a precise shape of farmhouse table. This table flaunts extraordinarily conventional due to its deep brownish look along with the super chic green beams. Let's check out the free tutorial on the below link and build a farmhouse in the simplest way at your crafting station swiftly.
Building plan and supplies required for this table – 4×4 farmhouse table
3. DIY Herring Bone Chevron Pattern Farmhouse Table:

Herringbone or chevron patterned farm-table is one of the most popular rustic farmhouse table designs of this era that suits in any outdoor or indoor area brilliantly. You can keep the table unpainted or paint is with any preferable wood color depending on your house interior. Try to keep it unpainted to get the best glimpse of herring-bone pattern on your farm table. A crisscross pattern or X shape legs suit appropriately with this type of farmhouse table.
List of tools used and table building plan in step by step video  Chevron farmhouse table
4. DIY Sturdy Farmhouse Dinning Table with Dark walnut Stained Top and Satin White Legs: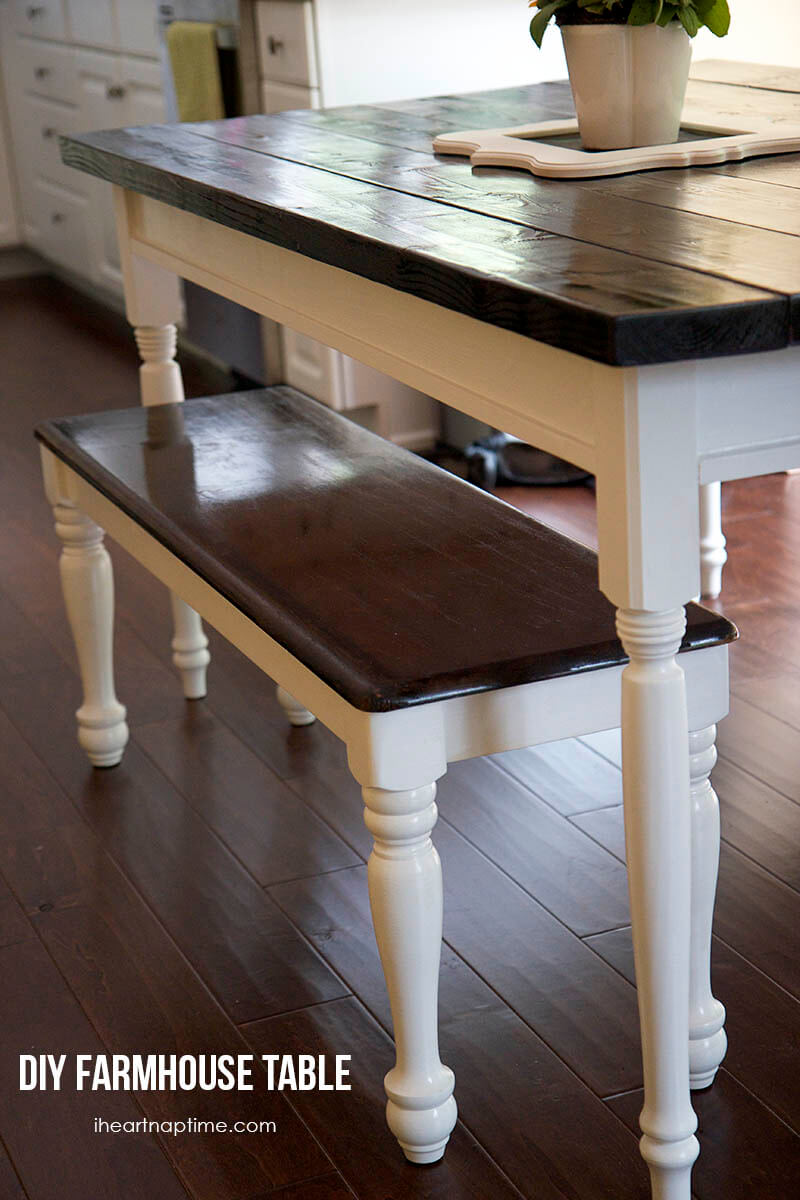 This is a super fancy yet sturdy farmhouse table design that comes with unique white & brown color combinations. The traditional legs of this table provide this one a great conventional view along with the strongest support. 4-6 chairs would fit with this type of traditional farmhouse table more spectacularly to enhance the whole interior of your house.
Build this table with limited tools and supplies- Dark walnut table
5. Build this Industrial Farmhouse Dining Table @ $75 Framing Lumber:

Farmhouse style dining table in the hot new favorite of this new generation, where being unique is the new trend. Farmhouse dining table mostly caters a rustic or rural view with its traditional presence. However, nowadays, people love the fusion of contemporary and traditionalism in their every interior; thus, it would not be a bad idea at all to redecorate your dining area with an easy-to-build DIY farmhouse dining table in your craft workshop.
You will need a table saw, miter saw, Kreg jig, drill, sander to build this budget table+ build plan pdf
6. Build a Large Farmhouse Dinning Table with Detailed Build Plan and Steps :

Sometimes, we have a larger or wider table for our house due to the heavy numbers of a member in our house and this project is the best pick for those people. You can increase or decrease the numbers of chairs based on your requirements, but the large table surface always offers you some additional space for a better dining interior along with the dishes or food items.
Materials need and directions for assembling and building this large dinning table
7. DIY Farmhouse Table with Construction Lumber:

If you think that a farmhouse table only looks rustic and never flaunts fancy then, this would a significant farm table project for you. Look how magnificently a farmhouse table could look when it crafts with the touch of a contemporary pattern. This is actually a small size farm table that suits greatly with the small apartment or dorm room for the dining purposes.
Build this table- Solid Farmhouse dining table and printable plan pdf
8. Easily Build and Stain this Outdoor Farmhouse Table in a Weekend:

If you have enough outdoor space for a farmhouse table or designing an eye-catchy outdoor dining area then this is the best DIY project for you. This is a king-size dining table project which suits best with the big family and could make your outdoor time absolutely enjoyable from every aspect.
Amber Oliver's cut list and step by step DIY instruction for this table outdoor farmhouse table
9. Build a Round Farmhouse Dining Table with 12 Step Diy Instructions: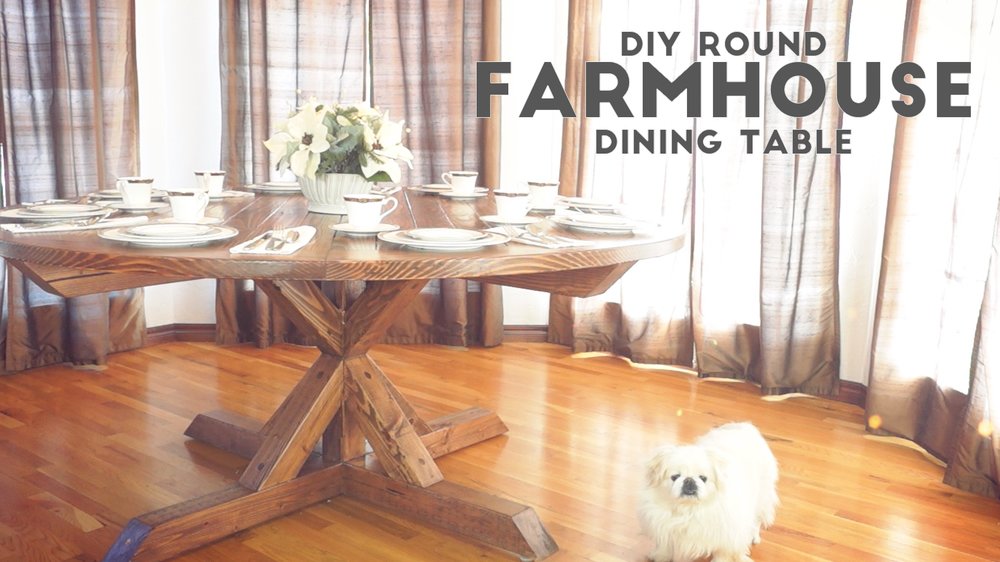 This is one more super chic farmhouse table project that crafts with a pretty round shape and provide a perfect dining look to your room with its single presence. You only need to use 2-by and 4-by lumbers to build this type of fancy round farm table tough a simple DIY process.
Material list bought from home depot and a list of tools and build plan for this roundtable with DIY instruction pictures. 
10. DIY Dining Farmhouse Table with Foam Upholstered Bench:

If you are a novice in this DIY filed then, is the best project to try your hand making a farmhouse table all by yourself in your workshop. This table builds in a normal table shape and could be paired with bench & chairs both according to your availability.
Easy wood staining process and strong build farmhouse table and bench plan 
11. Easy Peasy One Day to Build Farmhouse Dining Table/ Maybe a weekend for Beginners:

If you are running out of time and need a farm table immediately for your outdoor location through a DIY process then, this is the best project for you. This DIY farmhouse table preparation will teach you how to make a farm table perfectly in just one single day without any extra tool or labor. This type of project is the best pick for the DIY beginners due to its amazing simplicity.
Table plan and instruction video this one-day farmhouse table
12. DIY Square Farmhouse Table Inspired by Anna White Plan:

Sometimes, we have a large space in our dining area and don't like to use too much of furnishing to decorate that place to keep it simple. This type of wide farmhouse table is the best solution for that sort of house interior. You can use the top wide surface for adorning your interior in a classy way, along with using it for a huge dinner celebration.
Check our this square dining table build plan and very detailed steps in pictures
13. DIY Hand Scraped Extra Wide Farmhouse Table Coated with Oil-Based Stain:

Hand-scraped farmhouse table is a perfect rustic pattern farm table that is super easy to build as well. This is one type of common outdoor table pattern that all homes should have, especially who love easy DIY projects. Simple-looking this farm table won't charge more than $150 and could refurbish the whole look of your place in a conventional manner.
How to build this wide table with detailed tutorial video and cut list in the description
14. Build this Extended Farmhouse Table and Bench -Distress the wood and Stain it:

Sometimes, a farmhouse table could enhance the interior of your living area as well by using as a traditional center table in the middle of your drawing or living room. This type of brown-shade increase the classiness of this gigantically wide farm table more spectacularly. The additional lower sloth of this farmhouse table gives this one am unusual farm-table resemblance along with some extra space for your regular stuff.
One of the best and elegant farmhouse table which turned out o be awesome after staining it with 3 coats. 
15. Build a Pew Bench Inspired Farmhouse Table Under $65 Lumber:

Have you ever seen a pew-bench pattern farm table with a normal farmhouse table head? Well, if yes then you must desire to have one for your own outdoor area once, as it is hard to find a person who doesn't affect its classy look! This project will show you how you can grab this classy farm table look for your outdoor area within an affordable budget of $65.
Shanty2chic's details cut list for boards and pew bench table printable plan
16. X Braced Farmhouse Table:

This is one more farmhouse dining table project which you can easily craft through a simple DIY process and refurbish your house in the cheapest way. The color contrast of table and chairs would escalate the sophistication of this rustic farm dining table more spectacularly. If you are looking for a simple DIY farm table project that looks classy like carpentry level but actually uncomplicated to build then this would be the best pick for you.
Detailed plan and 7 step DIY instructions for X base farmhouse table
17. Build a Rock Solid Farm Table -DIY Steps Full Build from the Scratch:

Using scraps to build a farm table is a smart way to make your DIY process smoother than ever. This project will teach you exactly that procedure where you can get the appropriate tutorial for a full build of a DIY farmhouse table with proper instructions. This type of table contains a simple table shape with four regular legs and thus utterly simple to craft like any other normal table.
18. DIY Double Bench Farmhouse Dining Table:

A farmhouse table looks more rustic when it pairs with the bench instead of chairs and what would be more magnificent than using double benches on both sides of this type of traditional table! So, here we go with a brilliant farmhouse project that looks great with double-bench style as its sitting pattern. This type of sturdy rustic table mostly looks great on outdoor areas, but you can use it in your indoor spaces as well to get a natural rural look in your house interior.
build this table inspired by anna white's table plan.
19. Simple Farmhouse Table & Benches:

This is one more uncomplicated farmhouse table project that could be built n easy DIY process and actually cost a lower amount than a readymade one. This table resembles more rustic due to its plain seating benches, while the dark brown shade increases its rustiness more splendidly.
DIY Tutorial with images inscrutable
20. The Contemporary Farmhouse Dining Table:

Here is one more contemporary farmhouse table project that comes with the fanciness of modern dining table along with the sturdiness of an outdoor farm table in one receptacle. This is a basic farm table design no doubt, but the seating option could twist the modernity of this type of pattern in a clever way. Select seats depending on your requirement or availability of space.
DIY Instruction, Cut list and Drilling techniques for building this farm dining table
21. Elegant White Farm House Table: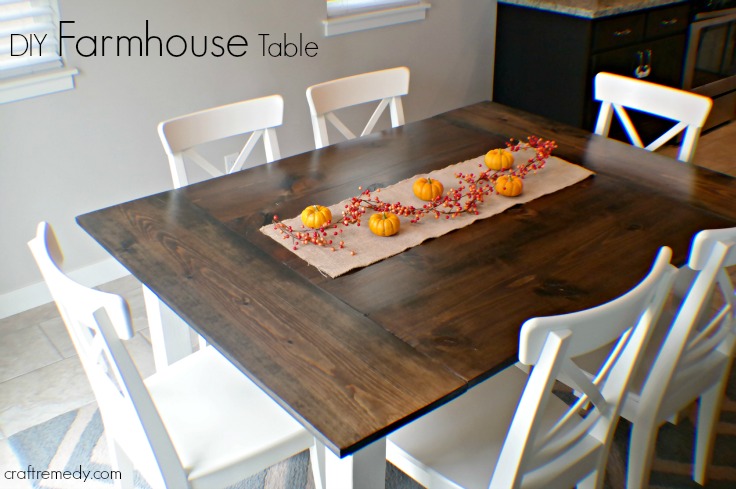 This is one supremely elegant farmhouse table project that looks absolutely classy for any outdoor or indoor area with its extravagant sophisticated look. The top surface must remain in brown or normal wooden shade to get the perfect farm view in your rustic table. This type of table looks more classy when pairs with chairs instead of benches. If you are looking for a project that could meet the level of skilled carpentry perfection then, this would be the best project for you.
Free plan and assembling instruction to build this table.
22. Build Fancy X base Farmhouse Table

Rustic 2-legs or x-pattern-legs farm table is one more brilliant project to get a perfect farm view in your house or backyard area. The best part of making this type of table is that you can use it as a dining table or as a centerpiece of your living area by decorating with some rural adornments. The zigzag pattern in their legs actually increases the sturdiness of this type of rustic table in a smart way. Try to keep the top surface unpainted to get the best rustic view of you DIY farmhouse table.
X base farmhouse table plan and steps.
23. Round French Style Pedestal Farmhouse Table

This is one more circle-shaped or round farm table pattern that suits best for a classy indoor spot in your house. You have to pair this type of table with some fancy chair instead of bench, due to its round shape. This type of table suits spectacularly in some coffeehouse or restaurant type areas, because of its trendy manufacturing.
24. The Smaller and Solid Oak Farmhouse Table – DIY with Free Plan

This is a great DIY farmhouse project for people who don't have enough space for their dining area. The super trendy legs of this farm table could give this one an extra attraction and could boost the whole view of your house interior in a super chic contemporary way. Try to pair it with similarly designed benches to get the best view of this type of DIY project.
Free plan and instruction to build this oak dining table.
25. Remixed Farmhouse Table Claimed to be one for the Easiest Table

This is a project obviously goes best with outdoor celebrations like picnic or parties. If you are looking for a traditional large picnic table idea then, this would be the best pick for you. Usually, 8-10 seats fit smoothly with this type of larger surface, but you can adjust the seat numbers based on your usability.
Tutorial pictures and hack to build this remix table.