4th July is just knocking at the door and dwellers from the USA are still planning something special for this patriotic day. This federal day has been commemorating with zealousness since the year 1776 and the enthusiasm eventually escalated year after year! Citizens of America honor their Independence Day with something exceptional and sparkling items in every single segment, from decoration to the draperies and from drinks to foods! They include the theme of freedom in each object they prefer on that national day, and the food is one of the particular sections, in which people emphasize the theme more vigorously. If you are still searching for some proper food ideas for this celebration, then, here are some top recommendations in this attempt, check this out-
Patriotic Recipes 4th of July Desserts
Sugar Cookie Bar

Sugar cookie bar is one magnificent dessert idea for an Independence Day celebration, for sure! To make this preparation you need, 1 cup unsalted butter, 2 cups of sugar, 4 eggs, 2 tbsp vanilla essence, 5 cups all-purpose flour, 1 tbsp salt and ½ tbsp baking soda.
At the beginning stir the dry ingredients in a small bowl and keep aside. Now, in a saucepan cook you butter till cream with the sugar, when the mix will be light and fluffy, turn off the burner and add eggs into that mix, after that stir the vanilla essence into mixture and stir and then, slowly add the dry ingredients into that liquid mixture and blend to make a smooth mixture with the entire ingredients. Finally, take a baking pot, spread butter into that pan, pour the mix gently into that pan, and bake it in a preheated oven at 375 degrees for 12 to 15 minutes. Then, take the prepared item out and taste it with a toothpick whether it has baked properly or not! Now all you need is just add a tasty frosting over the baked cookie and cut out into cubes. To make the frosting you can use, butter, shortening, vanilla, milk along with confectionary sugar, now, cook them until appropriate consistency and then pour over the cookie.

Lots of 4th of July Appetizers to go….
Bomb Brownies for 4th of July

4th of July Recipes : Salads and Cookies
4th Of July Feast

Patriotic Rice Crispy Treat
Rice Krispie (crispy) treat is one of the classic items for the USA dwellers which often find in the pattern of USA flag on the commemoration of 4th July. To make your food items hit in the Independence Day party, include this item and try out the taste of freedom in a delicious way. For preparing rice Krispie to treat you need, 1 large box of Kellogg's rice Krispies cereal, 16 oz bags of mini marshmallows, 2 sticks of butter, Americolor super red food coloring, Americolor navy food coloring, and 2 cookie sheets.
At first, take a saucepan, now melt the butter over medium heat along with the marshmallows until they totally mashed into the melted butter. After they both make a smooth mixture, turn off the gas and immediately add the food coloring and then stir the rice Krispie cereal but, add your desiring color to the rice Krispie cereal before add them into the butter-marshmallow mixture. Now, press the rice Krispie treat mixture into two cookie sheets in a thin layer, let them set for at least 25-30 minutes, then cut the sheet into 3 even pieces, each of the pieces will be a color stripe in the flag, now do the same cutting process for the other colored layers and gradually assemble in a single piece, finally make a marshmallow-rice Krispie cereal mix with blue coloring and add this coloring layer at the top of your flag then set the whole rice Krispie thing in your refrigerator for 1 hour. Finally, take it out, and cut the 4th July rice Krispie treat flags and dish up to your platter.
 Firecracker Dessert Blast them up

www.survivingateacherssalary.com
Easy 4th of July Fudge

 Patriotic Flag Pie

Firecracker Pretzel Rods for the 4th of July

July 4th Patriotic Caramel Pretzel Bites

  Desserts for July 4th Celebration

www.unclewallys.com
Stars and stripes July 4th Sugar Cookies

July 4th Food Ideas

 Another American Flag Blueberry Pie

There are so many yummy yet colorful food items are existed that it is quite difficult to mention only a few of them as the best food item for the 4th of July celebration! American flag strawberry blueberry pie is one of the highlighting recipes among them, to make this preparation you need, and 9 to 10 inches pastry for a double-crust pie, 2-1/2 cups pitted strawberries, 2-1/2 cups fresh blueberries, ¾ cup sugar, ¼ cup all-purpose flour, ½ tbsp ground cinnamon, 1 tbsp butter and some extra sugar if needed.
At first, make a 9inche pie plate with the bottom crust, trim the pastry even with edges and set aside. Now, take a big mixing bowl, stir strawberries, blueberries, sugar, cinnamon and flour into that bowl, the pour the mixture into the crust and mark with melted butter, then roll out the remaining pastry into 10 inches, then gently cut out the one big star along with some wide stripes from the pastry wedge. Then, prepare the pie into the pan by pouring the filling and placing the star along with those stripes, sprinkle additional sugar here and cover the edges with foil. Now, all you need just bake this pie for 15 minutes in a microwave oven at 425 degrees temperature after that reduce the heat to 350 degrees and bake again for 35 to 40 minutes, until the pie turns golden. Finally, take out the pie, cool it down and dish up to your guests.
www.landolakes.com
Patriotic Cones with Flag Color Themed Sprinkles

---
4th of July Appetizers
4th of July Starters

Red White and Blue Deviled Eggs

Firecracker Hot Dogs

Juicy Spicy 4th of July Chicken Recipes

Skinny 7 Layer Fiesta Dip

The appetizer list is even bigger than the desserts' list that comes with pretty independence theme for the 4th July celebration. From those numerous mouthwatering recipes, we are referring Skinny 7 layer Fiesta Dip recipe that fits stupendously with the federal theme of 4th July. To prepare this item you need, 15 o fat-free refried beans, 2 cups of low-fat Greek yogurt, 16 oz container Pico de Galo or chunky salsa, 16 oz shredded lettuce, 8 oz package shredded cheese, 2 medium Roma tomatoes, 2.25 oz can olives that are drained and sliced. For the seasoning, take 1 tbsp of chili powder, ½ tbsp of garlic powder, ½ tbsp of paprika, 1 ½ tbsp of cumin, 1 tbsp of salt, ½ tbsp pepper, and 1 packet stevia or sweetener.
At the Beginning spread the refried beans evenly in the underneath of a baking dish, which has a width and length of 9×13 inches. Now, take a small mixing bowl and stir all the seasoning spices along with the yogurt then spread over the beans layer, after that take the chunky salsa and spread another layer on the baking dish, then whisk shredded lettuce over the top in thick layer, then, add the layer of shredded cheese from the top, after that, add the layer of tomato slices and at the end add a final layer of sliced olives along with chopped green onion. Now, keep the dish in your refrigerator until they get tender. You can serve this dish with some baked and crispy chips during the celebration of 4th July.
4th of July Appetizers


Firecracker Patriotic Popcorn

Barbecue Deviled Eggs Fourth of July Recipes

Easy Appetizer Recipes

July 4th Patriotic Red White and Blue Cake Batter Dip


---
4th of July Drinks
Bomb Pops Drink Recipes

 Sprite and Cubes 4th of July Recipes

foodfamilyfinds.com

 Drink Recipes for Independence Day


 Patriotic Colorful 4th of July Drinks

likemotherlikedaughterblog.blogspot.com

Besides delightful appetizer and mouthwatering dessert, a refreshing beverage is always needed for a true 4th July commemoration, isn't it! You can make any drink with the theme colors of the American flag, as that will be the best fit for a federal beverage. How about making a patriotic smoothie? Well, to prepare this sugary beverage you need, 2 cups frozen strawberries, 1 cup raspberry juice, 1 tbsp honey, 2 medium bananas, 1 cup almond milk, 2 tbsp flaxseed ground and some sugar dust, about ½ tbsp.
At first, blend the red ingredients together in a blender and pour into a gigantic glass. Then, take the white layer ingredients and blend again to a smooth and thick paste, pour this layer over the red layer into the glass, then blend the blue layer and add over the top of your glass, remember to fill the glass in a ¾ measurement and fill it up with some fruit slices in the shape of stars. Now all you need is just make this drink frozen and serve with a wafer straw.

 RED White and Blue 4th of July Drink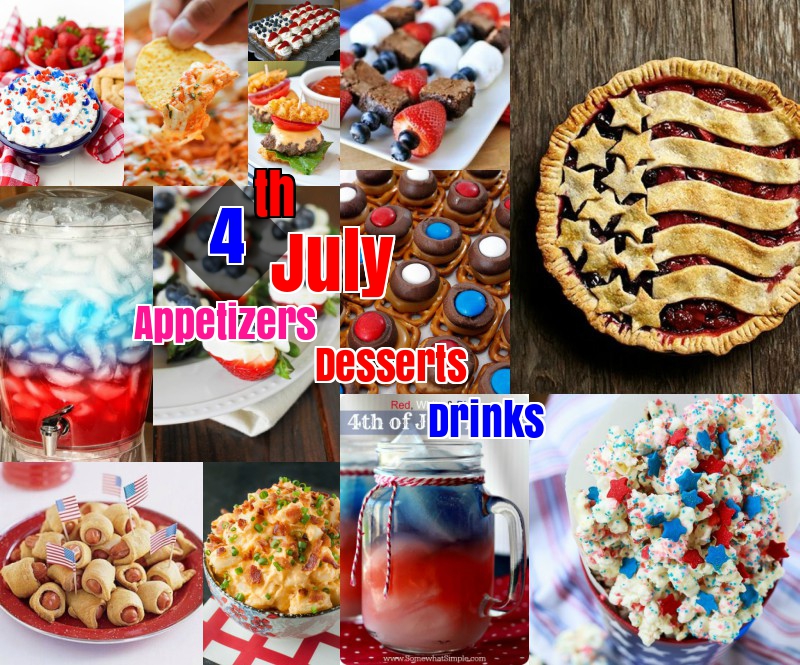 Save