Home based face masks always show their magic when it's come to the matter of beauty treatment. Thus, utmost beauty concern ladies of this contemporary era prefer homemade face masks over any readymade pack! We have various beneficial natural ingredients in our reach, and avocado fruit is definitely one of the brightest components that work marvelously on varieties of skin troubles. This effective fruit pulp not only works on skin diseases but, also prevent those problems to appear in that same place again! People, who are not suffering from any skin problem, they also can use this fruit on their face-pack, because it naturally increases the glamor of your skin, besides, resolving the problems on your surface.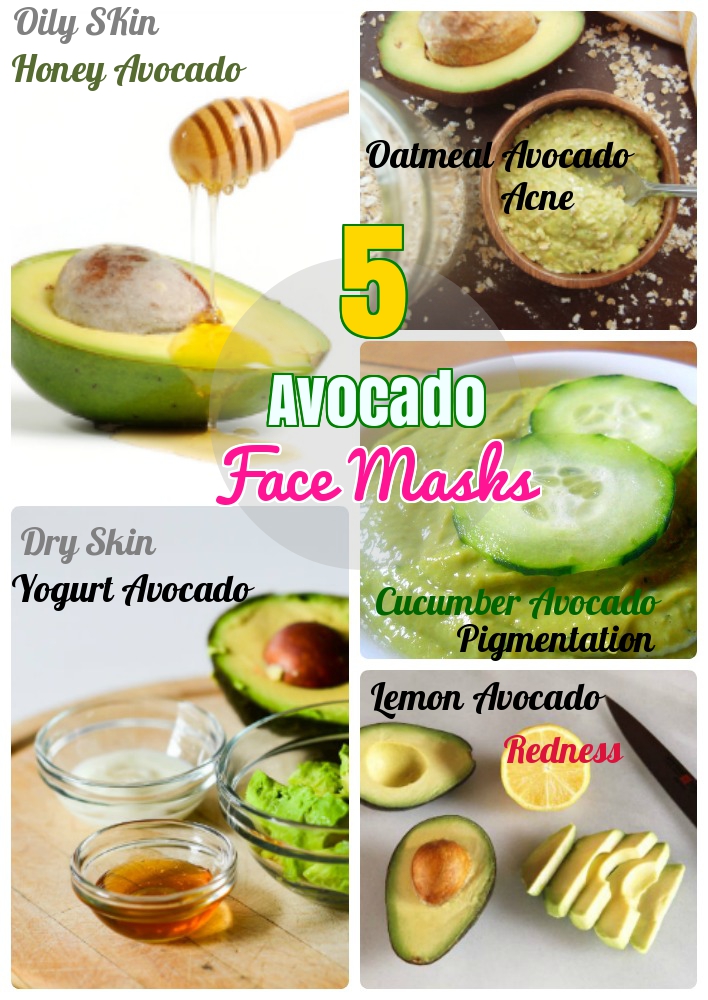 Though countless functional facemasks could be made from this amazing element, yet, we are referring top 5 face masks, which you can make easily at your home, suit all skin types, and work on numerous difficulties at once! Check them out-
For Tight And Moisturized Skin
Lemon Avocado Face mask for Redness:
Avocado performs great on skin redness when it merges with a bit of lemon juice. The vitamin A of this fruit helps to remove the stubborn red shade from your skin, while the lemon naturally makes your skin glowing with a fairy touch.
Ingredients
1 ripe avocado, 1 egg's white part, 1 tablespoon of lime juice and 4 to 5 grains of white sugar.
Method
At first, take a plate and peel the avocado carefully, then cut it into two halves, take one of them and mash finely with a smasher. After that, take a small bowl and pour that mashed avocado into the bowl, add egg white, sugar grains and lemon juice into that avocado and make a thick paste of them. Apply the pack on your face evenly and leave to dry for at least 10 to 15 minutes, finally, wash it off with plain water and drain your face gently with a soft washcloth.
Your Own Avocado Face Mask
Oily skin is a curse to those people who need to go out every day inside dust and pollution, as oily skin catches the dirt, dust easily that emerges with pimples and skin rashes, right! So apply this pack and naturally get remedy from the extra oil of your surface!
Ingredients: 1 ripe avocado and 1 tablespoon honey.
Method
For making the pack, peeled the avocado first and mashed it in a bowl with a spoon or masher. Then add the honey and mash it again to make a thick paste. After stirring them well, apply it on your face and leave for 10 minutes to dehydrate. Once the pack dries properly, rinse it with cold water and see how easily you can get rid of, from your unwanted oil with just one face mask!
Yogurt Avocado Pack for Dry skin:
Oily skin is not only our problem for all the time, sometimes; it's the dry skin type, which troubles us more, especially during the season of winter! To get an easy remedy from this difficulty, make this avocado pack with some simple ingredients at your home.
Things Needed
1 ripe avocado totally mashed, 2 tbsp of fresh yogurt along with 2 tbsp of olive oil.
How to
Blend all the ingredients very well and gently apply on your face and neck with a spatula. Let it dry for at least 20 minutes and then, rinse it off with lukewarm water. This pack swiftly moisturizes your skin and washes out the dryness from the skin cells with the help of yogurt and olive oil along with the avocado pulp.
Oatmeal Avocado Pack for Acne:
Oatmeal and avocado face mask magically effective on acne as it will clear the dirt or dead skin layer from your skin cells, seal the pores, and kill the bacteria, which cause the acne or pimples.
Ingredients : you need a ½ portion of a ripe avocado, 1 tbsp apple cider vinegar, 1 tbsp of fresh lime juice and 2 tbsp of honey.
Method of Preparation
Mix the entire ingredients in a bowl, knead to make a smooth paste and immediately apply it one your surface. Leave the pack for at least 20 minutes and wash it with lukewarm water after dries it out properly.
Cucumber Avocado Mask for Hyper-Pigmentation:
Cucumber juice has a magical effect on the spot, pigmentation, and blemishes as we all know, and this wonderful product works even more tremendously when mixing with highly beneficial fruit avocado. To make this valuable face mask you need,
Ingredients ½ of a ripe avocado finely mashed and 2 tbsp of fresh cucumber juice along with some cucumber extract.
How to Prepare
To make the pack, take a small mixing bowl, pour the mashed avocado, cucumber juice, and extract into that bowl and stir very smoothly. After applying this pack for 15 minutes n your surface, just rinse it off with plain water and drain your face with a soft washcloth.
Save