Extra storages and furniture are always in high demand in our houses, isn't it? Thus, we eternally ready to include an extra storage space to the every single place in our home! This additional space or furniture would be more convivial if we can make these products by recycling things or with some low-priced components, right! How about using thick cardboards to craft such storage? Well, they are affordable, easily accessible and above all, bendable to make any shape or pattern! So, here are some functional ideas about DIY household cardboard furniture, which will furnish your place and organize your stuff in a simple way. Check this out-
Dog Cardboard Storage

The Dachshund dog cardboard storage is a nice idea in this attempt which is easy to make, simple to store and effortless to transport at your desired place. To make this item you need to draw a structure of a dog first over a cardboard and cut out the structure out of that board. Then, cut some more pieces of cardboard and make as many shelves as you can where your stuff place in an arranged way.
www.inhabitots.com
Cardboard Furniture
Thick cardboard is sturdy and rock-hard, hence, there won't be any concern of broken your cardboard furniture! So you can even make any weight-worthy furniture too with this element, like partial sofa set, centre table, ottoman, TV cabinet, etc.
DIY Cardboard Furniture Ideas

www.architectureartdesigns.com
 Homemade Cardboard Furniture

instagram.com
 Cardboard Furniture Inspiration

 DIY Cardboard Furniture Ideas

How to make a cardboard furniture
Wardrobe or book shelves are other mentionable furniture you can craft with cardboards. Try to make some drawers for your wardrobe so then; you can put several documents in one place by placing them different drawers. This processing keeps your document arranged as well as protects them from dust or damages!
 Cartoon Cardboard Furniture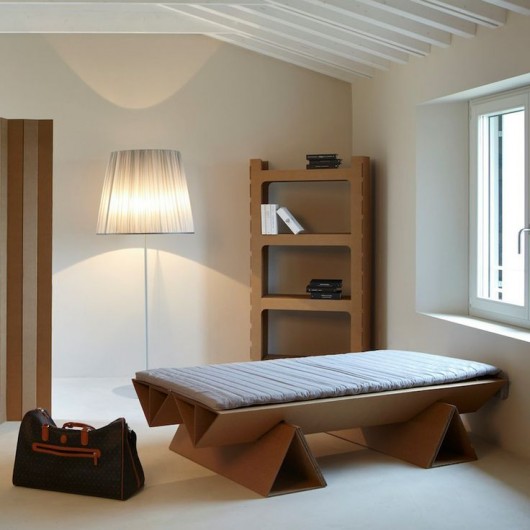 kartelier.com
5 Piece Cardboard Lounge Chair Furniture

 Cardboard Wall Furniture

People who are afraid of broken off the cardboard furniture could have made wall based shelves to keep their stuff organized along with safe!
Up cycled Cardboard around a Siphon as Bathroom Furniture

Eco friendly cardboard furniture for children

 Lounge Cardboard Furniture

Cardboard Furniture with Storage

creativedesigncognition.wordpress.com
Easy Cardboard Shelves

DIY Cardboard Box Toy House

DIY Cardboard Bed

If your kids feel the affection of crafting thing then, let them try with this functional element and see how wonderful cardboard furniture actually could look! Tiny bed, sofa set, chair, swings, etc. are some frequent things children mostly love to make with cardboard for their toys. This may also give you some idea of making real furniture with this fantastic component!
www.fabdiy.com
Contemporary Cardboard Beds

If you are going to craft any large storage with this element like divan or bunk bed then, it's better to validate over the each and every portion or your cardboard pieces to avoid any further accident or damages.