DIY craft ideas always come up with new, new, ventures for us with some simple steps including typical materials! This time, this procedure has emerged with a funny craft idea that not only initiates our artistic ability but, also entertain our kids with adorable objects. Have you ever think that socks, a knitted or woven covering which used to cover our foot can be utilized as a spellbinding craft material for a super cute soft toy? Well, let's us enlighten your thought with these easy and pretty socks made animal soft toys ideas that are utterly adorable to flaunt, and at the same time, effortless to craft! Check this out-
No Sew Sock Bunny Toy
No, sew sock bunny is the easiest soft toy to craft from a sock thus, this item mostly picked by the beginners at their early stage. To make this item you need, one sock in the dusky shade, 2 to 3 cups of rice, ribbons, and a scissor along with a pointer. Now, pour some amount of rice into the sock so that you can form the head and face out of the heel. After that, tie two tight ribbons to shape the tail and head properly, one is under the neck shape portion and the rest one bottom where the tail starts. Now tie the top tightly give enough space to make ears from the rest sock portion. Finally, cut out the extra sock from the middle and tie them as the ears of your bunny. At the end just draw two eyes and one tiny nose over the face of your sock bunny.
DIY Socks Elephant Craft

Elephant craft from socks resembles extremely cute and delightful, especially, those are made in the light shade, like pink, yellow, sea green, etc. To make such items you need, more than one or two shocks as you require making several body parts for an elephant like four legs, one trunk, ears, eyes, and torso. Use soft cotton or sponge to fill the body parts of your elephant toys and buttons look great as the eyes of a baby elephant for sure!

DIY Sock Dragon Craft Idea

DIY Sock plush Toys do it yourself craft ideas
thewhoot.com.au
DIY Cute Set of Dolls with Socks

Piglet Sock Toy Step by step DIY Craft

Monkey Soft toy DIY



No sew Sock Owls

artsandcraftsjunction.com
Sock Bunny Anatomy to cut and sew

Sock Sheep Free Sew Pattern

Homemade Octopus Sock craft idea

grosgrainfabulous.blogspot.com
Sock Bunny Free Sewing Pattern

Monkey, dragon, panda, owl, dog, cat, sheep, squirrel, etc. are some frequent animals that people love to craft with the socks object. Rabbit, octopus, unicorn, are some mentionable animals you can craft with socks with some simple procedures. If you are choosing sewing method to make your soft toy, just make sure that you are covering the open part properly, after filling the stuffing!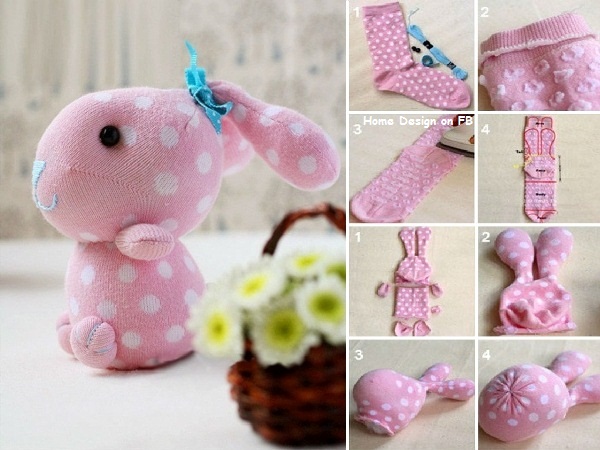 Save