Zucchini is another versatile vegetable which could use in various tasty dishes and could fulfill your appetite with some vital nutrients as well. This is basically one kind of summer squash that contains plenty of essential vitamins like B-complex, Choline, folate, along with a few great minerals like zinc, potassium, magnesium, antioxidant properties, etc. and come with a low-calorie quality, which makes this item one perfect fit for your regular diet. Here are referring some scrumptious yet healthy recipes using zucchini as the main ingredient, check them out quickly and treat your tongue in a distinctive way-
Zucchini Pasta Recipes
How to Make Zucchini Pasta:
If you are looking for a healthy yet mouthwatering recipe to lure your kids, then try to make this recipe once in the simplest way we are suggesting here-
Ingredients:
2 medium size zucchini, peeled
1 tbsp olive oil
¼ cups water
½ tsp salt
½ tsp ground pepper
A cheese cube
A grater
A sharp knife
A skillet and
A frying stick
How to Prepare:
At first, cut the peeled zucchini lengthwise into thin slices like spaghettis and wash them properly.
Now, heat the olive oil in a skillet and add the sliced zucchini into it when the oil starts leaving smoke.
Then, sauté it for a couple of minutes and cover the skillet up after adding the water.
Let zucchini cook on medium heat for 5-10 minutes or until turn tender and then, uncover it.
Finally, add the salt & pepper spices to season the dish and turn the heat off after finding that all look merged up well.
Now all you need is just grate the cheese cube over the top and serve it instantly.
Related Video: All Recipes Low Carb Zucchini Pasta
Courtesy: All Recipes
How to Make Spiral Zucchini Noodle:
Making spiralized zucchini could be effortless for anyone if you know the right procedure. So, here we go with the easiest method to prepare this dish in a delicious way, let's check it out-
Ingredients:
4-5 medium size zucchinis
Cherry tomatoes 1 cup
Cheese 1 cube
Salt 1 tsp
Ground pepper ½ tsp
2 tbsp olive oil
½ cup finely chopped basil leaves
2-3 garlic cloves finely minced
1 tsp lemon juice
A julienne peeler
A spiralizer
A skillet
And a frying stick
How to Prepare:
At the initial stage, peel the zucchini pieces with the julienne peeler and make zucchini noodles with the help of that spiralizer.
Now, wash them thoroughly with lukewarm water and keep them aside.
Heat the olive oil in a skillet and place the minced garlic cloves into them to fry it till light brown.
Then, add the zucchini noodles into it and keep sautéing them repeatedly.
Bring the cherry tomatoes, cut them from the middle and add your zucchini noodles.
After finding them zucchini and tomato slices look tender or well cooked, turn the heat off immediately.
Now, sprinkle the spices over the top for seasoning with salt, pepper and lemon juice.
Finally, grate the cheese cube on the top and serve in hot form.
Want to grow zucchini at home – learn how to grow zucchini.
How to Make Zucchini Noodles in 5 Ways 
Courtesy: Fab Lunch
Zucchini Pasta & Noodles
Pesto Zucchini Pasta

Korean Japchae Zucchini Noodles Recipe

Basil Pumpkin Seeds Pesto and Zucchini Noodles Pasta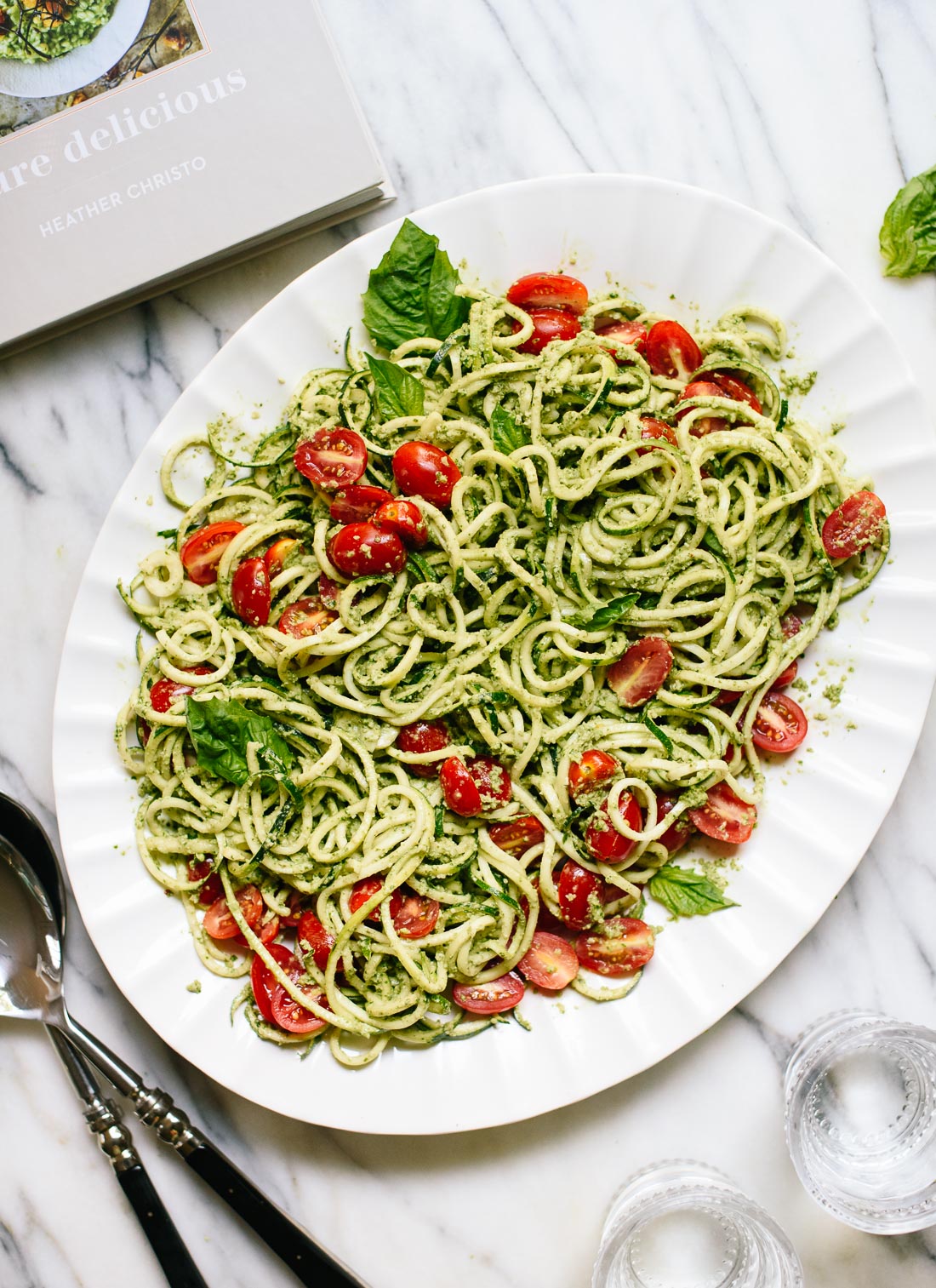 Cherry Tomatoes Zucchini Spaghetti

Paleo Diet Zucchini Pasta Salad Recipe
Paleoaholic

Vegan Basil Pesto Zucchini ( Scroll to bottom)
The health family home

Zucchini Spiral Noodles and Skinny Shrimp Recipe

How to Make Zucchini Noodles One Pot Pasta ( Step by Step Pictures)

Fried Zucchini with Pasta Salad

Pesto Grilled Chicken Zucchini Noodles

Chicken Breast Zucchini Noodles with Pesto

Grilled Corn Zucchini Noodles with Pesto

Making Zucchini Pasta with Garlic Basil Marinara

Lemony Garlic Zucchini Noodles with Roasted Tomatoes
ohmyveggies

How to Make Spicy Cajun Sauce Zucchini Noodles Pasta

Easy Sauteed Vegetables Zucchini Noodles

How to Make Zucchini Noodles Veg Detox Salad

White Bean Zucchini Pasta – Clean Eating Machine

Lemony Shrimp Scampi Zoodles / Zucchini Noodles Pasta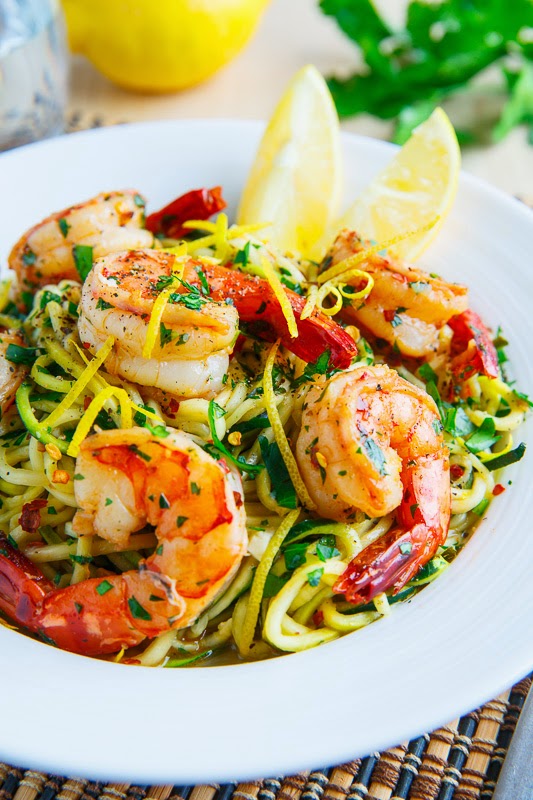 Paleo Style Zucchini Spaghetti with Prawn Arrabbiatta
eat drink paleo