DIY Tissue Paper Flowers
Want to try your hand at some easy DIY crafts or seeking for some trendy yet simple decoration component for your house-party? Well then making some nice-looking tissue paper flowers would be the ideal project for you. The most amazing part of using these tissue papers for making art-crafts is that they are superbly flexible! Crush them, twirl them, cut them fold them, or do whatever you want and you will get a desirable shape within a few minutes.
Another applauding part of such flowers is that they are suitable in various meadows, whether it is in a party decoration, over a gift pack, on a laptop cover or room adornment. Some people complain that tissue paper flower doesn't stay for long, as felt or fabric materialistic blooms, but we claim that they resemble more real and vibrant than other artificial flowers from every aspect!
So, bring you scissor along with a tube of glue and try out these super trendy tissue paper flower now-
Updated on October 27 2018
5 Step tissue paper flower
Things you will need
12 Sheets of Tissue Paper (20″x26″ or 20″x30″), 12 Pipe Cleaners or other Flexible Wire, Scissors, A Vase.
Simple and elegant paper flower

Tissue Paper Flower Canvas
Things you will need
how to make tissue flower canvas

Amazing Bright Tissue Paper Table Decor
Supplies needed
Tissue paper table decoration video

How to make colorful tissue paper flowers
Things needed
Tissue paper
24 or 26 gage floral wire
Scissors
Easy colorful tissue paper flower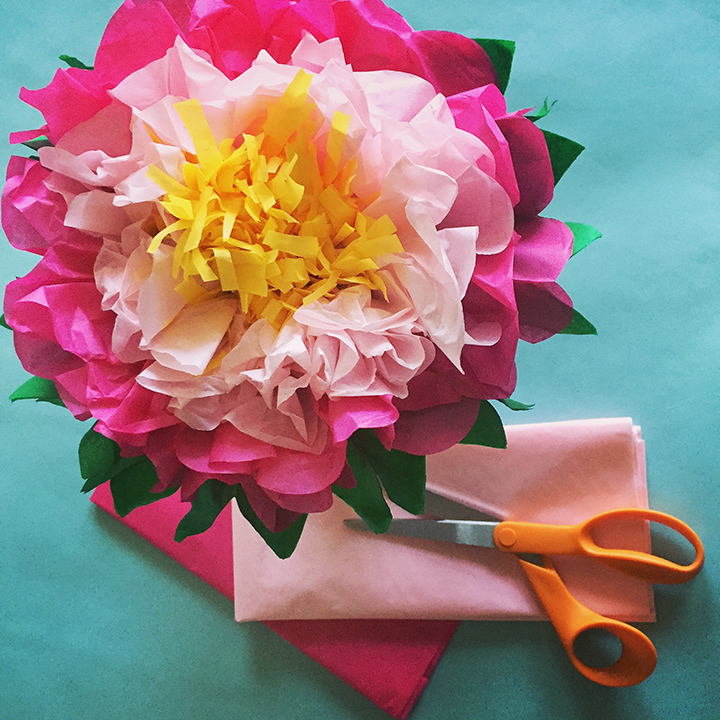 Beautiful Tissue Paper Yellow Flower
Editors choice yellow paper flower

DIY easy and simple tissue paper flower decor
Supplies needed
A packet of tissue paper (about 8 sheets stacked per flower)
Sharp scissors
Pipe cleaners or something else for securing the centers

Lovely Tissue Paper Poppies

Pink Tissue Paper Flower Wreath

DIY Gorgeous Blue Hydrangea Paper Flowers

Step by step spring topiary paper flowers

Realistic tissue paper hydrangea

Related Video DIY Tissue Paper Flower
Tissue Paper Pom-Poms:
Tissue paper pom-poms are best objects to use for party decorations. Hence, make some pom-poms now by following these tutorials and adorn your party hall in an inexpensive way!
source: Marthastewart
Tri-color Tissue Paper Flowers:
Tri-color tissue paper flowers are as simple as normal tissue paper flowers but look really tricky and classy too! All need to do is just choose three best compatible shades to make this craft even more eye-catchy.
source: Making Stuff

Step by step video on making tissue paper flower lollipops

Tissue Paper Made Flower-Stalks:
source: Crafting Tips

Tissue Paper Flower Bunches:
source: Crafting Stuff

You want to make a centerpiece or patio decoration with tissue paper craft? Well, then try out these supremely elegant artificial flower bunch made of tissue paper, which will give you a classic look but never cost more than a single penny!

Tissue Paper No-cut Flower:
Tissue paper-made no-cut flowers are the best project to try for kids, as you don't need to use a scissor or any sharp object and only some tricky folds are enough to craft such things!
source: Wikihow

Tissue Paper Tulips:
Tissue paper-made tulip flowers are remarkably natural to resemble and look great while you made them in a number of pieces, rather than one or two single pieces.
source: liagriffith

Tissue Paper Flowers for Fall-Decorations:
Tissue paper-made flowers are one must-recommendable item for fall decorations, as it allows you to keep your adornment near nature more vigorously! Try them out and beautify your preparation with more elegance now.
source: hellocreative

Bright and attractive tissue paper flower wreath
promising flower wreath tutorial

Tissue paper flower pom pom hangings for birthday decor

Bonus: DIY Hawaiian Tissue Paper Lei

Quick tissue paper flower Backdrop

Related Video: How to make tissue paper flower garland
Save it for later