The newspaper is that element which doesn't have any requirement after the precise date; thus, we always use this one as a trash object of our house. But, do you know that these trashes can be used as a remarkable component to make some pretty wall hangings or nice home décor items! Well, let us guide you a bit in this processing, about how to make easy and nice DIY newspaper wall hangings and décor crafts with some simple steps. Check this out-
DIY Newspaper Basket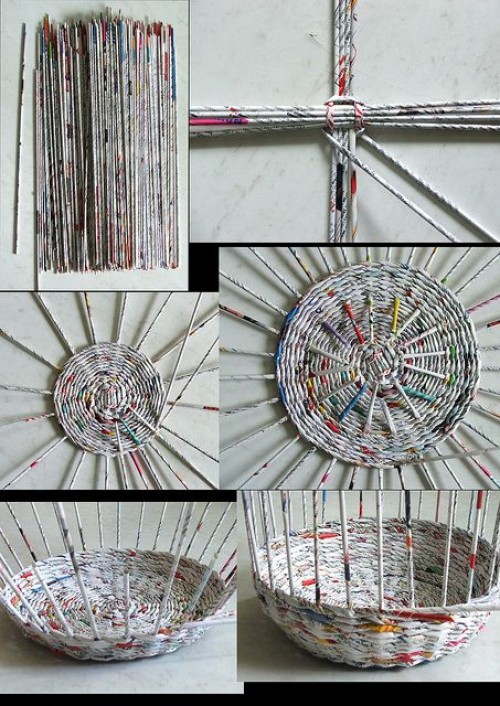 Old newspaper crafts
 Canvas on Old Newspaper

DIY Cute Woven Paper Basket Using Newspaper

Wall Art with Newspaper

 Rolled Newspaper Key Craft Ornament

www.etsy.com
Newspaper Wall Hanging Decors
To make a step by step wall hanging or paper made wind chimes at first; roll some newspapers tightly in a thin root. Now, assemble those rolled sticks together with glue and let them soak properly. After that, use a scissor to cut out some precise shapes from those glued paper rolls, like in heart shape or floral shape or doll shape. Make sure that you are cutting out one big size object along with some smaller sized similar objects. Now take some linen string along with some coloring beads, make 5 different sized bread strings and attach those small paper cuttings with that big paper cutting with these strings. Now all you need is just paint your wall hanging with your favorite color and make some pretty designs over those paper cuttings to make the whole hanging more attractive.
How to make a gift bag out of newspaper

Crafting gift bags with some old newspapers is one frequent act we often do in our house. This one not only leads us to the manner of recycling things but, at the same time, fulfill our carrying requirements too with such products.
Puffy Newspaper Tree Craft for Earth Day

 Paper Mache Bowls

You can also make a basket or giant bowls for holding dry things with these daily newspapers. As we said before, just roll them tightly and bend them as per your demand before making any part. One most applauding part of these newspapers is that it is amazingly flexible or bendable, thus, you can craft several useful item by twisting them accordingly to your needs!
 DIY Paper Crafts

 DIY Art work in Newspaper

 Coiled Newspaper Craft Ideas

 Make Toadstool with Old Newspaper

 Crafts Made with Old Newspaper

www.bestoutofwaste.org
DIY and Crafty Projects Using Newspaper

You can make different kinds of wall art by using them as a wide banner or pretty show pieces to increase the beauty of your interior.
 Make Baskets with Old Newspaper

 Diy Paper Craft

Weaving baskets with newspaper

 Beautiful Rolled Newspaper

thosecraftysisters.blogspot.com
Holiday Packaging Ideas with Newspaper

Lovely Craft works with Newspaper

Turn your newspaper into a stylish vase

Rolling is the best way to utilize this component as a DIY craft object. You can make a contemporary flower vase with these rolls, or an animal sculpture or a plant tub or a frame for mirror or photo or wall plates, etc. with these rolled newspapers.
 Old Newspapers into Flower Wreath

Rolled Newspaper and Magazine Wall Hanging

www.vivaterra.com
Crowns From Reused Newspapers Magazines

Wall hanging newspaper craft

DIY Dahlia Wreath

How to Make Newspaper Wall hanging Mirror

Origami Newspaper Wall Hanging

 Old Music Sheets and Old Newspaper Decors

Wall hanging newspaper craft