The pallet is a portable platform that usually manufactured to be easily moved by a forklift, on which goods can be stacked. This kind of flat base generally made of wooden of plywood materials, thus, you can craft several objects from these portable and functional pallets to recycle them in a functional way. Table or furniture is always needed for our personal uses, and in this time, if we could make some tables or functional furniture with some unused pallets, wouldn't that be great? Hence, let's check out some useful ideas on making reclaimed DIY pallet tables or furniture for our regular use. Take a look-
Pallet end Table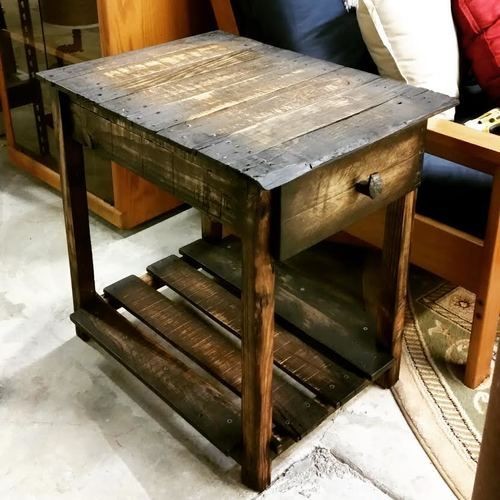 Pallet Side Tables End Tables

To make a pallet end table you need, some pallets, wooden screws, nails, wood glue, hammer, drill, chop saw, and clams. Now, to make the table, do the pallets apart first by but the nails off between the top boards of the pallet. Now take some of those wooden pieces and make four strong columns from those pallets. Use sand paper to make your columns and pallets smooth and spotless. Then, take 8 pieces of pallets and make two equal sized square structures for your table. After that, add horizontal slats or pallets over the both structures with the help of nail and glue. Now, place those two square structures over bottom and the top section, assemble those four pre-made columns as the legs of your table. Now all you need is just drill holes, add pins after columns installed properly and let it dry adequately for at least 24 hours. Now your pallet ends table is all ready to use, you can even paint it with some nice wooden paints before use!
DIY Side Table out of Pallet
Ideas for a perfect Pallet end table

DIY Pallet Computer Desks

Oak Pallet Coffee and End Tables

www.palletfurnitureprojects.com
DIY End table Video
Simple End Table with Pallets

www.etsy.com
Pallet Side Tables End Tables DIY

Wooden Pallet End Table

www.palletfurnitureprojects.com
DIY Recycled Pallet Coffee Table Ideas

Pallet Nightstand Bookcase End or Side Table

These pallets are so functional to make homely furniture that you don't need to buy furnishings for your personal use if you have enough pallet pieces in your storage! Looking for a nice computer desk? Pallet end computer desk swiftly fulfill the requirement you are seeking for! Don't have enough spaces for your books or magazines? Well, you can craft a medium sized nightstand bookcase or a nice side table for your regular stuffs by reclaiming some unused pallets.
Recycled Pallet End Table

Pallet End Table

End Table Made From Pallets Wood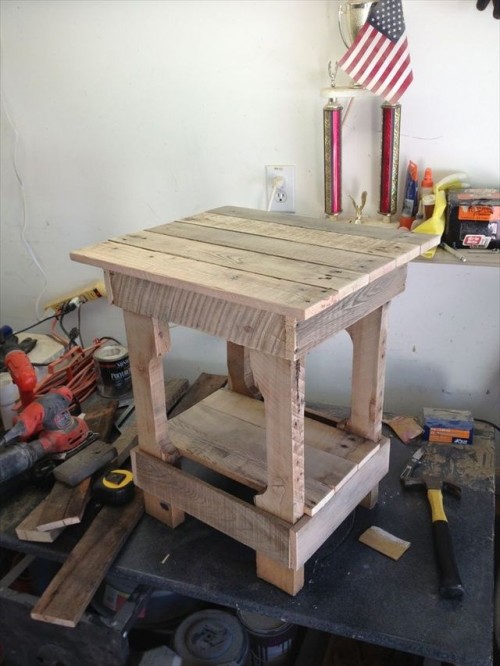 You can even craft some corner stands, shoe shelves, TV stands, centre tables, flower vase tables, etc. from your storage pallets. Just try to assemble some enough nails, wood glue, screw, and a saw along with a drill machine to craft your desiring pallet end furniture.