Deodorants are one essential, and inseparable part of our lives, that is incredibly needed in today's hasten. Nowadays, people are hugely busy with their tight working schedules, and as an inevitable outcome, they suffer from sweats and stinks for the utmost times. Only a tremendously working deodorant could help then in such crisis, and it works even better if you could make some heavenly aromatic deodorants in your home with some homely ingredients! As it will keep refresh with nice fragrance in an inexpensive way. So, let's check out some DIY homemade deodorants for your regular use. Take a look-
DIY Homemade Probiotic Deodorant Vanilla Scent

The homemade Probiotic deodorant vanilla scent is a wonderful deodorant that comes in a solid form. The most applauding part of such deodorants is that they gives an unreliable dreamy fragrance which stays for a long duration, and  you can preserve this kind of item a long while one you have made them properly. So shun the other readymade chemical products and go for a Probiotic deodorant for your personal use. To make this item you need, 1 tablespoon cocoa butter, 1 tablespoon coconut oil, 1 tablespoon shea butter, 1 tablespoon beeswax, 2.5 tablespoons corn starch, 1 tablespoon baking soda, 15 drops of vanilla essential oil and 2 capsules powdered Probiotics.
In a saucepan melt cocoa butter, shea butter, mix coconut oil, beeswax, cook for a few minutes over low heat. Then remove the mix from heat and add the cornstarch gently, add baking soda and stir smoothly. After that add essential oil into the mix and let it be cool. After cooling it properly add the Probiotic powder into the mix and stir with a spatula as soon as possible. Now just pour the mixture into a deodorant container and keep it in your freezer to cool and harden before use regularly.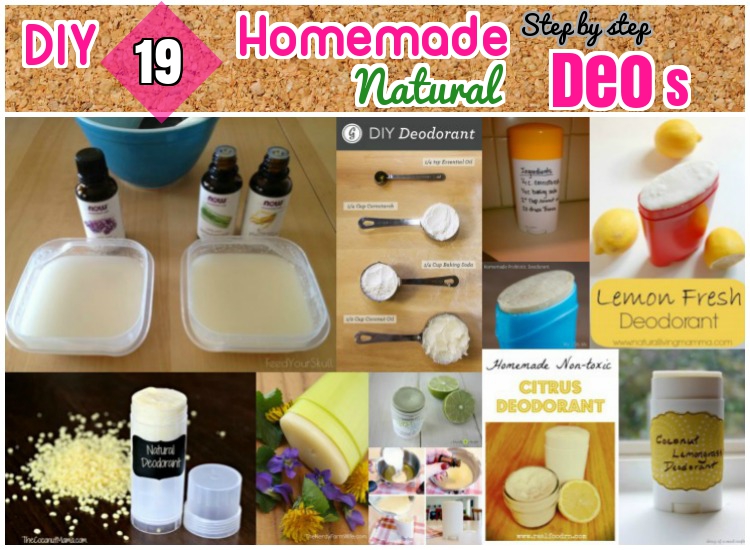 Natural Clay DIY Deodorant

Natural clay deodorant is one kind of product you must try once in your life to keep yourself fresh and refreshing. To prepare this homemade useful deodorant you need, 1 tablespoon apricot oil and 3 tablespoons French green clay apart from the above-mentioned common ingredients like coconut oil, essential oil, beeswax, shea butter, etc.
Now for the main item, melt the butter in oil and beeswax over low heat, at the end add clay into the mix and stir well. At last, just mix the essential oil and whisk smoothly. Now all you need is just let it cool to harden properly and use regularly after taking baths.

Simple Homemade Deodorant

These are the harder deodorant that you need to roll up over your skin to use. If you prefer only spray for deodorants then just make your homemade deodorants in other processing with the similar ingredients. You just require increasing the measurement of your liquid ingredients and try to use a spray bottle to preserve this kind of deodorant. To get different sorts of fragrances, add various types of essential oils in your deodorant ingredient. Sometimes, you can even add two or three essential oil drops in one homemade deodorant to get unique or exceptional aromas.
DIY Deodorant Sticks

scentsableliving.wordpress.com
DIY Handmade Coconut oil Lemongrass deodorant

diaryofamadcrafter.wordpress.com
DIY Natural Deodorant with Coconut Oil

DIY Natural Lemon Deodorant

Natural Homemade Deodorant Recipe

  DIY Herbal Deodorants for women

Fresh Lemon Deodorants

naturallivingmamma.com
Homemade Solid Perfume tutorial

Homemade Deodorant Without Baking Soda

 Essential Oil and Coconut oil Deodorants

Make Your Own All Natural Deodorant Stick or Spray

Homemade Lavender Deodorant

4 Ingredient DIY Deodorant

 Non Toxic Citrus Diy Deodorants

DIY  Homemade Deodorants with Essential oil

Save