Broccoli is a much-esteemed edible plant that belongs to the cabbage family. The big flowering head is eaten as a healthy vegetable. This highly beneficial veggie could germinate and cultivate in the simple circumstance, thus, several new-age gardeners have started growing broccoli in own backyards or indoor garden areas. The effortless quality of cultivation has made broccoli hugely popular among the utmost gardeners. If you are also thinking of growing this vegetable on your own, then let's check out some significant tips in detail on cultivating broccoli in your own garden area in this article ahead-
Growing Broccoli: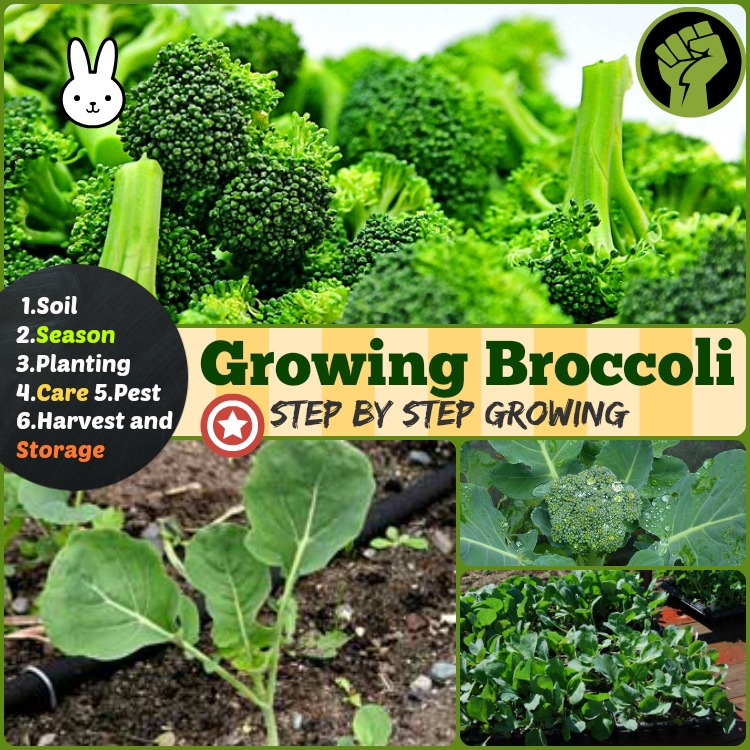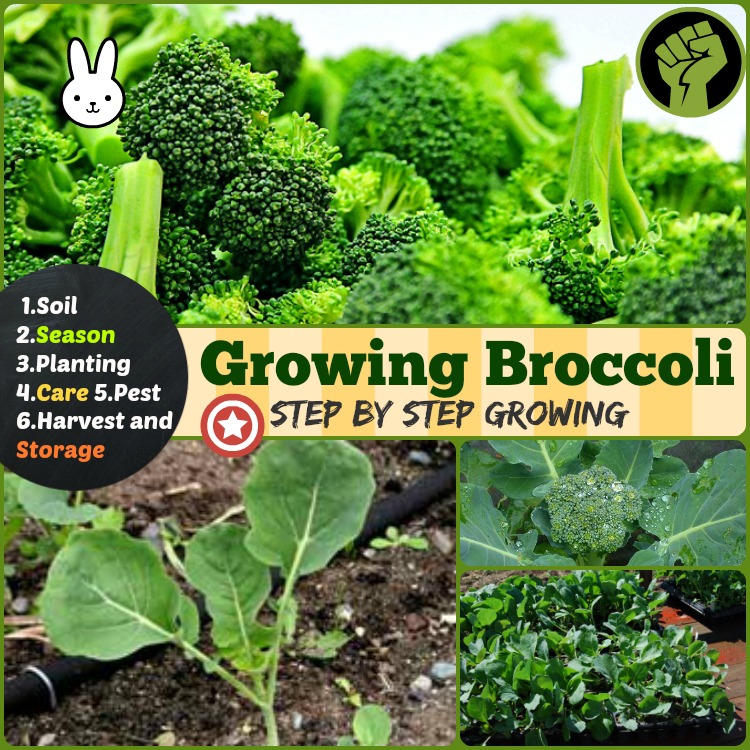 1. Soil:
To cultivate or germinate broccoli soil is a very significant part indeed. We need to keep the soil in low temperature for all the time. According to the agricultural methods, soil temperature should not pass the level of 40 degrees F for anytime!
The pH balance of the soil must be within 6.0 to 7.0 levels. If you find the level is lower than 6.0 then, add some acid compost to your potting mix, and granular sulfur would be the best item to mix while the pH level is higher than the certain limit!
This vegetable also requires well drainage system, so choose some soil that drains well.
Fertilized soil is necessary to the growth and germination of broccoli; thus, make certain that you are choosing a soil type which is very well fertile.
Use high nitrogen organic fertilizer such as alfalfa, cottonseed meal, manure, etc. to provide the best nutrition to your broccoli plant.
2. Season:
Broccoli grows best in the spring garden, so you can plant your broccoli seeds or sprouts 4 to 5 weeks before the last spring frost date. It needs full sun to grow in a healthy way, thus choose a very sunny place in your garden to plant broccoli. In this way, it can bear some shade over it as well! Despite this fact that broccoli plant can stand against direct sunlight, broccoli prefers cooler season for the foremost times. Hence, make sure that the temperature should not pass the level of 65 degrees F to the 75 degrees F.
you may also be interested in growing cucumbers and learn how to grow cilantro.
DIY Garden Video: How to grow broccoli and harvesting broccoli
3. Planting:
After selecting the spot and preparing the soil dig holes about 2 inches deep in rows and place the seeds or sprouted seeds inside those holes and the cover them up with adequate composts.
Make sure that you are leaving at least 4 inches gap from one hole to the other.
Now, lightly pat the soil over your seeds or pat the side portion if you have planted some already germinated seeds!
Then, water scrupulously to the soil after completing all the process and carefully drench the soil.
Validate the temperature carefully and regulate it if is not in the proper level.
When the seedling reaches a one-inch, thin your plant slightly to provide adequate space to grow.
Once the plants reach the height of 6 inches, mulch them with proper process.
Now all you need is just taking proper care of your plant until it's harvesting time.
4. Care:
For proper caring of your broccoli plants, validate the three most imperative part of planting, which is watering, fertilizing and protecting your plants.
Water regularly will not only help your plants to germinate, but it will also instigate the growth in a true healthy manner. You can try rain gauge to keep moisturizing your soil throughout the entire growing season.
Fertilize your broccoli plants frequently since after three weeks of planting. During the tender session, fish emulsion works well to nourish the broccoli plants. You can fertile broccoli plants twice weekly for the best outcome of your crop.
Never dig or turning the soil from the planting area ever, during the entire growing session of your broccoli plants, as this vegetable has a very shallow root which may get harmed by any of your irresponsibility!
Remove weeds from each plant to keep the growth consistency regular. If you can't clear weeds individually, you can even use some chemical pesticide product to wipe them out.
Mulching your broccoli plants would be a nice try to protect your veggie and its plant from weeds as well as other possible damages.
The last tip is to care your plant is that harvest only when the fruit is ready to pluck, otherwise, it could spoil the entire process of planting.
Love growing veggies at home, check how to grow tomatoes and potatoes at home
Best Varieties of Broccoli:
You can find several types of broccoli which all are easy to cultivate and scrumptious to taste. Let's take look at some popular varieties of this vegetable-
Broccoli rabe is a common type of broccoli which looks like and tastes such as the Chinese broccoli. It is basically a different cruciferous sort of veggie that has another noted name of 'rapini'.
Calabrese broccoli is one of the most famous broccolis among all the categories. This species has the pattern of a perfect broccoli with light green shade on the stalks topped by a compact head that has a shape of a small
Green Duke is one of the loveliest categories in broccoli variety that comes in a huge green cauliflower shape and grows superbly in the southern country.
Purple broccoli is one kind of unusual vegetable, which has small purple colored florets on the compact head. This broccoli basically turns green after cooking and flaunts like a purple cauliflower rather than a broccoli!
Broccolini is a hybrid broccoli which originates after making a cross between Chinese broccoli and typical broccoli. This one is also known as the 'baby broccoli' that has rare long slender stalks ending in small buds. This one is mostly famous for being highly adaptable among the other equivalents that are easy to cook and edible from stem to the stalk.
Broccoflower has originated after making a successful cross between broccoli and Cauliflower. This category contains two different types of broccolis; one flaunts like a normal cauliflower that comes in a green shade, while the other one comes with the same pattern but with some more spiky florets.
Growing Broccoli : Best soil, temperature and watering
5. Common Pest and Diseases on growing broccoli:
Broccoli lures various pests, insects, virus, along with some fungus and diseases which may damage the future of your crop entirely! Let's check out some common problems of this vegetable along with their remedies, take a look-
Caterpillars that become white butterfly later could after the broccoli plants and crops easily which generally lays a cluster of yellow eggs underside the leaf and inside the broccoli head and spread larvae inside the crop. Use organic pests' killer to get remedy from this disgusting trouble.
Cabbage worms & loopers these pests also damage the leaves, stem, and flower by laying many single dome-shaped eggs in everywhere of your broccoli plant. You can protect your plants by covering them with silver colored mulches or giving a shield of chicken wire.
Armyworms eat holes in the leaves and stems that destroy the whole taste of your broccoli and damage the plant entirely. This pale green-colored beetle could wipe out from water force, so water thoroughly once you see this worm in your broccoli plant.
Aphids are one frequent pest that could happen because of damp, humid dilemma around the broccoli plant. Use garlic fire spray to get rid of this problem otherwise, they can suck, sap and prevent the growth of your broccoli plant completely.
Clubroot is one kind of fungus that could affect the leaves by discoloring them and rotten Use mulch to keep a minimum distance from soil to get remedy from this pest.
Mildew is one kind of stubborn disease that could leave some unwanted patches in the stems and leaves. Organic sprays are the best remedy to tackle this crisis.
6. Broccoli Harvest and Storage:
When the head of your broccoli seems firm and tight with a regular size of 4 to 7 inches and the florets resemble outside edges of the main head along with a shade of dark green, you crop is all ready to harvest! To harvest the vegetable all you just need to be cut the head off from your plant. Generally, you should be ready to pluck your broccoli crop for the very first time after 65 to 70 days of its planting.
To store your harvested broccoli, you can apply several ways; let's check out some top recommendations from them-
Take one fresh broccoli and put the head up and stem down into a bowl with some water, now place the bowl in your refrigerator to keep the crop fresh for at least one whole week.
Take one rotten-free fresh broccoli, clean it dryly and wrap the whole thing in a damp paper towel. You can spray some cold water on the head of your crop before wrapping it with the towel.
Craft a ventilated bag by making several holes in a plastic wrapper bag or you can even buy a ventilated bag from the market directly. Now just put the broccoli inside the bag and seal the mouth properly.
Mix some white vinegar in some lukewarm water and wash out your garden sprouted broccoli. Then, dry the head out thoroughly and air-tightly pack the florets before freezing in your freezer.
Hope you learned how to grow broccoli florets, but how about growing tulips and hydrangea flowers too.
Growing and Harvesting Broccoli
How to Grow Broccoli Sprouts?
To cultivate broccoli sprout in your own capability let's check out the perfect procedure below-
At first, add 2 tbsp of broccoli sprouting seeds into a wide mouthed mason or quart jar.
Now, cover them with some inches of distilled or filtered water and securely set lid with sprouting gap.
Now store the jar in a warm dark place for the whole night and then drain all the liquid out in the next day morning.
After that, rinse the sprouted seeds with more filtered water for the one more time and keep repeating this process for the next 4 to 5 days.
Gradually the sprout will grow a little and you will find tiny yellow leaves from the sprouting area.
Then, you can take the jar out into the sunlight directly and start rinsing them 3 to 4 times on a daily basis.
Keep the process on until the leaves turn dark green and then your broccoli sprouts are all ready to store or to be eaten!
DIY Garden Video: Growing Broccoli Sprouts
Growing Broccoli from Seeds:
At first, arrange a nice planter box first or a raised garden bed object for sowing broccoli seeds.
Now stir 4 inches of compost into your soil and check the pH level as well.
Then, dig the soil a little about 2 inches deep and plant a single seed in each hole.
After that, cover the top with more compost and pat a little. Make sure that you don't harm or disturb seeds while patting them on the top!
Watering your seeds is the very next step we should take in this process. Pour sufficient water over the seeds but be careful that the drainage system works properly or you will get flooded by the watering system!
If you are planting the seeds in your garden area, you can cover with black plastic covering to clutch the adequate warmness into the soil.
Now all you need is just validate the growth and keep supplying the proper nourishments to your seeds until they start germinating.
Once you see a tiny plant some tiny plants coming out from the seeds, you can follow the typical planting process to provide a healthy growth to your broccoli plants as we mentioned above.
Growing Broccoli in Containers:
If you want to cultivate broccoli in a container in the process of indoor gardening then, take a peat pot or small seedling pot and plant your selected seeds in the pot.
Or you can even start the planting directly to a huge container or garden pot.
Fill the pot with soil, dig one or two holes and plant the seeds as we instructed above.
Pat the soil slightly with your finger and use a spray bottle to dampen the soil.
After that keep the container in a sunny place of your house or under a sunny window.
If you have planted the broccoli seeds inside a peat pot then transfer them into different containers when they reach the height of four to six inches.
If you are going to plant these types of germinated plant into the container, you need to dig at least 3 to 4 inches deep holes to plant them individually.
After transferring them into the container, take proper care of your plant till the harvesting time of your crops as we mentioned above.
Broccoli Nutrition and Calories:
This outstandingly healthy vegetable broccoli is enriched with various raw nutrients which amazing benefited out life from several aspects. Broccoli contains lots of vitamin K, vitamin C, Chromium, folate, vitamin B6, vitamin B1, potassium, copper, choline, pantothenic acid, magnesium, phosphorus, vitamin A, along with dietary fiber. You can get 30 calories in 1 cup of diced broccoli and that could be varied in different forms of broccoli like, boiled, cooked, grilled, etc.
Health Benefits of Broccoli:
This highly advantageous vegetable truly could help our body from different ways, that's why it is called world's healthiest food of all time! Let's take look at some high benefits of this veggie-
Broccoli could reduce the cholesterol level from our blood than any medicine or diet chart.
It helps to reduce allergic reaction and inflammation magically, thus broccoli is also known as an anti-inflammatory veggie.
This crop could provide adequate antioxidants to our body cells that could happen because of the richness of vitamin C in this vegetable.
Broccoli holds great healthy for our bone because of the prosperity of vitamin K and sufficient calcium.
This high fiber vegetable works greatly for good digestion system and a perfect heart condition as well.
Recently it has been discovered that broccoli also works for the prevention of cancer germs in our body!